If you already know what a micro conversion is, you probably have a keen understanding about the series of events leading up to a "sale." You also recognize that most people on your site don't buy on their first visit. Realizing this lets you improve your overall conversions and increase your bottom line.
However, if these concepts are foreign to you, worry not. This post explains why they're important, how to track them, the best ones to monitor, and more.
But first…
What Is A Micro Conversion?
A micro conversion is a small action taken by a website visitor that moves them closer to the end of a conversion goal. It represents an escalated interest in your product or service.
As previously mentioned, people typically don't buy the first time they land on your site.
For example, you might've found this post because you were looking for ways to optimize your conversion rates. Maybe you find it interesting enough to read all the way through.
Then, you spot our "Recommended Readings" at the bottom of this article. The headline 15 Proven Ways to Boost Amazon Conversions catches your eye, so you click.
In that article, you encounter a section about Lasso's custom displays. Looks interesting.
But you don't have time to read it, so you save it to revisit later. The next day, you read up on potentially using Lasso displays for your site.
You visit the homepage and click 'features' to learn more.
"Oh wow, I didn't know I could connect my site to Google Analytics and track clicks," you think to yourself. You've just discovered how to measure site performance.
"This Lasso plugin looks good. Maybe I'll sign up and see how it goes."
So, you sign up.
Now, that's a simple scenario demonstrating how tiny events lead up to a primary conversion goal.
Those primary goals or also called macro conversions.
Micro Conversion vs. Macro Conversion
Macro conversions are your website's primary goal. It could be making a purchase, signing up for a free trial, or whatever your business objectives are. Micro conversions are all of the tiny events leading up to it.
Examples of macro conversions include:
Buying products
Signing up for a trial
Subscribing to a monthly service
Generating a lead
Making a donation
These are all things falling beneath your site's paramount goal. Most people think the only metrics worth tracking are on a macro conversion level.
It's easy to look at a spreadsheet and see whether profits are increasing, trial sign-ups are rising, or you're on track to hit a new monthly high for your subscription-based service.
While these things are crucial to your success, understanding the chain of events leading to the sale is equally important.
Why Are Micro Conversions Important?
Micro conversions matter for many reasons, understanding visitor behavior; addressing flaws as you move people through the buyer's journey, brand messaging, weaknesses in your website's copy, and cultivating deeper customer relationships.
All of the above matters to your bottom line.
Builds Trust
You can build trust with your audience by getting to know their pain points. Showing you understand where they're coming from positions you as the expert whose product or service can solve their problem.
Takeaway: Segmenting your potential customers into different stages of your conversion funnel helps ensure the right people get the right messaging – and shows you care by making it personal to them.
Some are closer to buying than others.
Understand Website Visitor Behavior
You can see what things resonate with your audience when you monitor their behavior — actions taken on your website signal what's working and what's not.
A/B testing design layout, CTA buttons, email subject lines, or blog intros and content can all help move your readers closer to your conversion goals.
For example, a web page that's too cluttered, confusing, and difficult to read results in decreased dwell time.
Perhaps the CTA button is at the bottom of the page and needs to be brought above the fold and uses a different standout color to attract more clicks.
If your business uses content marketing to establish trust and authority, are the articles relevant its goals?
All of these smaller actions improve overall conversion rate optimization (CRO).
Whether your business is effective at converting customers into buyers and lifelong fans, start at the street level.
Find Weaknesses
You'll be able to spot flaws in your funnels and copy. Perhaps you realize your website generates substantial traffic but few convert. Is that because you're sending the wrong message?
Perhaps using the language your industry speaks will make the difference. When you talk like they talk, it's more likely they'll convert.
Measuring how you communicate your product's benefits helps. The sooner you answer your customer's question, WIIFM (what's in it for me?), the quicker you achieve the goal.
Maybe visitors don't click through from your features page to your product page. Or they're not visiting your blog from the email newsletter.
Two Types of Micro Conversions
You can divide micro conversion into two camps as mentioned by Nielsen Norman Group's Jennifer Cardello:
Process milestones
Secondary actions
Process milestones are linear and bring your audience one step closer to your macro conversion goal.
Secondary actions don't necessarily move your business in a linear direction but are still important actions taken by them. A social media mention using your brand's hashtag on Twitter could be a secondary action.
Further Reading:
How to Track Micro Conversions
The easiest way to track micro conversions is with Google Analytics.
Setting Up a "Goal" in Google Analytics
First, identify which goal you'd like to track.
Then, head to "Admin" in the lower left column of GA: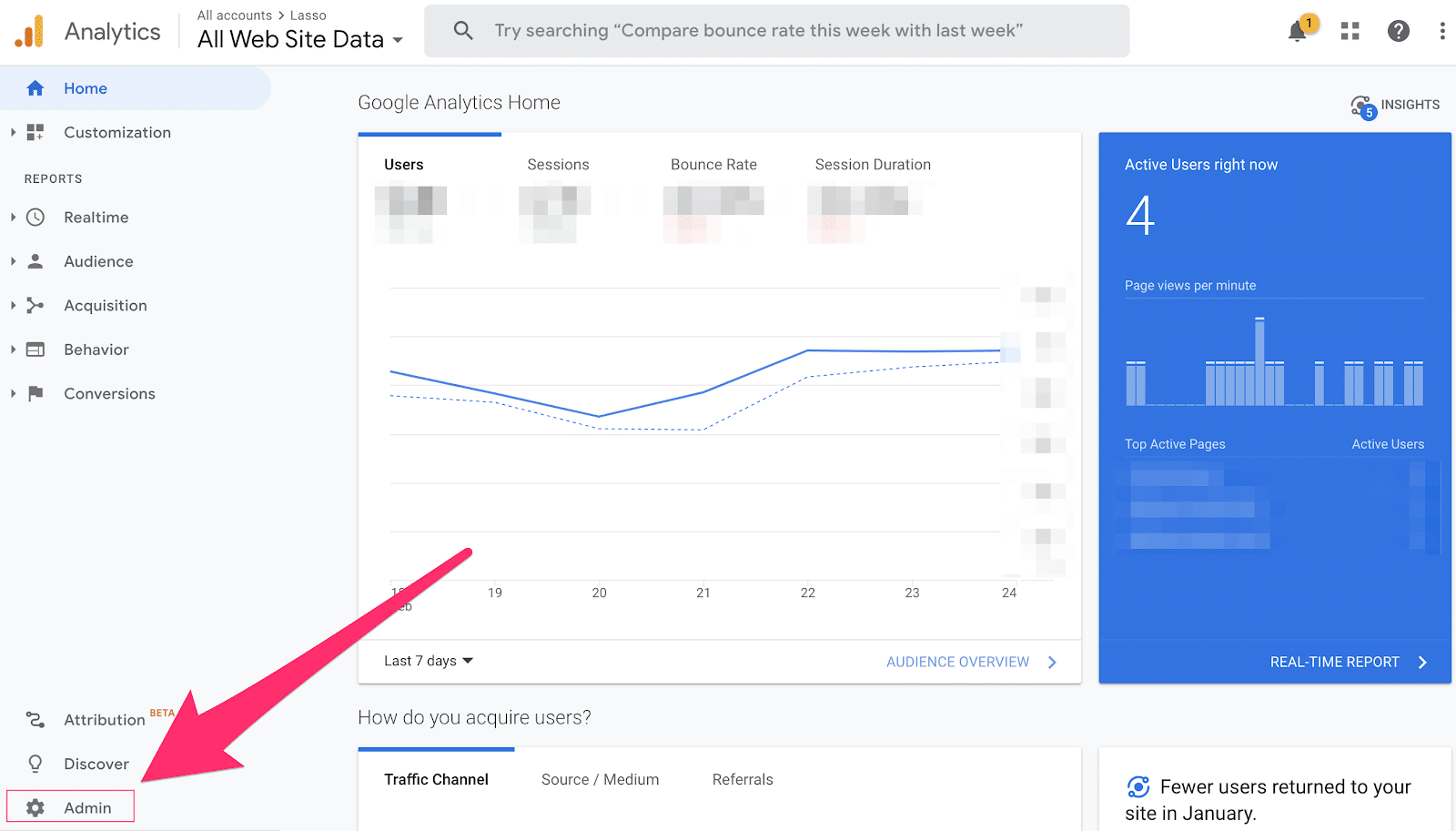 From there, click "Goals."

Then click +New Goal:

Google Analytics provides templates for tracking any goal. Alternatively, you can use the Custom setting if you prefer using your own.
You can see from this screenshot below, there's plenty of goals you can create, including:
Revenue
Acquisition
Inquiry
Engagement
For example, click "Engagement" to track email sign-ups. Whether you're a travel blog or an ecommerce site, everyone has a newsletter.
In this instance, I'll walk through creating the "Acquisition" goal of "Create an account."
Under Goal Setup, head to Acquisition > Create an account then click "Continue."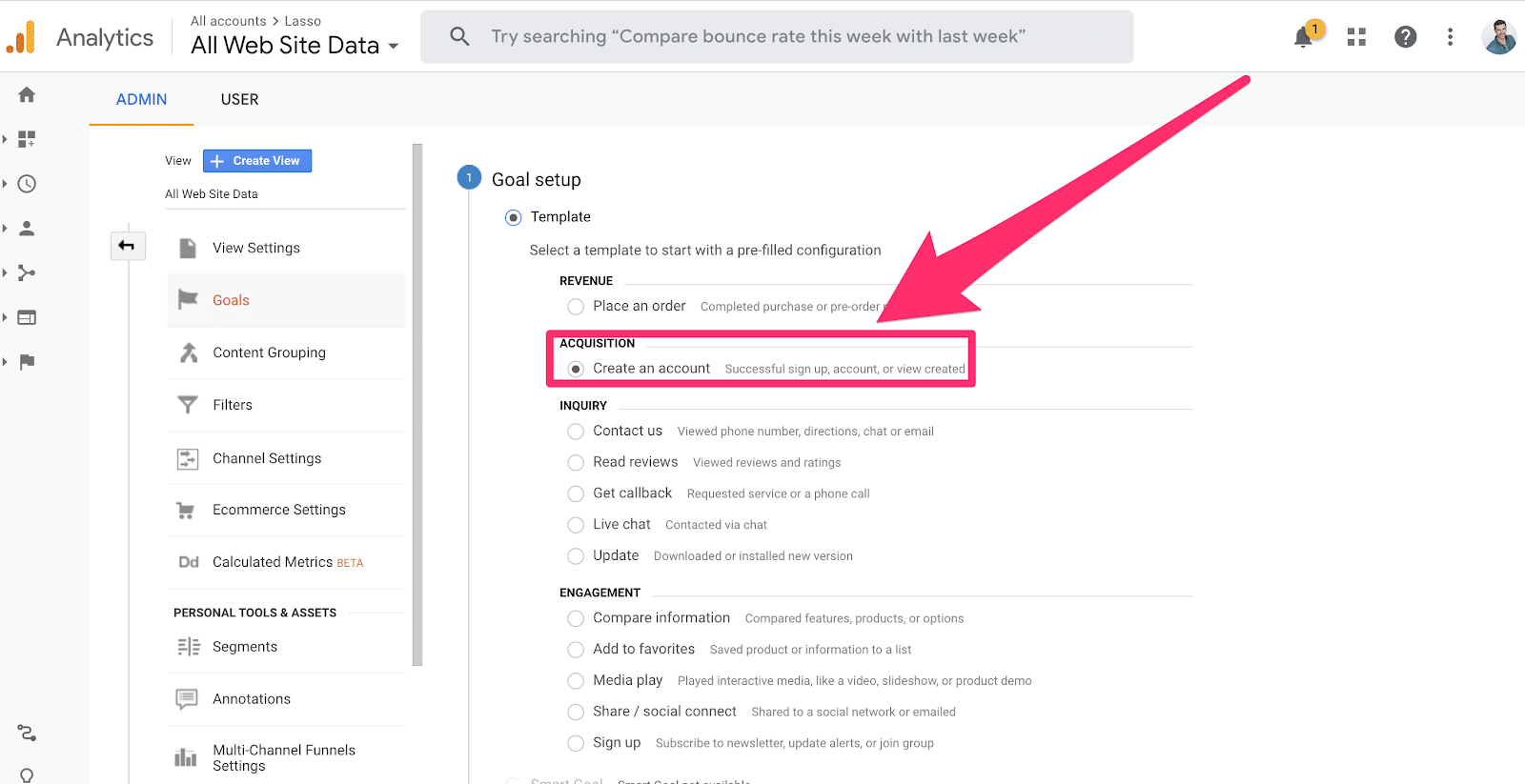 Next, give your goal a name: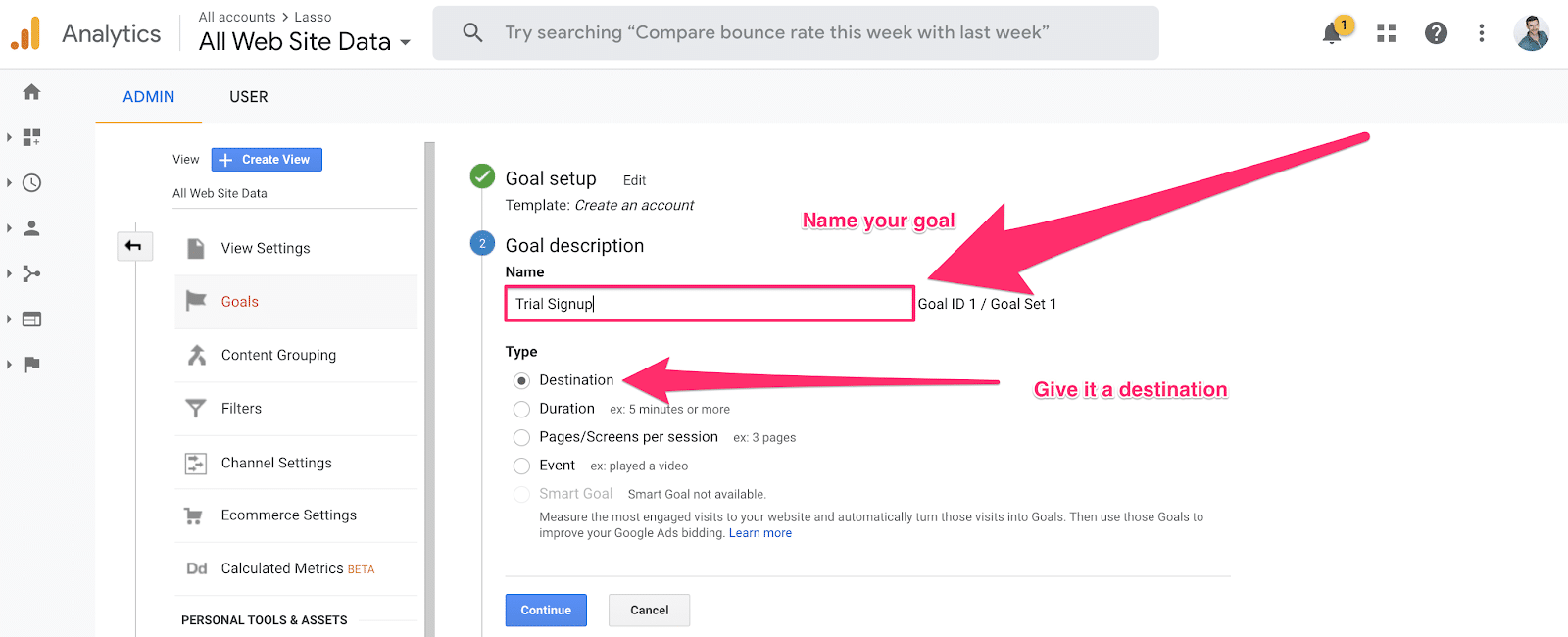 Since we're sending our trials to a Congratulations page, we'll include that as our destination.
Google gives you other goal types, including:
Duration (how long a visitor stayed on your page)
Pages/Screens per session (how deep they navigated into your site)
Event (played a video)
Here's what ours looks like after assigning a dollar value and destination: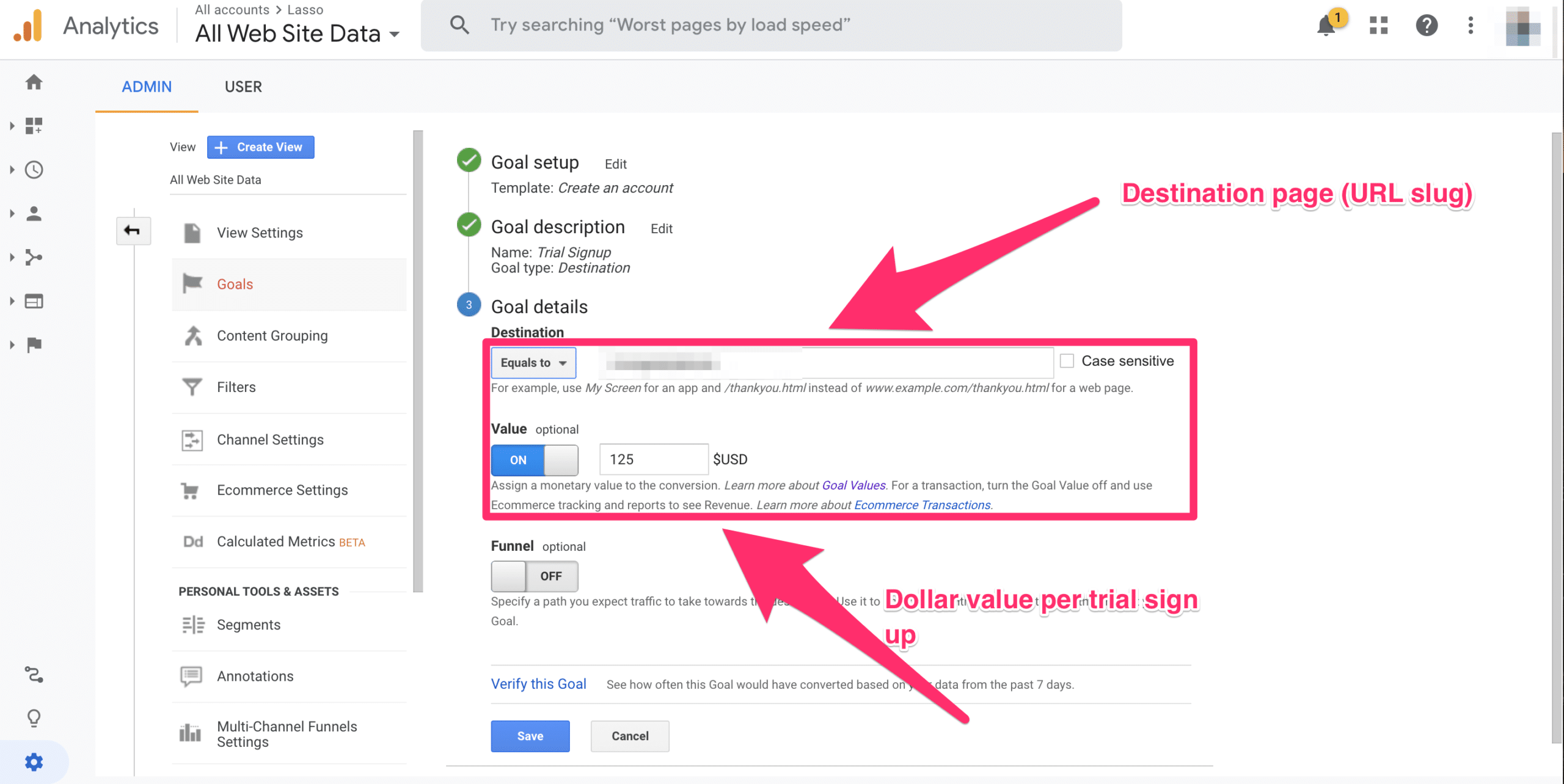 You can attach a dollar value to your goal too. These help identify actions your visitors take and how they affect profits.
Try asking how much the goal completion is worth to your business.
For example, Google can translate every action a user takes into a dollar amount.
An excellent way to determine this is by deciding how often users become customers once completing a goal.
Dollar Value Scenario: Suppose for every new account a customer creates converts 50% of the time. And the average transaction per customer is $250. Then, 50% of $250 is $125. That number would be our dollar value.
Then hit "Save."
When you want to check your goal's status, head to Conversions > Goals > Overview.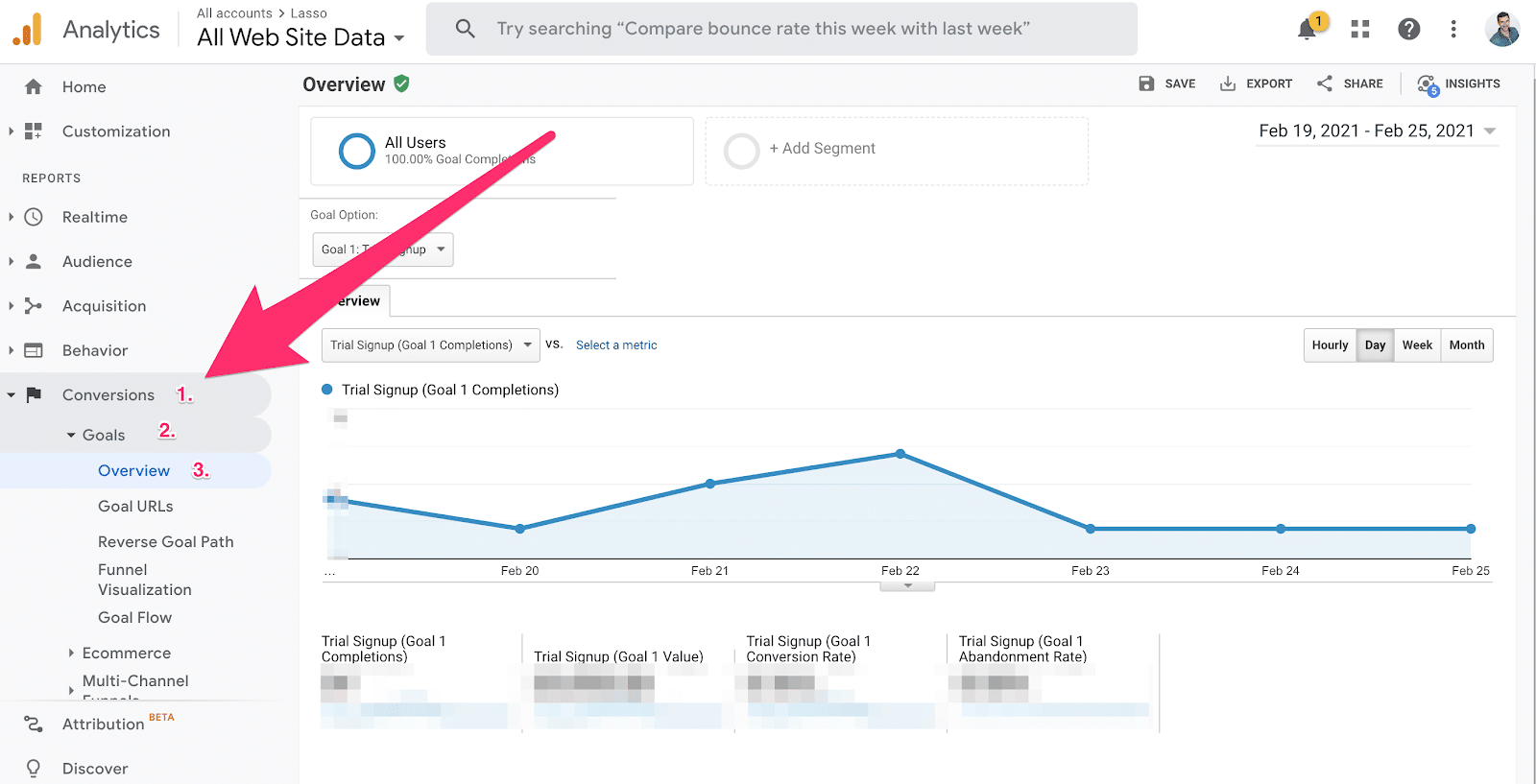 You can combine this data with other traffic sources to test your website's effectiveness at converting visitors into customers.
Tracking Events in Google Analytics
Alternatively, you can track Events in GA too. For example, if you're using a Lasso display to promote a digital product you created, you can monitor that display's effectiveness at driving clicks (more on that below).
You can see the display's performance under Events.
Here's how…
In Google Analytics, head to Behavior > Events > Overview.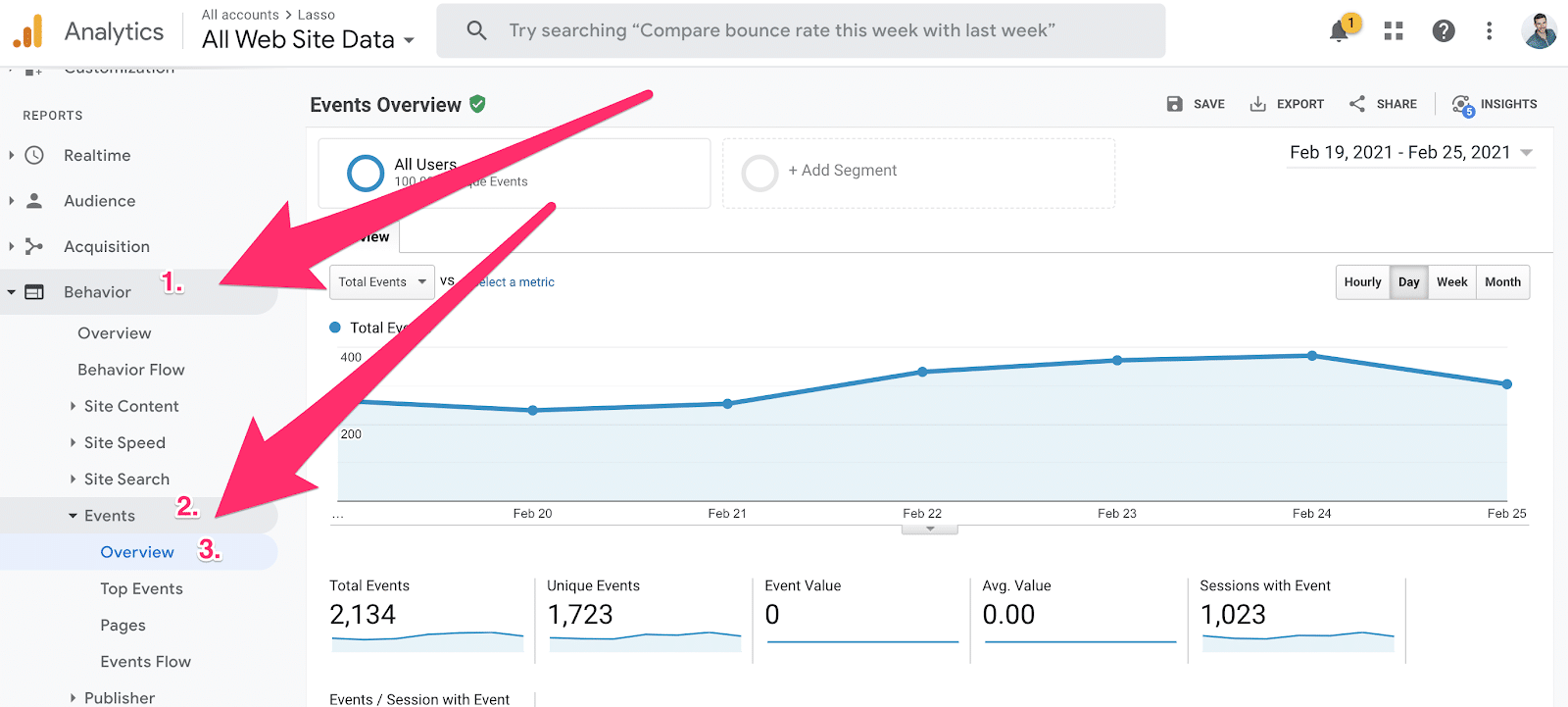 For finding your best-performing Events, head to "Top Events" (instead of Overview). For finding events by page, head to Pages.
8 Micro Conversion Examples Worth Tracking
Here are eight examples of micro conversions you could track.
1. Promotional Displays
One of our websites created a digital product (an online course). To promote it, we added Lasso displays to specific pages sitewide where it makes sense.
When you click that display, you're taken to the course landing page. To determine how many clicks it generates, we can head to Google Analytics.
Here's an example display below using Lasso, which you can customize with any WordPress theme.
Best for Monetization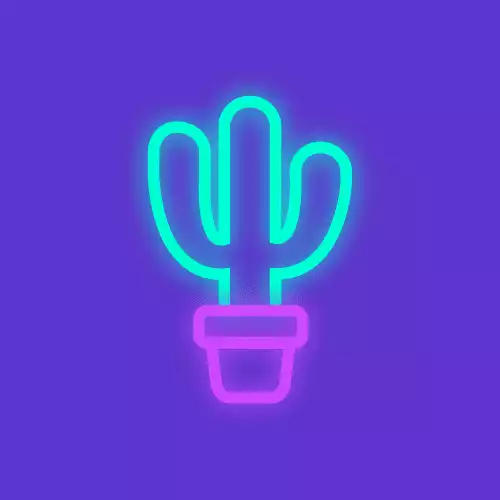 If you wanted to see how your display performs on a specific page, use GA's advanced filter.
Head to Behavior > Events > Pages. Next, enter the URL slug of that page.
Let's say the complete URL reads: https://yourdomain.com/buying-rental-property-team/. Using the advanced filter, you'd enter the slug /buying-rental-property-team/.
The slug is the portion of your URL that follows your domain name.
After entering the slug into the search bar, hit Enter.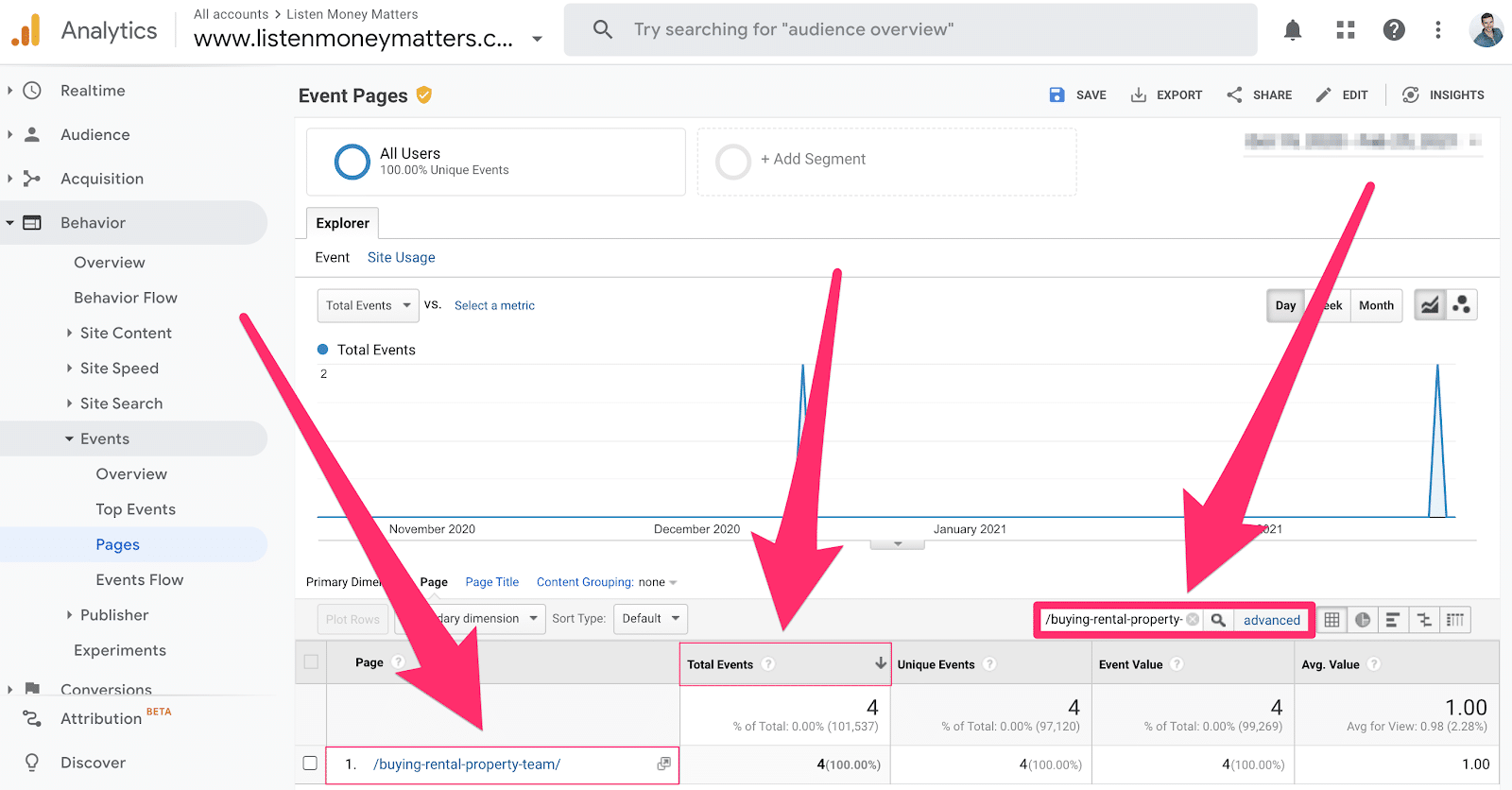 GA shows the URL slug and total events generated from that page. You can make adjustments based on that number.
2. Email Newsletters
Whether you're a thriving eCommerce website or a fashion blogger, you need a way for website visitors to stay in touch. A newsletter is an answer.
You can't rely on people to return to your site. Having a newsletter is an excellent way to inform them of updates, new products, special offers, and more.
Growing your email list is also good for:
Building engagement
Moving customers through your conversion funnel
Email lists have a high ROI. On average, email earns $40 for every $1 spent.  It's also an owned channel (meaning it's yours and not Facebook's).
Most people fall into two kinds of email subscribers:
They want to learn more about your topic
They want to get your blog's updates
People on your list will convert higher as you've already earned their trust.
3. Add to Cart Button (+Abandoned Cart Email Sequence)
Before buying, people have to add the item to their shopping cart. It's part of the customer journey to completing the purchase goal. If you're an eCommerce site, a purchase is typically the macro goal to track.
But what about the micro goal of how many times something gets added to their cart?
Or, what if they add an item to their cart but don't buy?
These metrics tell you how easily people make their way from the top to the bottom of your conversion funnel.
If you have a significant amount of people viewing your product pages without anyone adding items to their shopping cart, that may be an area to examine.
Or, if they're adding items to their cart but not buying, how come?
Consider an abandoned cart email sequence triggered when customers add items to their cart but don't proceed to the checkout page.
You could send an email sequence that gently reminds your customer about shopped items sitting in their cart. There's a lot of money here when you capitalize on these opportunities.
Tip: You can also adjust the placement of the "add to shopping cart" CTA higher up your website. Perhaps it's in an area less traveled.
Try using heat maps to track website engagement. A heat map will give you a thermo-generated image of the most well-trafficked parts of your website. Hot Jar and Crazy Egg come highly recommended.
4. Download Lead Magnets
Downloadable lead magnets could be anything from PDFs, eBooks, or whitepapers. Tracking how many times someone completes a download lets you know how actively engaged people are with your material.
It's also a signal of whether it's popular.
Try placing a CTA button to download a lead magnet next to your email sign-up. You can kill two birds with one stone here. You 2x your brand awareness by:
Getting them to download your lead magnet
Signing up for your newsletter
Take a look at how Ramit Sethi uses the line, "Get the first chapter of my best selling book for free!" as a lead magnet on his blog.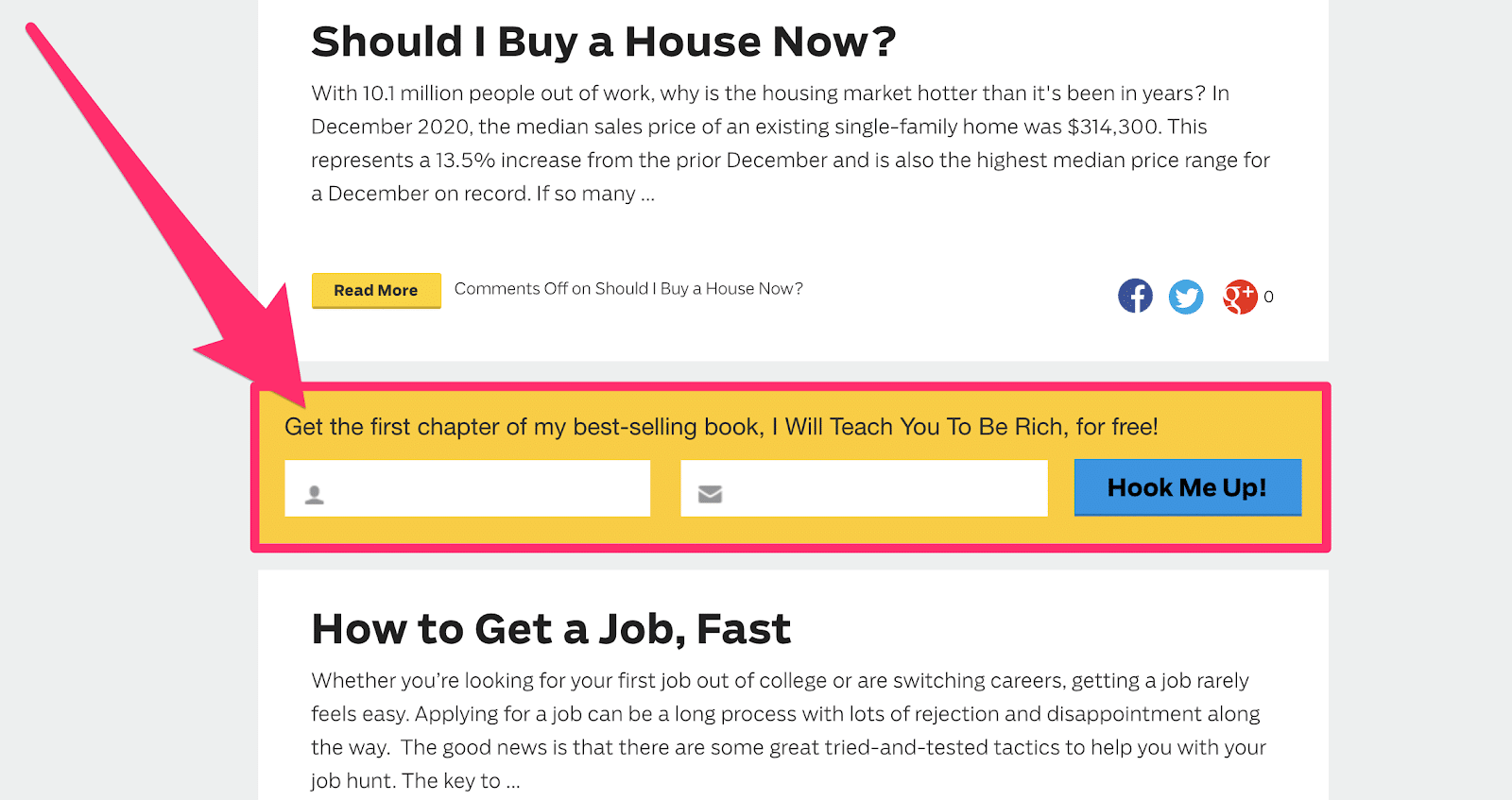 It's a free chapter of his book in exchange for your email address.
5. Social Media Sharing
When customers mention you on social media, it raises your brand's awareness to would-be buyers. It could be a blog post, a specific product page, a sale, or something else.
You could create a tracking link or hashtag to monitor whenever this occurs. Your visitors would only have to use the link when sharing. Or create a rewards program to incentivize more social shares via a unique link. It's free advertising.
Satisfied customers + brand mentions = repeat buyers.
6. Completing a Form
Users can fill out a form, complete a survey, provide a testimonial, or something else. All of these examples illustrate the ways people interact with your product or service.
Usually, people who take the time to fill out a form are already interested. Otherwise they wouldn't spend the time.
If they're giving you a testimonial, can you offer an upgrade? When they complete a survey, is it about what you should create next? If so, they'll be more likely to buy.
7. Create an Account
When a website visitor arrives on your site, having them create an account to test your service boosts engagement. Offer this in exchange for their email address.
Creating a profile or account lets you offer personalized recommendations to your readers. If you've already established trust, they'll likely convert higher based on your product recommendation.
It also allows you the opportunity to nurture leads. They may not buy immediately, but they've got their foot in the door.
8. Watching a Video
Video marketing has a significant ROI. 83% of marketers say it's helped increase how long a visitor stays on a page, while 78% say it's helped boost sales.
If you're looking to use video, try repurposing your written content. Take your top blog posts and turn them into video narratives.
Video works great for reducing bounce rate (which is a ranking factor). The longer a person stays on your page, it signals to Google that people like it.
It also gives you another chance to rank on SERPs. You could potentially rank for a piece of blog content AND its video version.
For example, Ahrefs ranks on page one of Google for the keyword, "What's a backlink?"
TWICE.
Once for its blog post and once for video.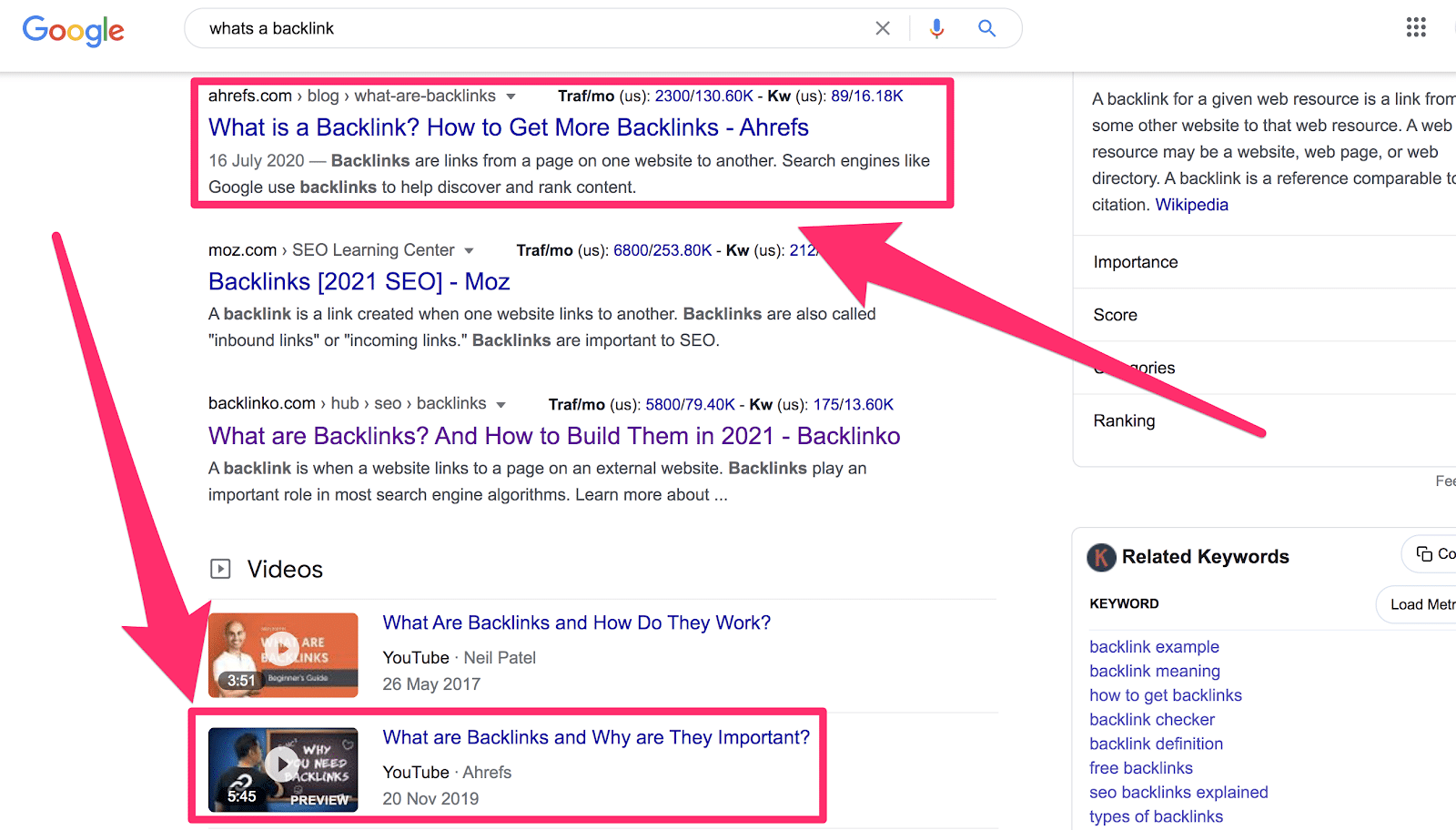 Occupying two spots on page one is a win for any business.
Last Words
As marketers, we're always looking for the best ways to turn website visitors into paying customers, whether it's through UX improvements, web page copy, or something else.
Micro conversions are like bread crumbs; when you pay attention, you might gain insights that would've gone unnoticed.
Our creations in your inbox, weekly.
We've built multiple six-figure online businesses that our moms are proud of.
We'd like to help you do the same.