Part of the allure of becoming a niche blogger is the total freedom it provides, and "marketing rules" just sound like a big boring way to rain on that parade. But it's important to keep these things in mind if you want your blog to stand out.
Did you know there were over 600 million blogs worldwide when I published this article? And over 2.5 billion posts get written annually. That's a lot of internet noise.
Here's the kicker:
People no longer use personal blogs as diaries but rather leverage them as tools to replace their day jobs (just take a look at Lasso founders). It's a competitive space. So how do you stand out?
Increase your selling potential.
I'll show you 11 marketing rules that'll help you foster deeper relationships with your readers, get more traffic, and drive sales to your blog.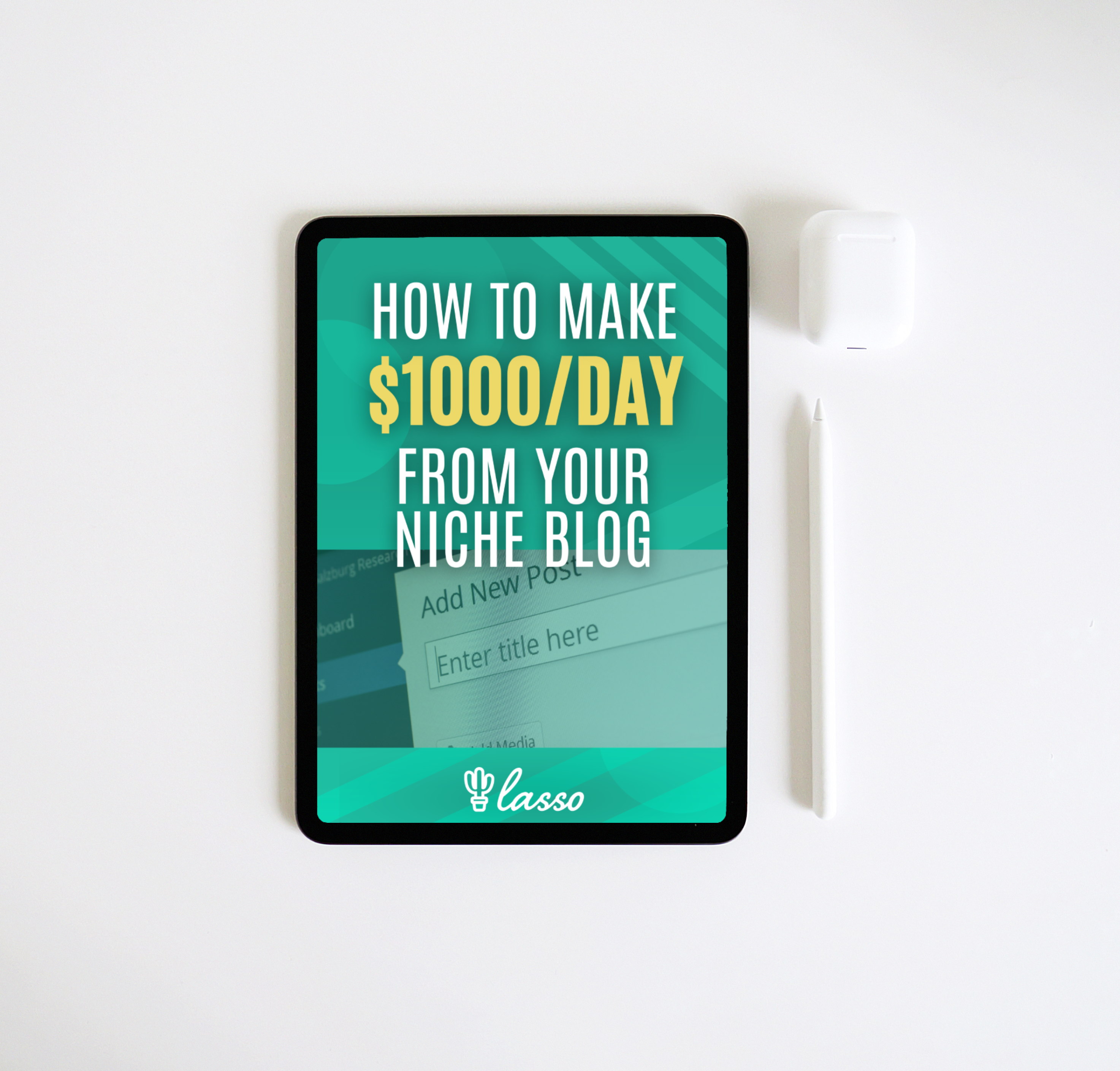 Get Your FREE 20-Page Guide To Making $1000/Day From Your Niche Blog
What Exactly Are Marketing Rules?
Marketing rules are tactics you can use to increase sales. Whether it's how you distinguish yourself from the competition, serve your audience, or promote your products.
These elements are the core of modern advertising and serve as a foundation you can use to find success with your blog.
There is no hard and fast "rule book" saying what you should do. Instead, these are hard-won lessons from building successful online businesses for over a decade.
So, let's unpack strategies you can start implementing today so you can attract a broader audience to your brand, get people interested, and earn more revenue.
11 Marketing Rules All Bloggers Should Follow
This isn't an exhaustive list, but if you start with these, you're on the right path. 😉
1. Monetize Your Content Ethically
Blogging is a business, and successful businesses turn a profit (with your content being the medium).
For example, if you wrote a "how-to" guide, did you mention a tool that efficiently helped you get the job done? Alternatively, was there a course you took that increased your skillset? A playlist you listen to that makes you more productive?
Those are all instances where you can help your audience with product recommendations (aka affiliate marketing).
Affiliate Marketing
Affiliate marketing lets you earn commissions for every website visitor you refer to a merchant and buy from them.
You can use this method to promote the products and services your target audience will benefit from using. To attract more attention to your recommendations, use high-converting displays (like this one below).👇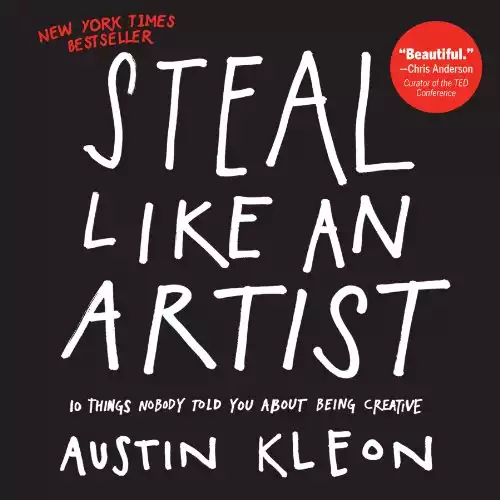 We've found (through much trial and error) that using eye-catching boxes converts at a higher rate than ordinary text links.
It's one of the reasons we built our WordPress plugin, Lasso. We've used it to generate seven figures over the years.
Of course, there are other ways to make a buck from your website, such as:
Sponsored posts
Creating your own products
Selling ad space (best for heavily trafficked sites)
So, start looking for angles you can bring more income to your blog with every post you create.
2. Let Your Audience Do Your Marketing
The more you involve your readers, the more invested they'll become.
So, check in with them and ask how they're doing.
Start with:
What they're struggling with
How they feel about specific products
Having them share their personal stories
If you sell products or services on your blog, don't be shy to ask for a customer review. If they're unsatisfied, ask how you can improve.
Entice your audience by offering to write a case study about them (like we did here) and publish it on your website.
You can make your content easy to share by embedding social media buttons similar to how acclaimed blogger Ryan Robinson uses them.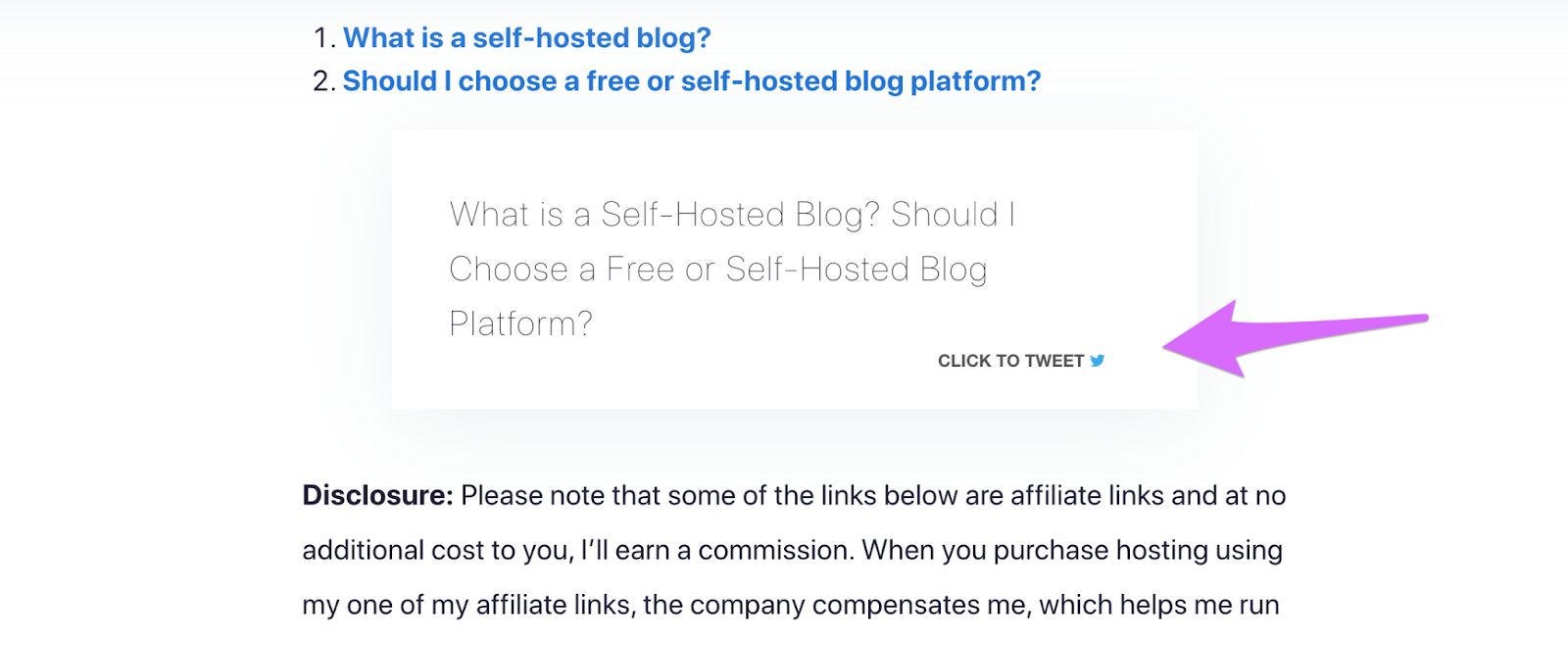 3. Get Free Advertising with the "Bumper Sticker" Strategy
This piggybacks the "let your customer do your marketing" section above.
Let me explain.
Imagine you see a car driving down the road, and it's rockin' a "Greenpeace" bumper sticker on its rear end. But, of course, you've no idea what that is, so you Google it.
They're an environmental non-profit organization. So now you're aware they exist. Soon you notice more cars with the same bumper sticker and think, "Gee, that Greenpeace seems to be EVERYWHERE."
You've just experienced the Baader–Meinhof phenomenon (or frequency bias).
After noticing something for the first time, it's when you start seeing it more often. Your raised awareness of Greenpeace tricks you into thinking their bumper stickers are everywhere.
It's also free advertising.
But how do you translate that into the digital medium?
Let's take another look.
I recently signed up for a newsletter. As I was opting in, I saw beneath the "confirm you're not a robot" box a tiny ConvertKit icon, informing me they were the software behind the emails that were about to start filling my inbox.
ConvertKit's "bumper sticker" was attached to this person's opt-in! Now they're on my radar.
You can use this strategy in any industry. Just look for places your readers can increase awareness of your product.
If you're a Lasso customer, you can do this too by enabling "Brag Mode." Go to Settings > Display from inside your dashboard and scroll to the lower right corner.
Then toggle on "Enable Brag Mode" and click "Save Changes." You'll see the Lasso cactus logo appear at the bottom of your display.
This lets you promote us to your readers and earn more money.
4. Go Where Your Audience Hangs Out
I love how brands seemingly "appear" out of nowhere.
You may not have been thinking about them, but just as you take that first sip of coffee from your paper cup, you look down, and there's the search volume and keyword metrics for the word "coffee."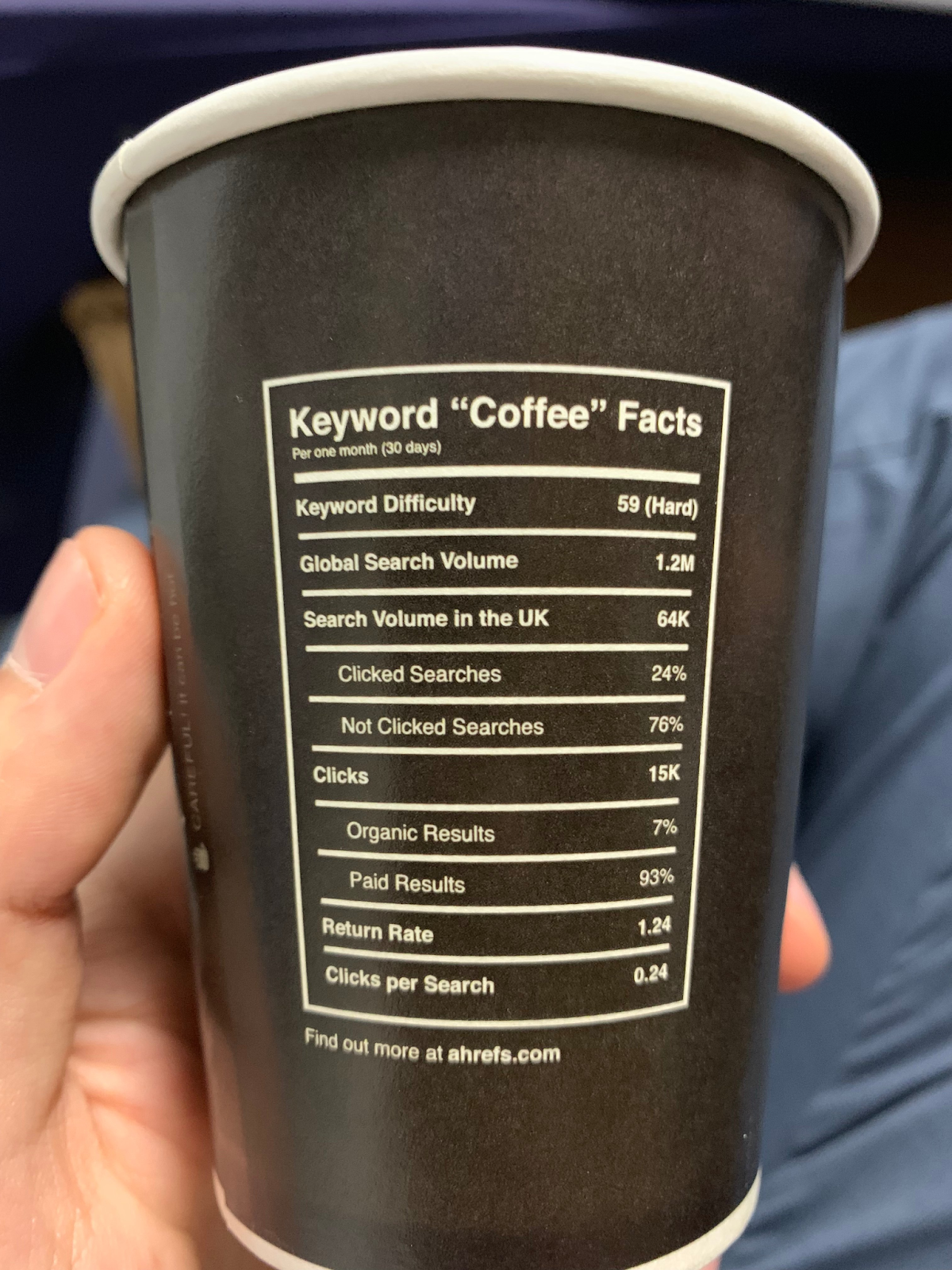 WTF?!
Ahrefs sponsored coffee cups at the Brighton SEO conference to gain exposure for their tool – – and people loved it.
When Ahrefs CMO Tim Soulo posted about it on Twitter, it generated even more excitement.
Where do your readers hang out?
5. Leverage the Marketing "Rule of 7"
The rule of seven says people need to interact with your brand seven times before buying.
Email marketing is a good example where you see this frequently. Think about an upcoming product launch or sale from a business whose email list you belong to.
Typically, they'll message you all week with educational content, tutorials, FAQs and address your pain points to remove friction for when the product launches (or the sale occurs).
Most of your audience probably won't buy from you after one ad, email, or blog post. So you need to build the relationship first.
Ramit Sethi once notoriously ran a 30-day email campaign leading up to an online course launch (I can't remember where I read that, but I'm sure it's true!).
But don't feel limited to email. Your interactions can come in any format, such as:
Podcasts
Social media marketing
Content marketing
Case studies
Testimonials
This has psychology baked into it. Like our Bumper Sticker Strategy from earlier, it raises awareness and increases familiarity with your brand.
Tip: When using testimonials, try for videos. It might mean more leg work, but it's another layer of credibility to your brand.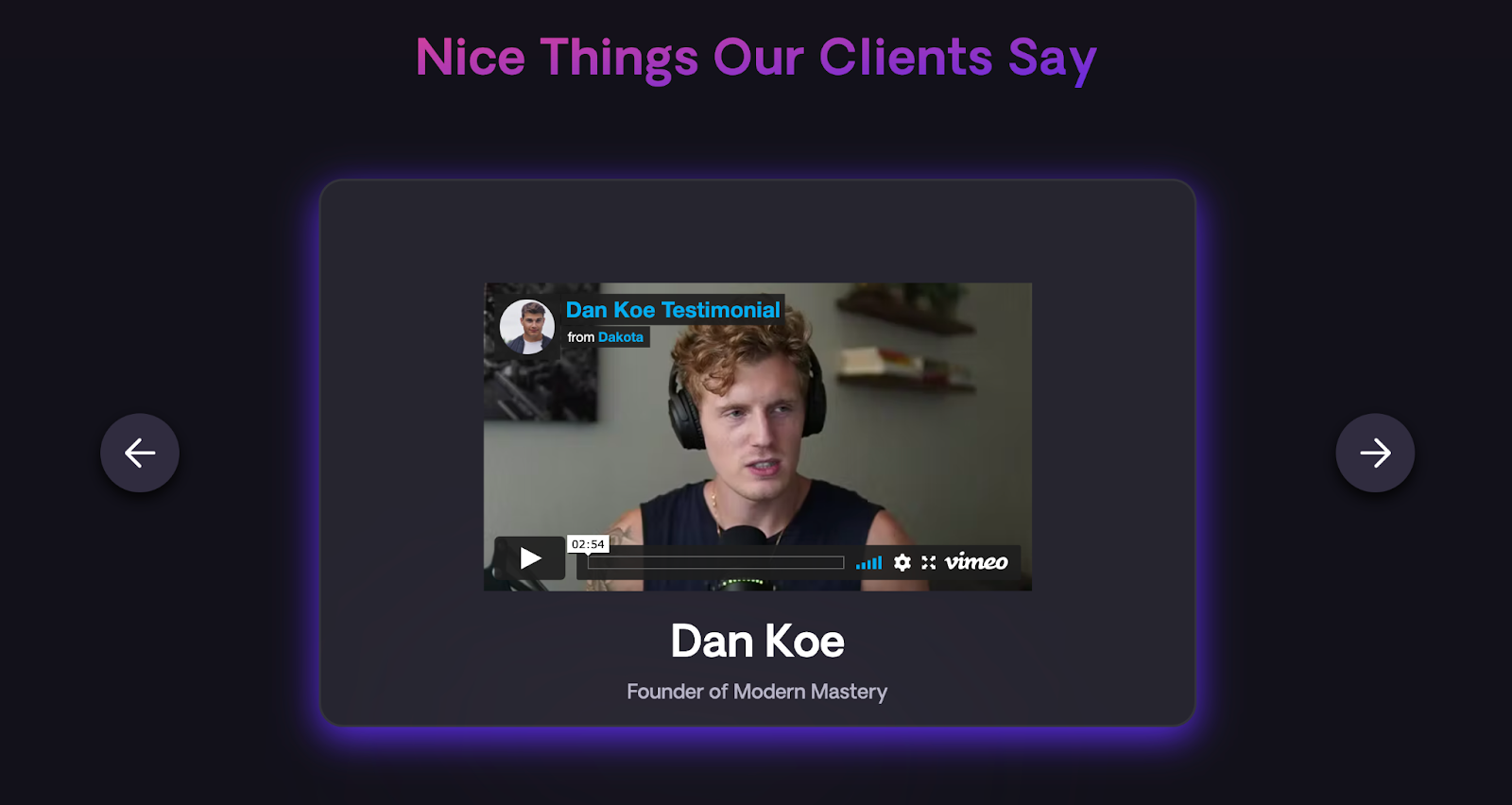 As a rule of thumb, start with one new platform and get good at it before moving on to the next. Trying to master podcasting, YouTube, and Twitter simultaneously is a recipe for disaster!
6. Use Artificial Intelligence (AI) to Get An Edge
These days, AI is all the rage, from enhanced competitor analysis to big data to machine learning.
One thing we've found helpful as bloggers are writing SEO-optimized content using natural language processing (NLP) tools. There are several available, from Frase to Market Muse to Clearscope.
We've been using Clearscope with every article we write and are pretty satisfied. It helps us match search intent and ensure we target the right keywords in our posts.
You can integrate it with Google docs so that you can see your score in the right sidebar.
It'll show you:
Related keywords
Outlines of the ranking content
Frequent themes and questions that appear
Then there are AI copywriting tools like Jasper. These generate everything from product descriptions to blog outlines to email subject lines.
If you're short on ideas, plug your topic into the platform and watch the results come rolling in.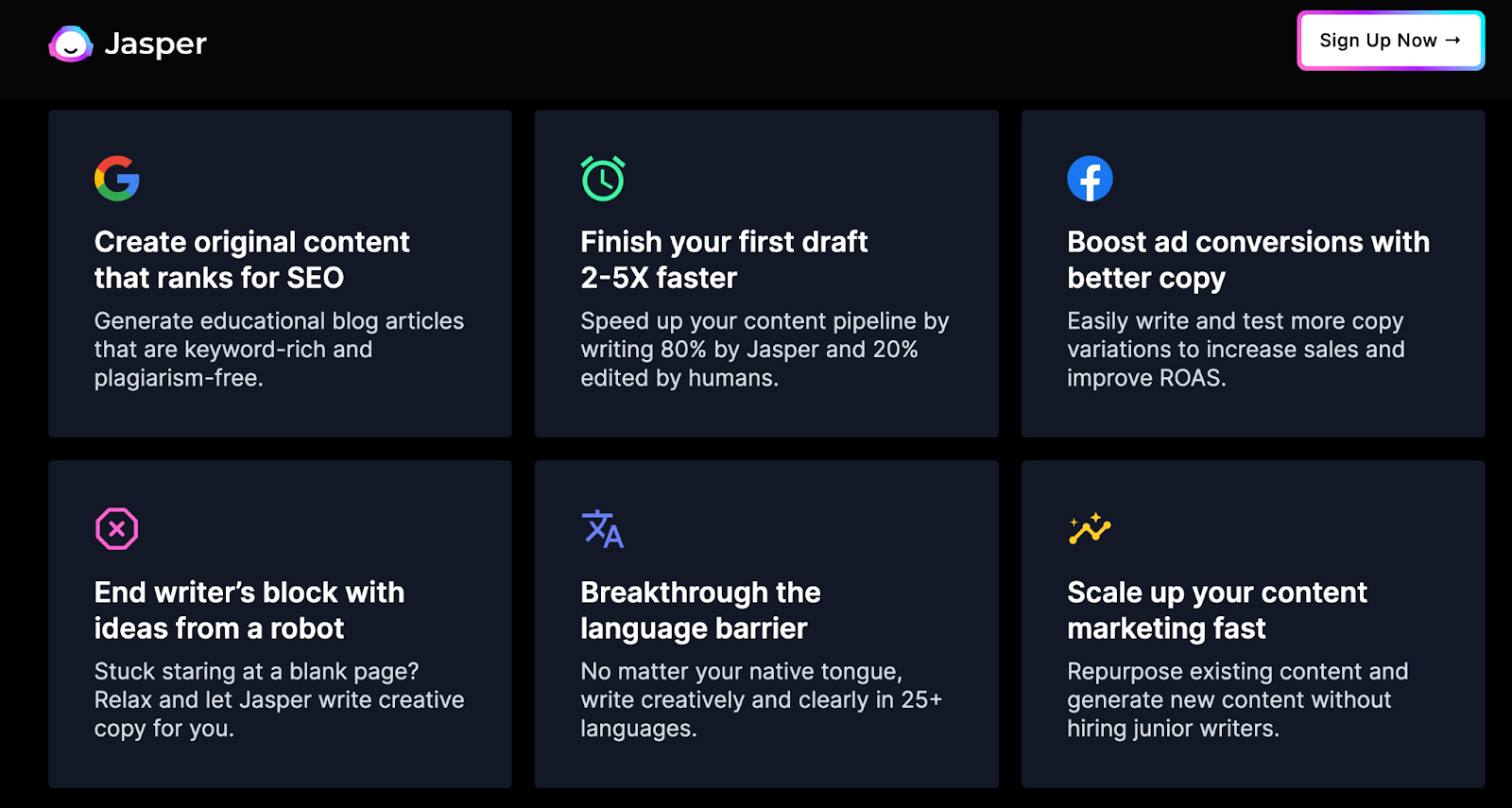 Further Reading:
7. Measure What Matters for Small Gains and Big Long-Term Wins
Are you trying to attract more organic traffic via paid ads? Are you testing lead magnets to increase opt-ins to your email list?
Decide on your goals, then track those metrics. This will determine whether you're finding success in your marketing efforts.
Start with the desired outcome, then work backward to have a clear path to what you want.
Achievement's two winning ingredients: discipline + consistency
For example, if you're tracking an affiliate marketing campaign,  look at Google Analytics to see which brands resonate most with your readers – – – then double down on what's working.
If you're using Lasso, you can connect it with Google Analytics. Then, when you want to see your top-performing affiliates across your site or by page, go to  Behavior > Events > Top Events.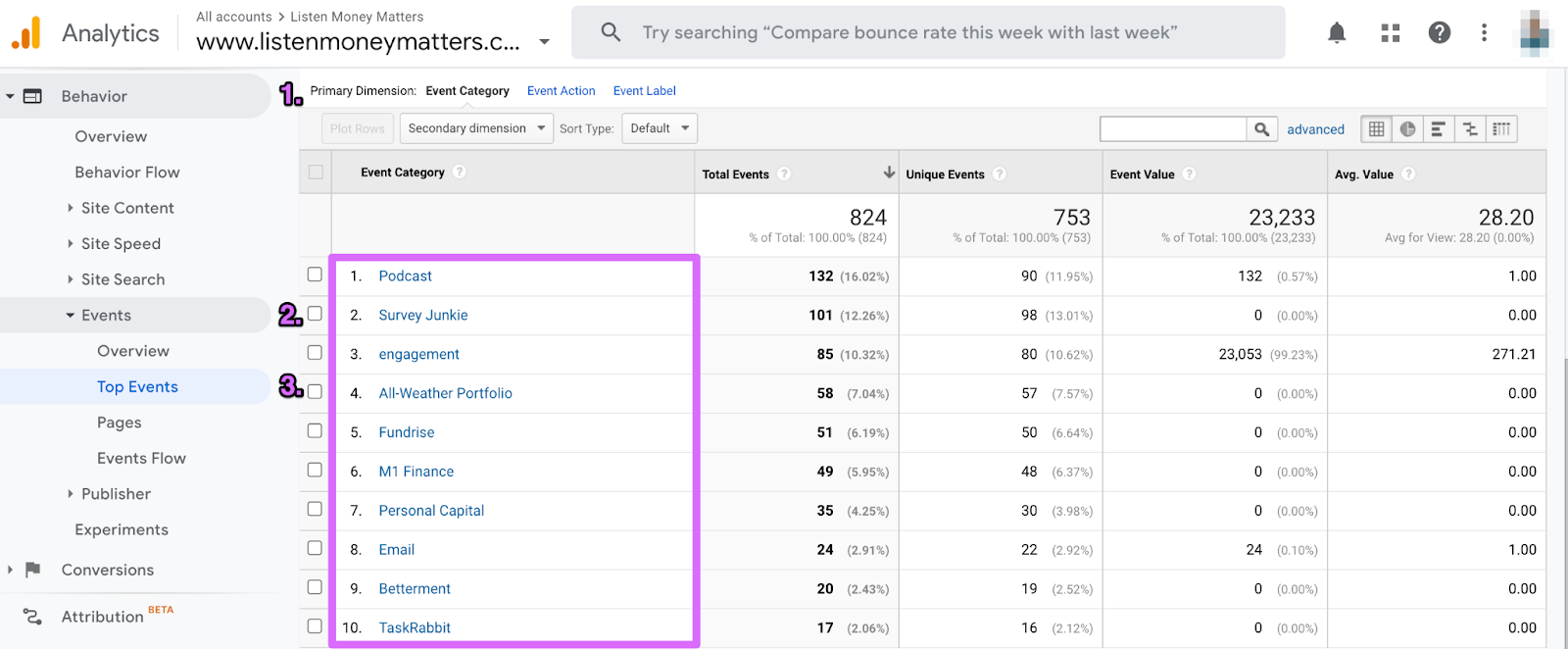 Successful marketers document their strategies so they know what's working and understand how to get there.
If you're using our WordPress plugin Lasso, tracking clicks reveals many things, including:
Top Affiliate links by page
Best affiliate campaigns sitewide
Successful affiliate programs by merchant
8. Listen to the Market & Match Search Intent
Savvy marketers don't create what they want – – they create what their customers want.
The next time you sit down to write a blog post, consider the ranking content on Google for your topic. Do you only see e-commerce product pages for your keyword? Then you probably won't get your article to rank.
You want to meet them where they are in the customer journey. Some are more aware than others, so create content to address all of those needs.
For example, write informational content such as "what is" and "how-to" type posts for those least aware. Then for those further along, produce product reviews and best-of lists.
9. Stay Abreast of Trends
Affectionately called "newsjacking," you can add your voice to the discussion of popular topics and expose your blog to a broader audience.
Try setting up Google Alerts for tracking keywords. If you're on Twitter, head to its Trending hashtags section on its main menu.
Alternatively, you can use Exploding Topics to identify material up to six months before it goes mainstream. So, if you wrote a product review about the K-beauty brand, Jumiso, before its search volume increased by 20x, you'd have a better chance of ranking.
Imagine the amount of traffic you could get.

To get the jump on product launches, try Muncheye.
10. Hook Them Quickly
The internet is filled with noise, and we get distracted easily when the content doesn't grab our attention.
So, the quicker you get to the point, the better.
It's like Julian Shapiro said:
People don't have short attention spans:

• They finish 3 hour Joe Rogan episodes.
• They binge 14 hour shows.

They have short *consideration spans:* they must be hooked quickly.

Point: Don't fear making great, in-depth content. But, ensure your first minute is incredible.

— Julian Shapiro (@Julian) December 5, 2020
11. Aim for Call-to-Values
A call-to-action works great, but a call-to-value carries more weight.
These are benefit-driven buttons that show what's in it for your reader if they click (i.e., what they'll get). So, focus on what your readers stand to gain by opting in to your email list, buying your product, or clicking your affiliate link.
There's an opportunity cost for everything, so address their objections and show them how you'll improve their lives.
For example, this call-to-value from Snappy.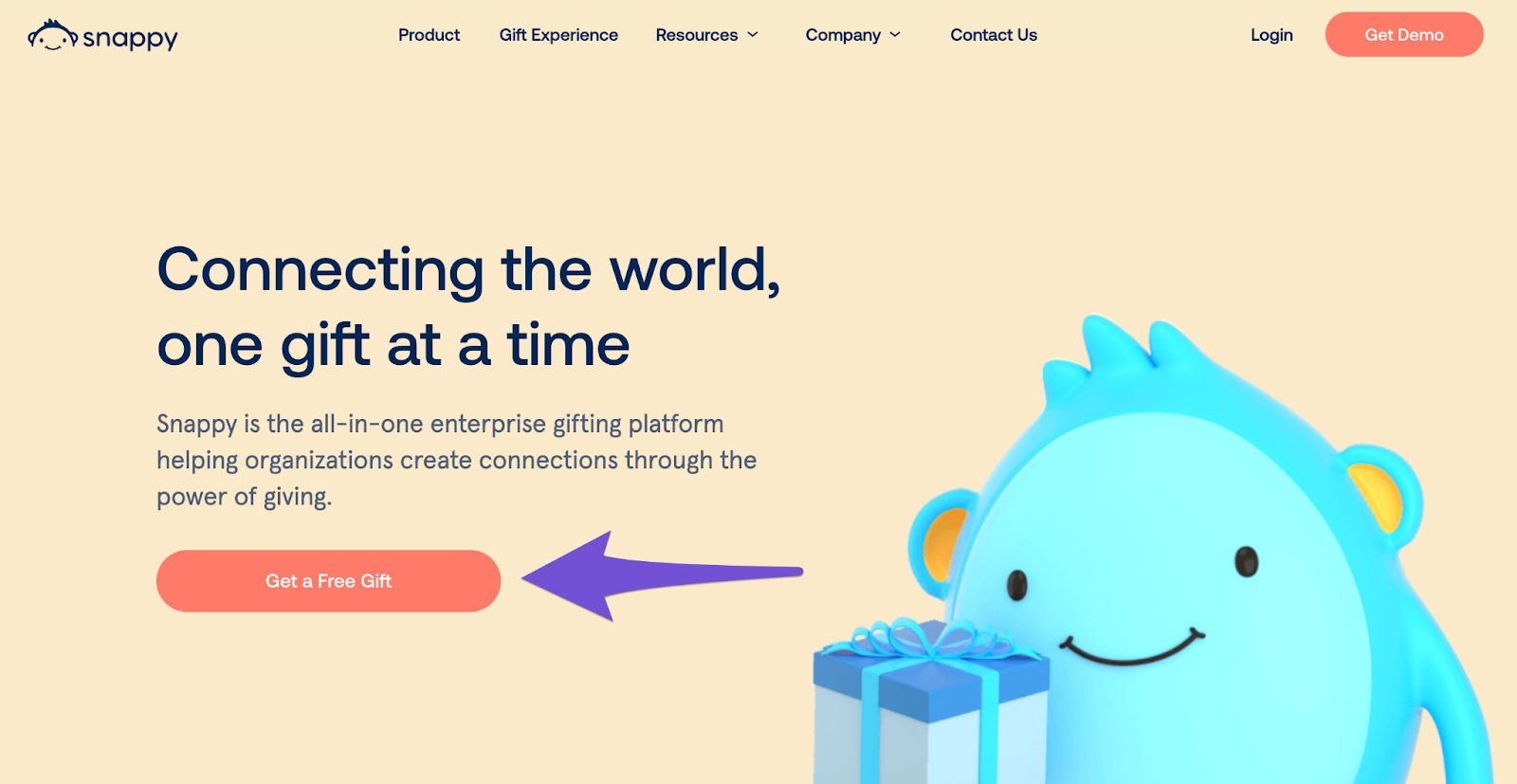 Benefits of Blogging for Business Growth
There are many reasons why you should have a digital marketing strategy in place. Let's unpack a few so entrepreneurs (like you) can start generating a higher ROI.
You'll See Faster Growth
According to HubSpot, you'll see a 126% higher lead growth from content created on your blog. That's a substantial number of potential new customers.
Check out these stats that say blogging yields superior marketing results:
55% more visitors
97% more inbound links
434% more indexed pages
Makes Repurposing Content Easier
Think about the 3,000-word piece of content you wrote.
Now imagine that's your pillar piece to be broken apart into various mediums such as:
Linkedin
YouTube
Podcast episode
This helps your website appear in more locations across the internet and expand your content's surface area.
Produces More Backlinking Opportunities
The more content you have creates more opportunities to get links (and gives search engines a better chance to find your site).
Since 77% of internet users read blogs, it makes sense to leverage that number to get more website visitors.
Get Clear On Your Marketing Rules
Whatever your strategy, you're a business owner, and successful businesses earn a profit. These are some of the quick 'n dirty marketing rules I've learned as a creator over the past four years of writing online.
When people enjoy your content, they're 10x more likely to become raging fans, share your work, and buy your products.
Curious about how else we help bloggers build profitable online businesses? Read this.
Also, if you enjoyed this post, please give it a share on Twitter. It took a while to write. Thank you!
We've been writing online for a decade.

Here are 10 marketing rules for bloggers that'll help you:

• Build deeper relationships with readers
• Get more traffic
• Drive sales

🧵 👇

— Lasso (@LassoWP) June 10, 2022
Our creations in your inbox, weekly.
We've built multiple six-figure online businesses that our moms are proud of.
We'd like to help you do the same.