As site owners, we tend to obsess over SEO, analytics, and the bottom line. Unfortunately, this distracts us from the priority of any business: the customers.
Our customers are more than pageviews in Google Analytics or sales in your income report. They're actual human beings with emotions, experiences, and a path they've followed to find you. Now it's your job to make sure their journey includes a click and a purchase.
Sure, you could cram a bunch of links into your posts with no context on why the customer needs that item. Or you could boost your chances of success by using empathy marketing and ensuring your content matches what readers want to see.
To have the best conversions, you need to put yourself in your potential customers' shoes, look through their eyes, or whichever other cliché means connecting to their situation.
Why your content strategy needs empathetic marketing
There's a reason we're talking about the need to show empathy instead of sympathy here. It's not enough to have someone search for a coffee maker and then present them with any old coffee maker you found on the internet.
They'd walk into their local Walmart and grab whatever was on the shelf if they wanted that.
They're coming to you because they want answers, and your marketing campaigns need to reflect that. This means you have to connect with your target audience and help them solve a problem.
NOTE: This is also why you need to look at both customer personas and customer segments to form your marketing strategy.
Typically, you'll have quantitative customer segments that tell you basic demographic information. These are simple similarities like age, gender, income, and location.
That data's easily accessible and requires minimal effort on your part to collect. (Google Analytics, for example, will give you age and gender breakdowns.)
On the other hand, customer personas are qualitative and help you tap into the emotional triggers that real people feel. To create the best marketing results possible, you need to think of things like:
Is this person the decision-maker for their family, small business, or corporation?
What problems and pain points do they face?
What's important to them in a product or service?
Which brands or media do they consume?
All of this is important because it determines how you should market your content. If you can replicate a familiar tone, the customers are more likely to trust you and stay on your site. Then when you answer their questions, they're more likely to buy what you're selling.
The good news is you don't need a CMO or business analyst to do this. You just need to be thoughtful and willing to put in the effort.
7 Ways to use empathy in marketing
Knowing you need empathetic marketing is one thing. Figuring it out is an entirely different beast because nobody has the answers but you. So how do you gather all this data about your customers?
1. Talk to your customers
It's nearly impossible to predict what your customer is looking for. My favorite example is when my darling husband worked his first job as a cashier.
A woman came to checkout with one pack of candy. While scanning the barcode he asked, "So, you've got a sweet tooth today?"
She told him no. She was on a road trip with her grandchildren, and like any top-notch granny, she wanted to spoil them.
Then he asked, "How many grandkids do you have?"
"Three!" she said.
To which he responded, "I don't know about you, but the last thing I want to do is sit in a car with three kids trying to share one pack of candy."
You bet she walked out of there with three packs of candy and a smile on her face.
TAKEAWAY: He would never have tripled the sale if he hadn't paused to ask her a question and have an actual conversation with her.
In the digital world, we don't have the same face-to-face advantage. That doesn't mean we can't communicate. We have plenty of options, so consider trying:
A Contact Page: This one's the easiest. You can use a fillable form or have a page with your email address. Then make a habit of checking your business email and responding to every reader who contacts you.
Comments: Allow comments on your site, then end each post with a question. Routinely engage with the comments that follow. (Bonus points: Other readers will respect you more when they see that you respond to each engagement.)
Social Media: Send DMs to your followers. Read and comment on posts from your target market and the influencers in your space.
Zoom Meetings: Email your newsletter subscribers and let them know you want to connect. You can do more of a roundtable discussion or meet one-on-one. Be sure to come armed with plenty of questions, but have them do as much talking as possible.
2. Answer their questions
It's no coincidence that the subheadings for this post start with what and why. To keep your readers' attention, you need to answer the first question they asked and then proceed to the next logical question.
See it in action with the table of contents for this Listen Money Matters post about investing for beginners:
It's littered with questions and says "you" often. They've put the customer front and center of their article, and they're not shy about it.
Luckily, Google has your back and removes some of the guesswork here. All you need to do is type your desired keyword into Google, then look for the "People Also Ask" section. Chances are that these would make perfect subheadings for your article.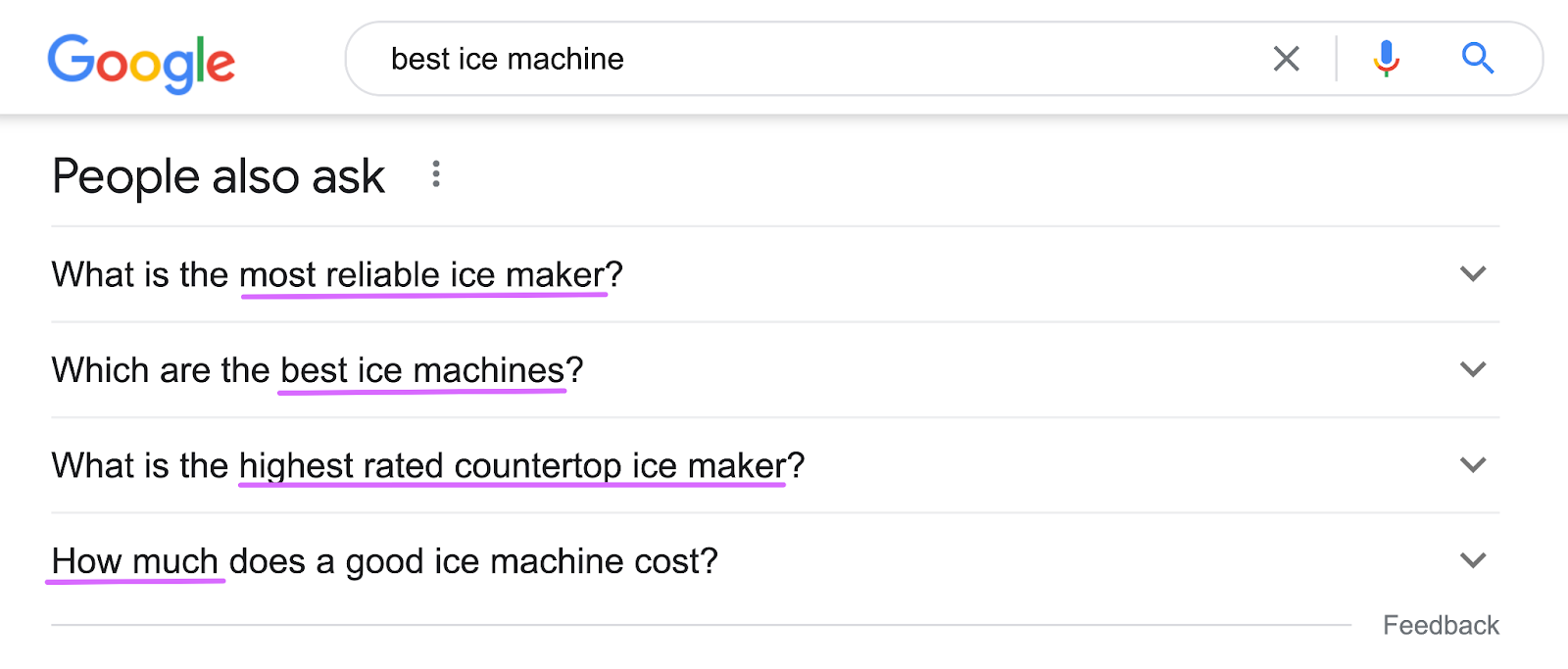 These questions don't just make good subheadings for empathy marketing. They also make great call-outs for your product to help the customer see why this is the perfect pick for them.
You can highlight these questions using Lasso Displays to leverage your empathy in marketing. All you need to do is add a badge to your Display, and you've now answered their question right beside a sexy CTA button.
It works like this:
Why this product is the best
Include an Eye-Catching Title
Here, you can include a description that highlights your favorite features. Include your best sales copy, and then close the deal with an enticing CTA button.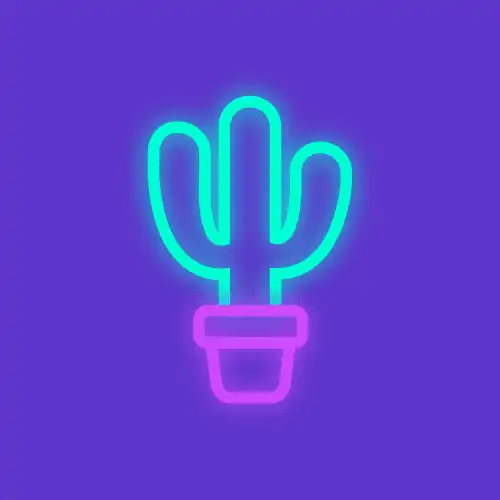 3. Test, analyze, and optimize your content marketing
Google Analytics is perfect for this.
Here's what it looks like using click data for Lasso Displays. With Google Analytics, you can see which links your customers are clicking on each page.
Then, you can reorganize your post around those links. You'll want to make sure the links customers click the most show first in your posts. Links that aren't as popular should be further down the article. If links are consistently underperforming, you should remove them altogether.
This may sound like a money grab, but it's actually at the heart of empathy. If people are clicking, it means that's what they're looking for. Now you just need to show those links sooner and give readers more of that valuable content.
4. Stay flexible and improve your brand's message
You need to keep a pulse on how customers talk about your company. Common examples include reviews, customer surveys, forums, testimonials, and social media.
Let's look at Lasso's reviews on Trustpilot as an example.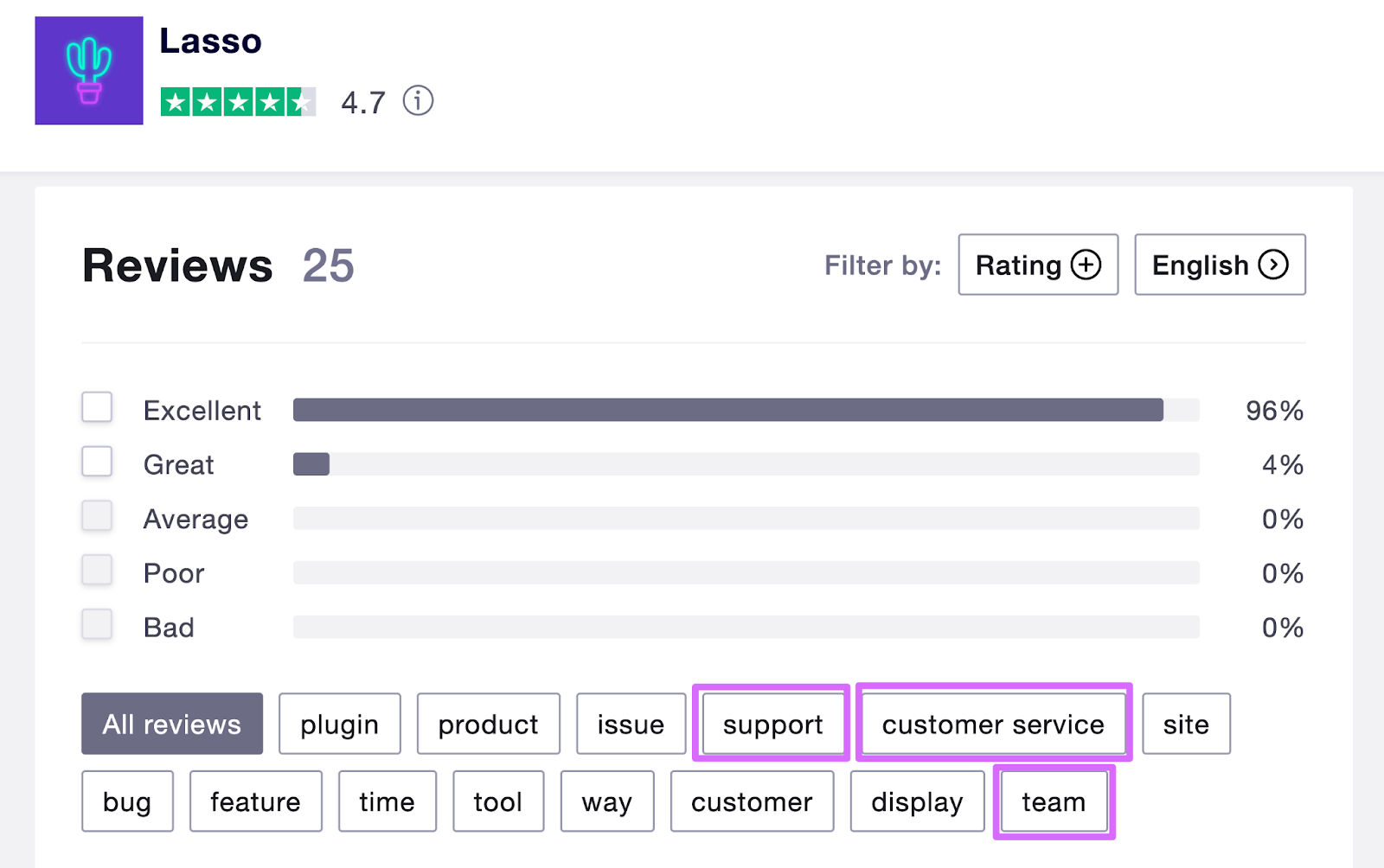 You'll see that our users often mention customer service, support, and team.
So when I talk about Lasso and why customers should choose our startup over other options in the market, *ahem* you can bet our top-notch customer service is always in the conversation. 😉
How'd we get to that point? We use empathy in our marketing strategy and obsess over customer feedback. We keep track of every time a customer responds positively or negatively and discuss it with every team member (not just the marketing team) at the start of each week.
What our customers like, we work to build more. When they're not satisfied, we reroute and remedy it as soon as possible.
That's not to say you have to follow this same process. However, if you want to practice empathy marketing, you need to put your customers first. Always. If you're going left, and your customers want to go right, you go right.
5. Write about what you know (or get good at research)
Google's product review update flat out said they want to see pictures of you using the products you're recommending. Add your own photos and share your own experiences. This is one of the easiest ways to earn a customers' trust.
If you don't have extensive knowledge of what you're selling, the internet is ripe with information. It's your job to spend hours of research figuring it out so your customers don't have to.
To do this, go to Amazon (or wherever your products live) and read the reviews. Amazon will tell you what people are frequently talking about right at the start of the reviews section.
Be sure to include plenty of these words in your copy. It'll give customers the answers they're looking for and prove you right after they purchase the item.
If they buy something that doesn't match your description, it makes you look bad, and they'll never trust you again.
6. Keep a clean interface
I've never visited a site with banner ads and thought, "Wow, this is nice." It's frustrating, it slows down my search for an answer, and it's not relevant. Your audience feels the same way.
So ditch those display ads on your site and make your page clean and inviting. If you write empathetic content, you'll out-earn the ads anyway.
This also allows you to highlight the most critical information on your site. Your customers will get more of the information they're looking for and less of the distractions, which will help build trust with your customers.
Plus, it looks sleek and creates an enjoyable customer experience. If nothing else, they'll return because you offer a smoother experience than everyone else.
Take Vegetarian Zen as an example.
You land on the homepage and immediately get a sense of who these people are. Nothing draws your attention to irrelevant ads on the sides or between paragraphs of their posts.
If you're a vegetarian, boom, you've come to the right place and found your people. Then when you dive into any of their posts, you'll discover real experiences, podcast episodes, links to Patreon, links to their Facebook community, and plenty of options to connect with people like you.
7. Utilize social proof
Most people want to follow the crowd and trust what works. A great way to win with customer empathy is to show people happy customers who look like them. It's even better if that social proof comes from reputable players in the space.
You can also take an empathetic approach in your author bios and about pages. This is your chance to tell customers what you've done and earn their respect. So go ahead – show off your personality, link to your LinkedIn profile, and #humblebrag on your accomplishments.
The Wayward Home does this well with its vision of the American Dream: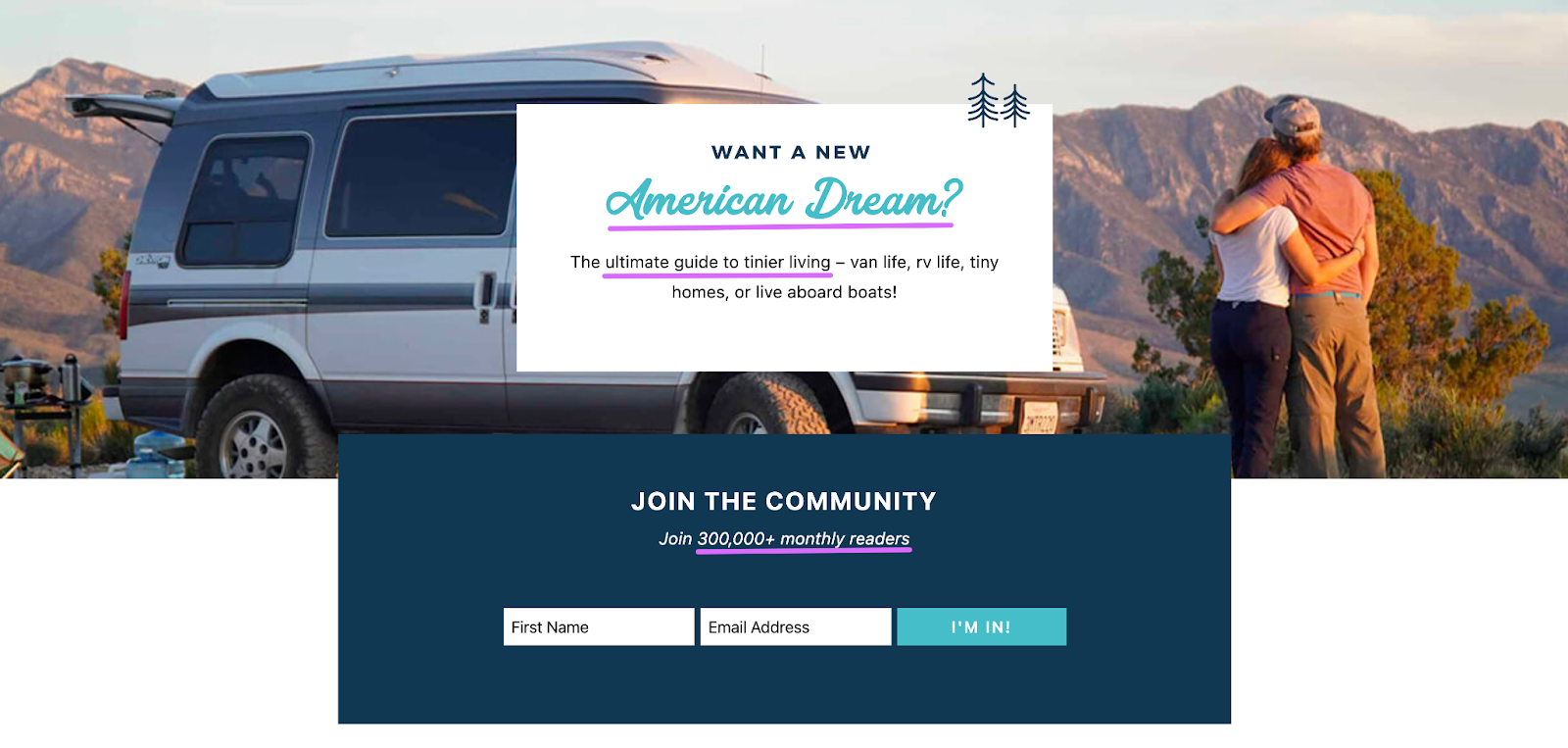 They plant visions of a simpler life and ask you questions right off the bat to hook you in. Then they show you social proof with their 300,000+ community members.
What's more is that once you scroll past the hero section, the site owner (who accomplished the life you're looking for) greets you with a smiling face. Then they circle back to more social proof with the other sites that have featured them.
Also, if you have customer testimonials, show them on your checkout pages or close to your CTAs. Leverage that social proof to help ease any doubts your customers have and get them closer to a purchase.
So then what happens?
You should start seeing clicks and a rising conversion rate if you've done a halfway decent job of using empathy marketing in your content.
But why stop there? Take it one step further and get more value from your marketing efforts. Make that human connection, establish your authority, and solidify their trust.
Then pull them into your world and keep them in your sphere of influence by having them join your email list.
Thanks for reading! This one took a while to write. If you liked it, a share with your friends on Twitter is much appreciated. 😉
7 ways bloggers can master empathy marketing:

🧵👇

— Lasso (@LassoWP) June 3, 2022
Our creations in your inbox, weekly.
We've built multiple six-figure online businesses that our moms are proud of.
We'd like to help you do the same.