Readers are smart. They conduct online research before making any decision. Whether it's airline tickets, a baby stroller, or a WordPress plugin; that's why digital marketing matters more than ever. And why you need a solid content development process, so the right people find your stuff.
Read on and learn how you can leverage this process to grow your audience.
What Is Content Development?
Content development is your content's journey from an to end. It covers every aspect from research to writing to publishing. During the development phase, you'll decide on the types of content (e.g., white paper, blog post, or infographic) and target demographics.
It's the crucial first step behind content creation.
Why Is Content Development Important?
Content development is important for many reasons. Let's address a few common arguments in favor of why it's a good idea.
It Allows for Planning
I'm reminded of the below Abraham Lincoln quote related to anything requiring a plan.
Give me six hours to chop down a tree, and I'll spend the first four sharpening the axe. 
When you take the time to prepare and get your ducks in a row, for lack of a better term, you reduce the amount of time you'd otherwise spend frantically searching for what to create next.
Planning is a pillar of execution.
When you know what you'll publish and when it reduces anxiety of the "unknown." It also lets you relax because you can see a clear path ahead.
You Reach Your Target Audience
So many search queries are question-based. Hence Google's People Also Ask. There are even data aggregators like UseTopic and AlsoAsked that compile every relevant question onto a single webpage related to its search term.
Those people are your potential customers and they're searching for answers. When they start finding your content because it answers their queries, they'll return more often.
Positions You as a Thought Leader
Every piece of content can act as a teachable moment. When you take the time to educate your audience, you build trust and authority.
Increased authority leads to raised brand awareness and serves as a reminder for those who are already customers why they should keep paying you.
More people start turning to your website based on its perceived value. The more people landing on your content, the more it signals to search engines that your material is popular.
Boosts SEO
Search engine optimization (SEO) has the single biggest, long-term ROI. There's nothing that comes close. In his course, Blogging for Business, Tim Soulo lists the two key ingredients for generating long-term, passive traffic as:
Create useful content
Get backlinks
When people find your material helpful, they'll happily link to it and share it with others (I'm doing it right now!).
He refers to it as the Compound Effect of Content Marketing.
It's when the content you publish doesn't fade, but instead grows over time. Here's how Tim demonstrates the concept:
And to Tim's point, it's how we've also built successful online businesses over the years.
Have a look at how our organic traffic has climbed since 2014 with our personal finance site:

You can see the graph trends up (except for the COVID blip).
Organic search traffic is the best kind of advertising because it's free. The trick is creating content people want to share (easier said than done).
But that single factor lets you rank higher in the SERPs and gets more eyeballs on your website.
Content Marketing vs. Content Development
The primary difference is content marketing pertains to distributing and promoting your content. Content development is the entire process from end to end starting with researching, collecting, and writing.
Content marketing is just that, marketing. At its core, it's still advertising with the sole purpose of attracting customers (or readers, subscribers, or viewers).
Content Development answers the "how/what?" For example, what will you create, and how will you do it?
Content Marketing answers the "where?" As in, where will people find the things you created. Will they see it on YouTube, Google organic search, or a social media channel?
Content Strategy answers the "why?" and angle you take with a piece of content. Why are you creating it in the first place? Is it to raise awareness or to increase affiliate commissions?
Content can take many forms:
Blog post
Infographic
Video
Social media post
It's any kind of marketing material designed to attract people to your brand.
The Workflow of a Content Development Process (6 Steps)
The below process represents the steps our team uses to find success when creating content that ranks. We've refined it over the years, and we'll continue doing so as we learn even more.
Recall our Analytics screenshot: In the early days, we had roughly 100 page views daily. That number gradually increased to 20,000 page views per day in the blog's peak before COVID.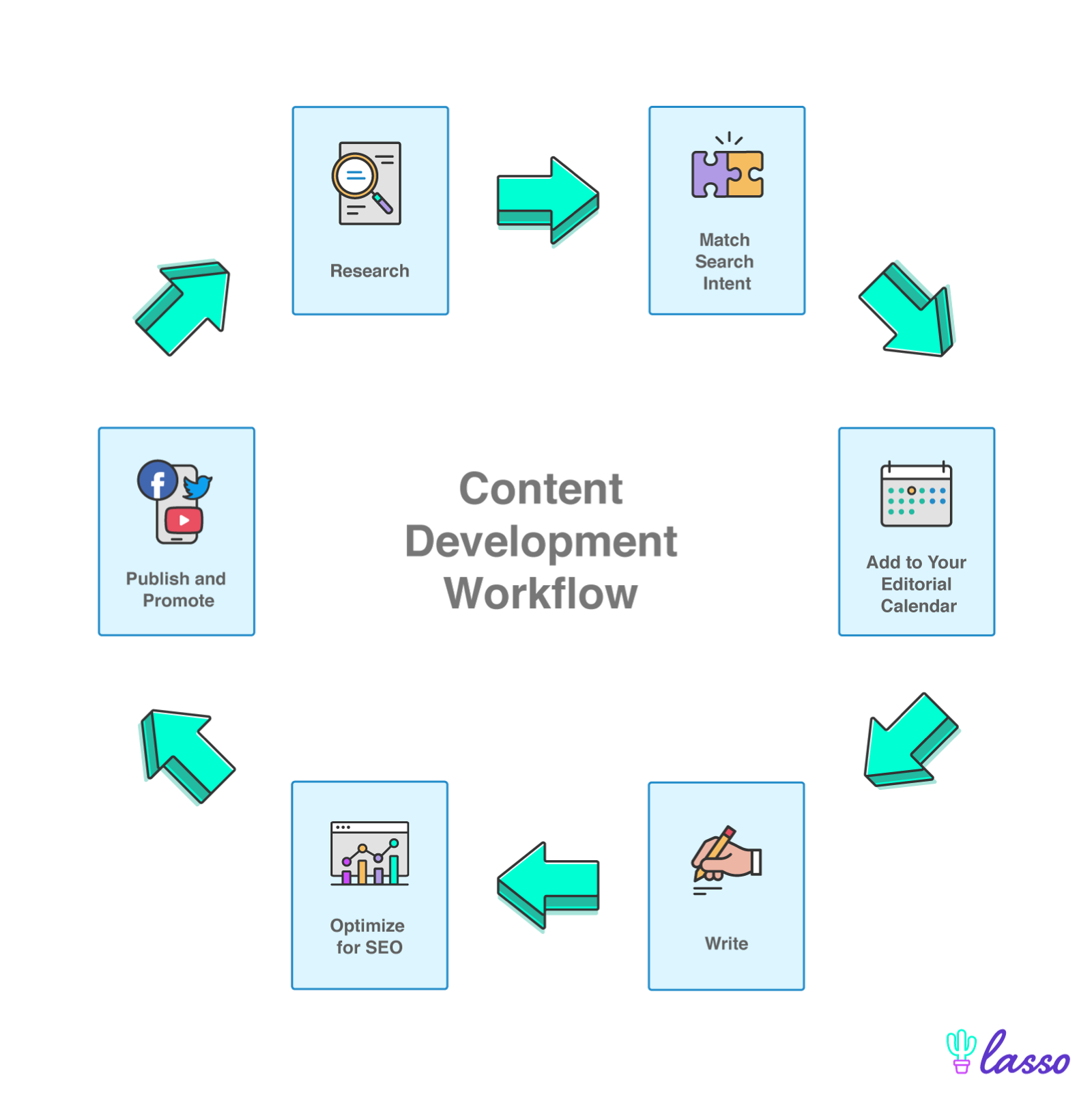 1. Research
You can never have too much research. It informs every decision you'll make. Without it, you'd have no idea which content resonates most with your audience. The below represent a few tools we use in this phase.
Google Search Console
GSC is great for giving you info on how people find your site and the search terms they use.
Head to Performance > Queries.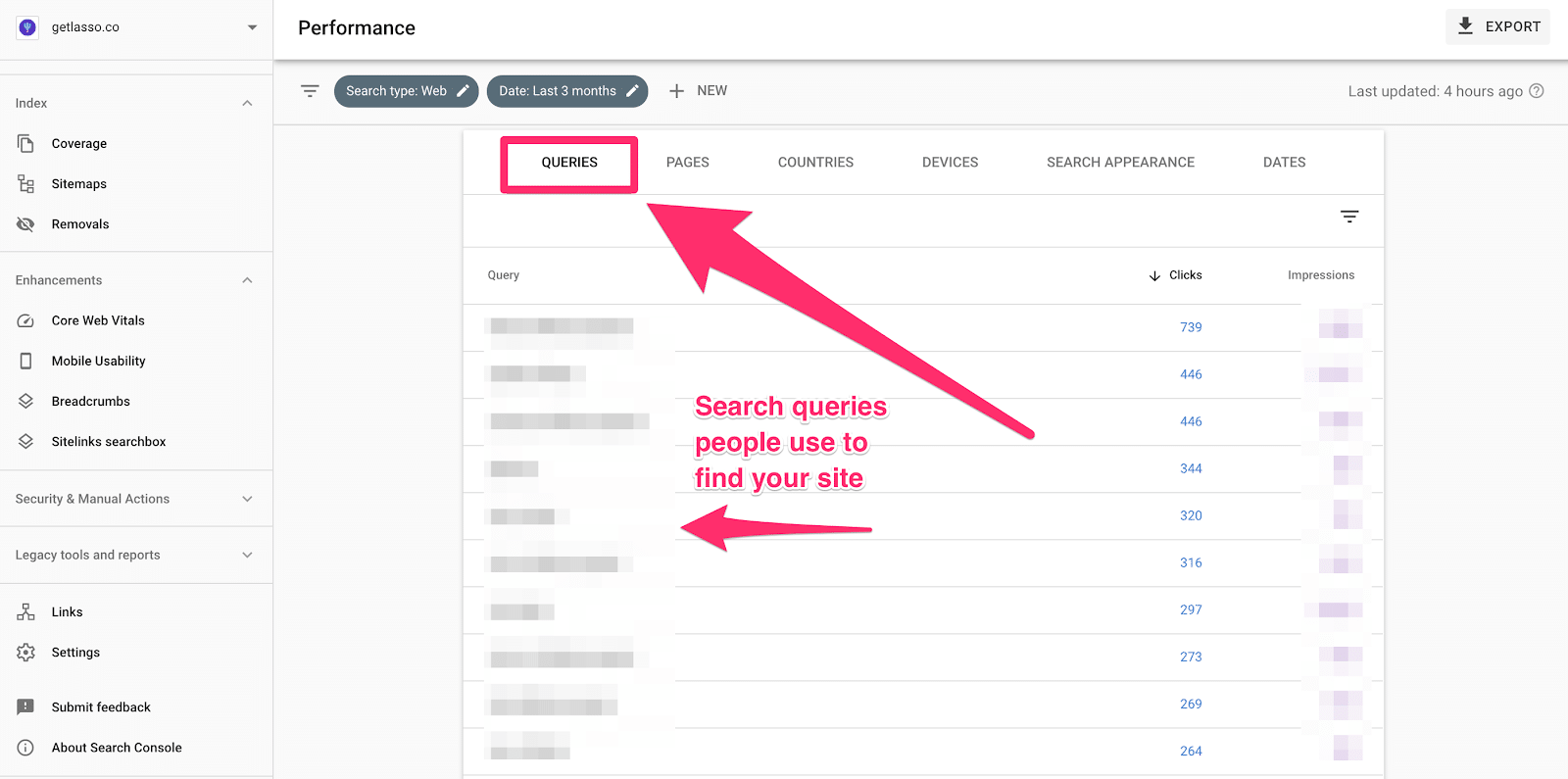 If you notice people are searching for a specific term and you don't have content for it, you can create it (or improve an existing piece to boost click-through-rate [CTR]).
Google Analytics
One trick with Analytics is using Behavior > Events > Top Events. If you're using a tool like Lasso, you can connect your site to Google Analytics and see click data.
You might notice a specific affiliate link gets substantial clicks, but you haven't created content for it. Here's your chance.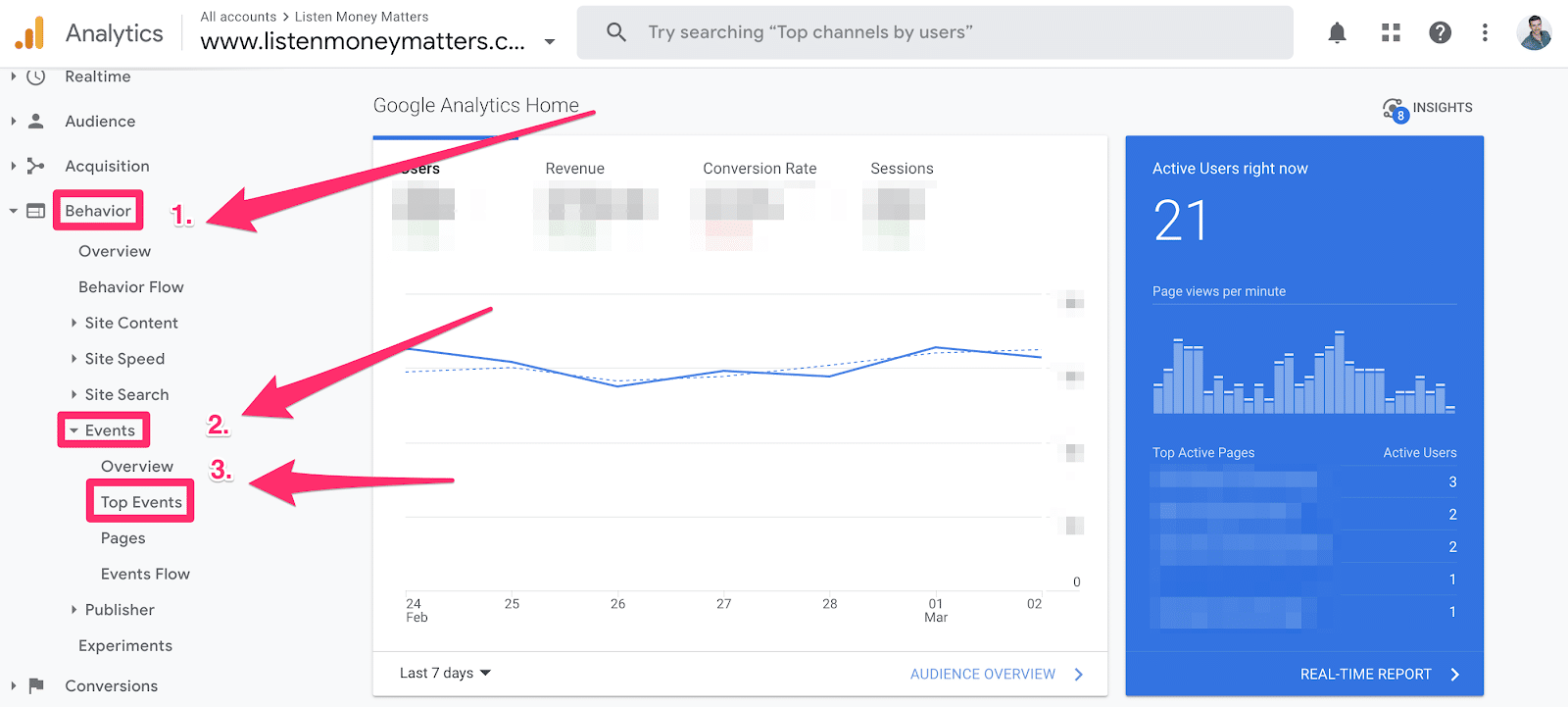 Competing Posts
What is the competition already ranking for on page one of an organic search? You can enter a keyword in Google to see what other bloggers are publishing. Then, ask if you can outrank it. Only great content gets to page one (mostly).
Ahrefs
Ahrefs has an excellent keyword research tool. Enter your keyword into the search bar to determine its search volume, the ranking pages' domain authority, and traffic potential.
Another feature is Content Explorer. 
Type your keyword into it, then hit "Add filter."
Set the filter to a minimum of 1K in monthly traffic and the referring domains to "0" to start. You can adjust these numbers based on your industry and goals.
Then, click "Details" button to see which keywords bring the page the most traffic, like this:
If you see content you know you can outrank and haven't created something yet, this is a golden opportunity.
Content Explorer is useful for examining an entire niche at once.
Other useful tools worth a look are MOZ and SEMRush.
For affiliate sites focused on "high buyer intent" keywords, use product-specific search terms, including:
For example, search for "best speakers," "mac vs. android," or "weber grill review." These queries carry a high transactional value as people are looking to buy.
Further Reading:
Answer the Public
This tool takes everything that Google's auto-suggest does and compiles the data on a single page.
Forums
Where do your customers hang out? Slack channels? Reddit? Quora? Industry-specific forums or online communities? These are where you can start.
Try this Google search query for finding forums: "your niche" forum and see what you get. Other places to try are Linkedin or Facebook. Content creators deal with this every time they're tasked with finding useful topics.
2. Match Search Intent
Once you've gathered information, it's time to decide on the content angle. Observe what search intent is. If you want to create a blog post and the SERP ranking pages are all eCommerce product pages, yours won't rank.
What's the content angle? Should you create something for beginners, or would advanced material make more sense?
How easy will it be to rank for your new content? Do the ranking pages have a higher domain authority than you?
The trick behind your marketing strategy is finding an intersection of content that brings traffic and ranks easily.
Know the goals of why you're creating every piece of content. Is it to educate or convert? For example, a post on "What are Backlinks?" would be to educate while a Global Chef Knife review would convert visitors to buy the product.
3. Put It On Your Editorial Calendar
Once you've decided what you're going to write, schedule it. Put it on a calendar or project management software.
We're fans of Asana and have created several workflows using its tools. You can see who's working on what, the article type, due date, and whatever else you want to track.
Here's a snapshot of our Editorial board: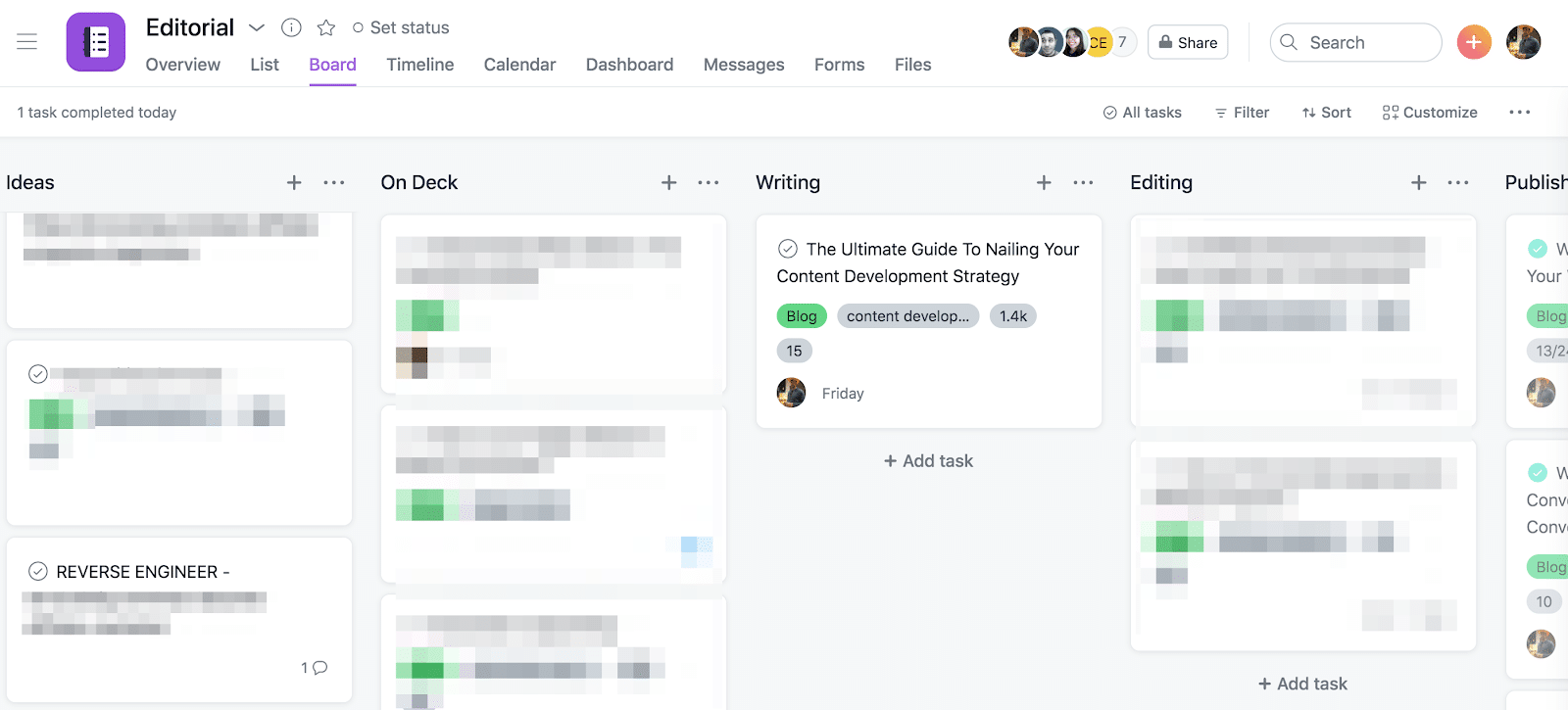 We divide it into columns for:
Ideas
On deck
Writing
Editing
Published
It lets the whole team know who's working on what and how close they are to finishing.
4. Write
It's time to start writing once all of the pieces are in place. If your blog is in its infancy and you're looking to churn out multiple articles per week, you'll need to be quick.
You can always outsource content creation if you find the thought of writing multiple posts per week disagreeable. It'll help you scale quicker with *ideally* less stress.
For example, you might hire a graphic designer to assemble infographics for your blog posts. Or hire multiple writers to increase your output.
In recent years, long-form content gets the best results. This blogging study from Orbitz Media reveals the gradual progression from posts with less than 500 words to posts containing 2,000+-words.
Longer form articles help you rank for many keywords too. You're more likely to capture multiple search queries when you cast a wider net. It's become a pillar of great content.
Further reading:
5. Optimize Your Writing for SEO
Creating content that performs well with search engines while appealing to people is a task unto itself. If you write great content seen by nobody, what's the point? Or, if it reads like a robot wrote it, it won't be popular with humans.
This is where SEO copywriting comes in handy: writing content that's visible to search engines and appeals to people.
We wrote an entire post about it (linked to in the above paragraph), so I won't go into detail here. But here are a few things you can do to improve your chances with organic search and on-page SEO:
Put your keyword in the title (preferably at or near the beginning to avoid truncation)
Craft descriptive meta descriptions with a CTA  
Use short, keyword-rich URLs
Other helpful tips are using internal links to boost relevant pages across your site and using related keywords to give your articles more context. We use Clearscope for the latter.
It helps the web content you write appear easier in search results using algorithms from Google's Natural Language Processing (NLP) and IBM Watson.
I'll spare the technical explanation. Basically, it displays other related keywords your article should include based on top-ranking content.
Here's how it looks in action: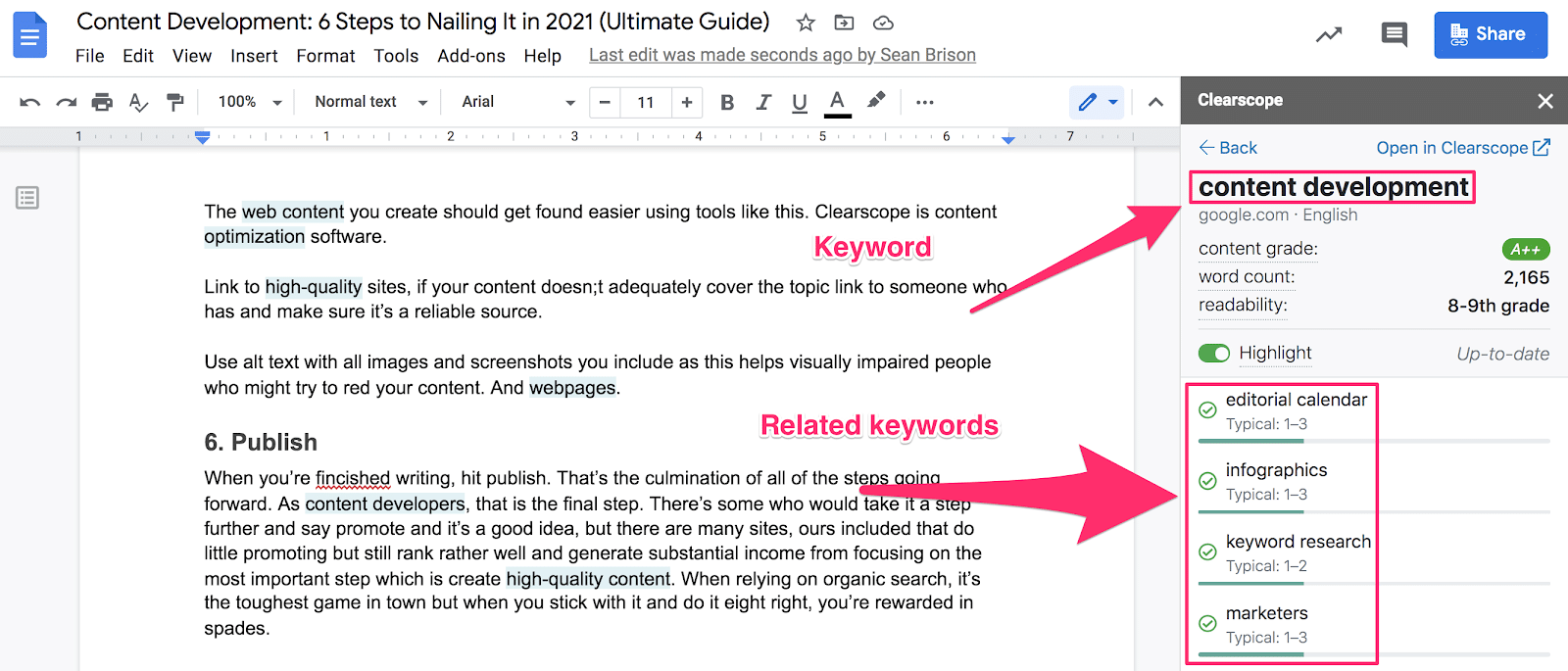 6. Publish & Promote
It's the final step as content developers. You can also promote your content once it's completed. For example, we promote all new articles in Lasso's weekly newsletter. This gives us the opportunity to connect and inform our readers what's new on the blog.
Our personal finance site has a Facebook community, newsletter, and podcast where we can reach our audience.
But most importantly, we rely on creating high-quality content that produces long-term, passive traffic. Organic search is the toughest game in town, but you're rewarded in spades when it starts paying off.
Last Words
People flock to the internet to get answers, conduct research, and buy products. As marketers, that means you should have an efficient content development process for getting the right topics in front of your target audience.
Our creations in your inbox, weekly.
We've built multiple six-figure online businesses that our moms are proud of.
We'd like to help you do the same.