If you want to see what resonates with your website visitors, there are a few numbers you should know. For affiliate marketers, one of those is conversion rates. This metric reveals whether the content you create puts money in your pocket. We'll show you what they are, why they matter, and how to improve them.
But first, let's make sure we're on the same page.
What's a Conversion Rate?
A conversion rate is the number of conversions divided by impressions.
Conversions can be anything: starting a free trial or downloading an ebook. They're actions your visitors complete. Impressions are all of the people who saw your offer.
For example, if you ran a Facebook ad leading to an affiliate landing page. Now imagine 5,000 people arrived on your landing page, and 300 of them signed up for your newsletter.
Three hundred clicks divided by 5,000 impressions (multiplied by 100) equals a 6% conversion rate.
What Is A Good Affiliate Marketing Conversion Rate?
The short answer: It depends.
A "good" rate varies. For example, the global affiliate network AWIN reports an average conversion rate between 0.5% and 1%.
The online business site Bloggers Passion reported a 5% conversion rate using data from one of their affiliate programs in this Quora thread.
Examining conversions by page, our Toolbox located on our personal finance site (i.e., our Resources page) generates a 10% conversion rate. It depends on how you promote your affiliate offers, audience size, and traffic sources.
When examining yours, consider:
Conversions sitewide
Page-level conversions
Conversions by affiliate program or network
Takeaway: Most online data suggests an average affiliate conversion rate hovering between 0.5% and 3%, while the numbers above signal you're doing well.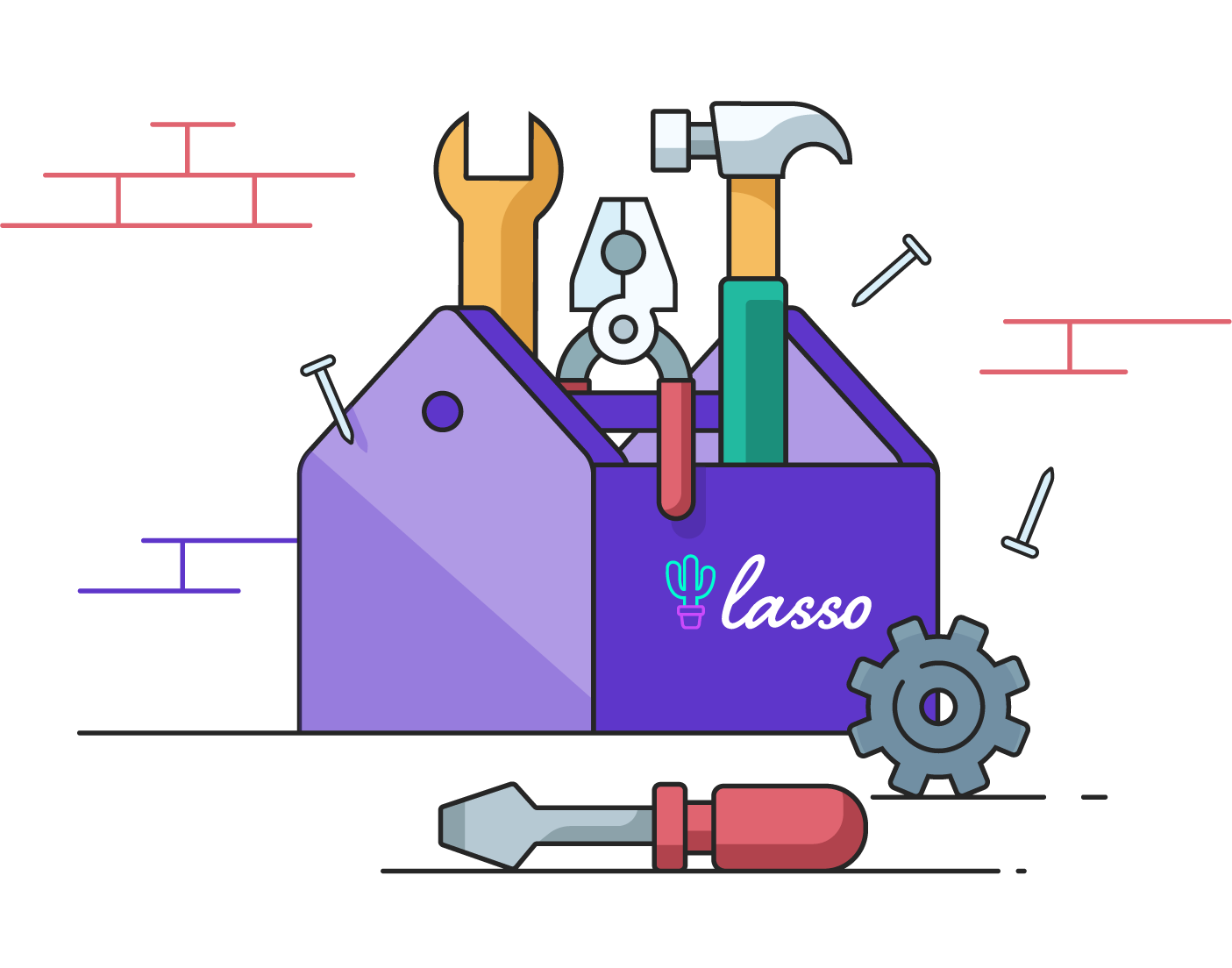 Get our FREE toolkit and checklist for writing articles that convert.
What Factors Affect Your Site's Affiliate Conversions?
This is another one of those "it depends" answers because there is a myriad of reasons why some affiliates convert higher than others.
A low conversion rate could come from:
Promoting the wrong product to your readers
Using only text links (i.e., no product displays)
Attracting the wrong audience via paid traffic
So, let's dive into ways you can improve your numbers.
10 Steps to Improving Conversion Rates On Your Affiliate Site
The below list isn't exhaustive. I chose to include only the tactics we've seen other site owners use or our methods.
1. Promote Your Product In Eye-Catching Ways
This is THE reason we created Lasso.
When looking for a solution to increase our affiliate conversions, we started placing links in product displays, showcasing our offers on select pages.
Then we dug into the data using Hot Jar to determine how people interacted with them.
We saw, on average, people scrolled past our "text-only" affiliate links but stopped and clicked when encountering a product box.
Our WordPress plugin, Lasso, lets you create displays so you can squeeze more affiliate revenue from your links like the one below.💥
Further Reading:
2. Focus On Bottom-of-Funnel Keywords
Bottom-of-funnel (BOFU) keywords signal strong buyer intent. These are people conducting commercial investigations before purchasing a product.
For example, somebody typing "best iPhone," "ConvertKit review," or "Nike vs. Adidas" into Google typically means they're ready to buy but need to do a little research first. It's why search engines display product reviews, comparisons, and best lists in their results.
Consider comparing search queries "best web hosting" and "what is wp engine."
When reviewing the data in Ahrefs, "best web hosting" has a $20 cost-per-click (CPC).

That suggests advertisers will spend $20 every time someone clicks their ad about web hosting.
Alternatively, the informational term "what is wp engine" is only $1.60.

The ad spend is higher in the first example because more people are likely to buy. To increase conversions, write content that matches a searcher's strong buyer intent.
3. Position Your Affiliate Product As the Reader's Solution
Every niche has its pain points and products that alleviate them. Start promoting more of those items to your audience.
If you're unsure what they are, pick a famous brand or product from your industry and type it into Google along with the term "best for," followed by a letter from the alphabet.
For example, "best Nike shoe for a" or "best shoes for a." Then, see what Google auto-suggests.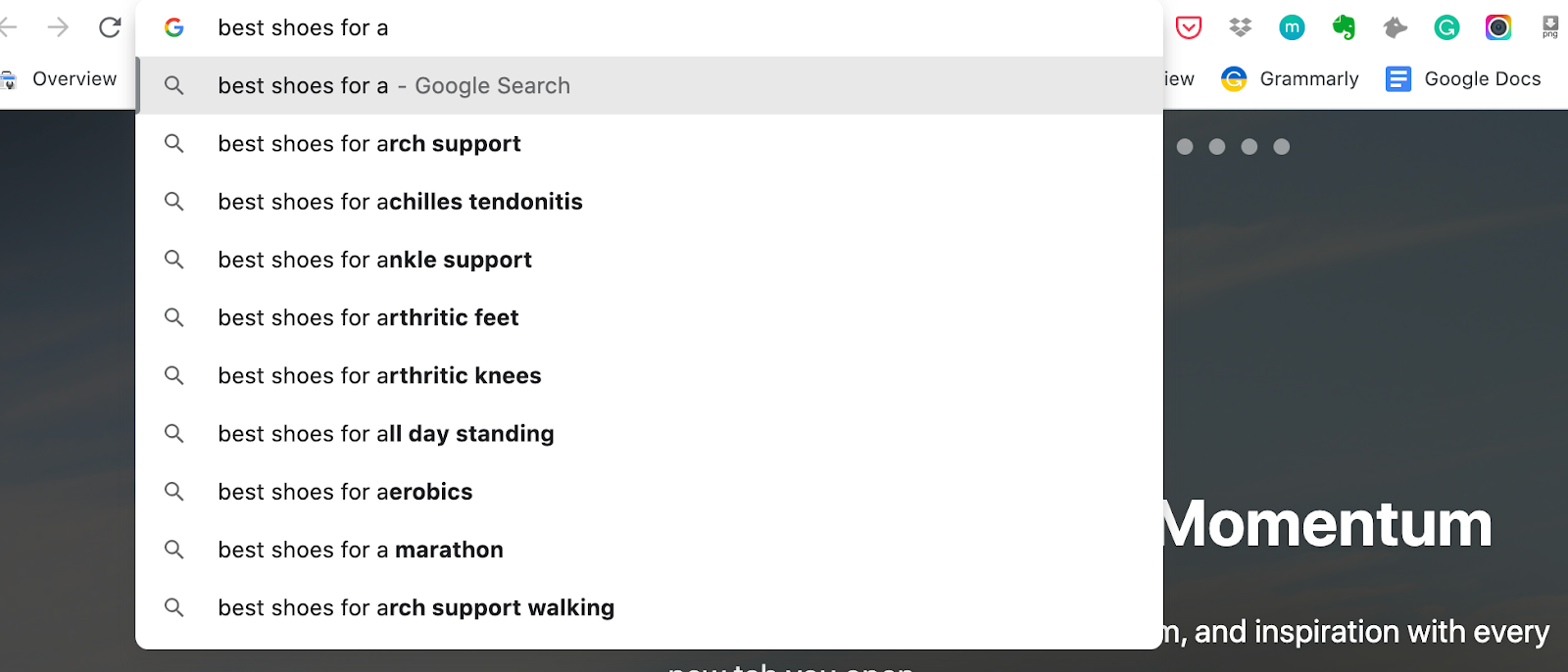 4. Focus On High-Ticket Affiliate Offers
High ticket affiliate marketing promotes premium products for higher payouts. Think luxury goods and top-shelf products with increased price points.
Because these items have a steeper average order value (AOV), you can lock in greater affiliate commissions rates.
These usually require more work upfront but can be pretty lucrative.
For example, you can
Drive traffic to your site
Include your high-ticket offer on your landing page
Have a special opt-in for it (e.g., a PDF)
Email marketing campaign educating them about the product
Follow up with a sales letter and a call-to-action (CTA) asking them to buy
By examining their search volumes, you can test which keyword terms will attract the most traffic. Once you have an idea, you can estimate your monthly revenue from these affiliate sales.
Further Reading:
5. A/B Test Where You Put Affiliate Links
Once you're getting enough traffic, you can optimize your link placement.
For example, you might have a page that generates income, but you want to see how individual links perform.
If you connect Lasso with Google Analytics, you can examine specific pages to see where those links get the most clicks.
Head to Behavior > Events > Pages to see your top posts. Next, click on any of those to see which affiliate links drive the most clicks.

In the above example, Fundrise gets the most clicks, but you discover upon reviewing your article that it's displaying at the bottom of your post.
So, you could move it to the top and test whether it gets more clicks.
6. Add Affiliate Links to Images
We've tested this: People LOVE clicking images.
So whenever you add images to your posts, include your affiliate URL in them. It's one more opportunity to drive traffic to your offer.
Using our WordPress plugin, Lasso, you can do it from your post editor. First, click the cactus icon in your menu bar, then choose "Image" as your display type.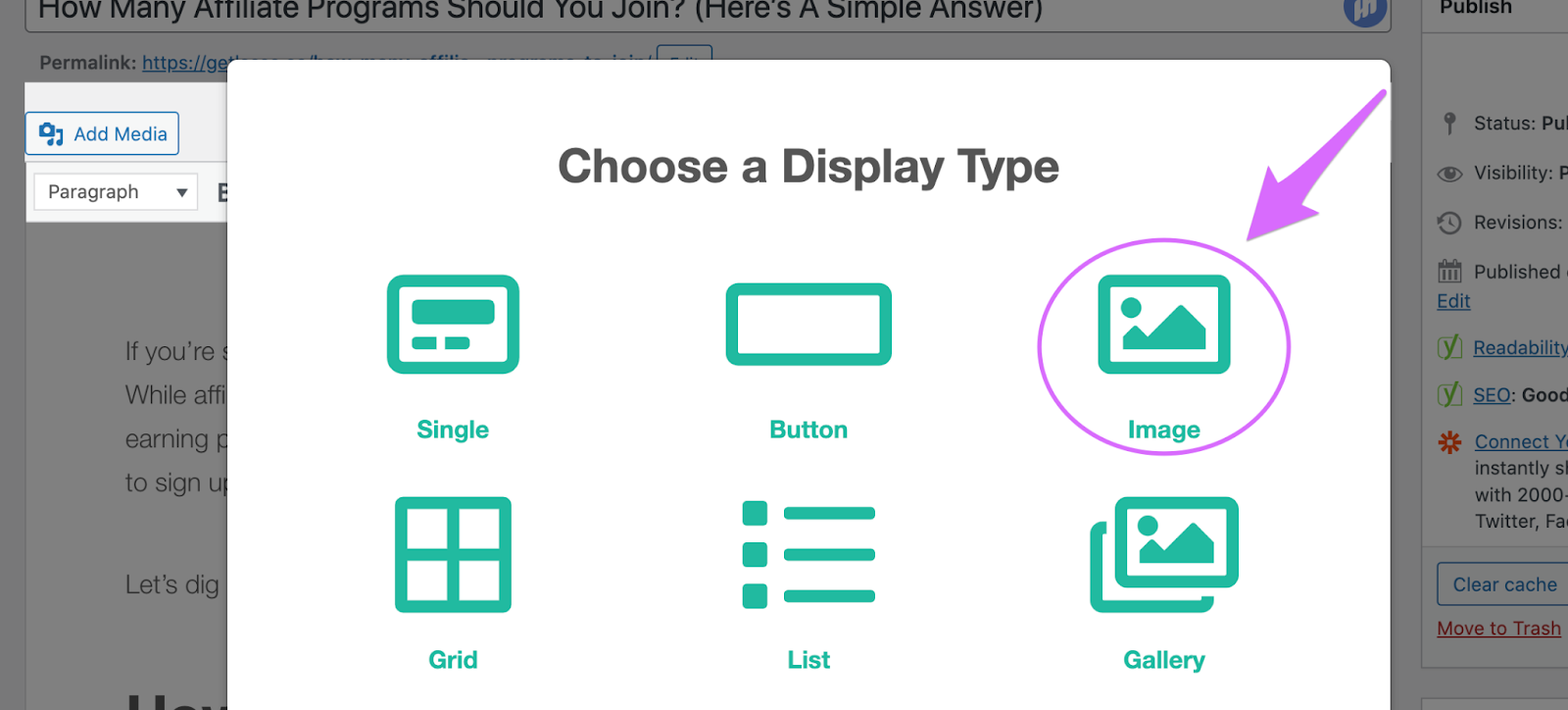 Using images also helps:
Stop the skimmers
Break up your page, so it's more user friendly (an SEO boost)
Keep it more attractive without inserting random or irrelevant stock images
7. Find the Right Affiliate Marketing Programs
Sounds simple but worth saying. Not all programs are created equal.
Do yourself a favor by working with reputable brands, excellent affiliate managers, and high-quality products. Typically, these will have the best payouts.
Check whether the brand has an easy sign-up process or user-friendly checkouts for its customers. This is important because that's where you'll be sending them to convert. If it's difficult for your website visitors, there's a lower chance they'll convert.
The success of your conversion rates hangs in the balance.
For those in Lasso's affiliate program, we offer custom creatives, landing pages, and CSS to help them promote us.
We've seen this work with the highly targeted traffic they send us. The easiest way to find programs is a simple Google search:
Brand name + affiliate program
Alternatively, using Lasso, you can find programs relevant to your industry from inside your dashboard based on domains you already link to.
Head to Opportunities > Affiliate Programs.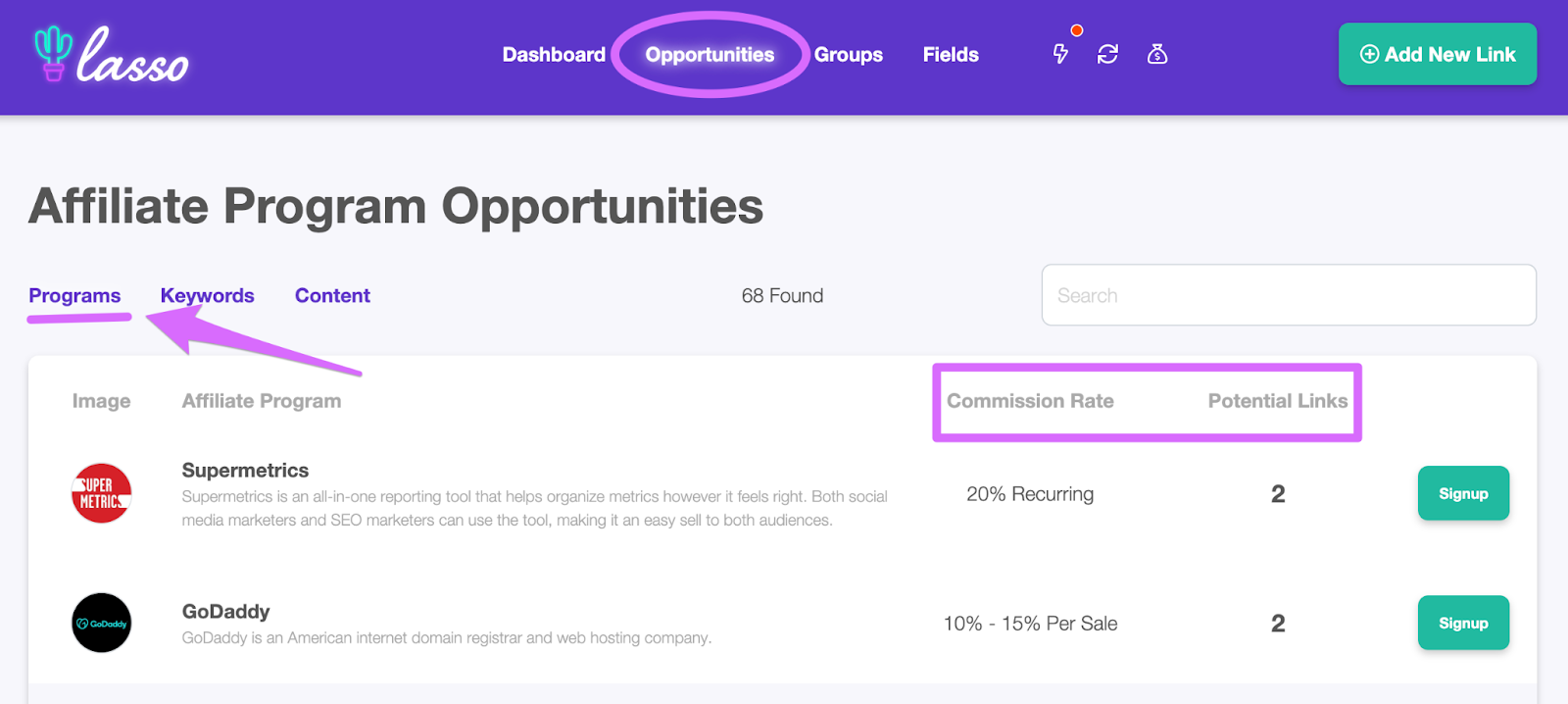 Lasso scans your site, which you can see in the Affiliate Program Opportunities report along with these metrics:
Affiliate program
Potential links
Then, sign-up by clicking the green CTA button. Alternatively, you can check out our database with over 6,100 affiliate programs categorized by niche.
Further Reading:
8. Leverage Smart Call-to-Actions
Your call-to-action (CTA) is almost as important as your headline because it's the point of conversion. But many affiliate website owners overlook it.
Here's the thing.
Without a compelling CTA, your reader has nowhere to go. That's why it's a best practice to show them.
And the best way: use verbs and action phrases aligned with the value they'll get when clicking.
For example, if your goal is to get sign-ups by giving away a checklist for how to grow their social media audience, say that with your button copy.
"Sign up" becomes "Grow my social media following." Start thinking of your button copy as a call-to-value instead of a call-to-action.
Next, use a different color for your button, so it grabs your reader's attention.
Further Reading:
9. Learn SEO Fundamentals
Paid ads are ok for earning a quick traffic boost. But they cost money. And over time, you may not always have enough in your budget.
While content displayed at the top of search engine results pages gets more clicks, those who got there via paid ads are forking out cash for that prime placement.
Now consider those appearing on page one who got there organically (i.e., by creating excellent content and adhering to SEO best practices without spending a dime)
You should master SEO if you're playing the long game. It's crucial to your affiliate marketing success.
If you open up Ahrefs and look at your domain's profile, there's a "Traffic value" metric on the far right. That's the estimated value of your domain's monthly organic search traffic.
Here's what ours shows:

That means we'd need to spend $32k per month to get the same traffic to our website we're already getting for free.
That's INSANE.
Imagine paying that much per month. Most of us would run out of money before we had a chance to spend it.
That's why investing your time to learn SEO is the wisest move you can make. It makes sense; your site runs better, it's user-friendly, people return, you earn top spots in the SERPs for free, all worth it IMHO.
If you want t deep dive, out these posts below.
Further Reading:
10. Create A Product-Related Bonus to Entice More Clicks
Let's say you're promoting the email service provider MailChimp. If you want to attract more clicks, offer your readers a tutorial showing them how to get started if they sign up via your affiliate link.
This incentivizes people because they'll get something in return.
You might make it a free guide or course to getting your first 1,000 subscribers using these 4 "little-known" MailChimp hacks.
Position your product as the solution in your bonus.
Further Reading:
So, Why Do You Still Have Low Conversion Rates?
The problem might be people aren't interested yet. So let's walk through a few scenarios and ways to fix them.
They're not ready to buy
If people don't seem interested (or ready), try using a secondary CTA button with your offer.
Let's say you're promoting a product on a "best list," but your reader isn't entirely convinced. You could use a secondary CTA button linking to a product review or tutorial explaining it in greater detail.
This maintains engagement and keeps them on your site longer. Both are HUGE SEO wins. Plus, it helps build trust with your reader.
If you're using Lasso, you can add secondary buttons to your displays like this one below.
Grammarly Online Writing Assistant
Grammarly is an AI-powered writing tool that finds your grammatical errors and spelling mistakes. But it also provides stylistic suggestions such as your text's clarity, delivery, and tone. You can use it on your desktop app, as a browser extension, and on mobile keyboards.
Try Grammarly
Read Our Review
We earn a commission if you make a purchase, at no additional cost to you.
Further Reading:
It's unclear what action you want visitors to take
I've seen sites with so many calls to action that I get decision fatigue, and I'm instantly overwhelmed.
It's what author Barry Schwartz calls The Paradox of Choice. We think more choice gives us greater options and abundance, but it's crippling our decision-making.
Choice overload can make you question decisions before you make them.
Bottom line: You'll do more with less.
Be clear with what you want your readers to do. People often like being told where to go as it alleviates their mental bandwidth.
Solution: Reduce your CTAs
You're not actively selling
Newsflash: You're a salesperson, whether you want to believe it. So, don't feel shy about promoting your affiliate offers.
One example I constantly revisit is Amazon. They designed their ecommerce site to convert visitors. Think of some of their tactics to get you to buy more:
Frequently bought together items
Displaying products based on your search queries
Then they email you with a buh-jillion offers. You can do the same without spamming your readers.
For example, if you're writing a review about Grammarly, you could also link to additional tools that help write SEO-optimized content, such as Yoast and Clearscope.
Then showcase them in a Lasso Grid display much like Amazon's "Frequently bought together" sales tactic. Here's an example.👇
Grammarly Online Writing Assistant
Grammarly is an AI-powered writing tool that finds your grammatical errors and spelling mistakes. But it also provides stylistic suggestions such as your text's clarity, delivery, and tone. You can use it on your desktop app, as a browser extension, and on mobile keyboards.
Try Grammarly
Read Our Review
We earn a commission if you make a purchase, at no additional cost to you.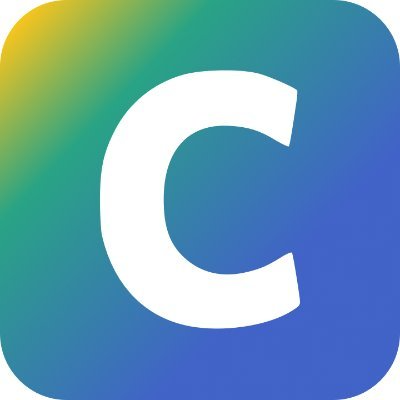 Clearscope
Clearscope helps make your content more SEO-optimized. It tells you what phrases to target based on keywords people are already searching for and suggests related words for a given search term. We don't write a single blog post until we've run a Clearscope report for our target keyword.
Try Clearscope
We earn a commission if you make a purchase, at no additional cost to you.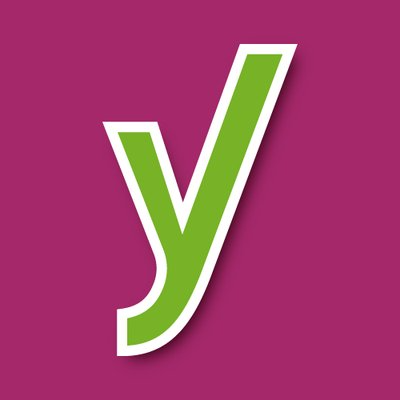 Yoast
Yoast is a WordPress plugin that helps you create SEO-friendly posts and pages. It displays your on-page metrics, readability, schema markup, and gives you a preview of how your post will display on social media. We use Yoast in tandem with Clearscope to ensure our content creations are optimized.
Try Yoast
Use affiliate product upgrades and fixes as another opportunity to email your list. When you do, include your affiliate link!
What's the Difference Between Click-Through Rate vs. Conversion Rate?
The main difference between conversion rates (CR) and click-through rates (CTR) is that CRs refer to users who completed a specific goal or action (e.g., a sign-up, a purchase, or a free trial). CTRs apply only to the people clicking your links.
They're also different funnel stages.
For example, CTR shows you the number of clicks your link received in a piece of content based on its number of page views.
Let's say your blog post had 2,000 page views in a single month, and 100 people clicked your link.
That's a 5% CTR
(100/2,000 = 0.05 x 100 = 5%).
Alternatively, conversion rates show the number of purchases (or whatever goal you've assigned the conversion) divided by the number of clicks.
For example, if you're calculating the conversion rate for your email marketing affiliate program, examine:
The number of affiliate link clicks
The number of sign-ups
Total revenue generated
Imagine you had 3,000 clicks and 200 sign-ups. That's a 6% conversion rate.
CR and CTR let you review both sides of your offer. For example, you might get many clicks on your affiliate link, but visitors don't convert once they arrive on the landing page. So, there's your opportunity to understand why.
In many ways, it's a before and after snapshot.
Some affiliate programs list your conversion rate on your earnings report. For example, Amazon shows the number of:
Clicks
Ordered items
Conversions

Now Go Level Up Your Affiliate Conversion Rates
Analyzing your affiliate conversion rates is vital for growing your business.
As you've probably noticed, measuring what works correlates with how much money you'll make. If you don't spend the time tracking your offers, you won't know what's moving the needle.
And worse, you may waste time on the wrong things.
Once you see this, you can start running tests and optimize your site to its full potential. If you want to read about our approach (and why we're the best affiliate marketing plugin for WordPress), head here.
Our creations in your inbox, weekly.
We've built multiple six-figure online businesses that our moms are proud of.
We'd like to help you do the same.