Our site Giftlab earned $1.2M in affiliate income and reached 17.5M uniques in under 5 years. How? The first reason is that we built it to convert. The second is because we know (through trial and error) how to optimize for organic search. If you're trying to improve your positioning on the SERPs and get more traffic, avoid making these common SEO mistakes.
Let's dive in.
1. Writing Un-Optimized, Low-Quality Content
High-quality, well-structured content is the gold standard for search engine optimization.
You make it easy for Google to know what your site's about, but you also make it easy for people to consume your content. Google already said they want to give searchers the best user experience possible. Plus, they make all of their money from ad revenue.
So, if they don't do a good job, advertisers won't pay to display content at the top of search engine results pages.
But you have to do your part too, which means writing to solve your reader's problem. A well-researched, properly formatted article is your best bet to get people to come back.
This includes adding things to your content, so your target customers aren't hit with a wall of text. Break your content into bite-sized chunks with:
Tables
Videos
Illustrations
Infographics
Bullet points
Create a hierarchical structure with your h2s, h3s, and h4s, with subheadings.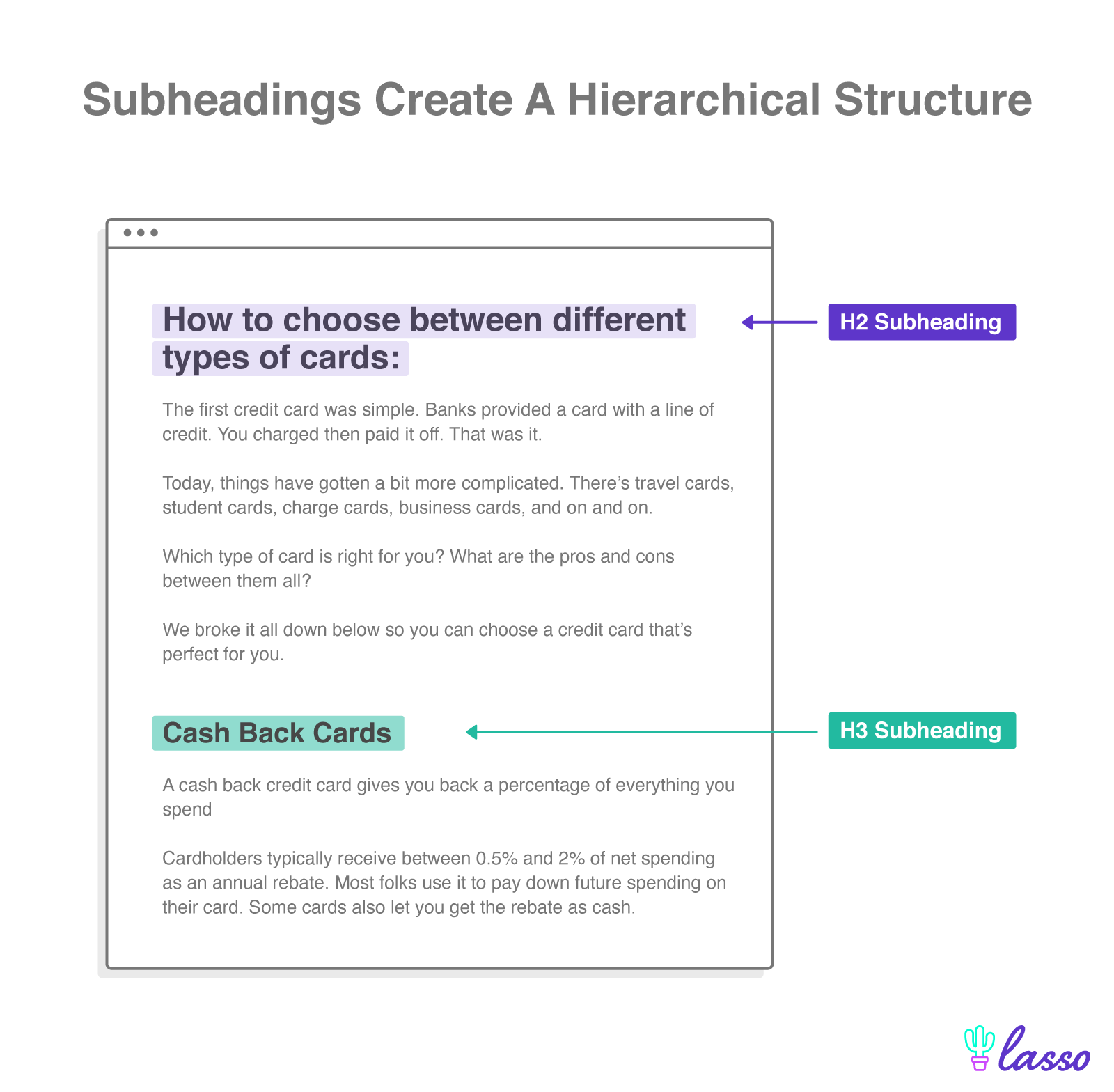 WordPress makes this easy for you when drafting a post.
The SERPs are the first interaction people have with your content so consider optimizing your URL, title tag, and meta description.

Tip: Create evergreen content where possible instead of trending topics with a short shelf life. Evergreen posts like "how to lose weight" or "how to make a million dollars" will always bring traffic yearly.
Further Reading:
2. Not Accounting for Site Speed
Speed has been a ranking factor since 2010. In 2018, Google rolled out page speed in mobile search.
Studies show that people prefer fast sites to slow ones, and a 0.1% increase makes a difference.
Still not convinced? What if I told you 70% of consumers say page speed determines if they'll buy.
But fear not, you can run your site through tools like GTmetrix or Pingdom to determine its load time.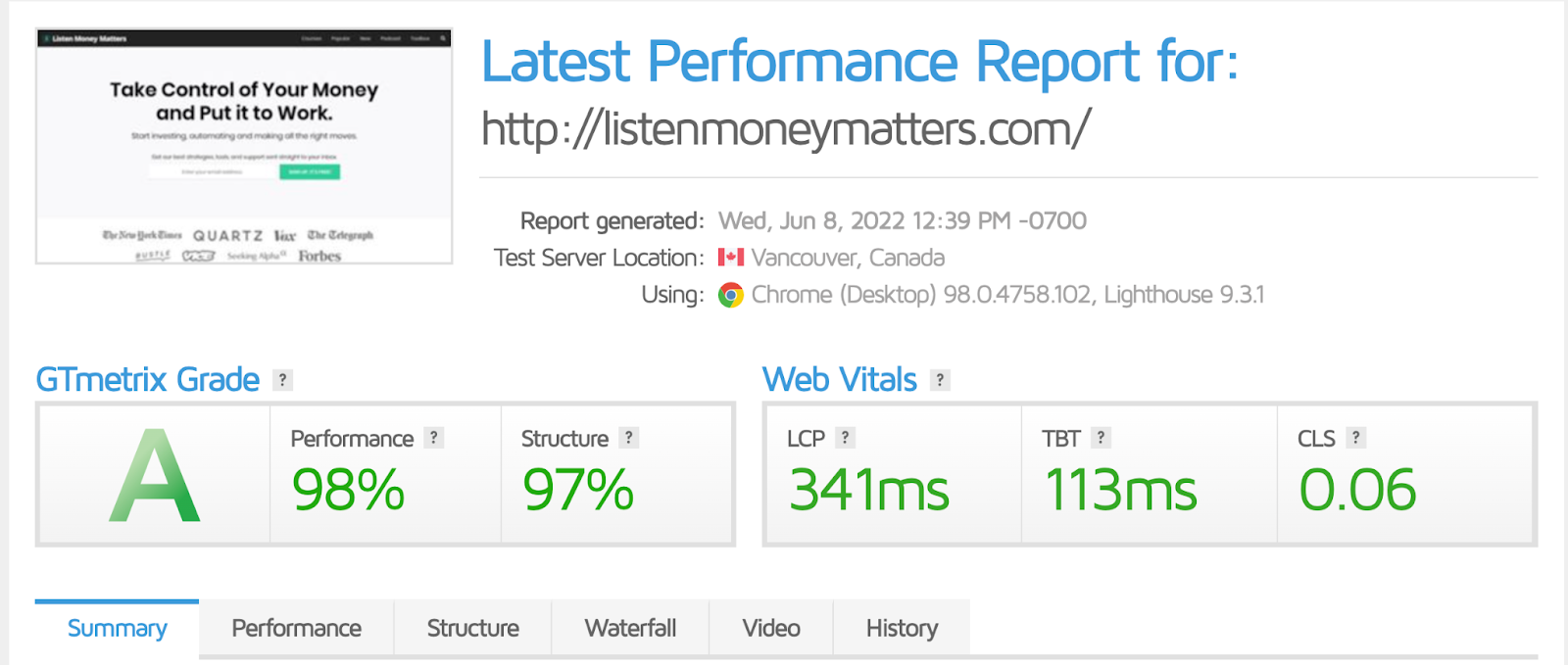 One thing these tools measure is your site's number of HTTP requests. These metrics deal with:
File size
File download frequency (i.e., the number of requested files)
Our Optimized Load Speed Stack: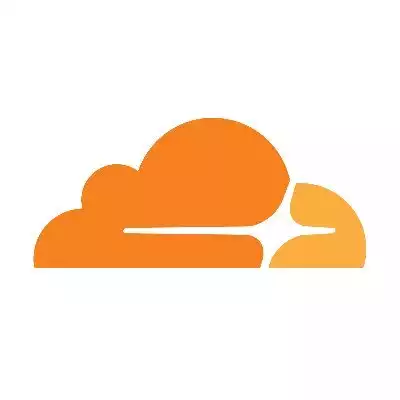 Cloudflare
If you want serious speed that just works, this is what you've been looking for. Their performance and bang-for-your-buck are unparalleled. They also deliver a ton of value on their free tier.
Speed Up My Site
We don't earn anything recommending Cloudflare. That's how great we think it is.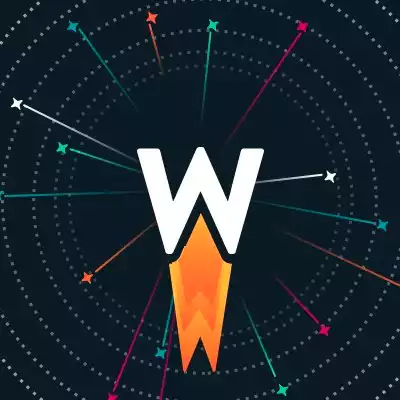 WP Rocket
Make your site load faster in a few clicks. WP Rocket is recognized as one of the most powerful caching plugins for WordPress. We use it specifically for image lazy loading.
🚀 Cache My Site
Affiliate Program
We earn a commission if you make a purchase, at no additional cost to you.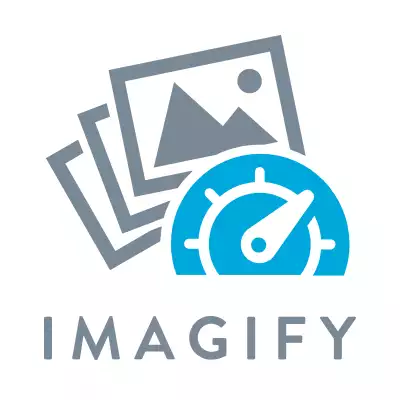 Imagify
Imagify speeds up your website with image compression, so your pages load faster. Instead of taking the time to format your images, they optimize them automatically.
Optimize My Images
Affiliate Program
Servers host a TON of data, and everything must be downloaded from them via HTTP requests, so keep this number to a minimum.
Further Reading:
3. Not Being Mobile-Friendly
Did you know a substantial number of customers buy products with their smartphones?
Here are three reasons why you shouldn't ignore mobile users:
It's a ranking factor. Google said it predominantly uses the mobile version of the content for indexing and ranking. Since most people now access Google from a mobile device, Google switched from the desktop to the mobile version when reviewing a web page's content.
Most internet traffic comes from mobile devices. Adjusting for mobile creates opportunities to raise brand awareness and boost conversions. Ignoring mobile neglects over half of your audience.
More people buy products with their smartphones. Consumers spent $431 billion worth of online purchases last year. So you're losing money if you ignore this bit of your site's technical SEO.
You can see whether your site's mobile-friendly in Google Search Console.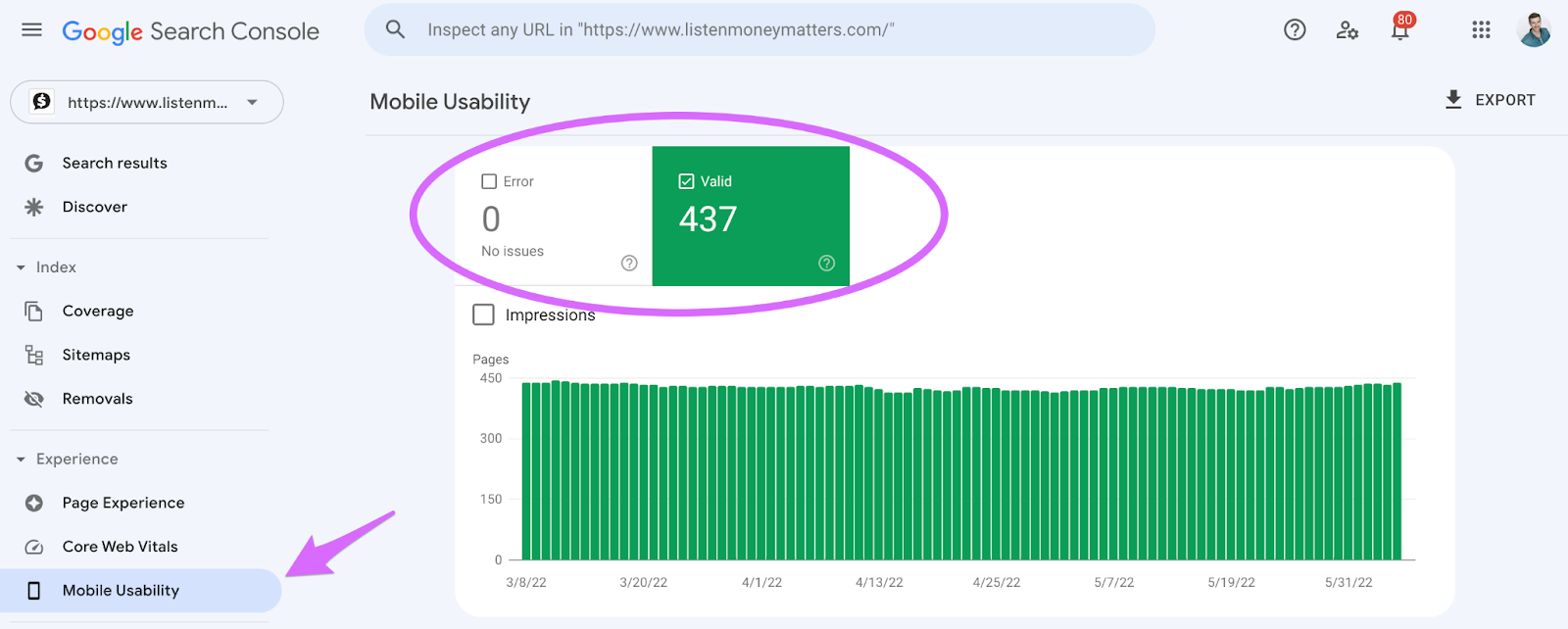 If your site isn't connected, just enter your URL to run a simple test without needing to connect here.
Further Reading:
4. Not Considering Your Analytics Data
The simplest way to tell if you're making progress is to review website data.
This can include:
Your site's top pages
Where your traffic comes from
Landing pages and your site's entry points
Additionally, recognizing which organic keywords your site ranks for in your niche helps gauge the difficulty in ranking for more competitive terms as you grow.
Sometimes a two-pronged approach works best, such as focusing on:
Seed keywords with high traffic/search volume potential
Bottom-of-funnel, long-tail keywords with lower volume and higher conversion rates
The latter carries a higher likelihood of converting visitors into paying customers.
It's not always about high traffic but traffic quality. Simply put, Quality > quantity.
In addition to locating your site's popular content, you can measure which affiliate products drive the most clicks on those pages by heading to Behavior > Events > Pages.

Now you can gauge the success of your affiliate products.
Further Reading:
5. Not Allowing for Crawling & Indexing
If search engines can't crawl or index your site, you're finished before starting. And you'll have zero chance of ranking in the SERPs.
To fix this, head to Google Search Console and click "URL Inspection." Then, enter the web page to verify if it's indexed.
Another step is creating an XML sitemap to make crawling easier for bots. You can generate one with SEO plugins like Yoast.
Alternatively, to tell whether your site is disallowing specific parts of your site from web crawlers, check your robots.txt.
To find yours, enter this into Google:
yourdomain.com/robots.txt
If you see this:
User-agent: *
Disallow: /
Then search engines are unable to crawl your page. The above text translates into "no access for all bots."
The solution: Remove the forward-slash ( / ) to permit web crawling. Yours should now read:
User-agent: *
Disallow:
Tip: Add schema markup to your posts. This is the "language of search engines" and helps organize your content's data so that Google can read it easily. There's also the benefit of winning featured snippets which skyrockets your post to position one.
This task does require some technical savviness, so if you're not a developer, try a schema markup generator like the one below.
They're pretty user-friendly. Type some basic information into the empty fields where prompted, then, once completed, copy and paste your generated schema code into the HTML editor of your WordPress site.
6. Neglecting Keyword Research
Before creating content, you need to know whether people are searching for it. When there's search demand, traffic usually follows.
But here's the thing:
You can't run your blog like a business writing what you want; you must write what your customers want.
That's why you need to do keyword research.
It's how you determine the language your target audience uses to search for products and services in your niche. It also helps you align your content as the solution to their problem in their words.
How? Because these are the exact terms they type into Google. And phrases with high search volume signal high traffic potential.
There are many SEO tools you can use for this. For example, Keywords Everywhere or Keyword Surfer are free browser extensions that'll show you search volume in the SERPs.
Or you can try paid tools like Ahrefs or Semrush.
For example, if you wanted to create informational content in the golf niche, type "golf" into Ahrefs and tick "Questions." This will show you the popular terms searchers have.

Examine both 'Volume' and 'TP' (traffic potential). Then create content where it makes.
Further Reading:
7. Choosing Keywords That Are Tough to Rank for
When deciding what you'll write, review your keyword's difficulty score. This gives you an idea of your chances to rank for that phrase and appear on page one of search results.
Using our golf example from above, when you click the term "how many clubs in a golf bag," you can see an overview of that term's metrics.
It has an "Easy" keyword difficulty (KD) score of '4' with high traffic potential. So, that could be a term you could create content around because you have a greater chance to rank for it.

Ahrefs also estimates how many backlinks you'll need to rank in the top ten results below the numerical score.
Our phrase above needs five to hit page one of the SERP. Compare that to "where to buy golf clubs," The difficulty is insanely tough to rank.
That term's backlink estimate is ~488!

Another factor to consider is the authority of the ranking posts for your keyword. Usually, if it's super challenging to rank for, the domain ratings will be >80.
But think about this.
If the difficulty is borderline and you think you might have a shot, consider the authority of the ranking posts.
Take a look at the SERPs for the phrase "best golf clubs":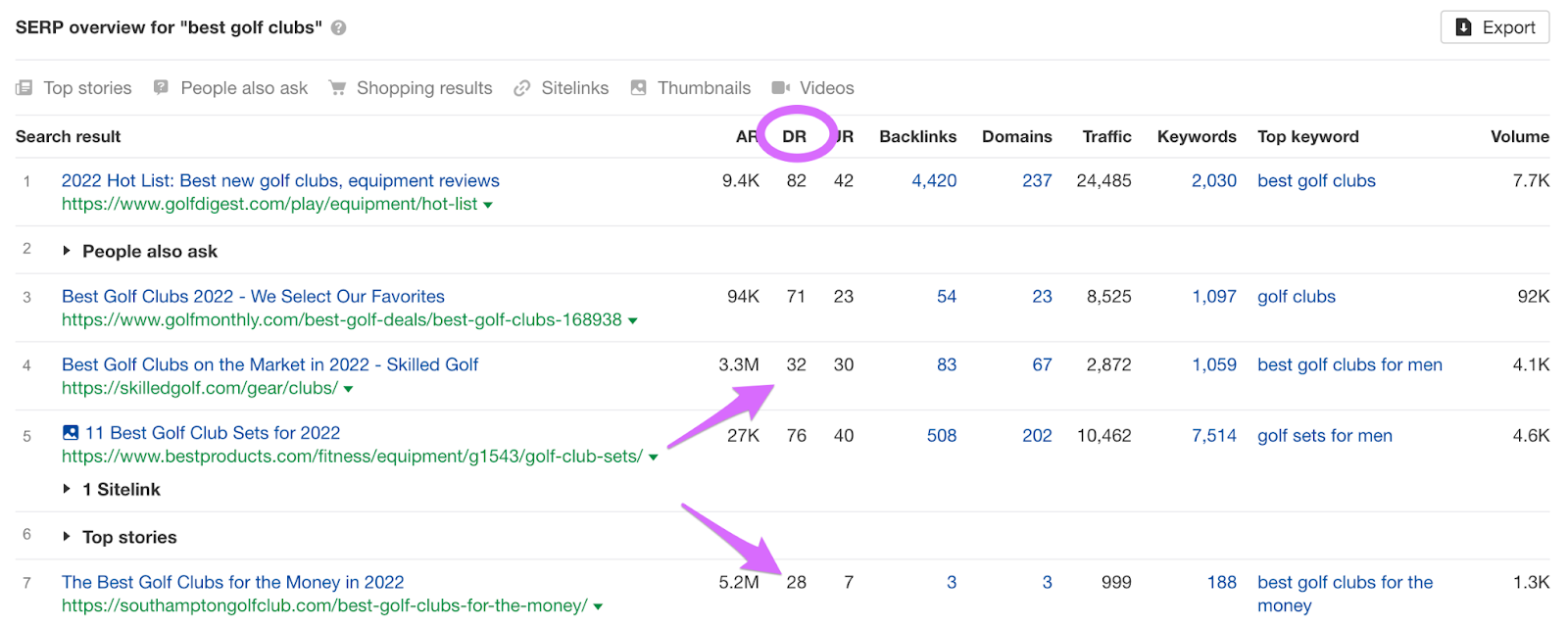 Two articles have domain ratings in the 20s and 30s, and one only has three backlinks pointing to it!
Low authority paired with few backlinks = ranking opportunity.
Further Reading:
8. Ignoring Link Building Opportunities
Besides content, backlinks are the other huge ranking factor for improving your search positioning with Google's algorithm.
When you match high-quality content with a substantial number of backlinks, that signals the perceived value of your site across the internet.
More links mean more credibility.
But sites with more backlinks will outrank you, and acquiring them is an arduous task. Having a comprehensive outreach plan in place can help hasten your efforts.
Stacker Studio's Head of Marketing, Amanda Milligan, shares an extensive Link Earning Stack that should represent your content goals, consisting of:
Passive link earning (e.g., linkable assets)
Targeted link building  (e.g., boosting existing content in the SERPs via outreach)
Site authority link earning (e.g., using unique data to your site and pitching journalists)
Niche link earning (e.g., gaining authority in your niche with newsworthy data and establishing syndication relationships)
Once you've decided how you'll tick all four of the above boxes, locate the sites in your industry and reach out to them. As you gradually build links, your site will get more organic traffic, and its authority will climb.
9. Not Accounting for Search Intent
Search engines have one job: to match results with a person's query.
If your content doesn't do that, it won't rank. So before you start writing a post, review the ranking articles and examine the type of content you see on page one.
Google tries to understand the intent behind a search query. That's why different terms yield different results.
For example, when you enter "men's golf clubs" into Google, you see many ecommerce listings.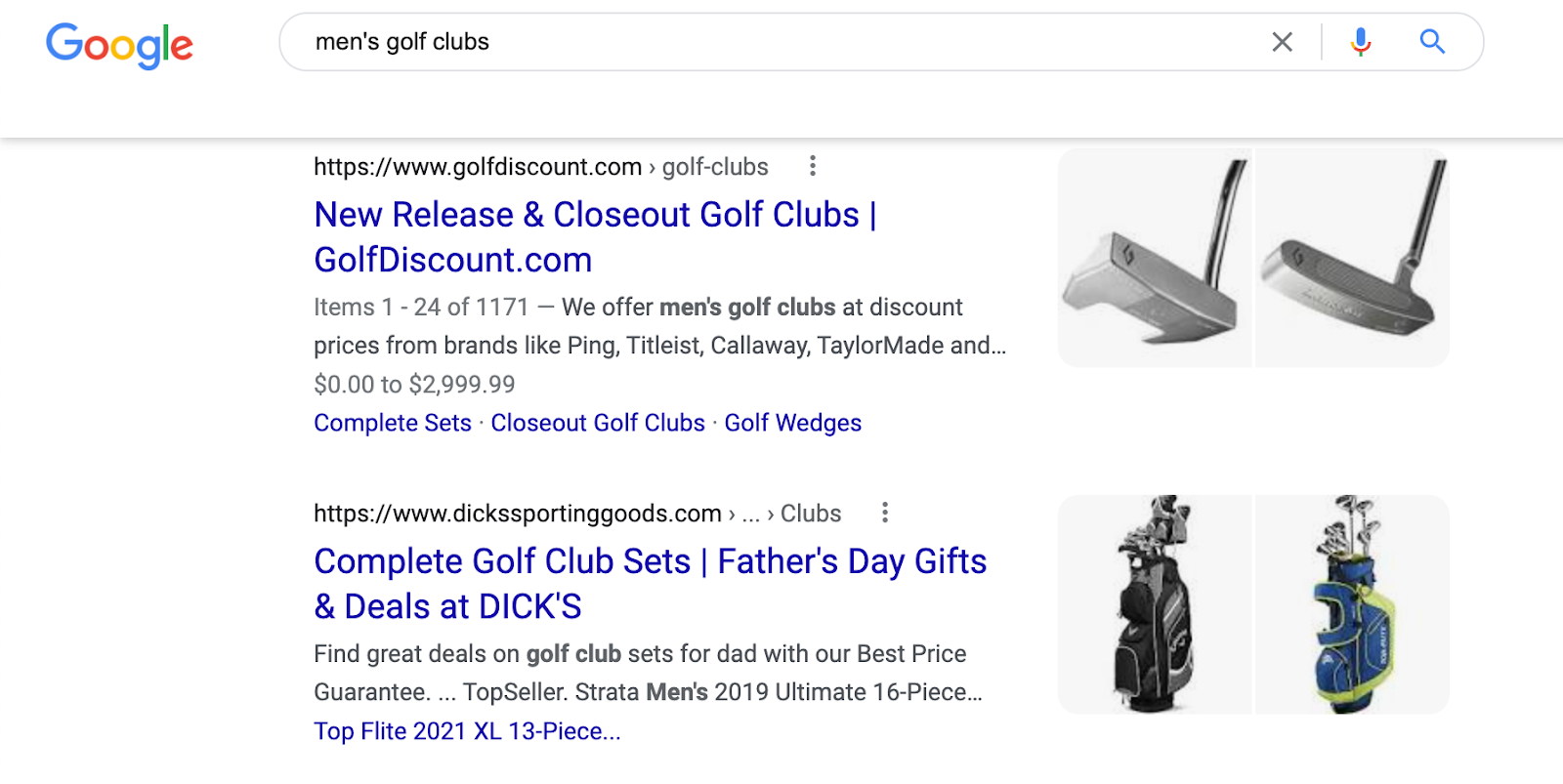 So, you wouldn't want to try and rank for that term since ecom sites dominate the SERP. But look what you get one typing "passive income":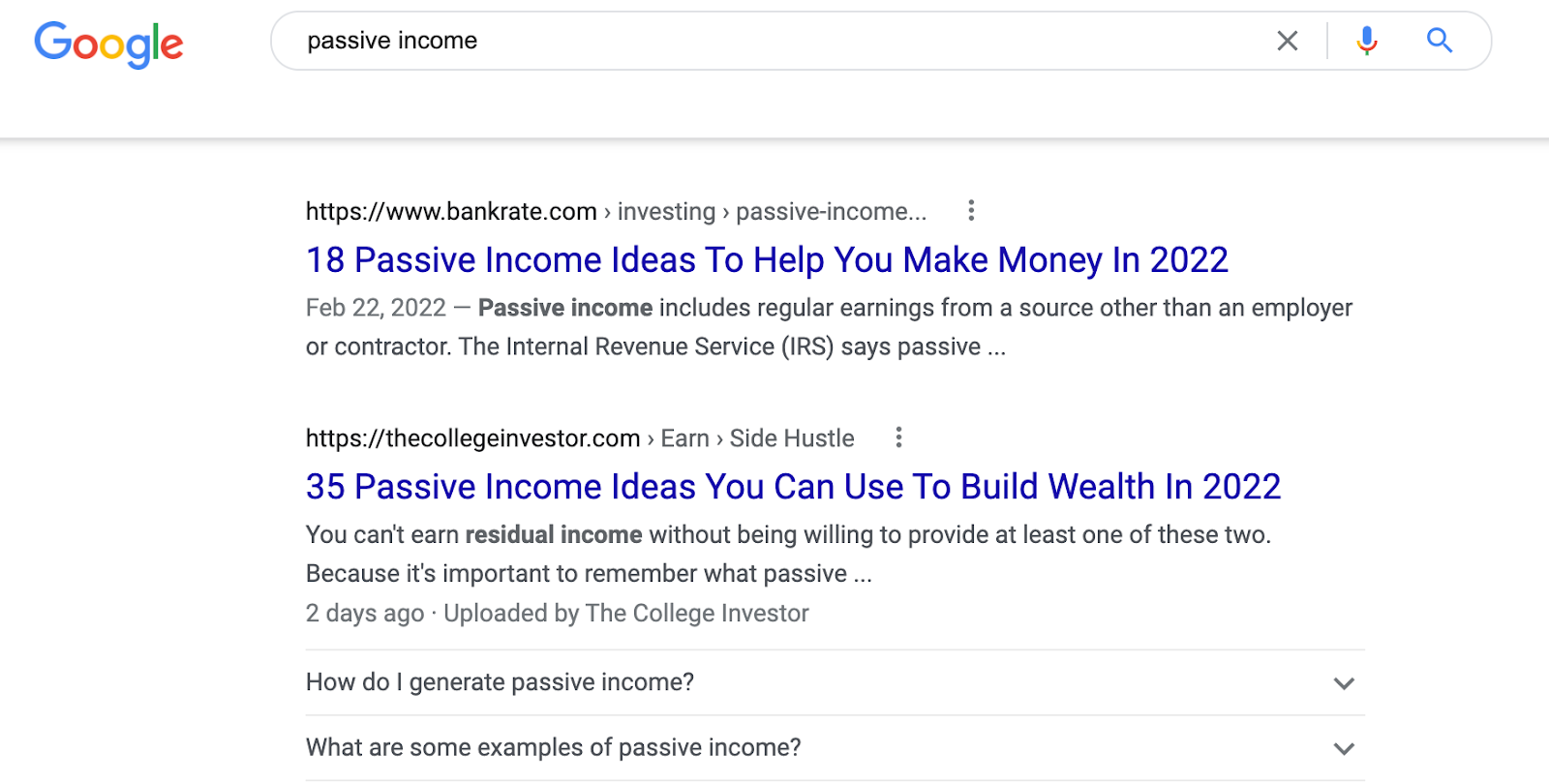 You see listicles. Here's an opportunity to create a list post on your blog. Always a wise move to know what's ranking before writing a single word.
10. Poor Internal Linking
Internal linking is when you link one article to another on your site.
This matters because internal links:
Improve useability for readers
Pass "link equity" from one page to another
Help Google discover your site's new content
Your website's pages have varying degrees of authority. So when you link from a strong page to a weak one, you give the weaker page a tiny boost.
This also helps with PageRank, which evaluates the quality of other pages linking to it.
You can locate which pages to use by looking at your site's "Best by links" report in your SEO tool of choice.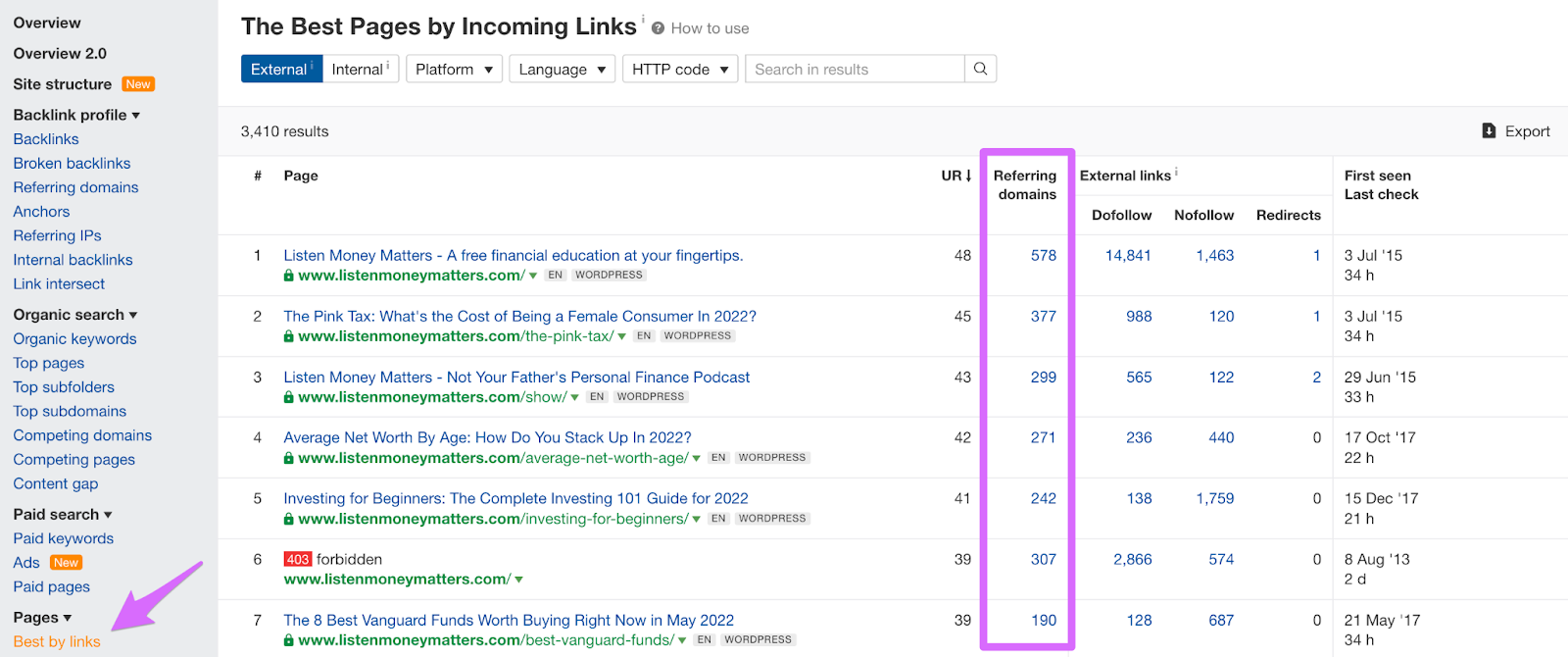 Therefore, these pages have the most referring domains and ones you can use when linking to weaker posts.
Sidenote: Anchor text helps show people (and search engines) where you're sending them and should be part of your SEO strategy.
Another problem bloggers face in their content marketing: forgetting to link to newly published articles, resulting in "orphaned content."
This makes it harder for Google to find it. One thing you can do with every new post is look for a few articles that could link to it.
The easiest way to do it is with the site: search operator.
For example, we recently published a post about SEO wins and wanted to link to it, so I entered this advanced search into Google:
site:getlasso.co "seo wins"

The text in bold shows you where in your content you've mentioned the phrase "SEO wins." Perfect internal linking opportunities!
Further reading:
11. Not Running A Site Audit
Site audits tell you what's wrong "under the hood." For example, locating broken links and images missing alt text.
These all affect your SEO and, when left unaddressed, result in larger problems later.
Free tools exist for doing this (e.g., Ahrefs webmaster tools), which is excellent if you're a new site owner on a budget. You'll be able to spot:
Redirects
Duplicate content
URLs blocked by robots.txt (robots.txt tells search engines what not to index)

If you're an affiliate marketer, check if you have broken affiliate URLs. When your links don't send readers to buy the products you promote, you lose money.
You can spot these (and out-of-stock products) with Lasso inside the dashboard.

Sidenote: Ensure you're cloaking affiliate links and labeling them as "nofollow."
Cloaking links makes your URLs easier to share and remember, while adding the "nofollow" attribute prevents search engines from crawling them and passing along link equity.
This also keeps Google happy. Lasso does this with every link you add automatically (except Amazon affiliate links to remain compliant with their TOS).
Further Reading:
SEO Isn't Dead
Contrary to what some may say, SEO continues to grow in popularity. When you run that term through Google Trends against digital marketing for the last five years, it dominates.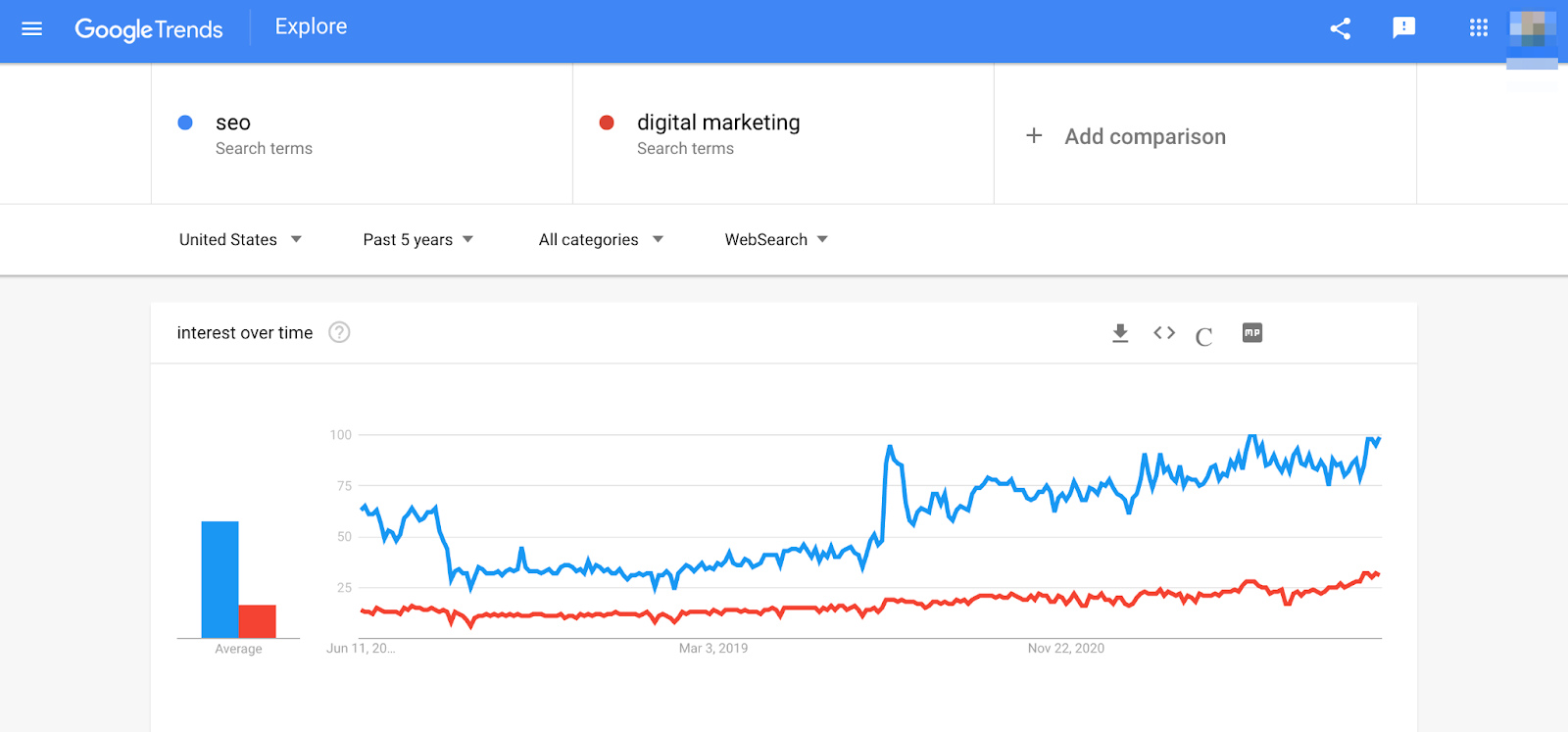 Another statistic mentioned by SEO expert Nathan Gotch was that when you look at the top websites in the world on SimilarWeb, more than half are search engines (the other are social media).

More people turn to the internet to get information. However, if you want to be found, you need to optimize for search.
But Google's gotten smarter, so using outdated black hat practices like keyword stuffing to rank won't cut it.
The best way forward is to set clear SEO goals and clarify what matters to your business.
Common Mistakes Happen In SEO
Knowing the above SEO mistakes puts you light years ahead of people blissfully unaware. Leverage that to your advantage. If you're building a digital asset that will generate revenue year after year, these are worth the ROI.
Want to see how else we help bloggers and affiliate marketers optimize their sites for SEO? Read this.
This one took a while to write. If you liked it, a share with your pals on Twitter would be much appreciated. Thank you!
Our site Giftlab reached 17.5M uniques in under 5 years.

How?

Because we learned through trial and error how to optimize for organic search.

If you're trying to improve your positioning on the SERPs, here are 9 SEO mistakes to avoid if you want to rank.

🧵👇

— Lasso (@LassoWP) June 13, 2022
Our creations in your inbox, weekly.
We've built multiple six-figure online businesses that our moms are proud of.
We'd like to help you do the same.