Tired of writing content that doesn't drive traffic or convert online? Try weaving some SEO copywriting fundamentals into your blog posts, landing pages, and web pages.
But what is it, and where do you even begin?
This post will show you 11 strategies for getting started.
But first…
What Is SEO Copywriting?
SEO copywriting is the practice of creating content that performs well with search engines, appeals to people, and gets them to take action.
That action could mean reading your next blog post, signing up for your newsletter, or making a purchase.
How do you do this?
Incorporate persuasion principles, emotional triggers, and tested copywriting formulas
Write content that's easy to read
Optimize for Google's ranking factors
While there are 200 factors Google uses to establish a page's authority, I whittled the list down to five that should be on your radar:
Backlinks
Search intent
Authority
Mobile-friendly
Page speed
We've written about the importance of a website's mobile-friendliness. And WP Rocket has many detailed articles about page speed worth reading.
This post will dive deeper into creating content that screams to be linked to and gets your reader to 'yes' quicker.
Here are some useful SEO copywriting tactics you can use right now:
1. Match Search Intent So You Can Rank Higher In Google
Before writing a single word, it's a good idea to look at the top-ranking posts in Google.
Knowing the content type that's ranking in the search engine results pages (SERPs) can help you when it's time to create yours.
Is the keyword you want to rank for a blog post or a product category page?
If you're a marketer writing for a company blog, you'll want to match search queries displaying blog posts for your targeted keywords.
For example, say your keyword is 'men's aftershave,' but all of the ranking pages are e-commerce product pages – not blog posts – when we look at the SERP.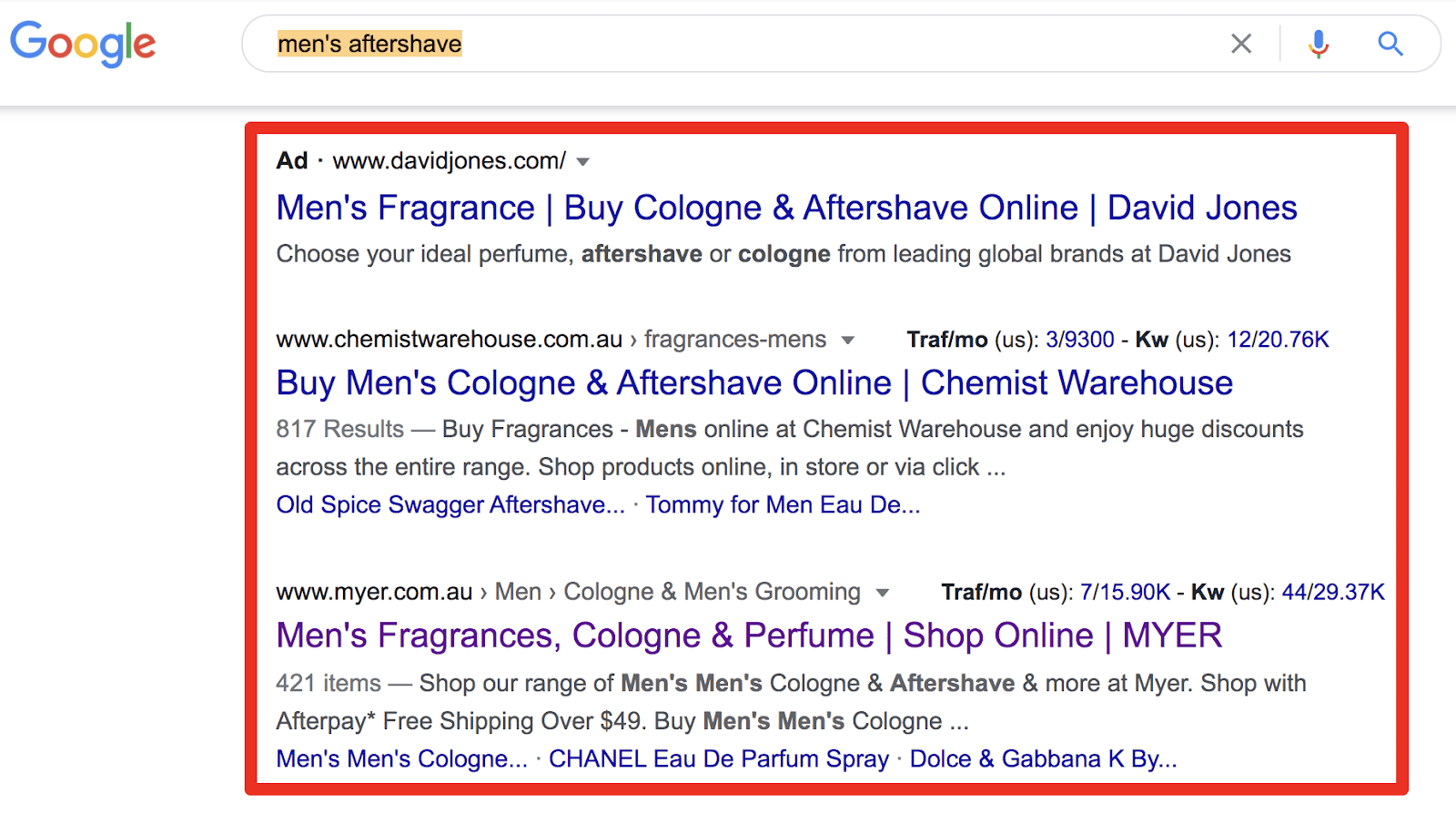 So, writing a blog post for that keyword would be a waste of time.
But here's the thing…
If you were to write an article about 'best men's aftershaves,' you'll find nothing but blog posts in the search results: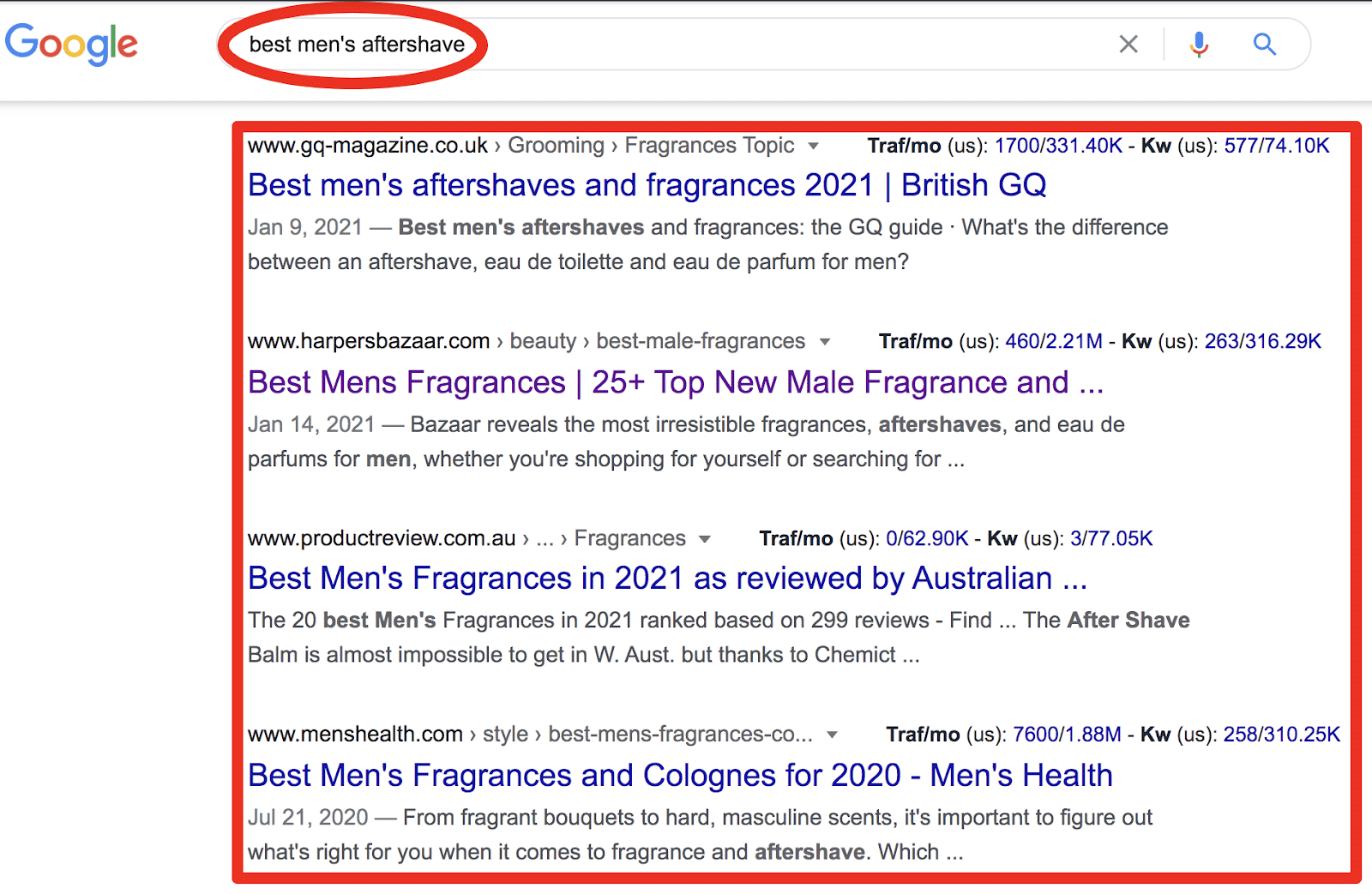 The SERPs are a goldmine of information and will tell you where there's a demand for a specific piece of content.
Additionally, take note of whether the post is a:
'Best list' (listicle)
'How-to' (step-by-step guide)
'What is' (definition)
Or something else, like opinion or editorial pieces.
Our men's aftershave example is a 'best list' post, and so we should write an article listing our top findings in that category.
Further Reading:
2. Craft An SEO-Optimized Outline
Once you've examined the top-ranking posts to match search intent, check out how competing pieces structure their articles.
Competing H2 and H3 Subheadings
An easy way to do this is looking at the H2s and H3s in competing posts – no copying.
The goal is to get a feel for what matters to searchers.
Some overlap as popular items are universal, so it's wise to include them – even if your competitors do too.
For example, if you were creating a post about popular steak knives, your initial research would reveal brands like Messermeister Avanta Pakkawood and Wüsthof, so it'd be worth mentioning those in your post.
Bonus Tip: Try to add your keyword phrase to your first H2 when it makes sense. It signals to Google that it's an important keyword when appearing higher up the page. And use related keywords in H2s and H3s to provide more context for search engines.
Online Courses
Take a look at online learning platforms like Skillshare or Udemy.
If your topic is there, view the courses with lots of positive reviews or enrolled students because:
It's a good indicator the instructor has a deep understanding of the material and communicates it well
Let's say you're writing a post about UX fundamentals; you can see the course screenshot below has over 21,000 paying students – that's HUGE!

When looking at the course syllabus, you see the topics the course covers: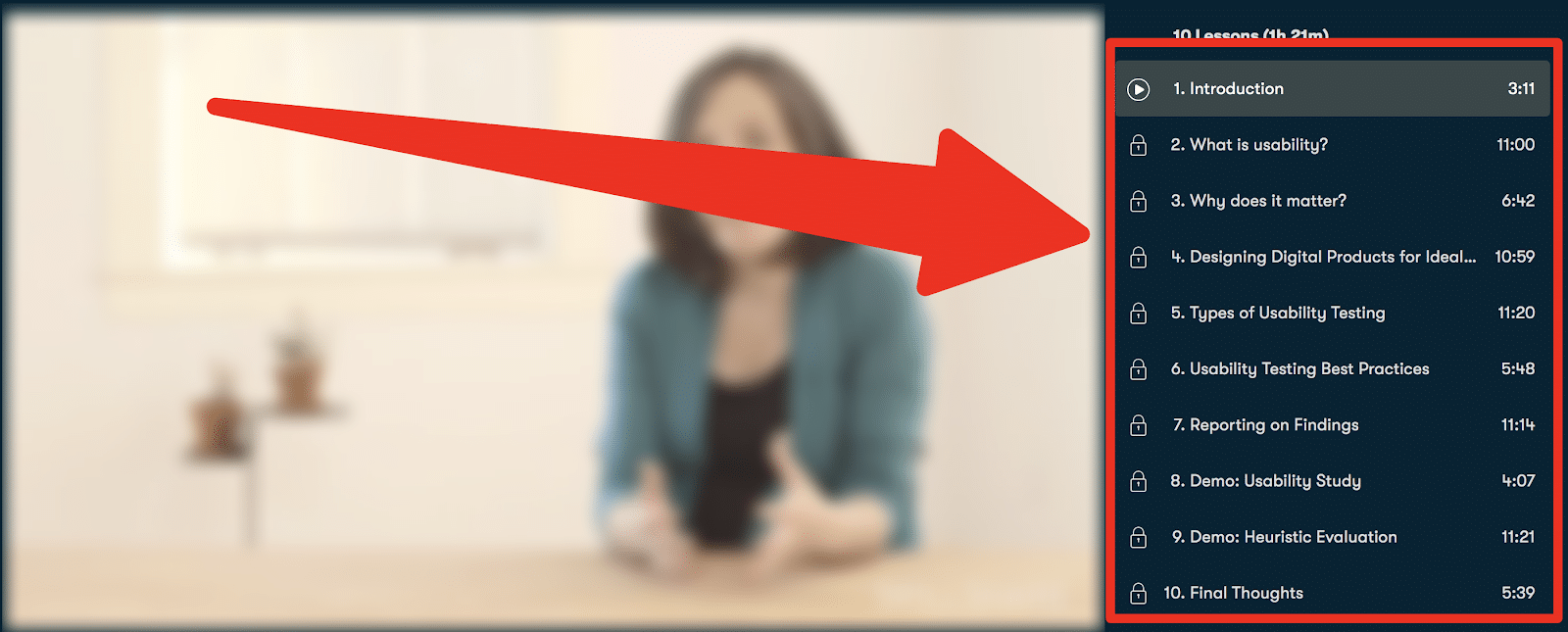 Things like this can help because:
It provides a proven structure that's working
It shows you what topics resonate the most
People are paying to learn it
Table of Contents from Books On Amazon
If people have written books about your topic, head to Amazon and check out the Table of Contents of best-selling books in your niche.
If you were creating content for a DIY Home Improvement website, you might need to write a post about all things carpentry.
Find Best Seller books with the "Look Inside" label and preview the Table of Contents.
Then, you could get an idea of the things most people are concerned about in that category.
The below screenshot is one TOC that I found with a quick search: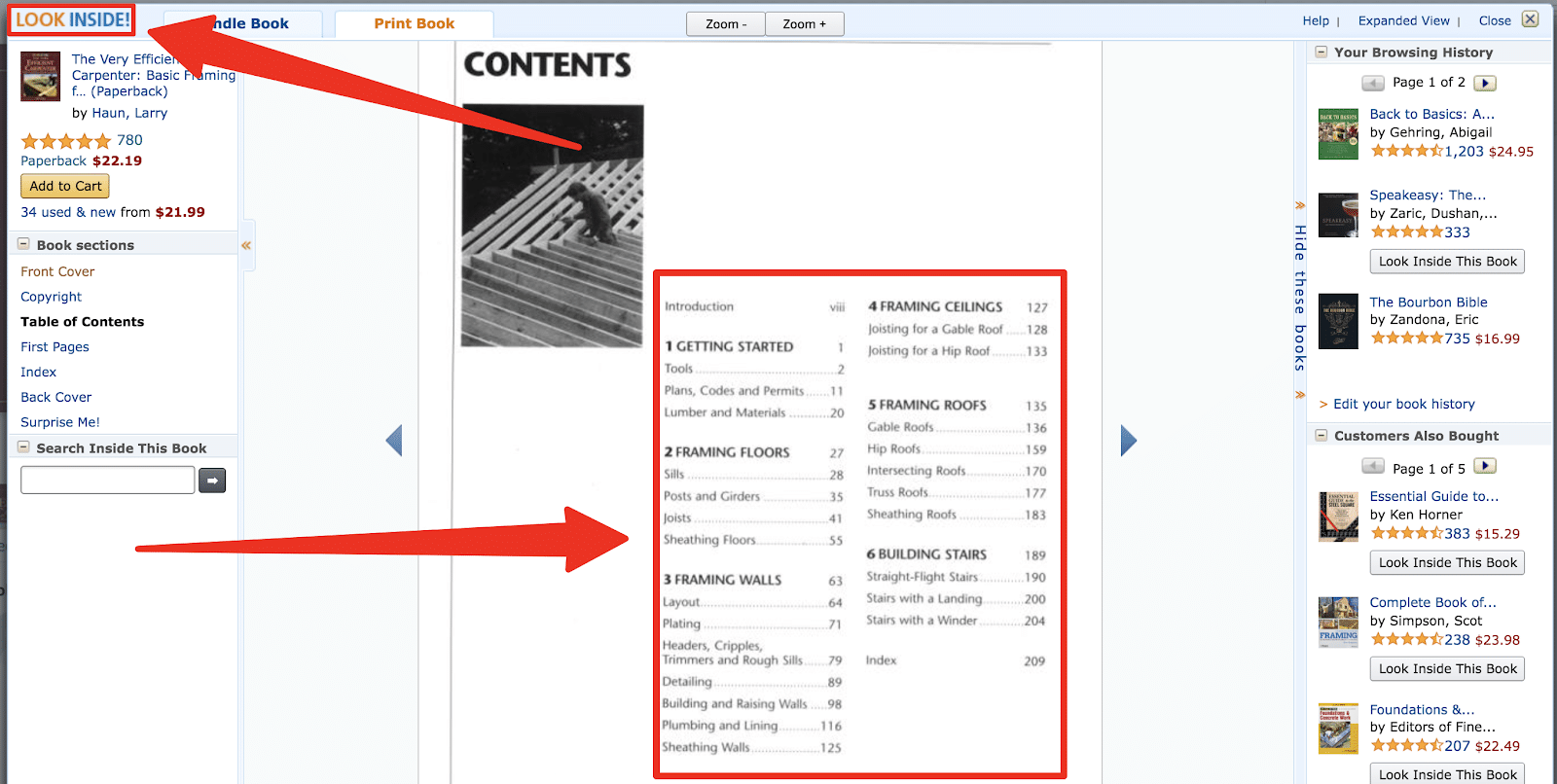 So, you might want to include material based on building stairs, framing floors, and framing walls.
3. Use Empathetic, Attention-Grabbing Copywriting Formulas for Your Intro and Body
A simple way to help you put pen to paper is to use copywriting formulas for your article intro and body copy.
These strategies follow specific templates that make writing easier and let you empathize with your target audience.
AIDA Formula
AIDA stands for Attention, Interest, Desire, Action. It's one of the OG copywriting formulas.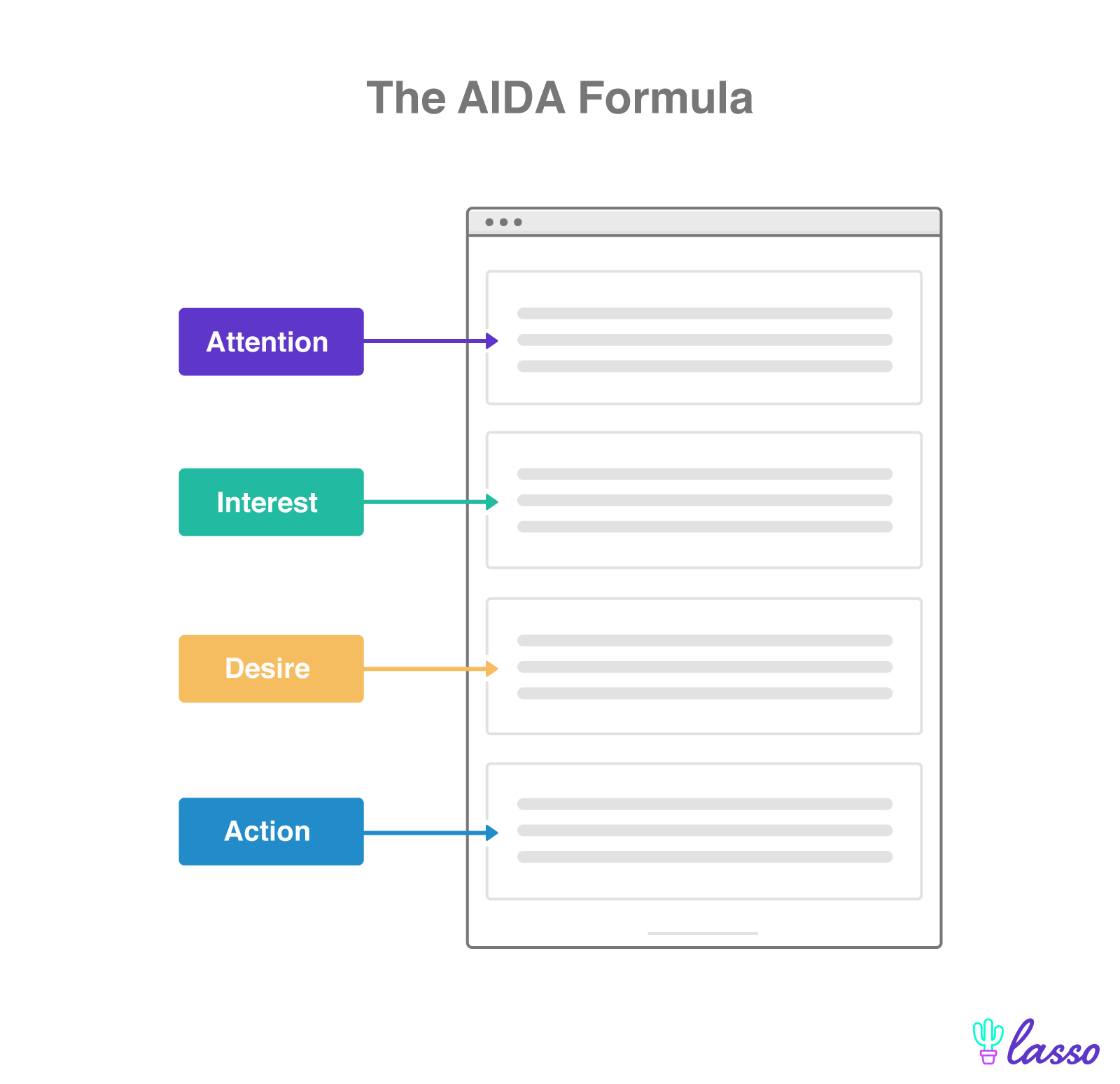 Here's how it works:
First, you grab their Attention with a bold claim or statistic: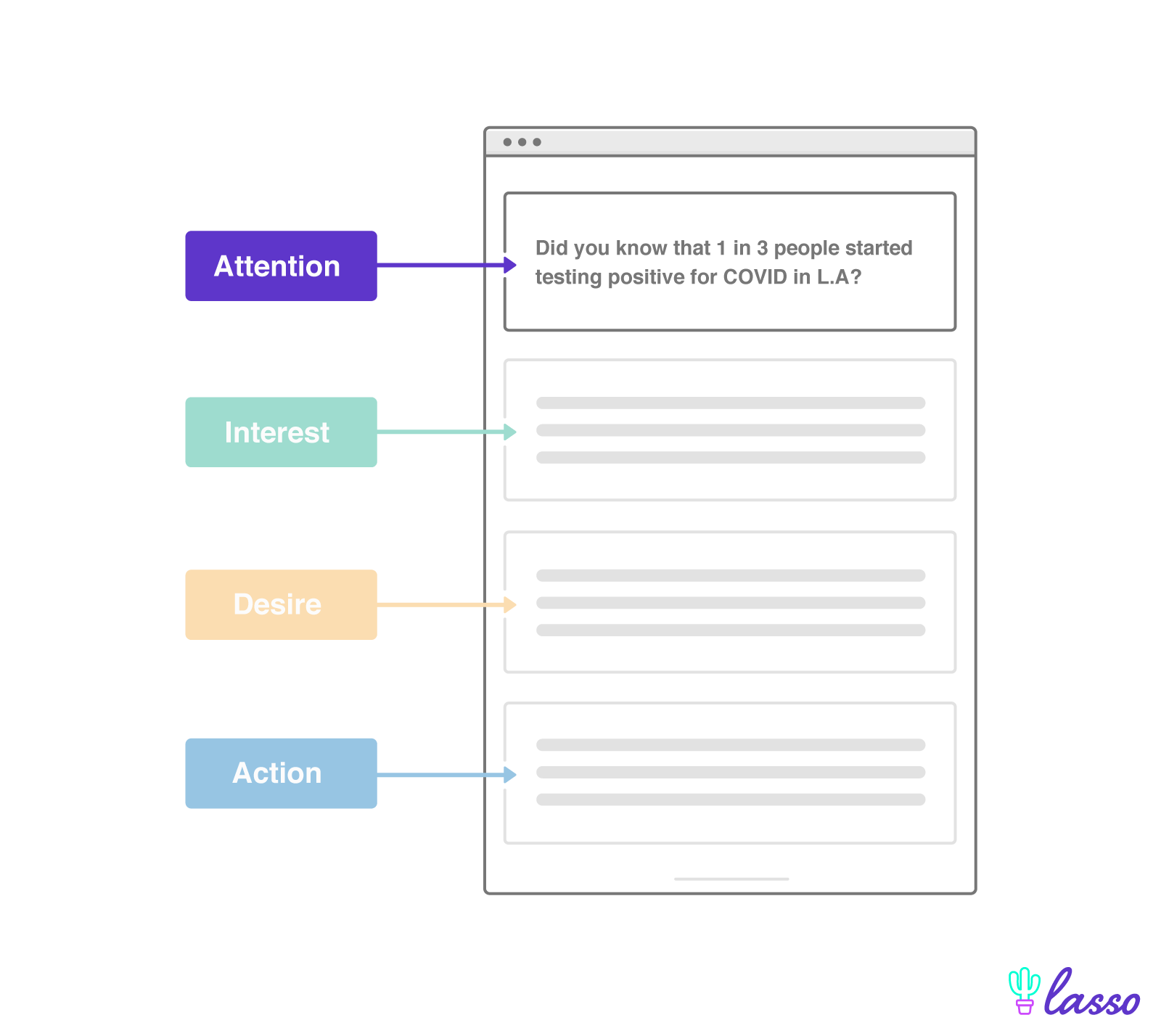 Next, build their Interest: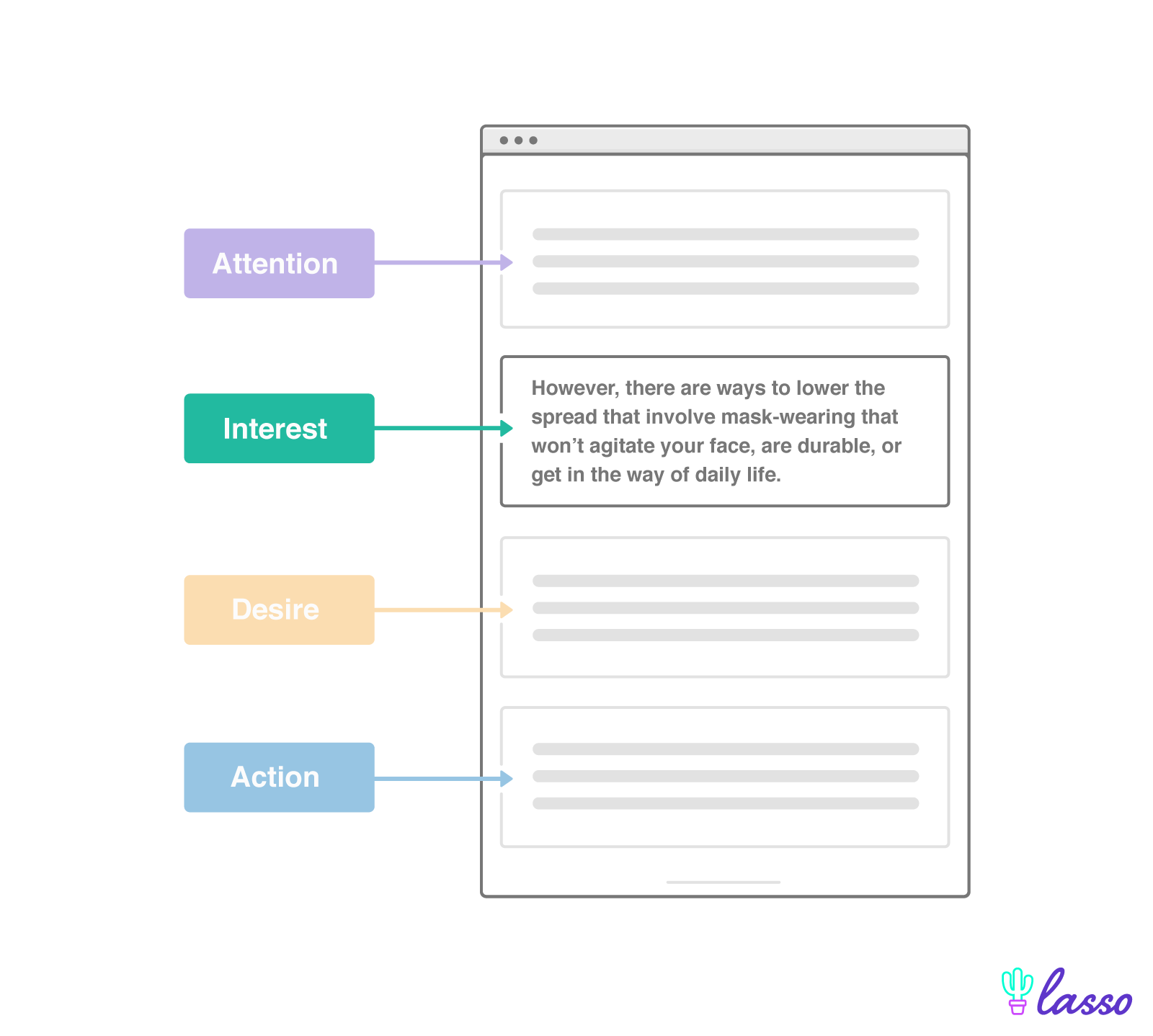 Then, hit them with a dose of Desire: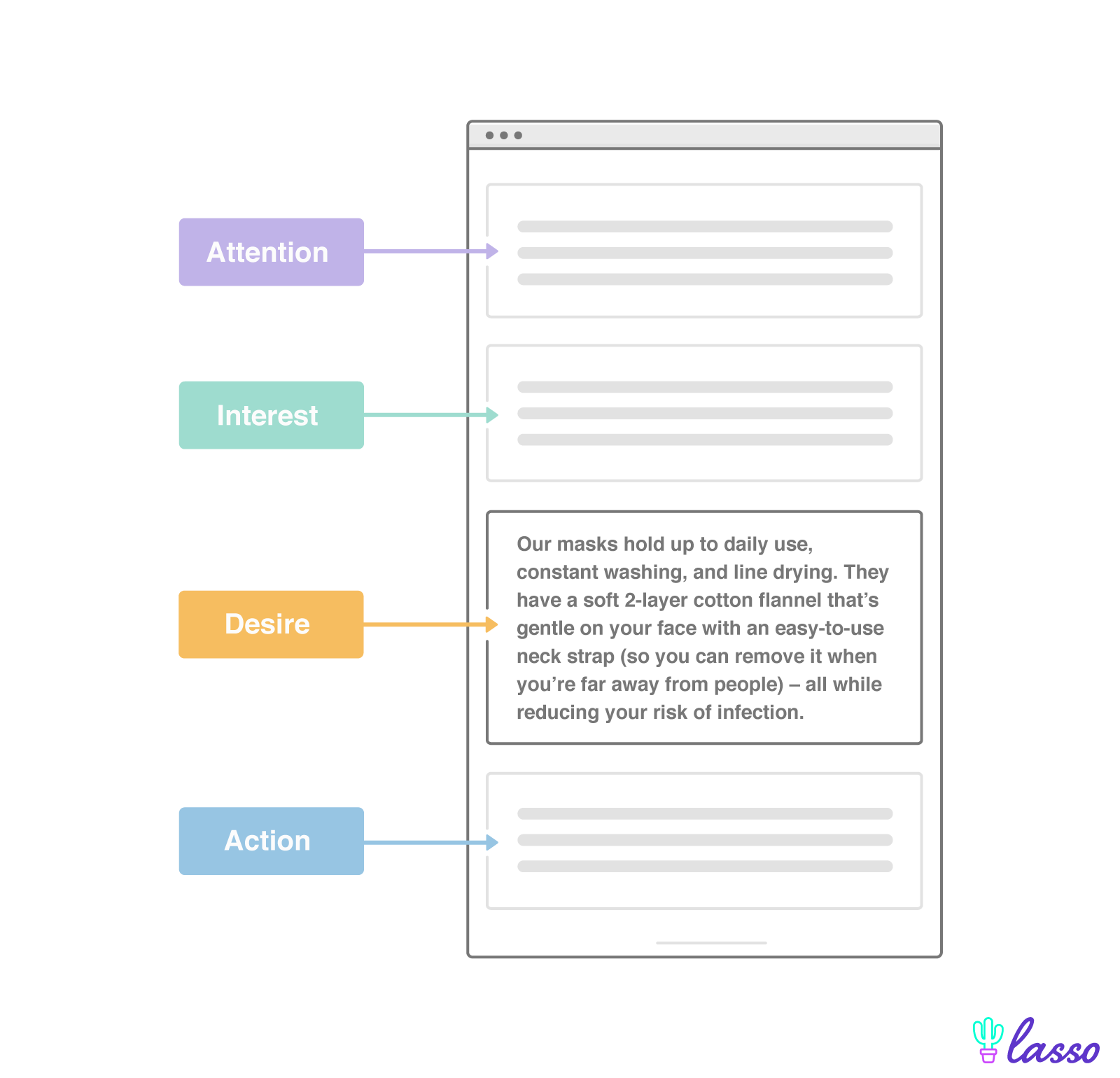 Now, serve them your Call-to-Action: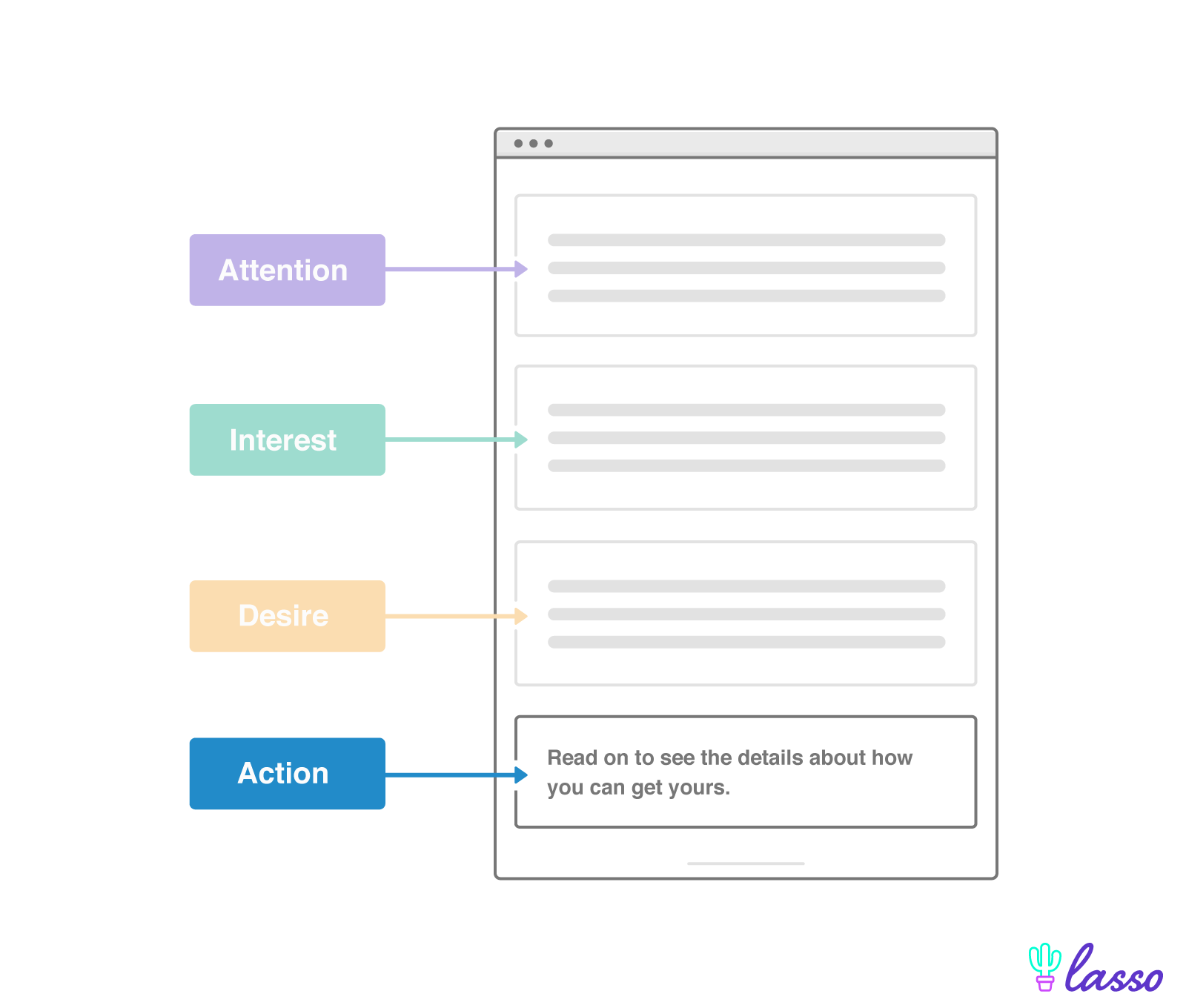 Problem. Agitate. Solve.
If you want to draw your reader in, get them nodding in agreement, and show you understand their problem, try the Problem Agitate Solve (PAS) method.
First, address the Problem:
[Problem] – Replacing teeth with dental implants is tricky because it's a crucial body part you need to function daily – your mouth.
Next, Agitate it:
[Agitate] – What's worse, spotting a failing dental implant is challenging because, typically, the person doesn't feel any pain associated with it.
Finally, show how you're going to Solve it for them:
[Solution] – This post examines four warning signs you should be aware of so you can prevent future implant complications.
Time. Place. Tension.
Stories make excellent intros. I learned this one from Chris Orzechowski at The Email Copywriter.
Try using the Time Place Tension technique as a quick gateway into grabbing their attention.
For example:
Last week (Time), I was getting into bed around 1 am (Place) when I heard the creepiest sound coming from my bathroom (Tension).
We're drawn to tension, but we also crave its resolve, which you can provide for them later in your content.
Bonus: You can also use these formulas throughout your entire article where it makes sense, don't feel like you can only use them for your intros.
Persuasion Principles
Robert Cialdini wrote an international bestseller in 1984 called Influence: The Psychology of Persuasion.
Since publishing, it's become the go-to book for marketers.
He lays out six principles of persuasion that can help get what you want.
They are:
Reciprocity
Scarcity
Authority
Consistency
Liking
Consensus
For example, when you apply the scarcity principle to your copy, it can trigger a person's sense of loss aversion.
FOMO is real.
People don't like the feeling of missing out and your reader will be more likely to take action.
A countdown timer on a website sale is an excellent example of how to apply the scarcity principle:

Another example is the principle of authority.
As online business owners, affiliate marketers, and bloggers, we want people to see us as the authority in a given niche.
For example, Nick Loper's blog, Side Hustle Nation, displays the credible companies he's worked with:

When a visitor lands on his website and sees his work has been featured in the New York Times, Fortune, NBC, and more, they'll quickly consider him an authority.
For a deeper dive into the ethical use of persuasion principles, read Cialdini's book.
4. Try This for Crafting Eye-Grabbing Headlines & Meta Descriptions
When crafting your headlines and meta descriptions, try using the below techniques to increase CTRs and organic traffic.
These are what your visitors see first, so it's good to invest some time with them.
If writing your title tag, try using one (or all) of these approaches:
Use Numbers (preferably odd numbers)
Using odd numbers in your headlines (versus even numbers) tends to drive more clicks.
For example, this post's headline reads 11 SEO Copywriting Strategies. Although, generally speaking, using any number is better than none at all.
Numbers work 😉
It also employs a modifier (more on that in a minute) with the word 'strategy.'
Parenthesis & Brackets
Adding parentheses and brackets to your title tag previews what's in it for your reader.
For example, this headline, How to Set Up Google Alerts (and Use It to Grow Your Business), starts with a simple How-To but also highlights the desired outcome you'll get for reading.
Use Power Words, The Current Year & Modifiers
Instead of saying Affiliate Marketing Tools to Try This Year, you could say "13 Outstanding Affiliate Marketing Tools for SEO In 2021."
The more descriptive, the more attractive it becomes for your reader. You can also rope in more long-tail keywords this way (by including 'for SEO').
Try using Google's autocomplete and add the prepositions "for" or "with" to your search.
Here's what it looks like in action: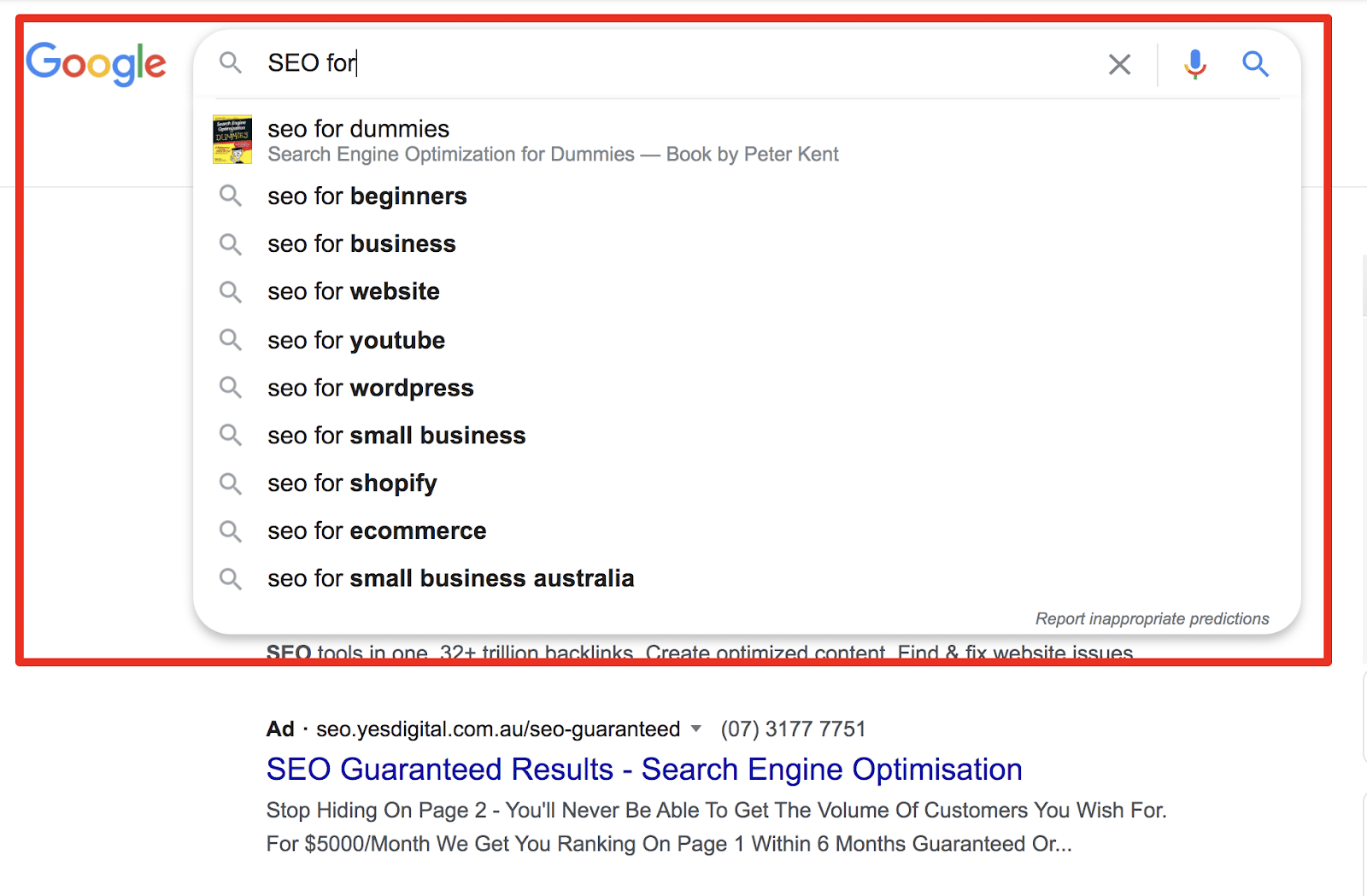 Let Google autocomplete your search to give you more ideas.
Here, we get SEO for:
e-commerce
Shopify
YouTube
And much more.
Now try the same search using the preposition "with."
Try using other modifiers like 'Guide,' 'Tools,' and 'Simple.'
Suggestion: Think of the first sentence in your post as a continuation of your headline. And aim to keep headlines between 50-60 characters.
Try using a headline analyzer tool like CoSchedule's.
And for good on-page SEO content, try using free WordPress plugins likeYoast. Or you could opt for a paid service like Surfer SEO.
Another good idea is keeping your keyword phrase at the beginning of your headline versus the end.
So if your keyword phrase is "Oven Mitts," try using a headline like:
"Oven Mitts: 13 Brands Worth Buying This Year."
Meta Descriptions
You can also think of your meta description as a continuation of your headline in the SERPs.
Look at how your metas display beneath the headlines:

Google doesn't always pull from the meta description you write, as is eveident here. Sometimes it pulls a piece of content it thinks is relevant.
What's important is being mindful of where metas display – right beneath your headline.
When crafting your meta descriptions, aim for 150-160 characters as you'll avoid truncated boxes in search results (indicating your content got cut off).
Other useful tips are to:
Use your keyword and related keywords where it makes sense
Try to avoid saying the same things in your meta description and your headline.
5. External & Internal Links to Boost Visibility
When you link to other website pages across your site (or to other domains), there are a few best practices that can help with organic search and improve the user experience.
External Links to High-Quality Sites
Google's job is to provide the best information for a user's search query.
Creating great content and avoiding keyword stuffing are a couple of ways you (as content writers) can help with on-page SEO.
Another equally important role is to link to high-quality, informational sites with your outbound links.
For example, CNN is a trusted source. JoeBlow's blog is not. So, it's better to link to CNN.
If you're unsure, you can use a tool like Ahrefs to check a site's domain authority (see below screenshot):

A domain rating of 90 out of 100 is very excellent.
Your external link is like casting a vote for that site's credibility. You want your readers to trust you, so every outbound link should be high-quality.
A good rule of thumb to follow is not link to a page with the same keyword phrase you're targeting as it sends mixed signals to Google.
Link to the Primary Source
When possible, link to the primary source (not the secondary source).
For example, you might come across an interesting stat you'd like to link to in your article.
Most times, the statistic source's website will have higher authority than the blog post you found it in.
So, you'd want to link to the statistic's website.
For example, link to Statista.com (a high-authority source) versus RandomSEOblog.com.
Internal Links
There are a couple of ways to approach internal links on your website.
If you want to give your weaker pages a rankings boost, link a higher authority page to it.
Internal links are also good for helping website visitors navigate your website.
You can also place internal links in the first paragraph of your post (or higher up the page) where it makes sense.
To see which pages your site links to the most, head to Google Search Console and click "Links."

Then, click Internal Links to see the full report: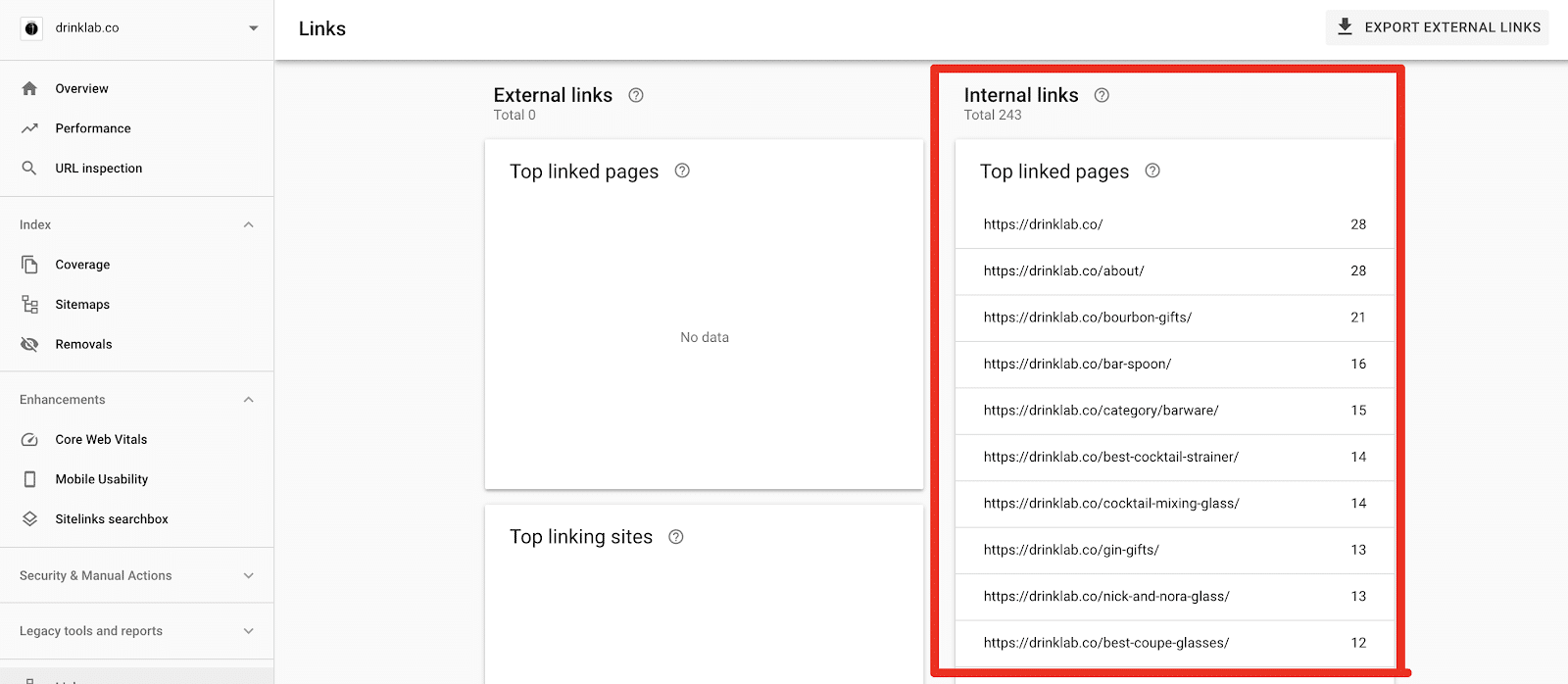 It can help identify pages with a low number of links.
Or, try a tool like Ahrefs below to see the top pages and authority of a website.

Then link to the weaker pages on your blog to give them a boost.
It can attract visitors to click, stay on your site longer, and reduce bounce rate.
As Michelle Lowery put it:
Think of internal links like candles – you want to light enough candles so bots can see your pages.
Use Keyword-Rich Anchor Text to Increase Click Confidence
Anchor text is the highlighted words on a web page linking to other places on the internet. (remember internal links and external links?).
But you can't just throw around random links to other web pages. They should be thoughtful and signal where you plan to send readers.
For example…
Which of these two links would you be more likely to click?:
Running on concrete can aggravate your shin splints, so cushioned sneakers are recommended.

Or

Running on concrete can aggravate your shin splints, so cushioned sneakers are recommended.
The first example uses a random word (can) and is unclear where you're sending readers.
The second example highlights where you're taking the reader. When they click "shin splints," they're expecting to see a post related to shin splints.
It also tells search engines what the linking post is about. Gold stars to your blogging efforts on all fronts ; )
These are small ranking signals, but they do help the overall quality and visibility of your website.
6. Add Contextual Related Keywords to Help Search Engines
While focusing on your target keyword is important, providing more contextual related keywords is too.
Rather than guessing what all of the associated keywords are, you can use tools like Clearscope.
Clearscope helps you identify and add related keywords throughout your post.
It highlights which words you should add and helps with search engine optimization.
Below is a screenshot of it in action: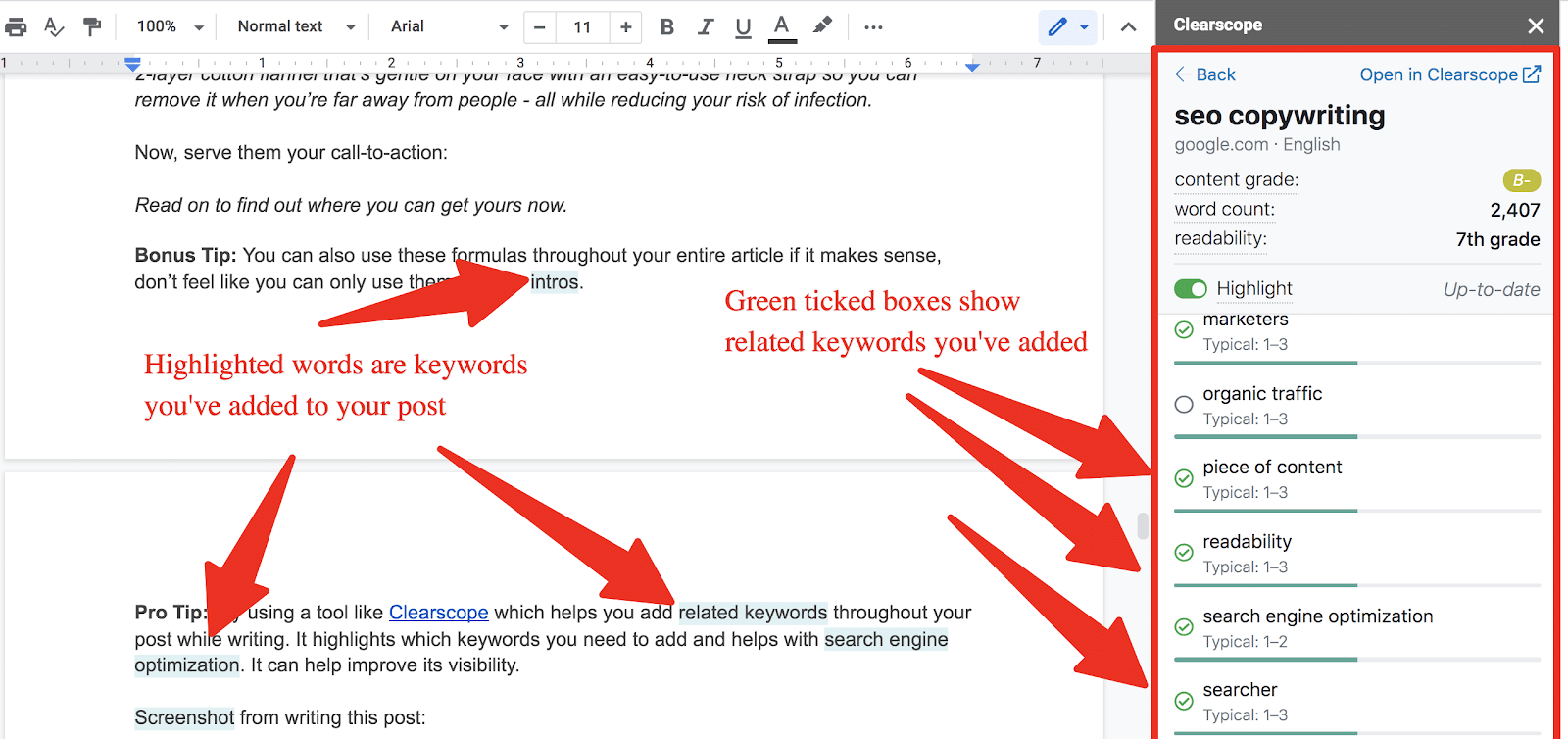 Tools like these can also help with keyword density as each related keyword has a metric beneath it with the specifi number of times people use that word in posts: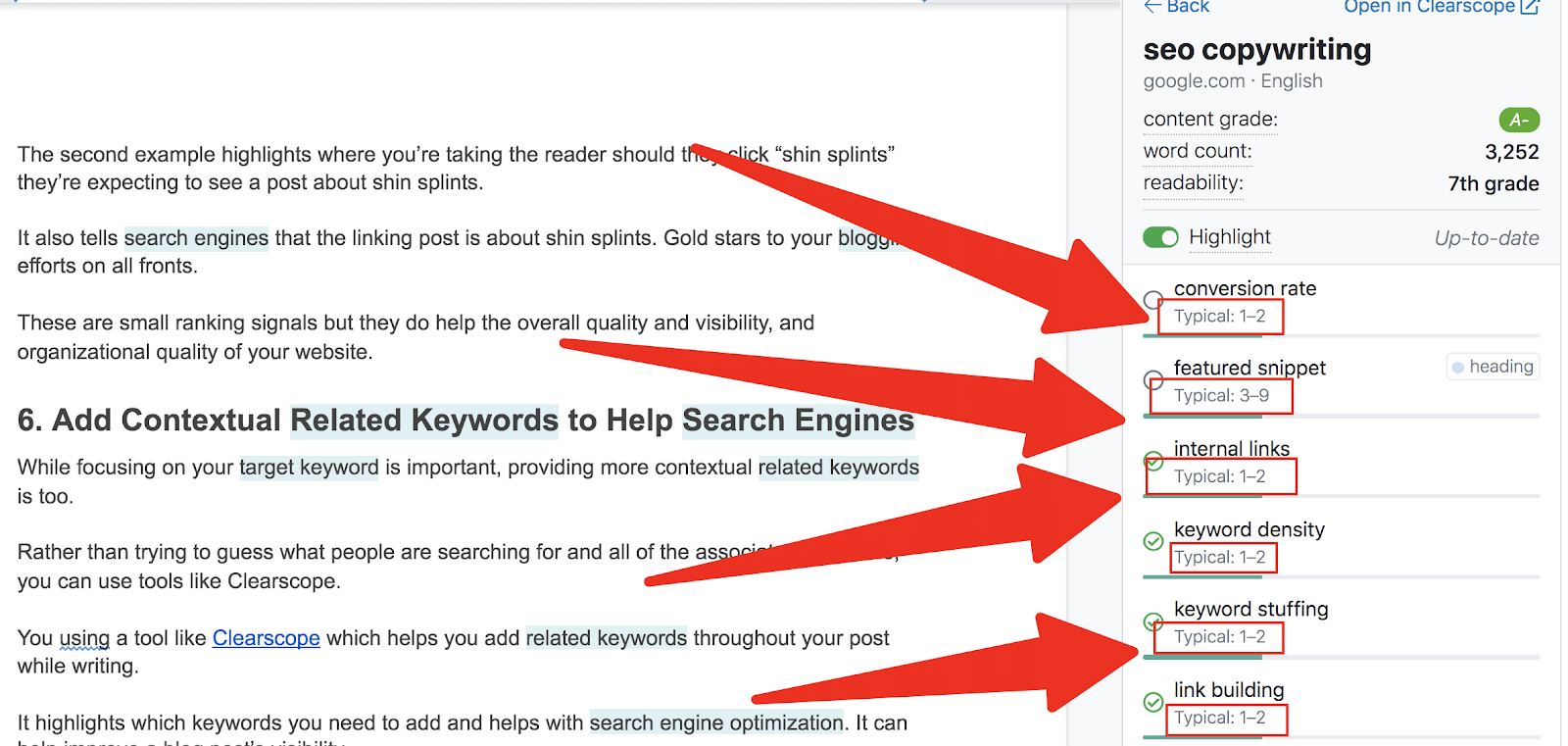 This feature helps prevent you from overpopulating your blog post with keywords.
7. Write Like They Talk
If you want to communicate on equal footing with your readers, avoid $10 words.
Keep your writing short, concise, and conversational. Write like they talk or like how you'd talk with a friend at a bar.
The goal is to keep them engaged with light, easy reading.
The average American reads at a 7th/8th-grade reading level.
Assuming you're well-versed in your niche, you already know how your audience talks.
But if you don't, you can use what's called Voice-of-Customer (VOC) data.
That involves reading surveys, product reviews, and even the literature your readers read to become familiar with how they talk.
You can also use tools like the Hemingway app or Grammarly.
Grammarly has a useful section appearing on the right sidebar of the screen highlighting a few parts of your writing, namely:
Clarity
Engagement
Delivery

I find this tool helpful for managing wordy passages and keeps your writing sharp.
Further Reading:
8. Optimize for Link Building Opportunities
Google's algorithm determines a webpage's quality (and popularity) based on the number of people linking to that page.
The more links pointing at your website, the better you appear to the Google gods.
How do you do this?
Write content that people will want to share (easier said than done).
There's a couple of approaches:
Create useful stats, infographics, or case studies
Use a tool to see what anchor text people link to
Data still rules, so if your content marketing strategy gains you access to privileged material, you can become the source people link to for it.
For example, this post by Ahrefs, "Anchor Text: A Data-Driven Guide (384,614 Web Pages Studied)," contains information unique to their industry (Also note the headline's use of numbers, brackets, and the keyword phrase at the beginning of the headline).
You can do the same for your industry.
If there's a particular piece of information that you think should be available (but no one's written yet), you can create it (and then people will link to you).
What kind of industry stats could you publish in your niche?
If you're not using paid platforms like Moz or SEMRush, you can also use a free tool like BacklinkTool.org to check a domain's anchor text profile.
Enter your website's domain (or a competitor's), then see if there's a unique angle you can use based on the anchor text.
Here's what pops up when entering AAWP's domain:
Then scroll down to see what anchor text other sites use when linking back to it.
It's a helpful metric for seeing the topics people find relevant about a particular website.
9. Leverage "Segues" to Improve Your Page's Readability
Eliminate long walls of text by keeping your sections short. Typically, a couple of sentences is a good place to break between paragraphs.
To keep pulling them down your page, add segues to your content. Segues let your copy move from section to section effortlessly.
For example, you could add:
Bullet points
Infographics
Annotated screenshots
Blockquotes work well, as do call-out boxes.
For example, using one of our Lasso displays to showcase your products is another way to break up your post (like this one👇).
Best for Monetization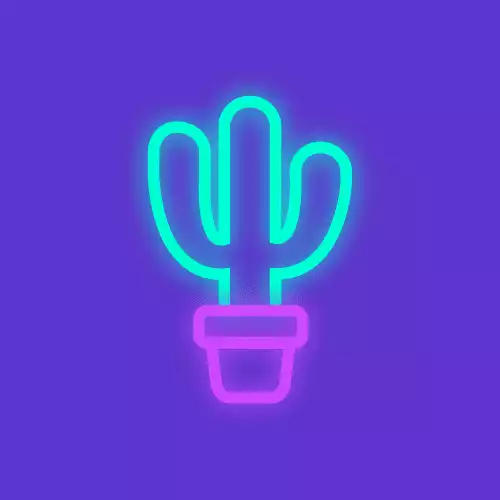 You can also use segues to transition from one part to another. Julian Shapiro refers to these as 'hooks' which serve the dual purpose of:
Constructing an ongoing narrative that pulls them down the page
Combating the reader's relentless question of "should I keep reading or leave the site?" 
For example, you could end sections with something like:
"It gets worse though…"

And then transition into your next section explaining why it got worse.
Or
"Why am I telling you this?"

And then tell you.
Other examples include:
It's kind of like…
Has this ever happened to you?
It gets worse…
You might be wondering:
But wait… there's more
Here's the thing:
In copywriting, these terms are known as "bucket brigades." It's meant to serve as your content's slippery slope to keep your readers engaged and break up the text.
Run a Google search using the term 'bucket brigades,' and you'll find several examples you can use to liven up your copy.
10. Get to the Point with the BLUF Method
Aim for the most crucial info at the top of your page. People came to your website to see a specific result or to get an answer to a particular question.
Don't make them wait, or they'll likely bounce (hence the term 'bounce rate.')
That's what BLUF combats.
BLUF is a military acronym for "bottom line upfront."
It's similar to the Inverted Pyramid, where you start with the "need to know" information at the start and gradually transition to the "nice to know" information at the bottom.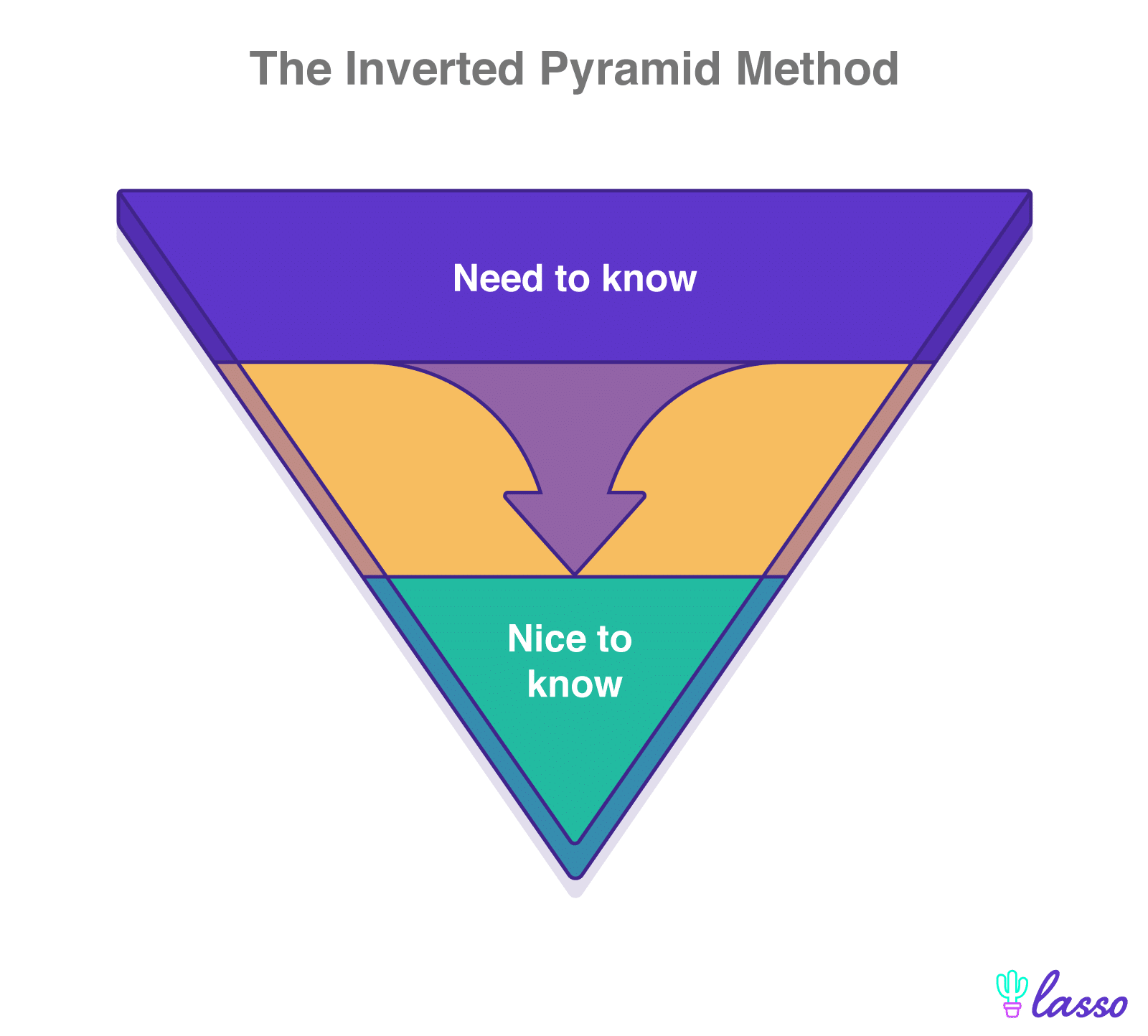 A good practice to get into is answering a reader's question immediately – no fluff or witticisms – with simple direct answers.
Takeaway: This will also help you rank for Featured Snippets in Google that are question-based.
Say your H2 reads: What Is a Featured Snippet?
The next line of your text to follow that question should read: Featured Snippets are answer boxes appearing at the top of a Google search that answer a user's question immediately.
It can also help you from an SEO perspective as hitting spot "0" (the best spot on a SERP above position #1) tends to draw the most clicks.
Returning to adopting your BLUF mindset:
You can also place your best selling products or heavily clicked items closer to the top of your pages to improve conversion rates.
For example, affiliate marketers can use our tool Lasso, integrated with Google Analytics, to track which affiliate links and products perform best.
Then place those items higher up the page.
11. Employ Sticky CTAs
Always give your readers someplace to go and end with a call to action.
As an SEO copywriter, you could follow best practices by asking yourself, "what action do you want your reader to take next?" and then link to it using keyword-rich anchor text.
Other questions to ask when reaching the end of your post:
How do you want them to think?
How do you want them to feel?
When you cause them to think or feel differently at the end of your writing versus when they began, you've done your job.
Or your post could be an informational article where you're sharing new information about a new tech gadget.
The next piece of content could focus on how it works, followed by a link to a product review of a popular tech gadget brand (and be more likely to buy the product).
Or, if it's a landing page with a special offer, use a present-tense action verb (or use the word "Get.") as your CTA.
For example:
Get the guide
Start trial
Transfer money
How Do I Find SEO Keywords?
In addition to using paid tools like Clearscope, there are free options.
Keywords Everywhere is a browser extension for both Chrome and Firefox.
Install it to your toolbar, and whenever you run a Google search, you'll see the keywords appear on the right side of the screen:
You can also try UseTopic.com.
This tool scrapes Google's People Also Ask data and aggregates its findings in an easy-to-read dashboard.
Do Copywriters Need to Know SEO?
A copywriter should have a basic understanding of SEO best practices if they're creating digital content.
Today, more and more people consume their information online. So, it would appear that learning basic SEO will only serve you down the road.
That said…
If you're only writing non-digital materials for a non-digital audience, then you probably wouldn't need to worry about it.
If you're curious, check out our post SEO for Dummies: How to Optimize Your Site for Search Traffic.
Last Words
It doesn't matter if you're the world's best SEO practitioner if people don't stay long enough to read your page.
The reverse is also true:
You could be the best blogger with the highest quality content – but if your search engine rankings are non-existent, what's the point?
Hitting the first page of Google is no small feat.
It takes an understanding of both psychological principles that get people to "yes," and a technical savvy involving keyword research, ranking factors, and how to make your website visible to search engines.
Curious to learn more? Read this.
Our creations in your inbox, weekly.
We've built multiple six-figure online businesses that our moms are proud of.
We'd like to help you do the same.