You need a mobile-friendly website because it's a ranking factor, substantial amounts of customers buy products with their smartphones, and the bulk of internet traffic now comes from mobile devices.
Not positioning your site for mobile ignores over half of your audience and leaves money on the table.
Why does that matter?
The number of smartphone users has increased to 3.5 billion worldwide.
In this post, we'll unpack what it means to have a mobile-friendly website, why it's important, and show you a few ways to optimize your site for mobile users today.
Seven reasons why your website should be mobile-friendly
While it may seem challenging to have your website display appropriately on every screen size, load faster than a speeding bullet, or worry about mobile users because you're content with your desktop computer.
The results are undeniable:
More people use the internet on a mobile device than any other channel.
Ranking signals, responsiveness, to gain a competitive advantage; there's an unlimited number of reasons why it makes sense for your small business.
Here are the top seven reasons why you need a mobile-friendly site:
Most internet traffic comes from mobile.
More people buy products on their mobile phones.
Ignoring mobile users alienates over half of the internet.
It's a ranking factor.
Designing for mobile is easier than desktop.
Creating and formatting content is simpler.
Maintains your site's relevance
Most Internet Traffic Comes from Mobile Devices
Mobile devices generate 50.81% of traffic worldwide, and 3.5 billion people are smartphone users.
This graph from Statista highlights mobile usage since 2015.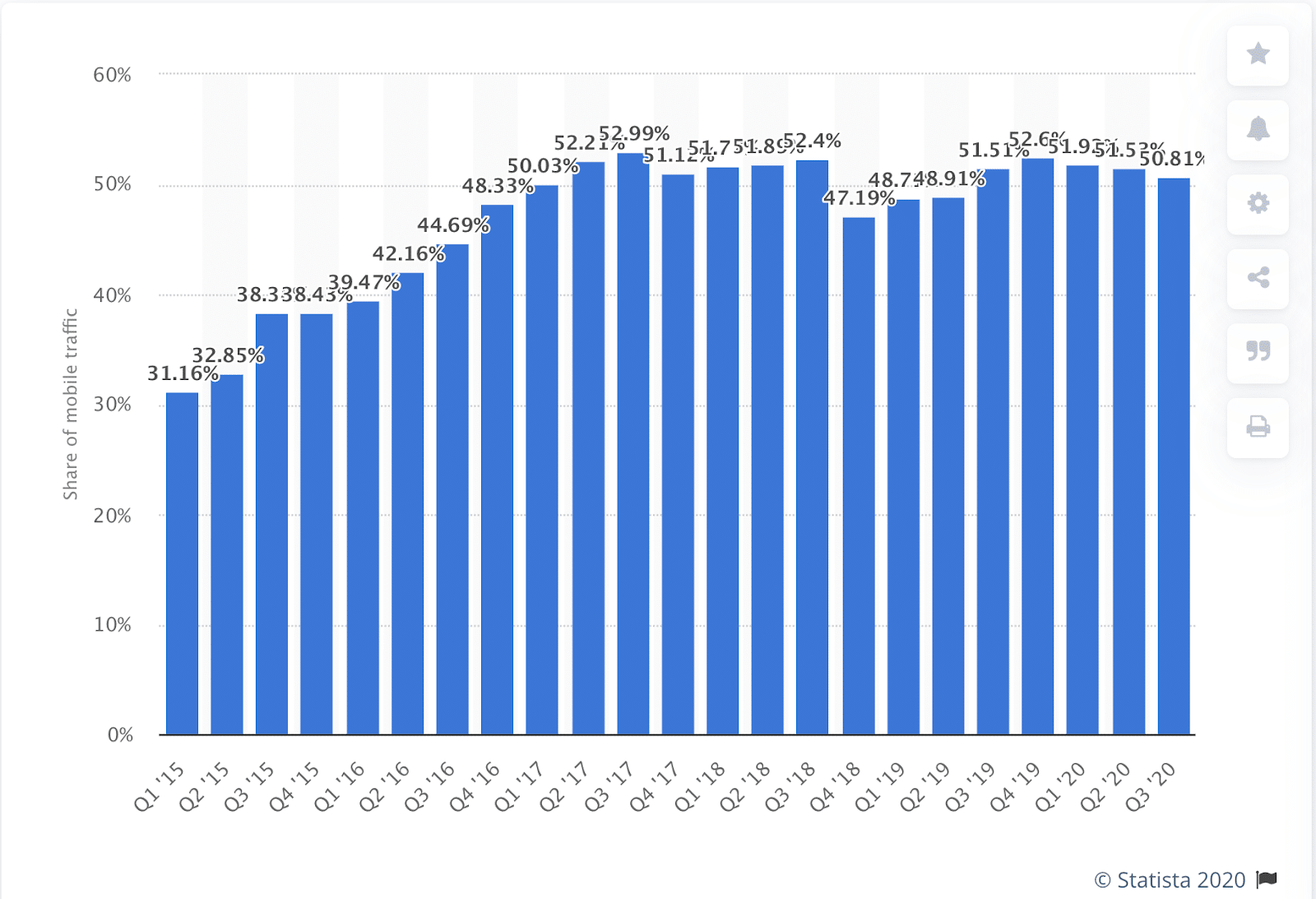 That's a 63% increase!
Our online business, Listen Money Matters, receives nearly 55% of its traffic from mobile visitors.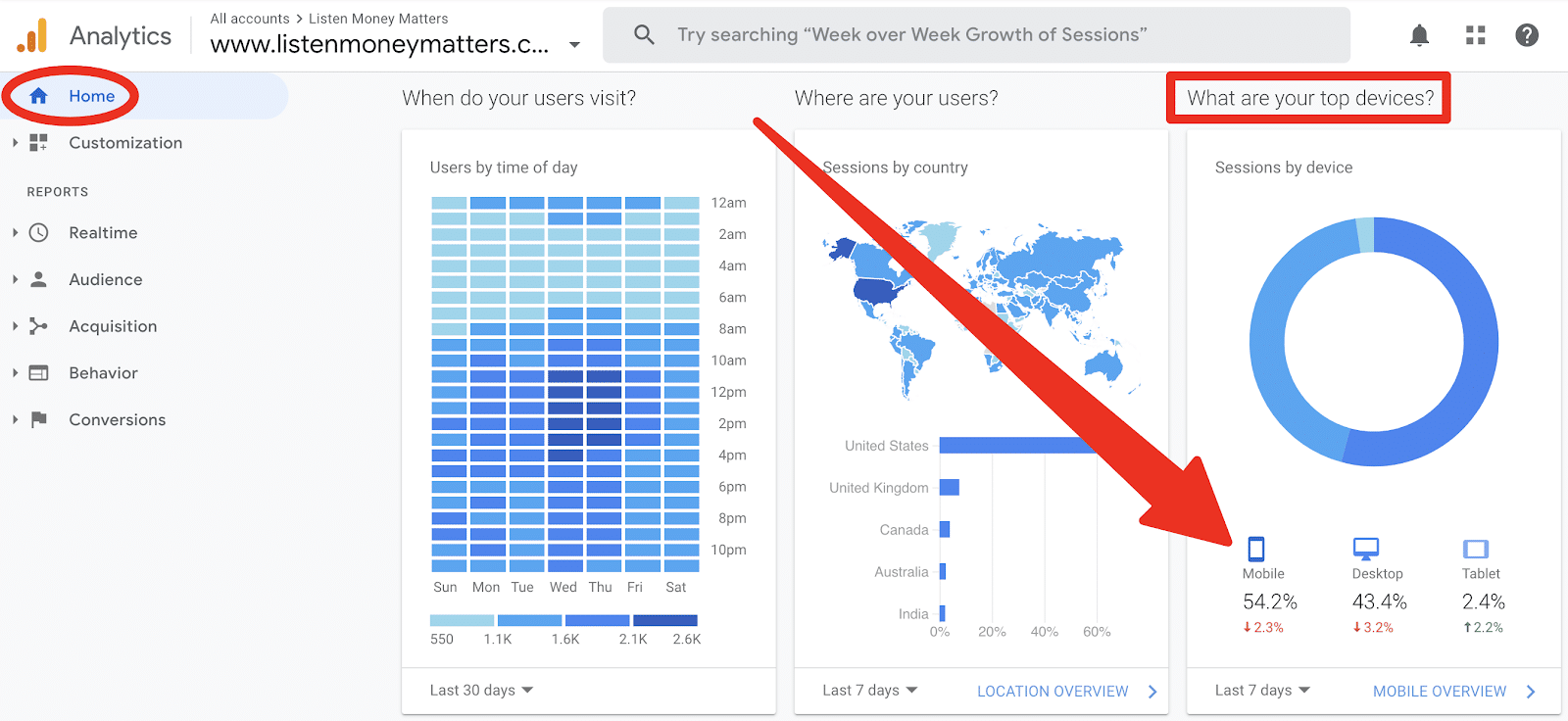 And 69% of people said they prefer to search for product reviews on their phones rather than speak with a sales associate while shopping.
In the U.S., the average time spent on a smartphone is roughly three hours.
But hold on…
It's predicted by 2025 that 72% of people will access the internet using a smartphone in just five years.
Mobile search has been rising steadily for years. If more people use their phones to access information, why not optimize your site to meet them?
If you're still relying on your desktop site to drive traffic and generate revenue, you're missing out.
More People Buy Products on Their Mobile Device
Smartphones are the preferred device for online shopping, with 56% of U.S. consumers using them.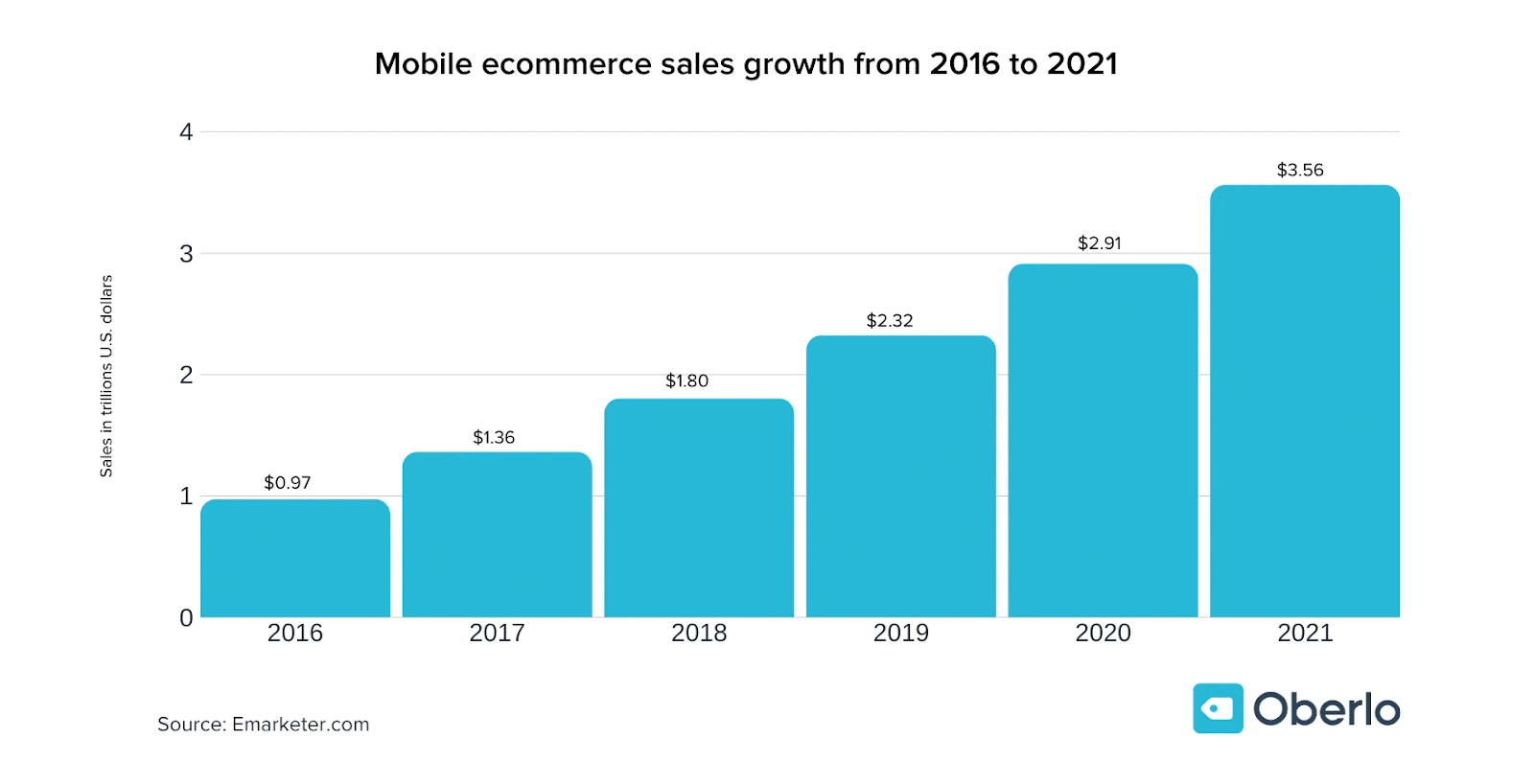 With so many turning to online shopping, mobile commerce sales are expected to top $3.5 trillion in 2021.
Not only are people preferring to conduct product research on their phones before making a purchase, as mentioned earlier, but two-thirds of consumers also use their phones when buying.
In fact…
Just having the option of letting people shop on mobile matters. 59% of shoppers said it's important whether a retailer offers this option.
You'll distinguish yourself by providing an enhanced mobile experience for your visitors. Optimizing your site this way can also increase your bottom line.
The easier you make your visitor's mobile shopping experience, the greater the chances they'll return and tell others of their pleasant experience.
Ignoring Mobile Users Alienates Over Half of Your Audience
Not accounting for mobile traffic neglects your audience and potential customers. In the early internet days, this was acceptable.
Mobile devices weren't nearly as mainstream as they are today.
But now, times have changed.
There are nearly seven billion mobile users worldwide.
In the U.S., there's an estimated 275 million.
When considering which traffic source to focus on first, think about the people coming to your website via their mobile phones.
Choose to optimize your website for that over social media or spending money on paid ads.
Adjusting for mobile creates opportunities to:
Raise brand awareness
Connect with potential customers
Improve your online presence
It's A Ranking Signal
Google uses mobile-first indexing, which means your content's mobile version is the deciding factor for ranking and indexing content, not its desktop version.
It started experimenting with mobile-friendly algorithms in 2016.
In July 2019, it was the default index for all new websites and in March 2020 announced it would now be using it for the whole web by September.
Why the switch?
A lot of people use mobile when accessing Google Search.
Google is the most widely-used search engine in the world, with a global market share of 86%. Bing came in second with just over six percent.
In other words…
Google dominates.
And 61% of Google's organic search traffic originates from mobile devices.
You can see a snapshot of our site's traffic sources for an idea.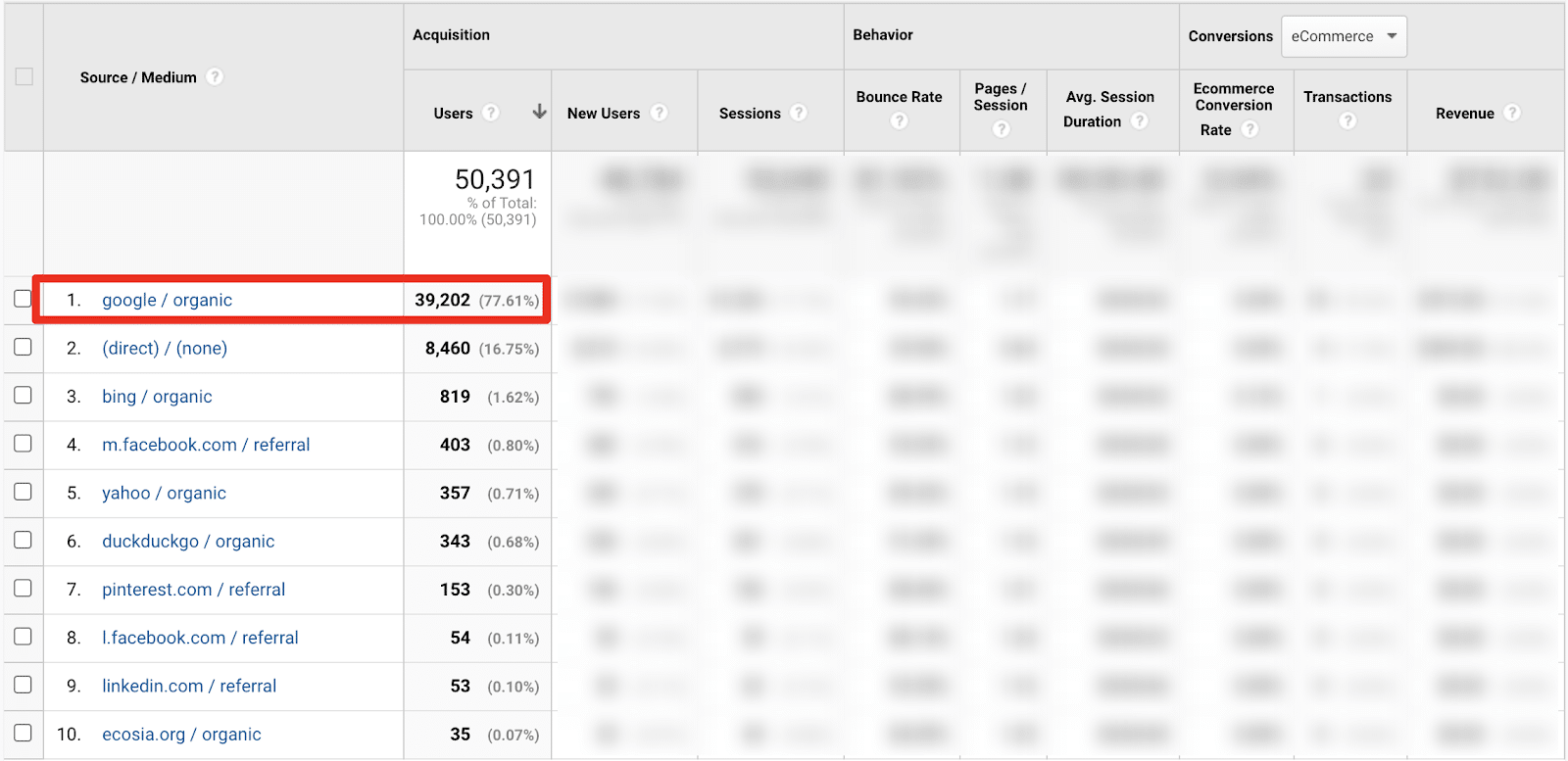 It's not even a contest with 77% coming from Google.
So, playing nice with them matters.
If they use mobile-friendliness as a ranking factor, it will make sense to optimize your website for that.
It'll help your site's visibility and improve its overall search engine optimization (SEO).
You can take Google's Mobile-Friendly Test here.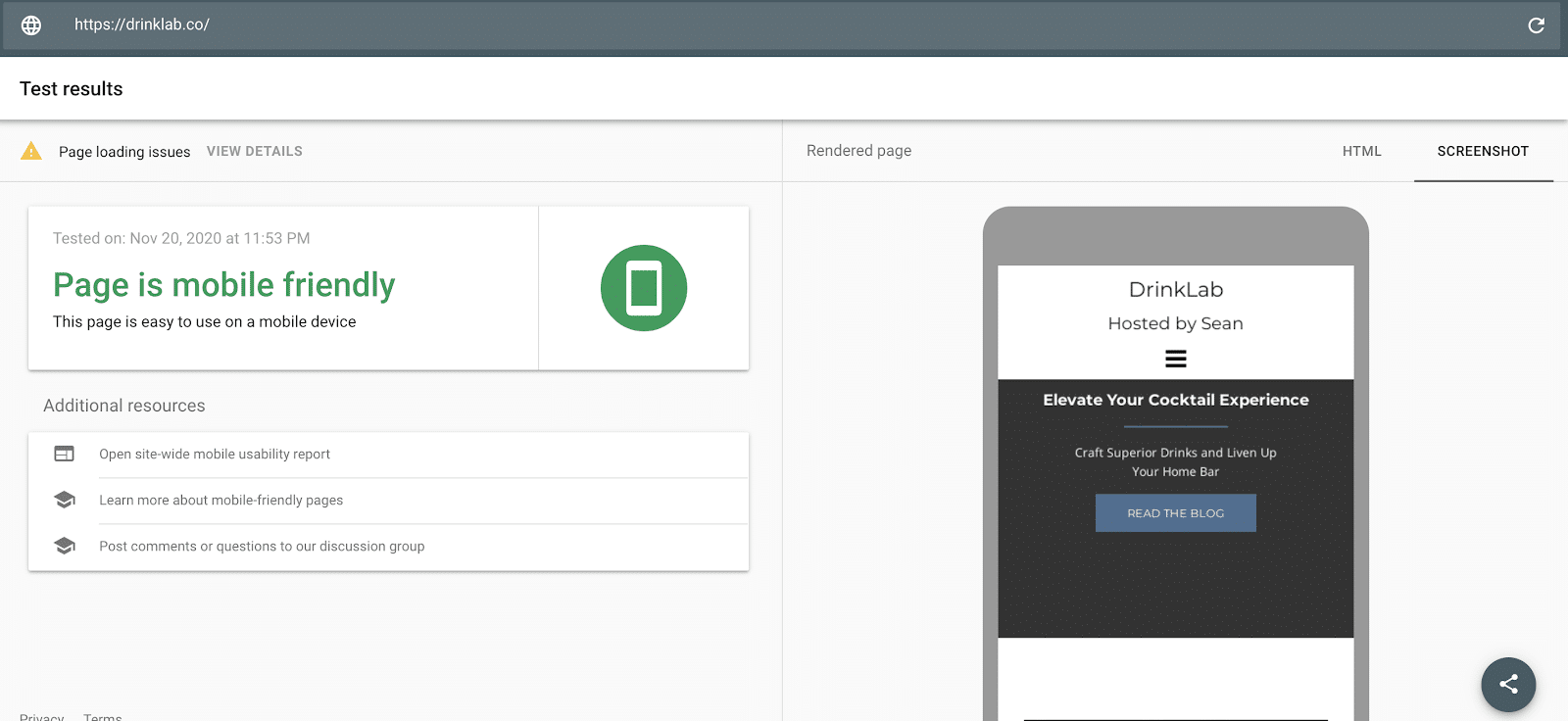 Another way to determine how your site performs on mobile is to look at Google Search Console and check Mobile Usability.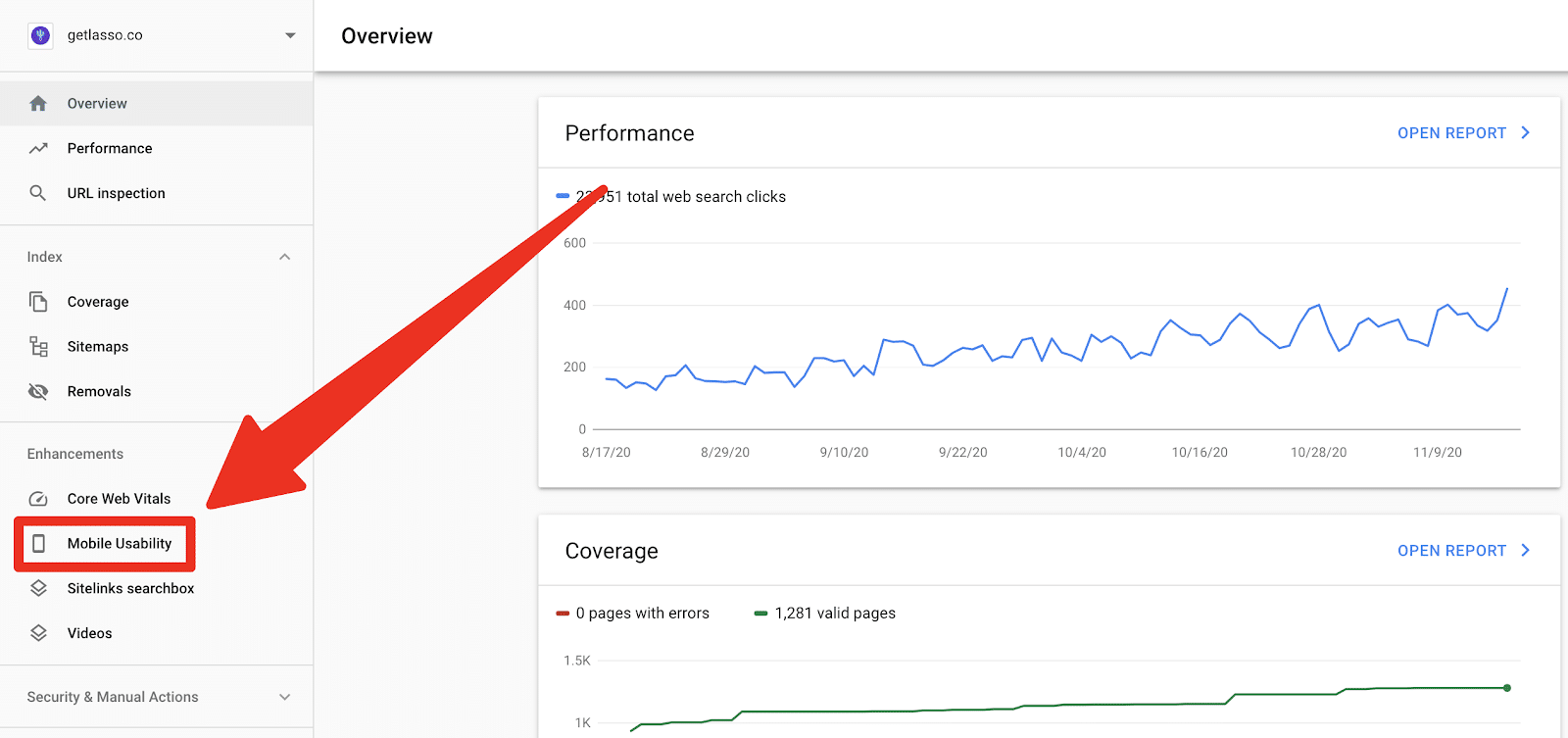 And if you want to test how quickly your website loads on mobile, use its Test My Site tool for a page speed analysis.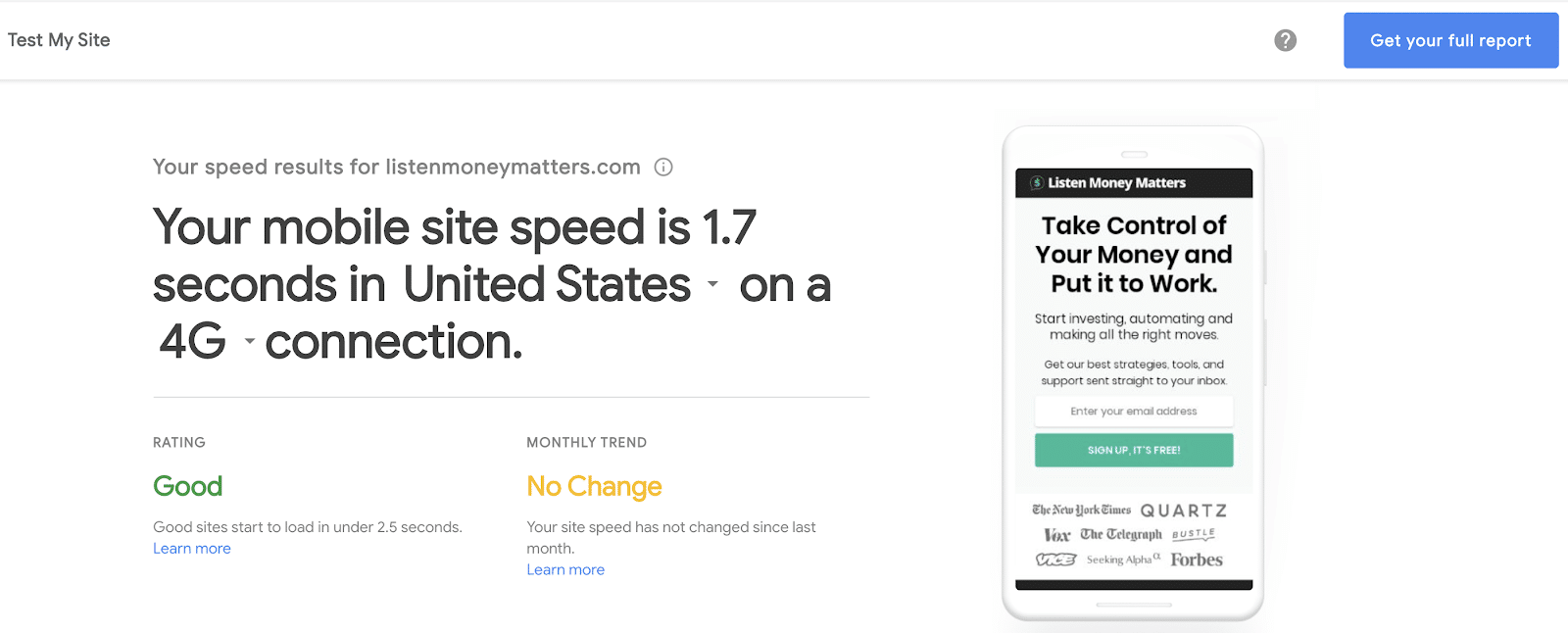 Page speed also matters as it's all part of the user experience.
And users prefer sites with a great page experience. Google makes it easier for someone to find your site if it contains mobile-friendly web pages.
Designing for Mobile Is Easier Than Desktop
Designing for mobile is actually easier than desktop because things like comparison tables don't matter. Why?
They aren't ideal for mobile devices.
Excess content will slow your site down.
Mobile pages use a smaller screen, leaving less room for text, images, graphics, social media buttons, etc.
Which forces you to prioritize content.
It lends itself to approaches like Wirecutter, where they show "Editor Pick," "Upgrade Pick," and "Budget Pick."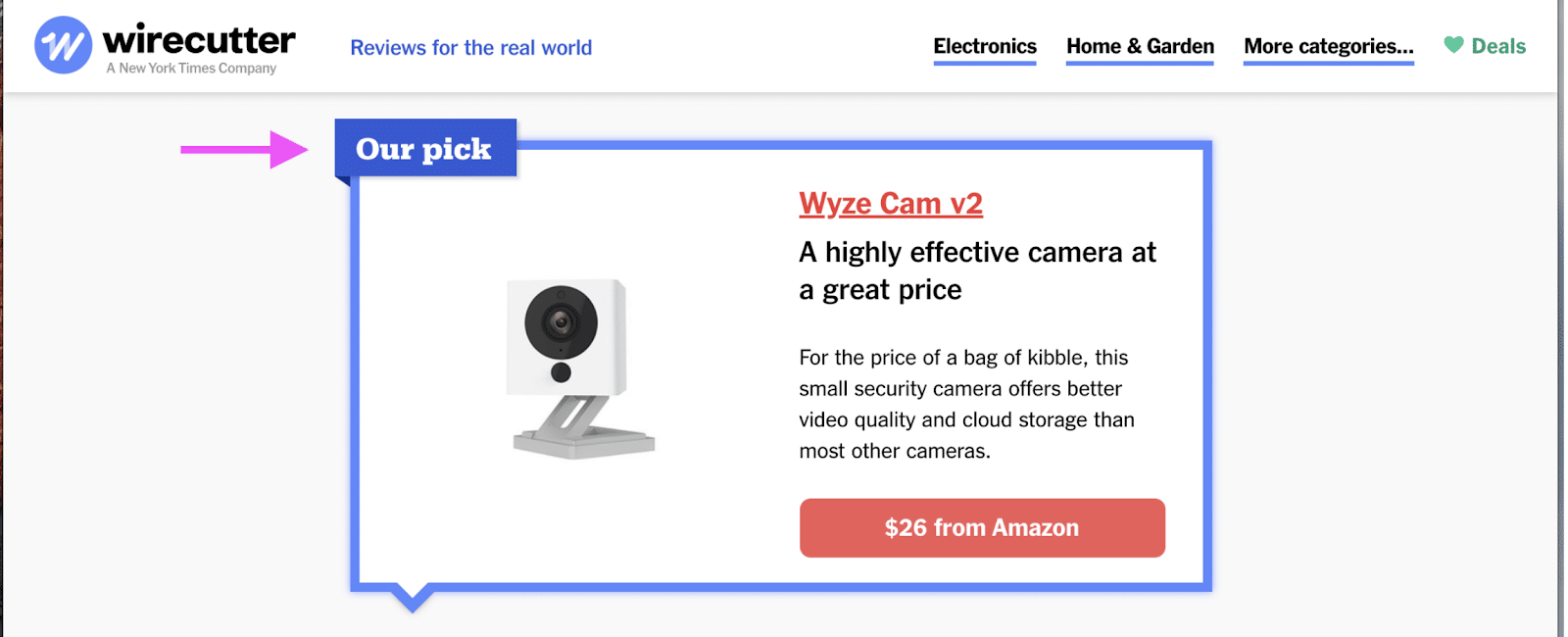 Because that's all people care about.
Using a tool like Lasso lets you create customized display boxes with badges similar to what you see on first-rate sites like Wirecutter.
Best for Monetization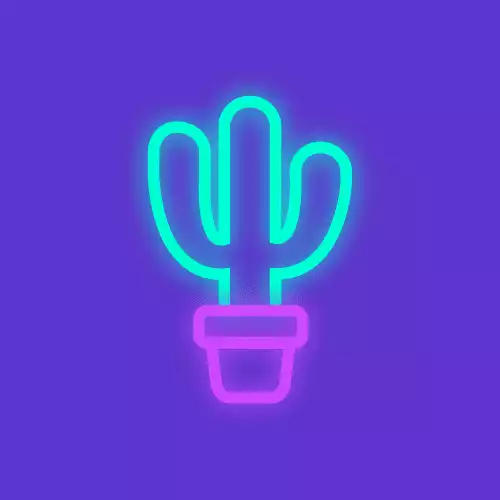 When you're using Lasso, in the URL details, you can enter any custom Badge Text to appear in all of your displays.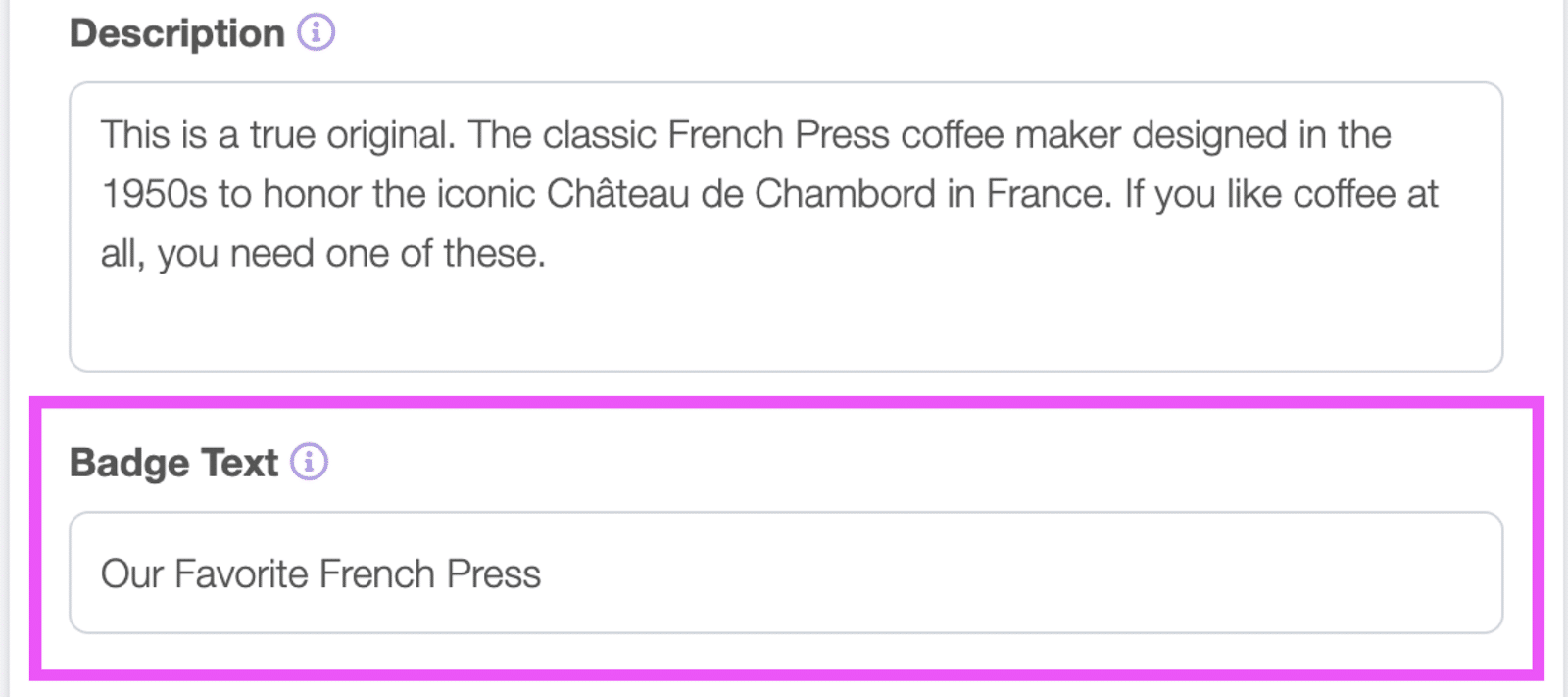 Once you've added your text, a badge appears on all of your displays.
You can also override certain displays in the shortcode. This feature lets your display stand out even more.
Mobile-Friendly Themes
The easiest solution is to use a theme with a mobile-friendly design. If you're like most people, you're probably using WordPress as it powers 38% of the internet.
Finding a theme through them is simple without needing any coding knowledge. And most already feature built-in responsive web design.
Take a look at this list of the best responsive WordPress themes from WP Beginner.
Or, Lasso's co-founder, Matt Giovinisci, created a responsive, lightweight WordPress theme built for speed.
Mobile-Friendly Plugins
If your theme lacks the functionality to perform a particular action, you can also boost its performance with a plugin.
Establish what kind of business goals you have before deciding. For example, if you're running an ecommerce site, your needs will vary from bloggers.
Some plugins, like WPTouch, add a simple mobile theme to your website automatically without altering any code. And your desktop theme remains the same for non-mobile visitors.
Here are a few plugins we use to optimize our websites:
Imagify: The image optimization tool that compresses images for lighter weight and speed. Images are one of the heaviest components on your site.
WP Rocket: A heavy-duty caching plugin for boosting speed while minifying HTML, CSS, and JavaScript
Cloudflare: Cloudflare helps your site's performance with its use of a CDN (content delivery network). Once you sign up via Cloudflare's website and connect your website, you can install its WordPress plugin for free.
Further Reading:
Creating and Formatting Content Is Simpler
Mobile users are on the go and want consumable content that's short, simple, and direct.
Internet connection may also be weak depending on their location, so it's best to create easily scannable content.
That's why things like list posts are so easy (and popular) with readers. They're likely occupied with something else and don't have time to spend waiting for your page to load.
What's worse is once it's loaded, your audience has to pinch and zoom out of their screen to digest your material.
Desktop computers deliver horizontal navigation while mobile displays vertically. Which, again, plays to the kind of easily-scannable content you want to display on your site.
For example, if you wanted a page to display using list-style elements Lasso, you'd select "choose a display type."
Then select "list."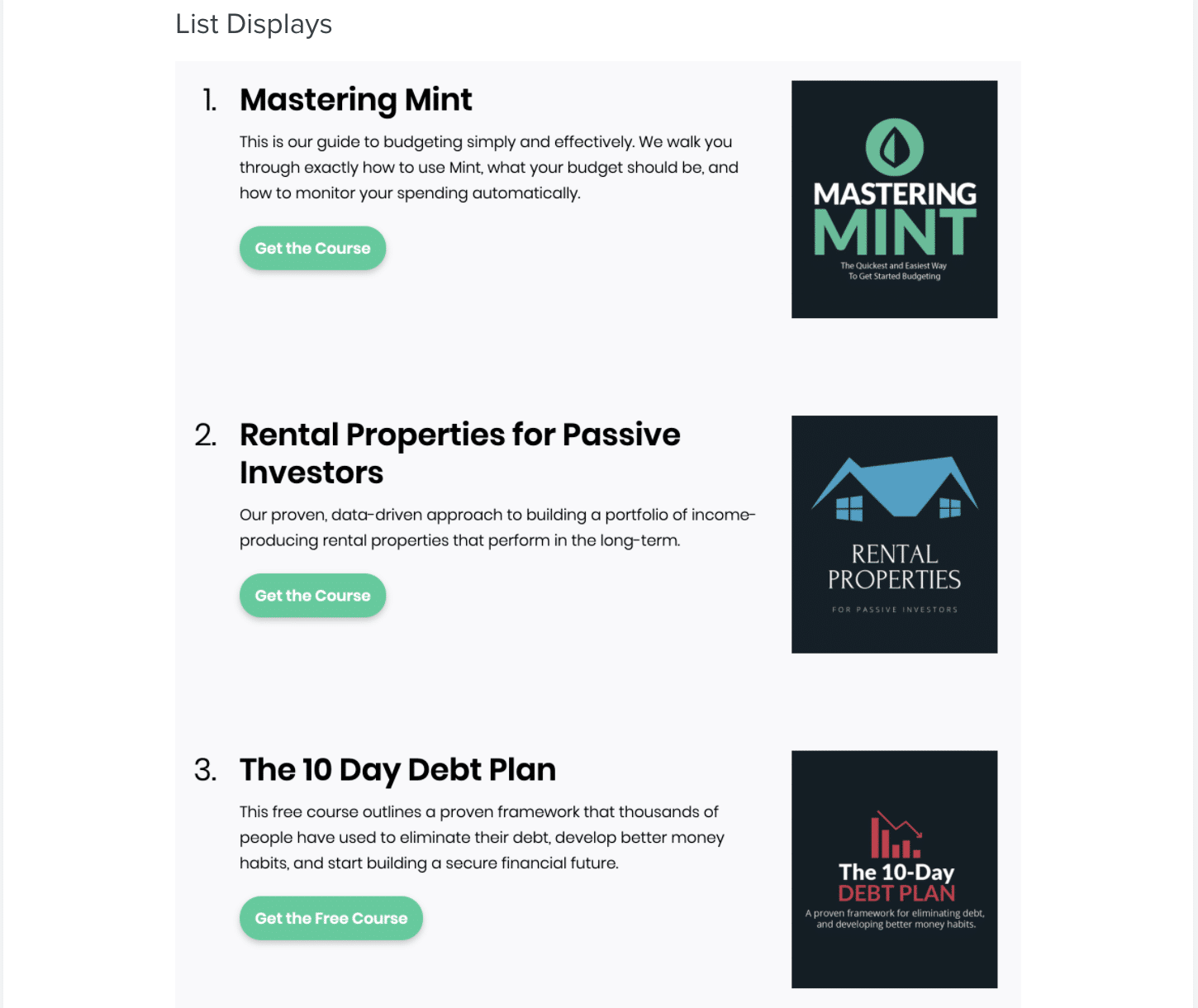 Your product page displays in a mobile-friendly way that can increase the likelihood of a return customer.
Maintains Your Site's Relevance 
Being relevant is one of the best ways to continually earn the trust of your audience. That means keeping up with technology and following industry best-practices.
Ignoring this is a colossal marketing mistake.
When you don't, people stop taking you seriously. When people stop taking you seriously, your business dies.
Would you consider visiting a site still using a dial-up internet connection? Could you take that site seriously?
Technology will continually evolve, which is why it's paramount your business grows with it to better serve your audience.
Last Words
Mobile devices generate over 50% of traffic worldwide. This single reason is why you need a mobile-friendly website.
If you're not optimizing for that demographic, your competitors will.
What should you do first?
Take the Google Mobile-Friendly Test to understand how your site fares. Once you get the results, follow their recommended next steps.
Why listen to Google?
Because they're the most widely-used search engine in the world.
Adjusting your website to meet mobile users' needs can increase your site's visibility, improve SEO rankings, and increase earnings.
Want more tips? Read this.
Our creations in your inbox, weekly.
We've built multiple six-figure online businesses that our moms are proud of.
We'd like to help you do the same.