You've probably heard of people outsourcing content early to scale their blog faster. If you're thinking about outsourcing your content production, then today's your lucky day.
In this post, I'll walk you through when you should consider outsourcing, where to find writers, and much more. It's the ones with a team behind them that accelerate at breakneck speed.
Let's dive in.
Table of Contents
How to Start Outsourcing Content and Grow Your Blog Faster
When Should You Start Outsourcing Content?
If this is your first blog, your cash flow is most likely limited, so you'll need to write the content yourself. You need to develop systems for what works and understand what "good" content looks like.
Sorry, but you must start at the bottom and manage the process. That's the cold hard truth.
However, if you're starting to see little profit and have the money to allocate to another writer, you SHOULD outsource.
Before doing this, it's important to know your budget and what you want to accomplish by delegating this step to someone else.
Know your "why" before onboarding a new writer.
Further Reading:
Benefits of outsourcing
You might think that nobody will ever do as good a job as you (or care as much).
While the latter may be true, there are other people out there who can write as good (if not better) than you. So, leverage their expertise, time, and resources.
Here are a few benefits of outsourcing content creation:
Specialized Niche Writer Acquisition
You'll find pools of new writers specializing in your niche that can shoulder the burden of weekly publishing dates (or whatever your publishing cadence is).
You'll gain new insights by leveraging their expertise with every new post. They may discover things that you hadn't thought of before.
If you're repurposing on social media, you can use them to help with this task as well.
Boost Conversions
Getting new writers can also help you increase conversions because, many times, they're skilled copywriters.
You could even post "must be proficient in copywriting" in your job description.
This way, you ensure that you're only hiring the best and brightest candidates that can move readers down your funnel.
Free Up Your Time
When you delegate content writing to other people, it opens up your calendar to work on high-level activities that move the needle.
This might consist of writing new email automations, creating a new landing page, or CRO that helps you squeeze more revenue from your niche site.
When I came aboard Listen Money Matters as its Senior Editor, I took on all of the writing as well as managing a small team so Andrew could spend more time developing the site (because that's what he loves doing).
Where To Find Writers?
There are lots out there. Here are three places where you can start looking.
Gig-Based Sites
Platforms like Upwork and Fiverr have lots of people who can potentially help.
It can feel like a slog trying to find the right candidate because you have to wade through a sea of applicants.
Tip: To avoid the masses, search for writers and invite them to write a test piece for you. Keep the job private, and don't post it publicly.
Your Email List
If you're considering outsourcing, you probably already have an email list.
So, send an email to your list asking whether anybody's interested in writing content for your blog.
This works because they're already familiar with your brand so onboarding will be easier. We've done that with Listen Money Matters and Lasso to great success.
Agencies
Specialized digital marketing agencies can help you hire high-quality writers.
The bar is typically higher here, and you can find writers focused on industries specific to your niche.
With so many blogs and content sites these days, most offer SEO services and content promotion strategies to help advance your marketing agenda.
How Much Money Should Outsourcing Cost?
There's no cut-and-dry pricing model to this question.
The short answer: it depends.
When I started writing for Andrew's site (in the YMYL category), I was paid between $225 to $450, depending on the article. That's on the higher end, but it's a competitive niche where accuracy MATTERS.
Tip: Try imagining someone making $20/hr, then think about how long writing an article for your site will realistically take and price accordingly.
If you're paying per word, between 5 and 8 cents, I see coming up a lot.
When you find yourself negotiating on price per word with a potential candidate, sometimes you can sweeten the deal.
Here's how:
Let them know they'll get a stream of steady blog posts to write and they'll spend less time per article because you're providing a detailed content brief that'll remove 80% of the guesswork.
You can also try taking them off the platform to pay them. For example, Upwork takes 20% of the writer's pay as a "finders fee."
Finding a way to work with them directly will allow them to earn more while you pay less.
Where Should You Outsource To?
Determining where your blog traffic comes should help answer this question. If the bulk of your traffic is U.S.-based, try to hire prospects from the U.S. Or at least writers whose first language is English.
Our writers have all been U.S.-based, but I know other site owners who hire international writers (but only when they're proficient in English).
Bottom line: There's no right answer when it comes to outsourcing. Foreign countries may cost less, but the writing quality might be lacking. It all depends on who you find.
You can post a specific country in your job description, such as "U.S. writers only" or "must be fluent in English," to help vet the proper candidate.
Further Reading:
How To Vet Potential Writers?
The best way to vet potential writers is to have your prospects write a paid test piece. This way, you can ensure they're a good fit for your brand.
Plus, it'll let you try out multiple writers until you find a winner.
You can also ask them a few personal questions on your job application such as "who's your favorite stand-up comedian" or "what's something you recently learned that's awesome?"
This helps gauge their personality and whether you'll get along working together.
Here's a simple process for this:
Let the writer showcase their expertise and research skills with a topic of your choice
Set a deadline
Pay them a competitive rate for the test piece
Give detailed feedback on their first draft once received (this helps them know exactly what you want)
Require they make additional edits to see how well they follow instructions
Hire them if they're a good fit (if not, pass)
Pay them quickly
What Is A Content Brief and Why Do You Need One?
The content brief is a roadmap of what you want the writer to cover in their article. Your goal should be to fill in as many blanks as possible so you remove the guesswork for them.
You determine the h2s, h3s, pros/cons, etc. This way they don't have to think a ton about structure.
It also ensures they spend less time per post.
A Content Brief Example
Typically, you'll have general guidelines that won't change.
Telling writers that they don't have to write a conclusion at the end of the post is one guideline example. Using one image per h3 is another.
The best part is you'll only have to write your guidelines once, and you can use them with every brief.
What will change from post to post is the outline, depending on whether it's a best list, a how-to, a product review, etc.
For example, you might create the title, word count, and meta description for every article.
Then explicitly state what to include in the intro, a list of features (or topics) to cover, and then have your writer hand over a first draft in Google docs.
Sidenote: Emil mentioned he gets his word counts from a tool called Topic which is only available to AdThrive users. But other tools such as Frase or Clearscope can also be used. We use the latter.
You can see Emil's content brief example in this episode of Seeking Profit!
How Long Should Creating A Brief Take?
On average, 30 minutes is a good rule of thumb.
If you use tools like Topic, Frase, or Clearscope, it can cut your time in half because they give recommendations (e.g., word count or sub-headings) based on what the ranking articles cover on the same topic.
How Do You Track the Writing Progress?
You can use project management tools like Trello or Asana to monitor your team's progress.
For example, our writing board has 6 vertical columns:
Ideas
Briefed
In progress
Feedback/To Check
Ready to Publish
Complete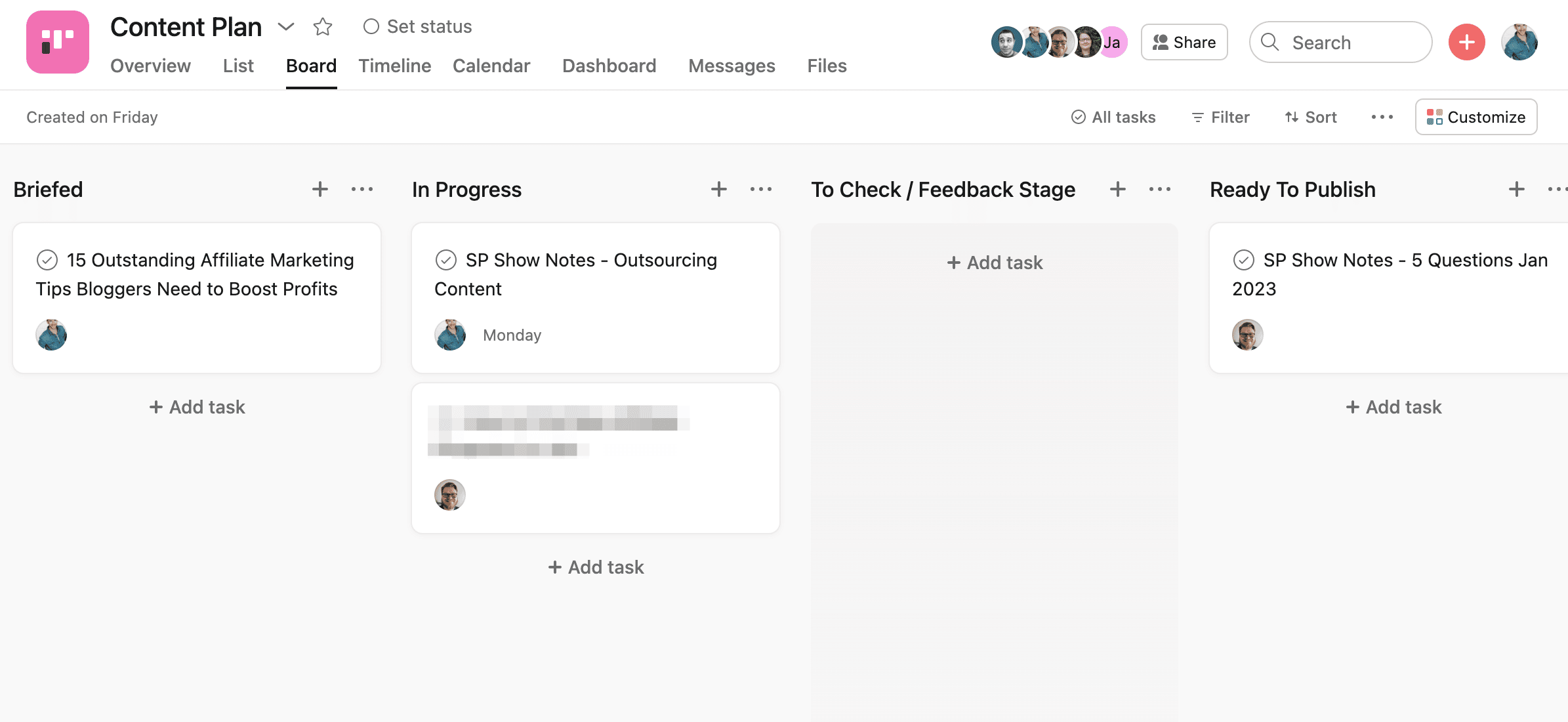 The board lets you oversee the entire process. Once the post is in the "Complete" column, you can pay them.
Outsourcing Blog Content | Final Thoughts
I hope this post shed a little light on how easy it is to get started outsourcing content. You don't have to be some HUGE media site to do it, either.
If you've got the budget for it and it makes sense, I highly recommend it. You'll see quicker growth. But, like any business, the numbers have to add up.
If you want to see more examples of how we approach outsourcing content, check out this latest episode of Seeking Profit!
Our creations in your inbox, weekly.
We've built multiple six-figure online businesses that our moms are proud of.
We'd like to help you do the same.