Jared Bauman, the host of the wildly popular Niche Pursuits podcast, switched from AAWP to Lasso, and increased his affiliate revenue by 106%!
This was still an increase of 88% even when accounting for a few days of increased revenue from Prime Day, and this increase has now brought in the website around an extra $700 per month. 
At a 40x monthly multiple, installing Lasso increased Jared's site value by around $28,000.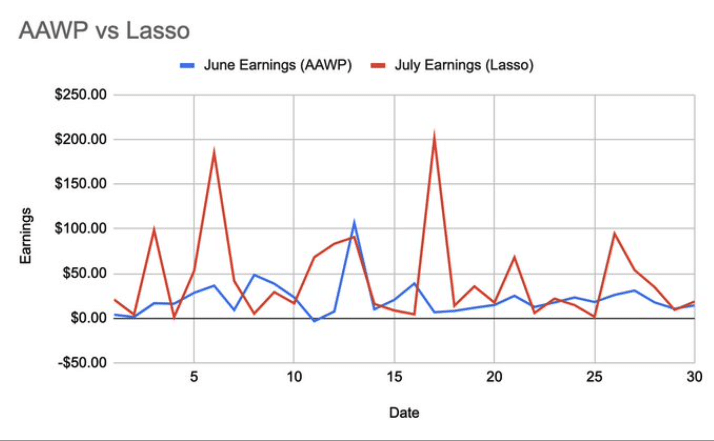 Table of Contents
How Jared Bauman Increased His Affiliate Income 106% With Lasso After Switching From AAWP
Introduction To Jared
Jared Bauman is the CEO and Co-Founder of 201 Creative, LLC with several dozen clients, and has built and sold several companies in the photography and blogging space alongside growing several successful niche sites in his portfolio.
In addition to being an expert in SEO, business strategy, and marketing, he's also an accomplished photographer, author, keynote speaker, host of the Niche Pursuits Podcast, and long time board member of The Alabaster Project.
Jared loves to spend his time away hiking, camping, and traveling with his wife and two young children, and ensuring that his team is able to have the same flexibility.
Jared's Problem
The website in question was a case study website Jared and his team have been growing for several years.
Unfortunately, in Jared's words:
"Compared to other sites, the website converted very little of its "affiliate" traffic into affiliate sales. Or, so we thought…"
This was due to two main issues, which in Jared's words were:
"We did not make much money from Amazon Associates each month from this website, especially when you compare it to how high the traffic is."

"We did not understand which URLs drove the majority of affiliate earnings."
Fortunately, Lasso is both compatible with every single affiliate program in the world, and our new Lasso Performance analytics tool can show you which URLs are driving your affiliate earnings.
Switching To Lasso
Jared, and his company, 201 Creative, had been searching for alternative affiliate partners beyond Amazon, to see if they could get higher rates and earn more per click.
Unfortunately, AAWP is limited to only Amazon displays. 
This limitation to just Amazon, plus the lower conversions than expected, led Jared and the team to seek other options, and they settled on Lasso after some research.
"We would try one affiliate program, see if it moved the needle, and move on. We decided to give Lasso a try, to see if it would boost conversions and revenue."
The Results
Jared used AAWP on the site for June 2023, and then switched to Lasso for July 2023. You can see the results below:
"Lasso was a great solution as in the first month after switching, the site saw a 106% increase in earnings!"
June 2023: $639.88
July 2023: $1,317.98
Beyond the big revenue increase, Jared's team also found Lasso much easier to use, and it made the entire team more productive.
201 Creatives's Content Coordinator, Gabe Goyo, expressed that he enjoyed working with the Lasso system vs AAWP and overall expressed his hope that 201 Creative continues using their system on other sites within their portfolio. 
"Lasso's system is more intuitive, easier to use, and overall a better way to add affiliate links". – Gabe Goyo
Jared has written his more detailed thoughts in a great Twitter thread that you can also view:
We switched all of our affiliate product boxes from AAWP to Lasso for one of our websites.

June: AAWP
July: Lasso

Results? Let's get into the details! 🧵👇 pic.twitter.com/d4byayBrd4

— jared bauman (@jaredbauman) August 9, 2023
Additionally, you can read the full version from his excellent newsletter here.
An example Lasso block Jared created is here: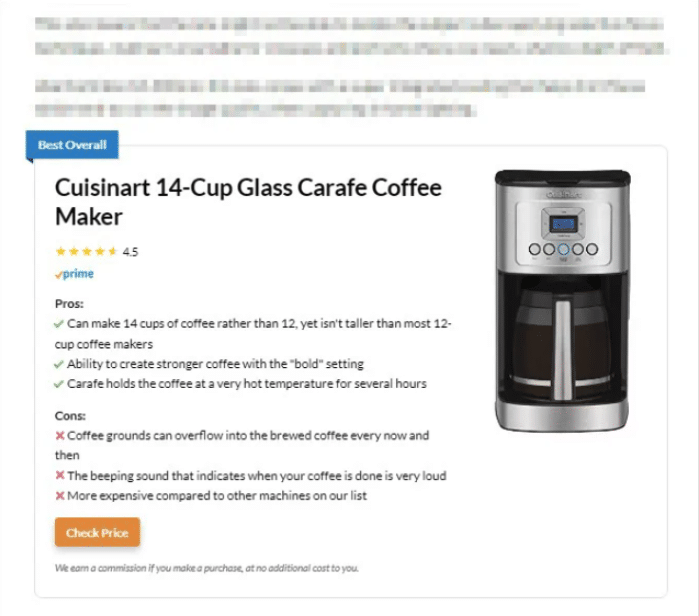 And you can sign up for Jared's newsletter here.
Since Jared began trying Lasso, we have also released Lasso Performance, our affiliate analytics tool for a complete page-level breakdown of how your pages and each link on your page performs.
One of the initial problems Jared vocalized was the lack of data on which products and pages were converting to prioritize, we have now built the tools to give you a full affiliate revenue breakdown. You can sign up for Lasso Performance here.
What advice would you give niche site owners looking to earn more?
"Keep going!

"Most quit long before their project has had a chance to produce measurable success. 

"Stay at, constantly learning as you go. Never assume that your process is as good as it could be, but never get too bogged down with questioning your process. It's a delicate balance. 

"It's important to try new things, take (evidence based) chances, and do lots of experimenting and testing. This includes searching for and partnering with new affiliate programs."

"Your best course is to do the research, learn from others, and don't be afraid to partner with an expert!"
Jared is proof that with grit and determination, you can be successful with a portfolio of niche websites that earn a fantastic passive income, while also being successful in other businesses and maintaining a healthy work-life balance. 
At Lasso, we're elated to have helped Jared supercharge his affiliate revenue, and look froward to hopefully powering even more revenue increases in the coming months.
If you're interested in Lasso, and how it can help increase your conversion rates, and get your full revenue analytics data, you can try Lasso here.
Our creations in your inbox, weekly.
We've built multiple six-figure online businesses that our moms are proud of.
We'd like to help you do the same.