If you're using or have used the default WordPress search feature, you've probably found its scope limiting regarding the information it can retrieve. We'll show you ways to improve your internal site search so you can deliver the best user experience for your readers and boost conversions.
What Is WordPress Search?
WordPress search lets your readers look for content found on your website (i.e., internal search). It's technically a template file named 'searchform.php' that generates your site's search box readers can use to find specific material on your site quickly and easily.
Many themes already come with a search form. If they don't, we'll explore ways to add it below.
Here's How You Can Add Add Internal Search to Your WordPress Site 
We'll cover a couple of ways to add a search bar to your site. Depending on your WordPress theme, it may already be enabled. But if it's not, here's how to activate it.
Use a WordPress Widget
The simplest way to start adding a search bar is using a widget. WordPress widgets come in handy, particularly for adding content to other areas of your site like sidebars and footers.
To do this, head to Appearance > Widgets in your WordPress dashboard.

Click "Widgets," then scroll down to where you find "Search," and you can add it to your site's footer or sidebar.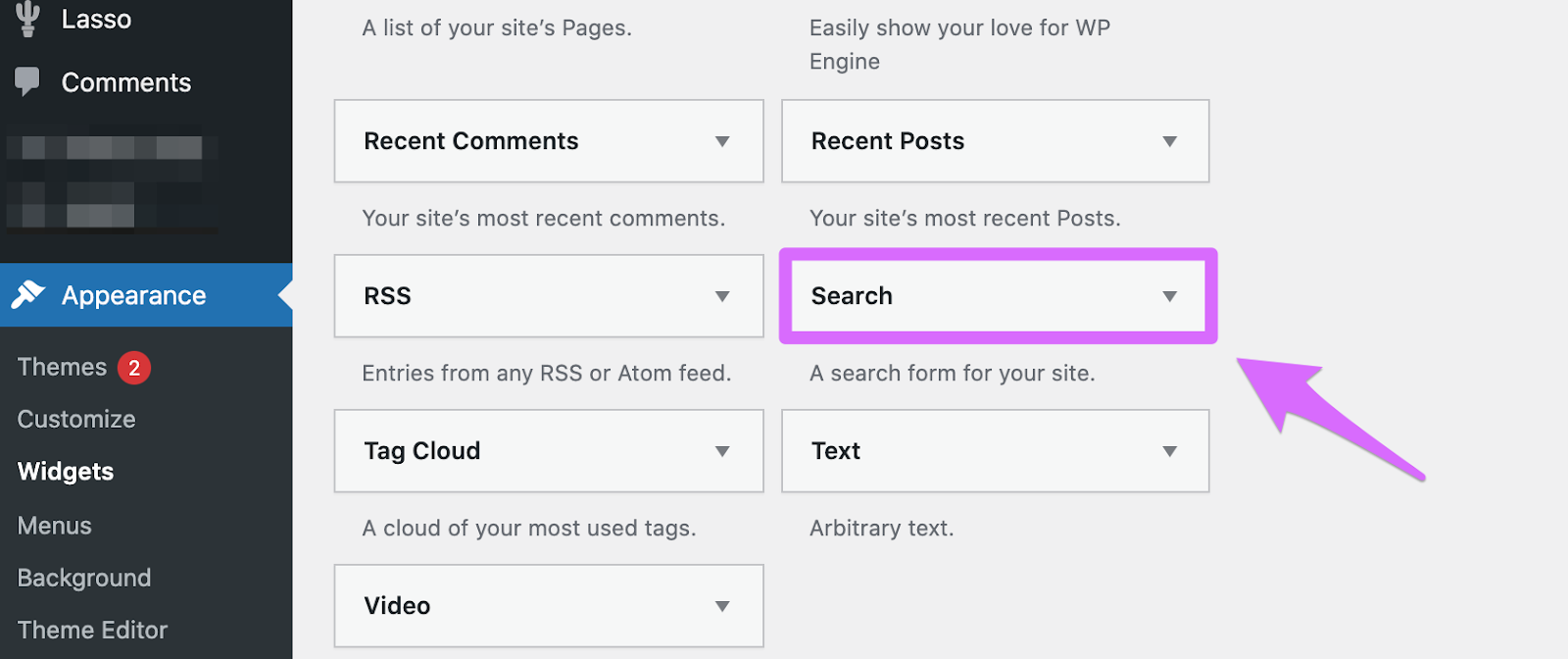 Next, drag that "Search" box over to the right-hand side of the page and enable it. Alternatively, your theme typically has a drop-down menu offering you choices of where you'd like to add the search widget.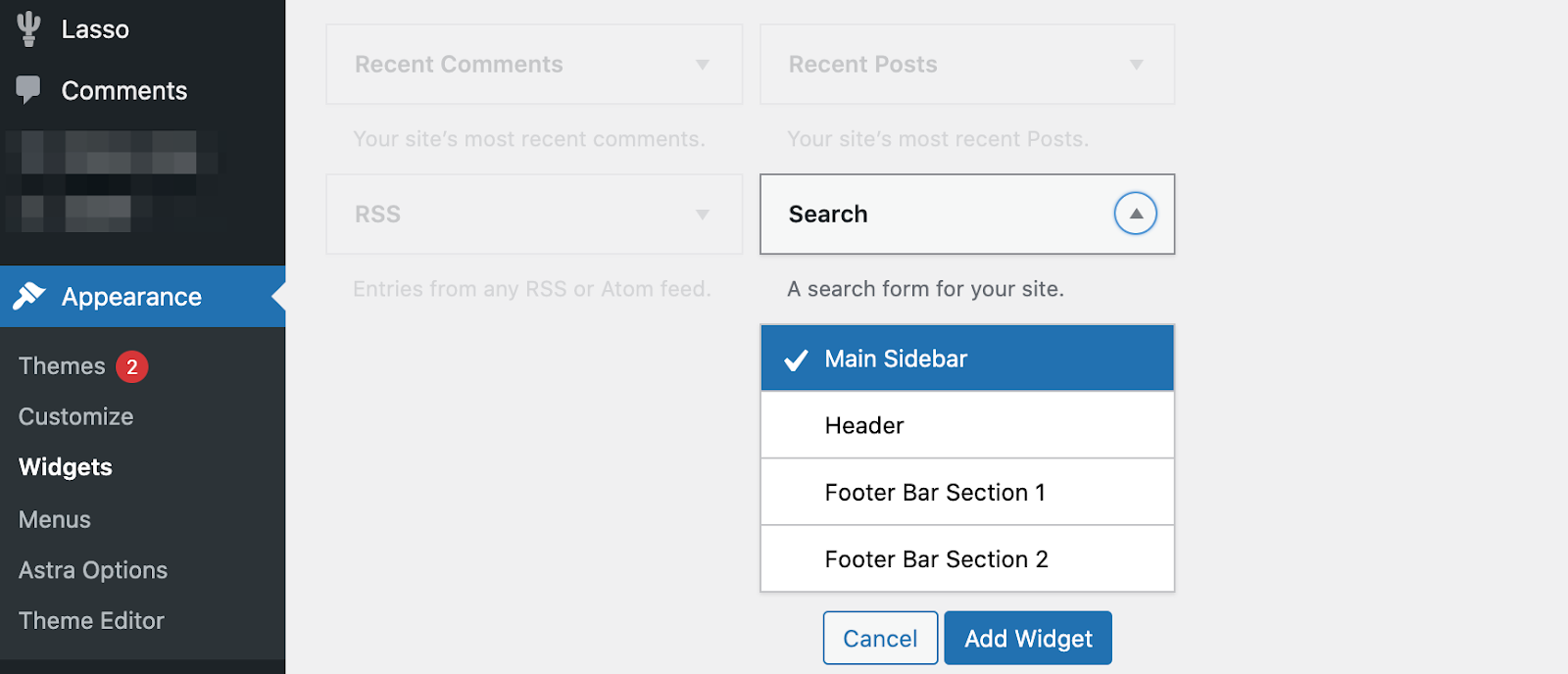 Finally, give it a title.

Once you're done, hit "Save."
Add A Search Bar to Your Pages with the Gutenberg Editor
Many folks use Gutenberg, including many of our customers. So, if you didn't already know, you can add search functionality to your content in your post editor.
When inside your WordPress draft, click the "+" icon in the upper left corner

Next, scroll down to the "Widgets" blocks and choose the "Search" icon.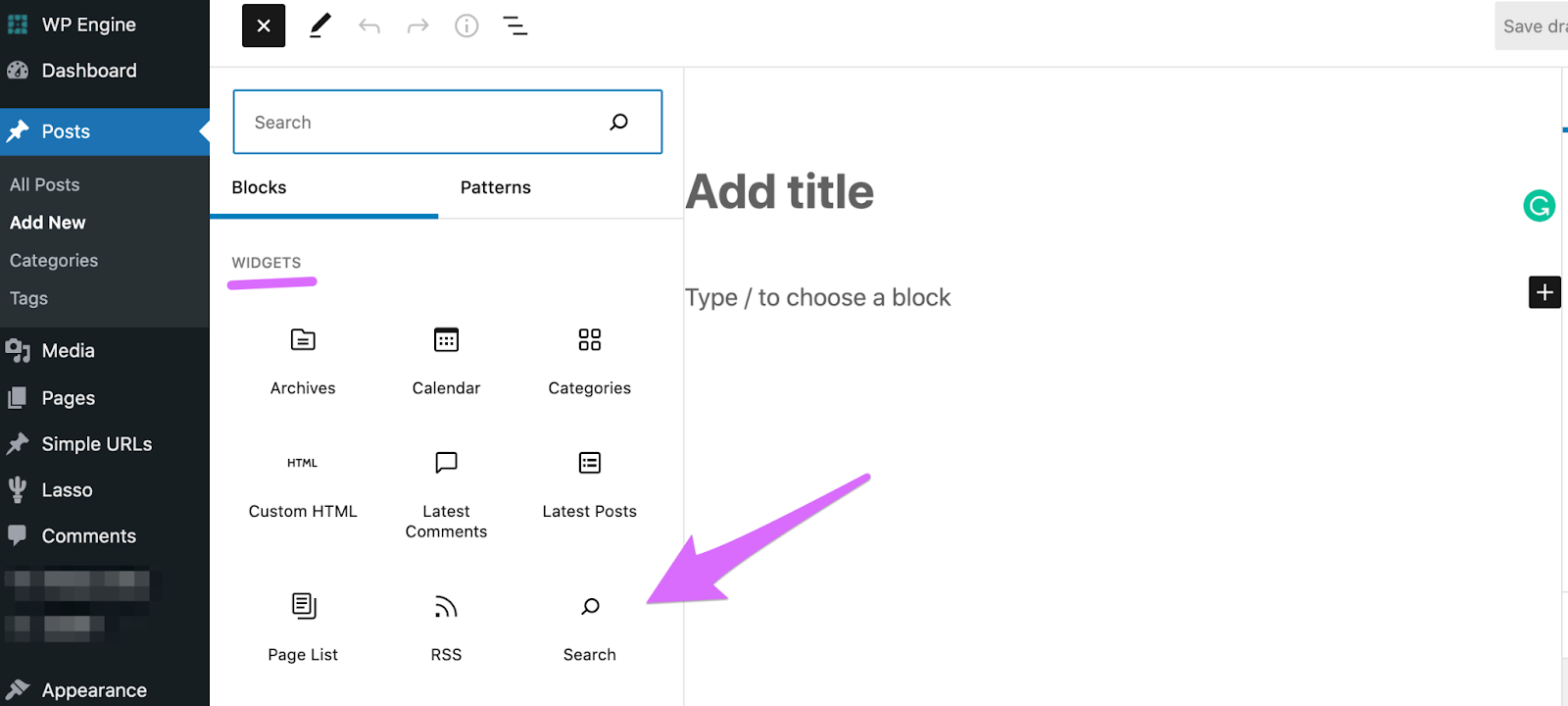 Add it where you want the search bar to display in your post.

You can customize the inline text, title, and button placement.
Takeaway: Adding basic site search to your domain is good, but as mentioned above, it's limiting. You're unable to leverage advanced search algorithms with WordPress's site search function the same way you can with a plugin.
Why Use A WordPress Search Plugin?
Using a search plugin comes in handy if your theme doesn't already include one or you're unsatisfied with WordPress search functionality.
For example, using its default settings, your readers will only be able to find content originating from your site's:
Page title
Paragraph text
Image titles
Image alt text
So, if someone were searching for the material found in a user comment section or custom field, their search query would yield zero results. Content is also excluded from widgets, categories, and tags as well.
The other reason you may want to use a plugin is that you don't want to create and code a custom search page onto your site (if you do, WordPress has a detailed guide you can read here).
If you're not a developer or have zero interest in coding, a plugin will do the heavy lifting.
5 Plugins to Improve Your WordPress Search for Visitors & Give A Better User Experience
If you're ready to add more functionality and customization to your site's search, you're in the right place. Now, let's examine some of the various plugins you can use to boost performance and improve the user experience for your website visitors.
#1. Ivory Search
You can replace WordPress's default search using advanced plugins like Ivory Search. It lets you create unlimited custom search forms and individually configure each one with it.
You can display the search bar anywhere on your site with shortcodes in places such as your site's header, footer, sidebar, and nav menu.
Instead of only being able to search for a page's title or text, you can search for a suite of additional attributes, including:
Custom post types
Specific category or taxonomy terms
Woocommerce product search
The code is clean and you shouldn't have any conflicts with your theme or other plugins when using it.
Ivory Search
Ivory Search boosts your internal site search functionality and lets you create and display numerous search forms in your header, footer, sidebar, and custom post types using shortcodes. You can also exclude content deemed unimportant for reaching your business goals.
It's straightforward to use. The plugin lets you customize your search form's functionality with the choices of "Include," "Exclude," and "Options" settings. This degree of control ensures your visitors get the most accurate search results.
Stopwords and Synonyms add even more granularity.

You can also see live search results powered by Ajax search.
Ivory Search has both free and premium versions. Although you'll be ok with the free version, I'm sure it'll cover your needs.
Sidenote: AJAX is short for Asynchronous JavaScript and XML. Its creators designed it with the user in mind as it lets web pages retrieve new info and display it without reloading the page. It's a more interactive and responsive experience for your visitors.
#2. Relevanssi
Relevanssi gives you an enhanced search engine that lets you display a person's search query by relevance, not by date. It includes "Fuzzy Matching" which means you'll still get results even if it's only a partial match based on the keywords entered.

The plugin uses Boolean search commands so you can find docs using AND / OR searches.
Sidenote: Boolean logic is a primary component with computer applications and plays a fundamental role in database searching. Using "AND" finds all of your search terms. For example 'downloads AND wordpress websites AND CSS.' Using "OR" searches find one term or the other.
The quality of the SERP generated is also quite good because it highlights search terms in the snippets. It'll also create custom excerpts displaying where the query was made, highlighting the search term.
You'll be able to search categories, tags, custom fields, and more. Inside, you'll also find Google-style "did you mean?" suggestions with your searches while gaining access to your site's most popular search queries.
The support offered by its developer, Mikko Saari, is first-rate, offering on-point and helpful suggestions for users.
Relevanssi
Replace the default WordPress search with an optimized search engine and tons of configurable options. Get your results by their relevance and create custom excerpts showing where the tally was made along with highlighted search terms.
#3 Search WP
SearchWP has many enhanced features to help you give an optimal search experience, including making custom fields searchable, letting you view on-site search activity, and integrating with your native WordPress search form.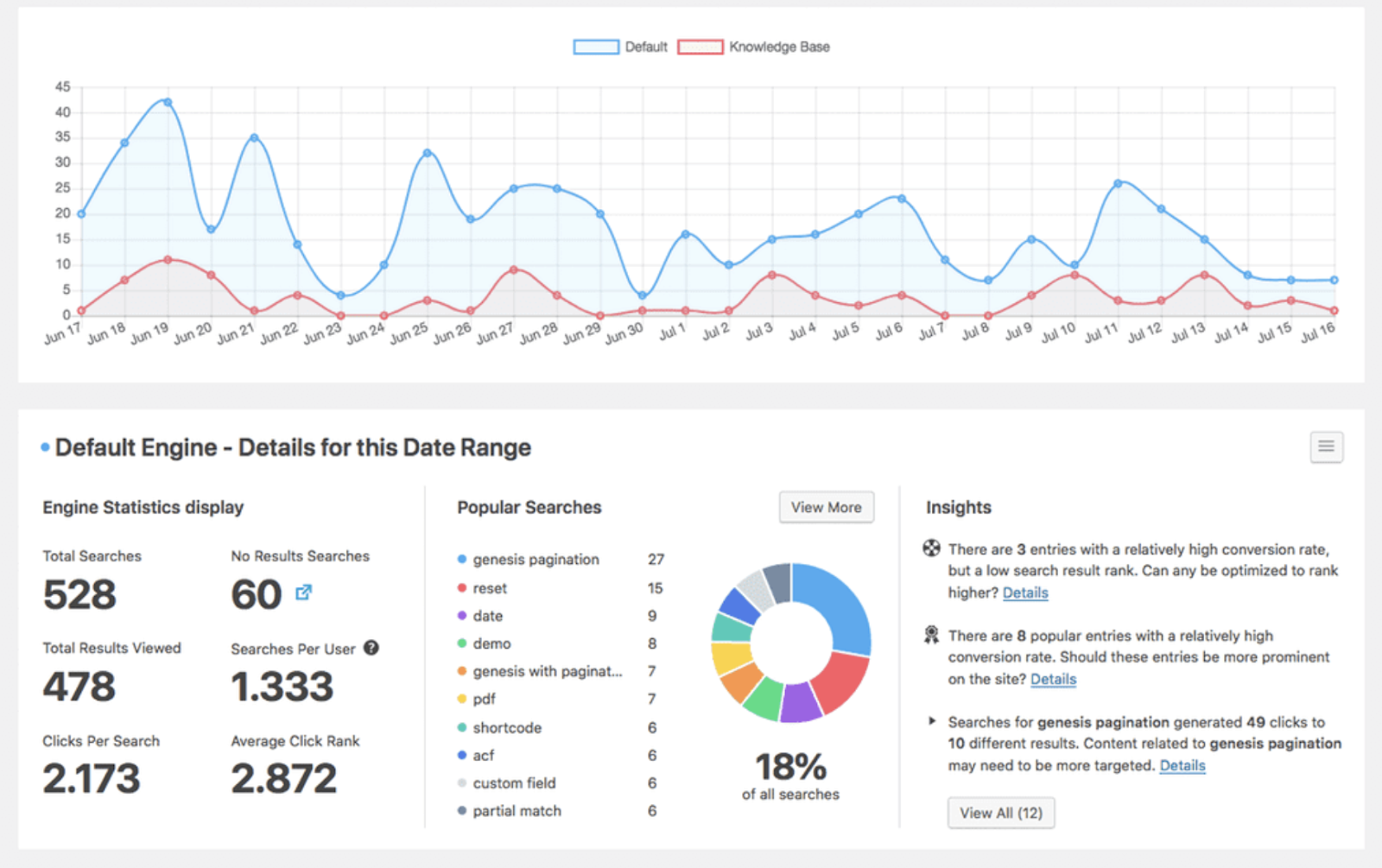 Similar to Google Analytics site search, SearchWP lets you see metrics, including:
Total searches
Clicks per search
Popular searches
In addition, you'll also see what searchers are not finding with their queries.
Its theme integration gives a native look for your keyword search forms or results templates. SearchWP also plays nice with several of the popular page builders, including:
Elementor
Divi
Beaver Builder
It'll also fetch anything uploaded to your media library and make that content searchable (including documents such as PDFs, Office, and plain/rich text).
SearchWP
Your site is filled with fantastic, searchable content but native WordPress search is unable to fetch most of this data. SearchWP lets you use taxonomy terms and shortcodes with your operation and works with all custom fields along with seeing your visitor's site search history to gain actionable insights into user behavior.
Single site licenses start at $99.
#4. Ajax Search Lite
Ajax Search Lite is a live search WordPress plugin with extended functionality.
You can give your visitors an enhanced search experience with use of behaviors, Google search autocomplete & suggestions, and drag and drop 'Exclude/Include' results from your dashboard.
Toggling on the autocomplete and keyword suggestions features lets you display results in a drop-down box as you type.

You can connect the plugin to Google Analytics and see Events tracking data, including live search, facet changes, and input focus.
The plugin is also built for speed. When you click under Ajax Search Lite > Performance Options, you get three things:
Load javascript in the site footer
Use a custom AJAX handler
Turn off image cropping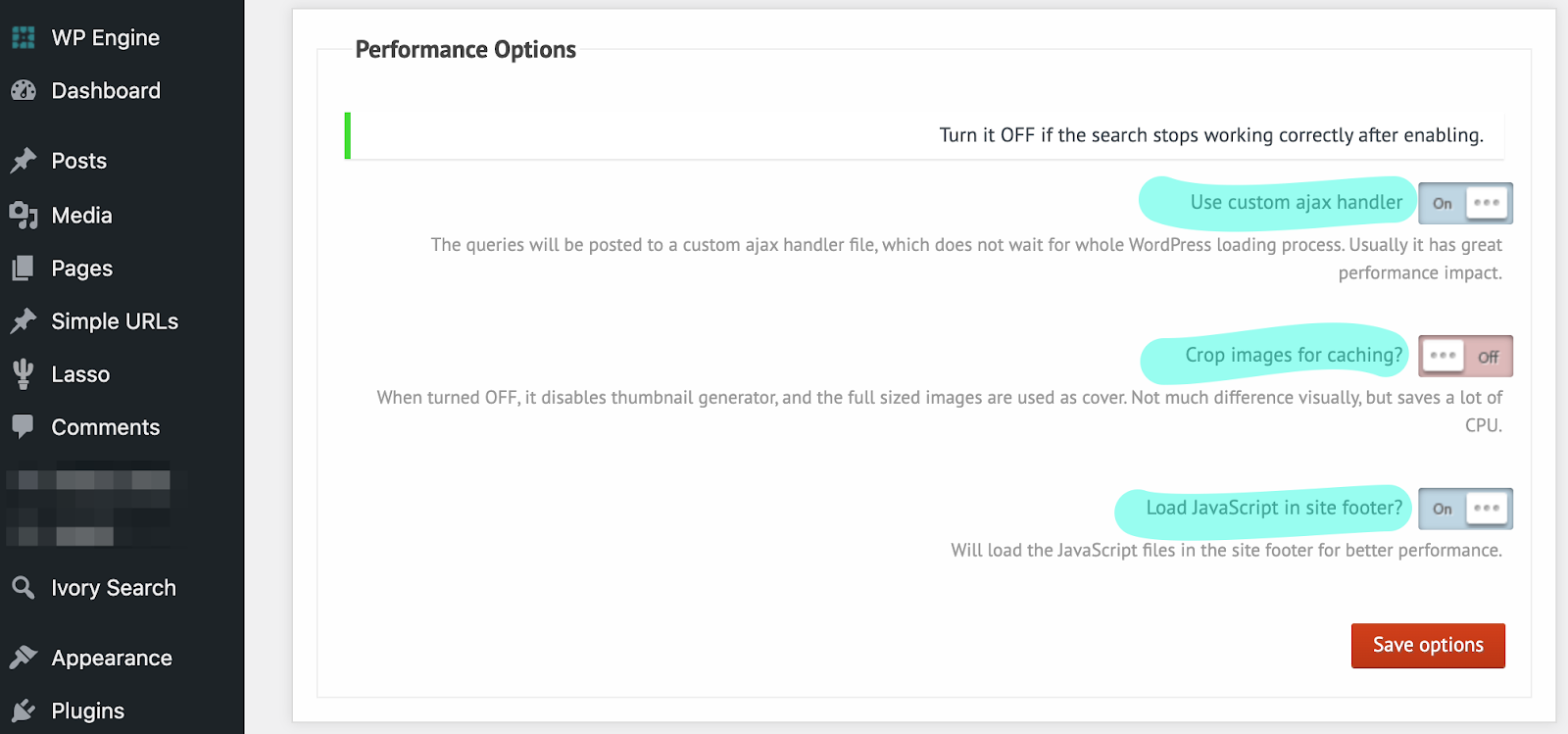 Enabling these three things reduces the workload to your server so your site's speed won't be as affected.
Ajax Search Lite
Ajax Search Lite is a responsive, live search engine for WordPress sites equipped with many features including Google autocomplete, custom post type support, and an AJAX-powered search form. You can also connect to Google Analytics to see Events tracking and Pageviews. It even allows for image caching for faster load times.
Further Reading:
#5 Elasticsearch
This tool is perhaps the most robust on this list and offers a premium experience compared to the default WordPress search. Known for its maximum speed and scalability, Elasticsearch, is a free and open search engine to parse and quickly index complex data and content types.
If your site's search queries have become too much for a simple plugin to handle, this is what you want in terms of an excellent overall search experience.
It uses a structure called an "inverted index" that lists every word appearing in any document and finds every document the word occurs in.
As a result, it's lightning-fast at fetching full-text searches. And as your data and queries grow, Elasticsearch grows too, continuously building your index. It amplifies your site's search engine with:
A suite of 'Term-level' queries like fuzzy matching or documents based on structured data (e.g., product IDs, data ranges, and prices)
Geo-specific content recommendations
Autocomplete so you see real-time search suggestions
Faceted search lets you add filters with attributes including author, location, or content type
Weight assignment so you can gauge the importance of a search query and align it with your business goals
It's a next-level search and analytics tool and is part of the Elastic stack which incorporates Logstash for data processing and Kibana for data visualization.
Sidenote: Faceted search uses product metadata so you can narrow your search criteria using specific keywords or filters. Ecommerce online stores are a perfect example of faceted search.
For example, viewing men's apparel on Lululemon's site, you can see on the left sidebar it has product categories divided by:
Coats & jackets
Hats
Pants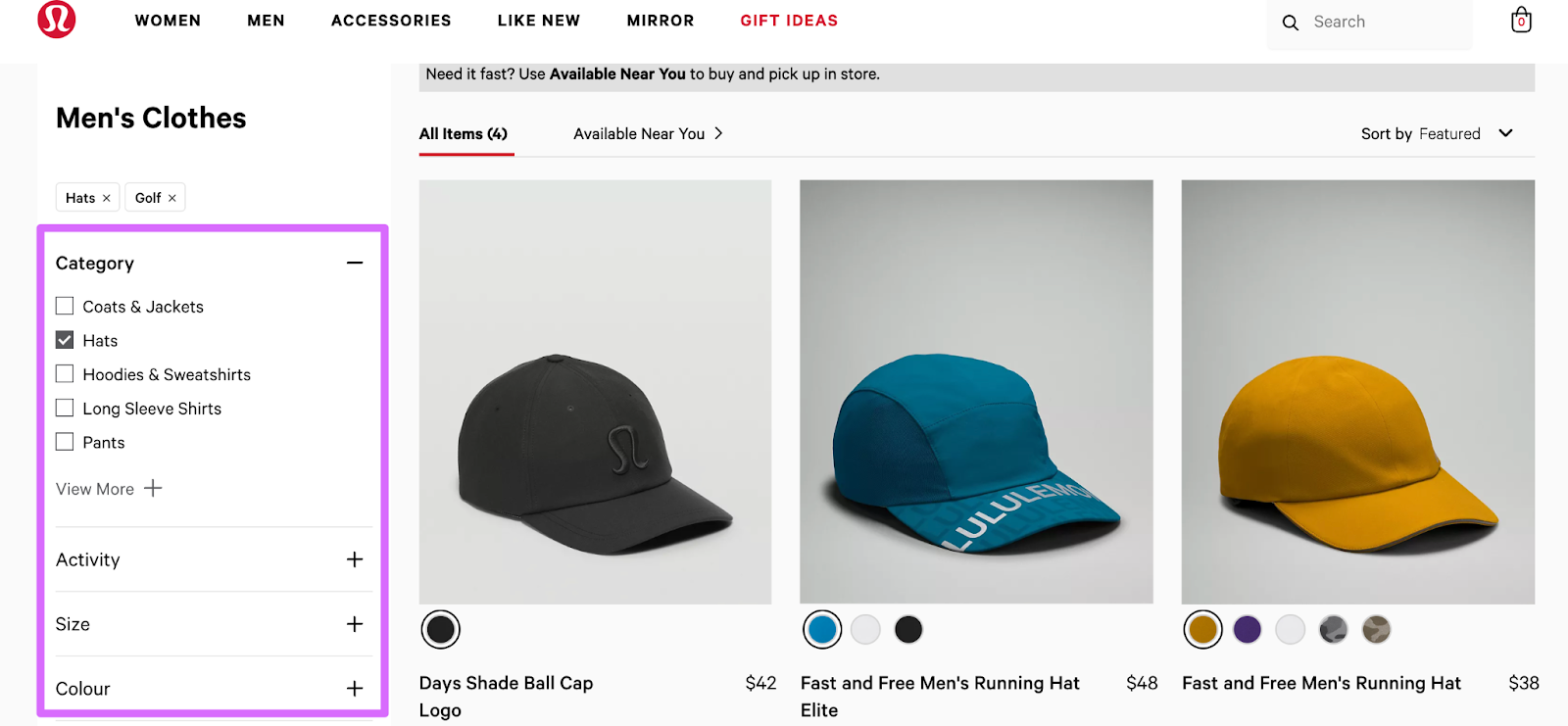 This is a simple example of how faceted search helps your visitors find what they're looking for quickly without having to browse through your entire catalog.
Bottom Line: With the ELK stack, you can pull info from any source in any format, create visualizations, and analyze it any way you want.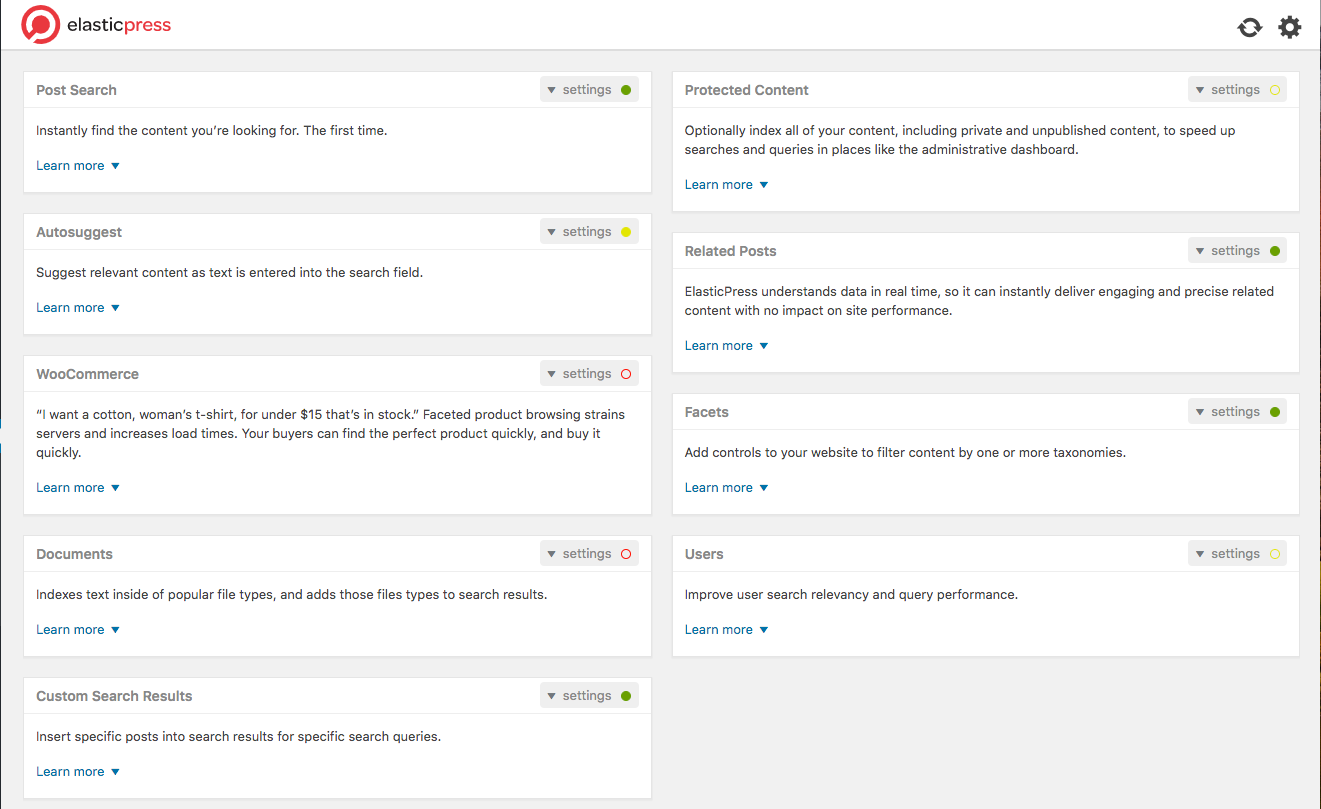 You can either use its cloud-based hosting service directly or download the ElasticPress plugin and create an account with ElasticPress.io in your WordPress dashboard.
ElasticPress
Find all relevant content lightning-fast with insanely customizable features while leveraging the cloud-based tech stack of Elasticsearch. If your site has big data or a substantial number of search queries and you're looking for additional ways to parse it and deliver results beyond a simple site search plugin, look no further.
Why Does Internal Search in WordPress Matter?
There are several reasons why you should consider adding a search box to your site if you haven't already. Let's explore some of them now.
Visitors Find Things Quicker
When users browse your site, they don't want to idly peruse your content, hoping they'll find what they're looking for. Nowadays, people are in a hurry. And with search results pages yielding detailed info at warp speed, it's become a standard practice to offer that to website visitors too.
People making a search query have a specific topic already in mind and want to see if you can help them. A well-organized search feature will bump you to pole position versus one without.
You Know Which Topics People Search for
If your site search is enabled and you're tracking it with Google Analytics, you can see which search queries your readers make. Knowing what people are looking for gives you insights into trends, what people want to see more of, and what content to create.
It Enhances the User Experience for Small SEO Wins
The more 'frictionless' your site is, the more value you give to your readers which boosts the likelihood they'll return.
For example, if your site has a Help Center, a search bar enables them to find instant documentation instead of parsing through your catalog.

You'll Boost Conversions & Get Paid Quicker
If you run a large affiliate site, for example, then having a search function helps your readers quickly find your recommendations and click your links (ideally).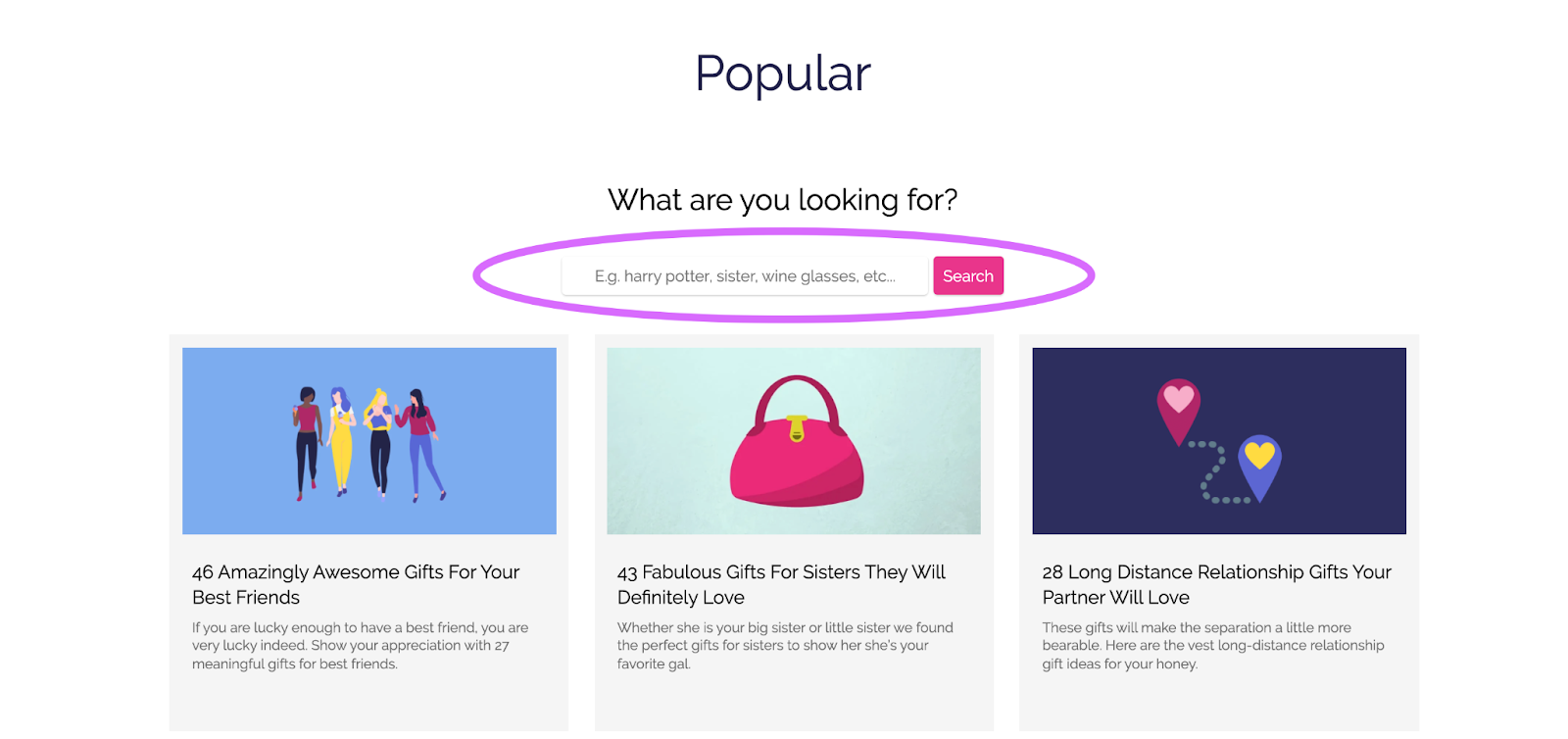 The more robust your site, the more reason to upgrade from the default WordPress search feature.
Further Reading:
Should You Improve Your Site's Search Engine?
You should consider how people interact with your site before jumping to improve its search engine. Since different people are at different stages of their journey, your site may not require any upgrades.
For example, if you're running a small site, you probably don't need to create an Elasticsearch account. Perhaps a simple plugin like Ivory Search will suffice.
To determine your next step, have a look at the number of people searching on your website.
You can head to Google Analytics > Behavior > Site Search > Overview to see how many times people use your site's search function.

If the number is relatively high, you might consider an upgrade. Alternatively, if your number is low (like the above example), you may want to spend your time upgrading another part of your site.
You should also consider an upgrade if you have a large site with a substantial content catalog or one with many overlapping categories. This, along with getting thousands (or hundreds of thousands) of people using the search function will be the deciding factors.
A better search experience equals a better user experience equals a tiny SEO boost. For example, more people will likely stick around and explore your content because it's easy to find, which is a positive signal to search engines.
Last Words
The WordPress search function does make it easier for your visitors to find content on your site, such as page titles and paragraph text. This is helpful to an extent.
However, if you're running a large site with heavy categorization and complex navigation, you'll need something more robust to give users an optimized search experience.
If you're looking for more ways to improve your site's functionality, have a look here. We're obsessed with helping our customers earn an honest and profitable living online.
Our creations in your inbox, weekly.
We've built multiple six-figure online businesses that our moms are proud of.
We'd like to help you do the same.