If you're building a website in 2021, you have plenty of options. Hiring a professional web designer or developer might have been a necessity in the past, but that's no longer the case. Today, most small businesses, entrepreneurs, and non-profit organizations can create an effective website on their own, thanks to DIY-friendly website builders.
WordPress is the most popular content management system (CMS) globally and powers an astonishing 40% of all websites. However, Wix is also extremely popular, with over 180 million websites built on the platform. This article will look at Wix vs. WordPress in a head-to-head comparison to see which one is the better option.
Page-Builder Comparison: Wix vs. WordPress
Both Wix and WordPress offer a limited free version. However, this article will compare the self-hosted version of WordPress (WordPress.com) with the premium plans available from Wix that offer more advanced features than the free plan.
It's important to note that although Wix and WordPress both allow users to create and manage a website without touching the HTML, they go about it differently. Wix is a hosted platform while WordPress is self-hosted.
Takeaway: If you build your site with Wix, Wix will provide hosting and customer service. However, you can't build a Wix-powered website on a hosting account with a different host.
WordPress.org is a self-hosted platform, which means you'll need your own hosting account.
WordPress is free to use, but you'll need to pay for hosting, and there are thousands of different hosts you can choose from. Customer service will be provided by your host, not by WordPress directly.
Now, let's look at how Wix and WordPress compare with each other in several key categories.
| | Wix | WordPress |
| --- | --- | --- |
| Ease of Use | Low learning curve, quick site creation with ADI or Wix editor | Higher learning curve with a more complex CMS |
| Templates & Themes | Over 500 templates to choose from | Thousands of themes both free and paid with substantial selection of drag-and-drop editors |
| Flexibility | Locked in with Wix's platform | Unlimited hosting, functionality, and plugin options |
| eCommerce | Offers to customers only on the Business and eCommerce plans | Doesn't include eCommerce but you can install an ecommerce plugin to convert your site into an online store |
| SEO-Friendliness | Offers features including page titles, meta tags, structured data, and XML sitemaps | Unlimited SEO plugins you can install to make your site loved by search engines |
| Customer Support | Access to customer support by email | Doesn't officially provide support. There are user support forums, but their usefulness is limited |
| Trust Factor | Has massive amount of negative reviews | Popular open-source platform with large community of users |
| Pricing | Free and premium plans, $14 monthly for regular or $23 monthly for eCommerce | Free to use but you'll need to buy hosting and a domain |
Ease of Use
Wix is easy to use, even if you have no experience building or managing websites. They make it easy for anyone to create a free account at Wix.com.
You don't need to pay anything to get started, but you'll need to sign up for one of the premium plans to access features and functionality that are unavailable in the limited free version.
Tip: Users who want to get a site up and running as fast as possible can take advantage of Wix ADI (Artificial Design Intelligence). During the setup process, Wix will ask you a few questions, and it will create a personalized website for you in just a few minutes.
Of course, you can customize the details as needed, but this is one of the fastest and easiest ways to get your own website online.
ADI is one of two options that Wix gives you for creating your site. The other option is to select a template and use the Wix Editor.
The Wix Editor is also simple and easy for creating and managing your site. Creating a site with ADI is faster, but you'll have more flexibility by using a template and the Editor.
WordPress can be a bit intimidating for new users.
The installation process is simple with most web hosts, but this is an extra step you don't need to go through with Wix. After installing WordPress, the dashboard or backend can feel overwhelming the first time you log in (read our guide to the WordPress dashboard for an overview).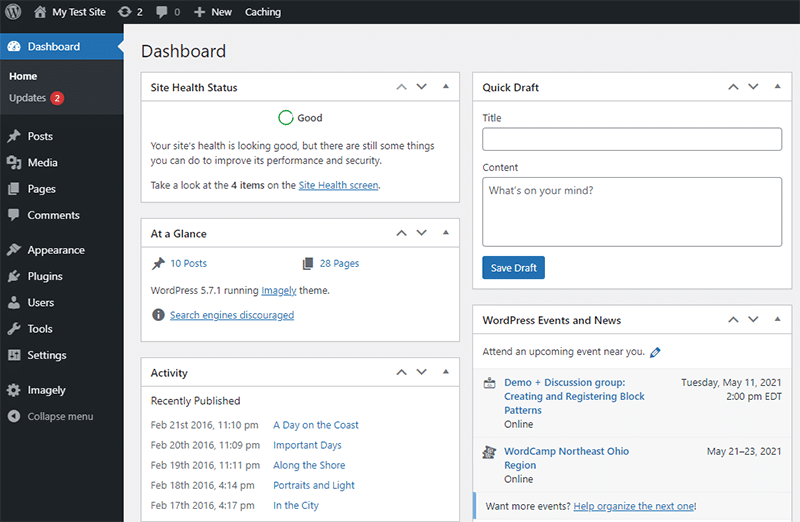 Most WordPress users find the CMS is easy to use once they get a little experience, but there's a learning curve.
Winner: Wix
Overall, most users will face a shorter learning curve with Wix.
Further Reading:
Templates
Wix offers more than 500 different templates to use as a starting point for your web design.
You'll find Wix templates for businesses and organizations in just about any industry, and overall, the templates are attractive and well designed. Wix users get access to all of the templates.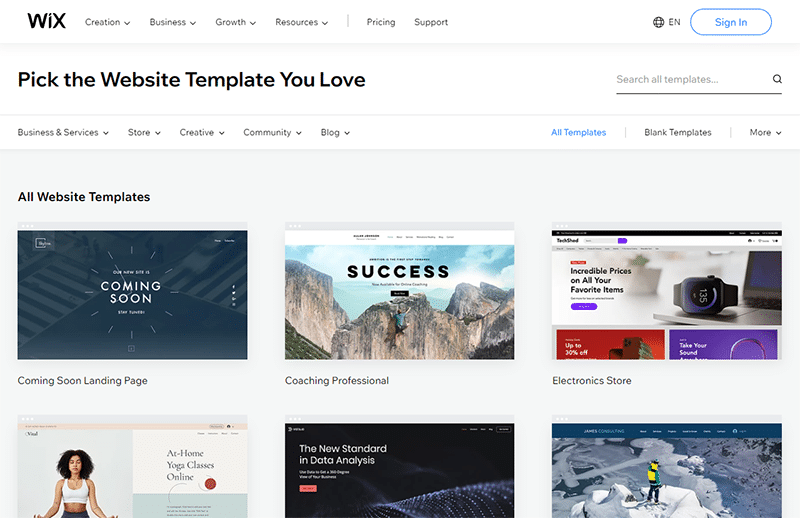 To customize a Wix site, you'll enter your text and replace photos or images as needed. Wix also gives you some additional possibilities for tweaking the design and layout to suit your needs or preferences.
WordPress users can choose from thousands of different themes.
There are many free themes, and users can also choose from thousands of premium themes sold by third-party developers. Most premium WordPress themes cost around $50 – $100, which typically include one year of support and updates.
The design and layout customization options available for WordPress users will vary significantly depending on the theme.
Most free themes have limited options, but many of the leading premium versions provide almost endless customization.
For example, you can create custom layouts for any page, control navigation menus, and edit the website header and website footer.
WordPress page and theme builders like Elementor, Divi, and Beaver Builder make it possible to design just about any page or post layout with a drag-and-drop builder, no coding required.
And in the past year or two, a new class of page builders has been developed to take advantage of the Gutenberg block editor, one of the more prominent developments for WordPress in recent years.
Winner: WordPress
While the templates offered by Wix are excellent, WordPress still comes out on top in this area. With thousands of themes and a selection of drag-and-drop editors, WordPress users benefit from endless possibilities.
Further Reading:
Flexibility
All hosted site builders, like Wix, offer limited flexibility. Wix is extremely popular because it provides a massive range of features and can power many different types of websites.
However, there are still plenty of limitations, like the inability to customize CSS.
Sidenote: Wix users are committed to Wix unless they want to rebuild their website completely. If you like the Wix content manager, but you're not happy with the hosting, the customer support, the eCommerce options, or anything else, you're stuck.
You have to either stay with Wix and use the available options or move to a different platform and build a new website.
One of the benefits of using WordPress is the ability to host your website wherever you choose.
If you're unhappy with the reliability of your hosting or the customer service you receive, you can move your WordPress-powered website to a different host.
If you want additional functionality, you can install a plugin (see our list of the best WordPress plugins) or even hire a developer to code a custom plugin or theme for you.
Winner: WordPress
WordPress users aren't locked in. If you want to change, you can keep your existing WordPress-based website and change only specific aspects.
Further Reading:
ECommerce
Wix offers eCommerce capabilities on the business and eCommerce plans, starting at $23 per month.
You can process credit card transactions, sell an unlimited number of products, and use abandoned cart recovery to send automated emails when a user leaves an item in the shopping cart.
Certain eCommerce features are only available on higher-priced plans. If you need features like subscriptions, automated sales tax, advanced shipping management, and product reviews, you'll need to upgrade to a more expensive plan.
While Wix offers eCommerce capabilities, it doesn't compare to platforms like Shopify created specifically for eCommerce.
The core version of WordPress does not include eCommerce capabilities. However, several plugins make it simple to turn your WordPress website into an online shop.
The most popular eCommerce plugin is WooCommerce, which is now owned and maintained by Automattic, the company behind WordPress.
WooCommerce is a free WordPress plugin that can power a small shop selling a few different products or a large eCommerce website with thousands of different products and variations.
There are also hundreds of add-ons available that extend the functionality of WooCommerce. Some of these add-ons are free, and others are premium.
Winner: WordPress
Thanks to the WooCommerce plugin and the vast selection of add-ons, WordPress comes out ahead in eCommerce. The eCommerce functionality from Wix isn't bad, but WordPress users benefit from options and features that are far more extensive.
Further Reading:
SEO
Wix offers a variety of search engine optimization (SEO) features like:
Page titles
Meta tags
URL slugs
Canonical tags
Structured data
Robots.txt
XML sitemaps
301 redirects
Google Search Console integration
These features make it possible to create a webpage that's optimized to attract visitors from search engines like Google and Bing.
There aren't many SEO features built-in to the WordPress core, which helps it remain as lean as possible. However, some excellent SEO plugins can be installed and used for free.
The most popular options include Yoast SEO and Rank Math. Both of these WordPress plugins offer a free version as well as a premium version. But the free version will more than meet the needs of the average user.
With the help of these WordPress SEO tools and other plugins that handle specific functionality like redirects, WordPress users can build websites that search engines love.
Further Reading:
Winner: WordPress
Wix offers a nice set of SEO features, but again, WordPress comes out ahead thanks to an excellent selection of plugins that go further than what's offered by Wix.
Customer Support
All Wix website customers have access to customer support by email. So whether your issue is related to hosting, managing your site's content, or your online shop, Wix is your single point of contact.
Since Wix wants to minimize the amount of customer support requests they receive, they also provide extensive documentation that makes it easy to find answers to most of your questions.
As you're using the editor, you'll also find inline help explaining features and making it more user-friendly.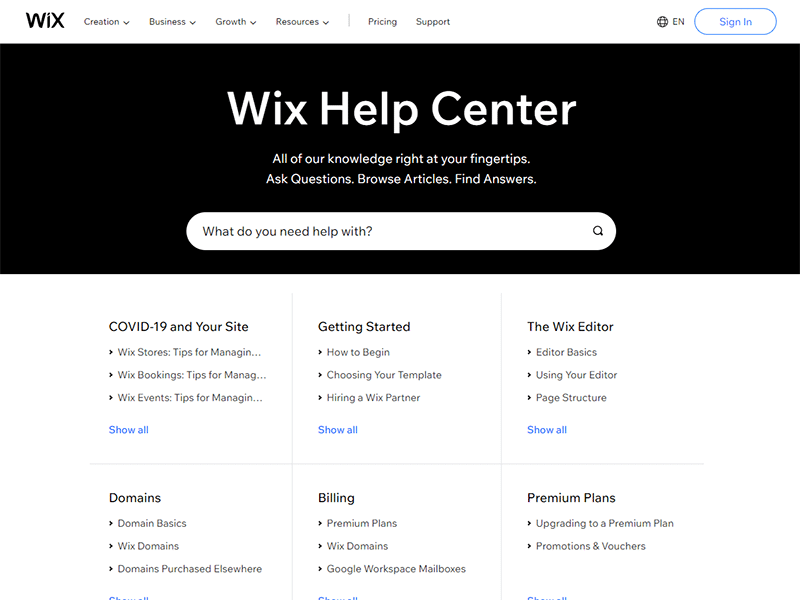 WordPress does not officially provide support. There are user support forums, but their usefulness is limited.
You can ask questions here, but you'll be relying on others in the WordPress community for assistance. There are also countless tutorials from bloggers and websites that cover most topics.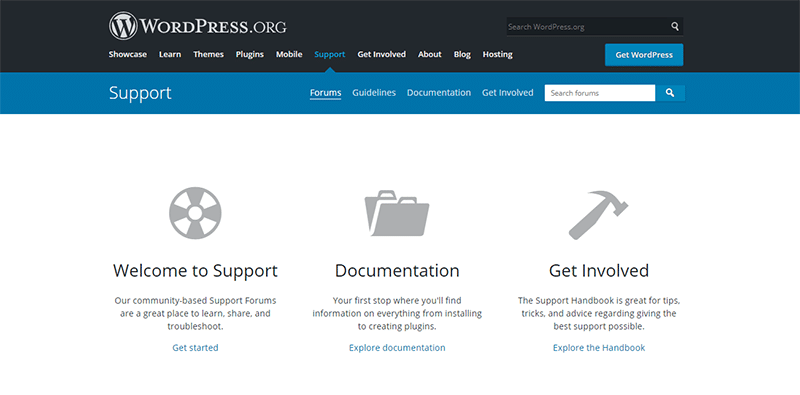 As a WordPress user, you'll get support for hosting-related issues from your web hosting company. If you're using a premium theme or premium plugins, you can get help from the theme or plugin developer. If needed, you can also hire a developer.
Winner: Wix
Wix comes out ahead in the area of customer support, partly because of having a single point of contact. WordPress users may need to get support from several different places.
Trust
When you're choosing a platform for your website, you should consider the people behind that platform. Can you trust them, and are you likely to be happy with your choice in the future, or will you want to make a change?
Wix has an impressive user base with more than 180 million websites on its platform, but the company has an abysmal 1.6 (out of 5) rating at TrustPilot.
With well over 2,700 user reviews, 66% of those customer reviews gave the company just one star.
The complaints and negative reviews cover a variety of issues related to dealing with Wix. They also have poor reviews on Sitejabber.
WordPress is an open-source platform that's highly dependent on the community of users. The community has continually grown larger as WordPress becomes more popular, and even more resources have become available to WordPress users.
Winner: WordPress
Wix is a loser here, with too many negative reviews. WordPress users will need to choose a host wisely, but there are no issues related to the people's trust behind WordPress.
Further Reading:
Pricing
Wix users can get started for free, but the free plan is extremely limited and is just a trial before deciding to move forward with a paid plan and a custom domain.
The plans from Wix start at $14 per month or $23 per month for eCommerce plans. After that, prices go up from there depending on your needs.
web hosting plan and a domain name.
Low-cost shared hosting providers like Bluehost and HostGator make it very inexpensive to get a WordPress site online. It's possible to get started for as little as a few dollars per month.
Of course, larger websites may need WordPress hosting plans that are priced much higher.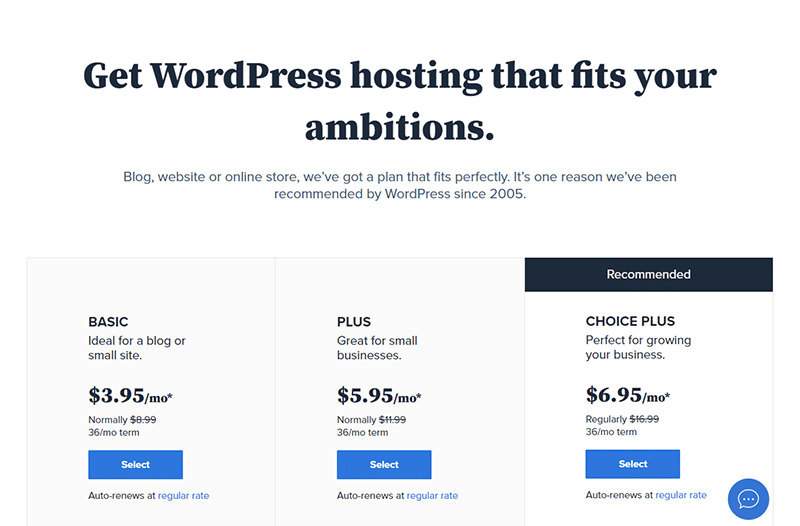 You'll also need to factor in the costs of a premium theme, premium plugins, and other related services.
Further Reading:
Winner: Tie
It's challenging to compare prices because either one could be cheaper or more expensive depending on the needs of your specific website.
It's possible to get a lower price with WordPress and a cheap hosting plan, but it's also possible that the total cost of your WordPress website could far exceed the cost of Wix. As a result, we'll call this one a tie. Both Wix and WordPress present affordable options for building a website.
Winner and Best Overall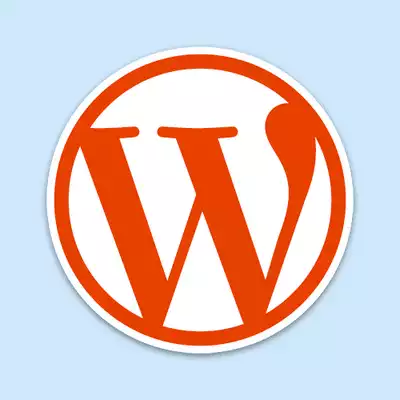 WordPress
WordPress comes out ahead thanks to unlimited flexibility, powerful themes, and awesome plugins (like Lasso) available through the community. There's a bit of a learning curve for new WordPress users but the platform's raw power more than makes up for it.
Pros:
eCommerce & SEO-friendly

Flexible hosting options

Extensive template library
Cons:
Lacks "official" customer support team
Explore WordPress.org
Further Reading:
Final Thoughts
This Wix vs. WordPress comparison should help you to learn more about the pros and cons of these two website-building platforms. Both are among the best options for building your website, but WordPress is our top recommendation.
Although it started as a simple blogging platform, it is grown into something much bigger and more versatile. So whether you're building a small business website, an online store, a portfolio website, blog, or just about any other type of online business, WordPress is an excellent choice.
Our creations in your inbox, weekly.
We've built multiple six-figure online businesses that our moms are proud of.
We'd like to help you do the same.