Need inspiration for your next writing session? Not a problem; refer to your swipe files. Don't have one? Luckily, this post will show you how to create yours, along with organizational tips and helpful tools to guide your process.
What Is A Swipe File?
A swipe file is a collection of inspirational marketing materials. These can be writing samples from landing pages, Facebook ads, sales letters, or any other memorable piece of content for copywriters.
You can use swipe files to cure writer's block, find new ideas, see what other marketers are doing, and hone your own copywriting skills.
What Are the Benefits of A Swipe File?
Swipe files are multi-purposed. A swipe file presents you with a learning opportunity to study the success of other marketers.
Their examples can serve as your foundation when drafting your next piece. We learn by copying others.
Once you study enough, you find your own voice. Swipe files help you find yours.
Before digitization, old-school copywriters would take news clippings, ads, and other marketing materials and store them in folders.
These "hard copies" were called swipe files and professional marketers turned to them whenever they needed to find inspiration for their work.
Several benefits come from having a swipe file. Let's explore a few.
Finds Your Frequency 
You can learn a lot by studying those who came before you. In his book, Steal Like An Artist, Austin Kleon says nobody is born with a style or voice.
We don't come out of the womb knowing who we are. In the beginning, we learn by pretending to be our heroes. We learn by copying.
From music to art to digital marketing, we learn by mimicking others. We didn't invent the English language, but we speak it.
And when we first learned to speak, we imitated our parents.
Eventually, what starts coming out is your own voice and unique outlook.
Here's a table Austin used in his book to illustrate his point:
| Good Theft | Bad Theft |
| --- | --- |
| Honor | Degrade |
| Study | Skim |
| Steal from many | Steal from one |
| Credit | Plagiarize |
| Transform | Imitate |
| Remix | Rip off |
Hones Your Craft
Copying what others have successfully done seeps into your writing – like a habit – good or bad – it'll start finding its way into your work.
It's why when you're learning a new instrument, you first learn to play what others wrote before writing the next Grammy award-winning pop hit.
FYI: The Beatles started as a cover band.
Inspires New Ideas
Riffing off other people's ideas lets you connect the dots and potentially discover new insights based on others' works.
If you're drawing a blank, reading an article or listening to a song to get you "in the mood" will help catapult your content marketing strategy.
Swiping vs. Plagiarism
It's essential to know the difference between swiping and copying somebody else's work. Swiping leads to discovery, learning, and inspiration.
Understanding first principles lead to an evolution of something becoming your own.
Copying is simply that – copying – without never truly understanding why the writer made those specific choices.
There's no takeaway with copying, nor any insights gleaned as to why it worked.
How to Organize Your Swipe File
There are several ways you can organize your swipe file. Typically, by category or by brand.
Categories could be:
Email newsletters & email subject lines

Headlines

Sales copy

Website homepages
Brands might include:
Apple

Basecamp

Google
When using brands, I start with either the products I use or products that catch my eye.
For example, I'm no golfer, but I subscribe to U Suck at Golf because their emails are hilarious.
Their subject lines stand out:

And the emails crack me up: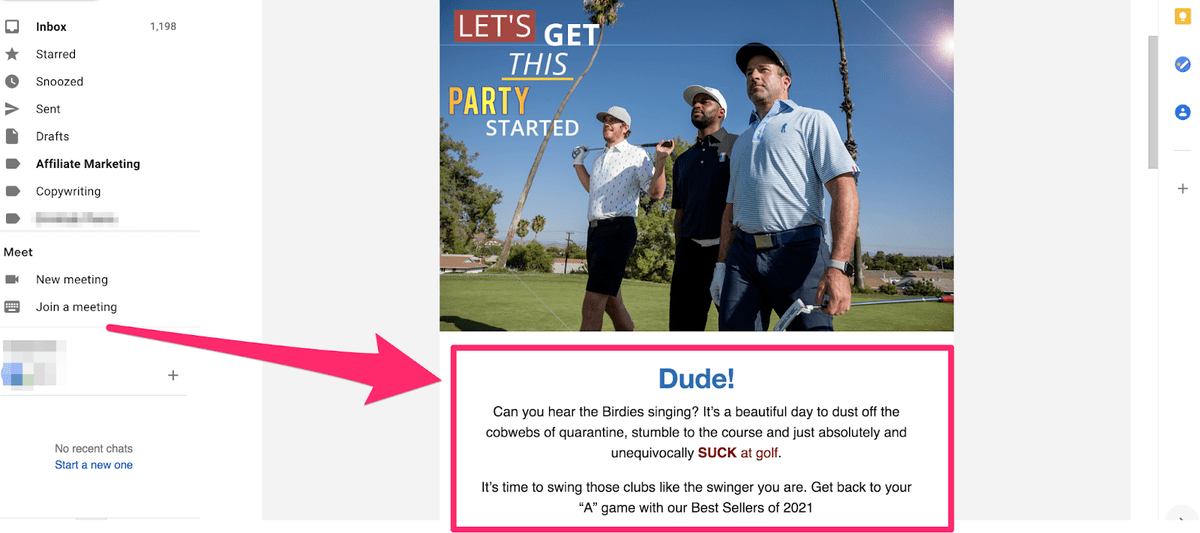 I have an entire "brand" category reserved for U Suck at Golf's emails in my fake email address.

Also, a helpful tip…
Use a "Fake" Email Address
I have a burner address I use to subscribe to all types of emails, learn about industry trends, and find fresh ideas.
It also prevents your personal inbox from getting blown up by the metric of tons of marketing emails you'll get.
Here's a list of the niche categories I subscribe to:
affiliate marketing blogs
growth marketing blogs (to learn more about building Lasso into a household name : )
SEO blogs because I want you to find the things we create
Whenever I'm searching for some fresh content, I'll scroll through my emails.
Here are a few ways you can organize your emails by categories.
Headline Swipe File (+ the IHF Method)
I keep a headline swipe file along with headline formulas for fresh ideas. The Insta Headline Formula Method is something I learned from Copyhackers.
It goes like this:
Create a Google Drive folder labeled "Swipes"
Run a Google Image search of expert copywriters. Here's what that looks like when I search for Joe Sugarman (you can also try adding the word "headlines" to your Image search, i.e., "Joe Sugarman headlines")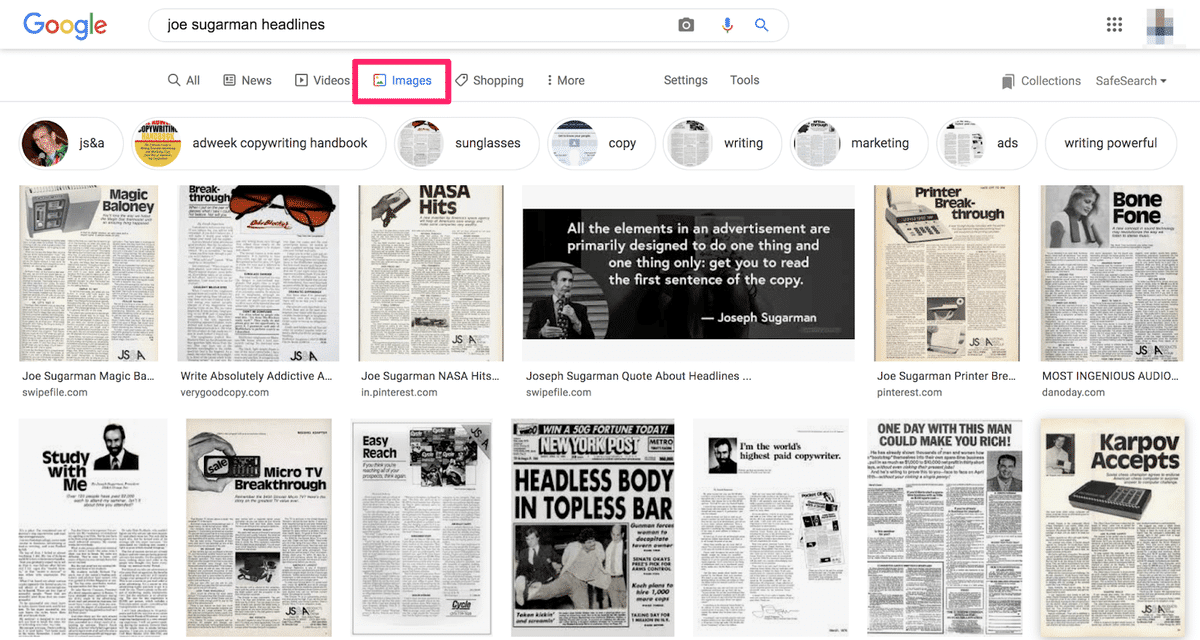 Take screenshots of all of the headlines that appear interesting
Save them to your Swipes folder
Then, use your swipes and turn them into formulas.
This could be using an original headline from an old ad via a Google image search.
Original ad:

You can't make linens cost less… but you can make them last longer

Insta-formula:

You can't make___ … but you can make___
When using this technique, remove words that don't apply to your industry and include terms that do.
For example, here's what I get when I run a Google Image search for John Caples: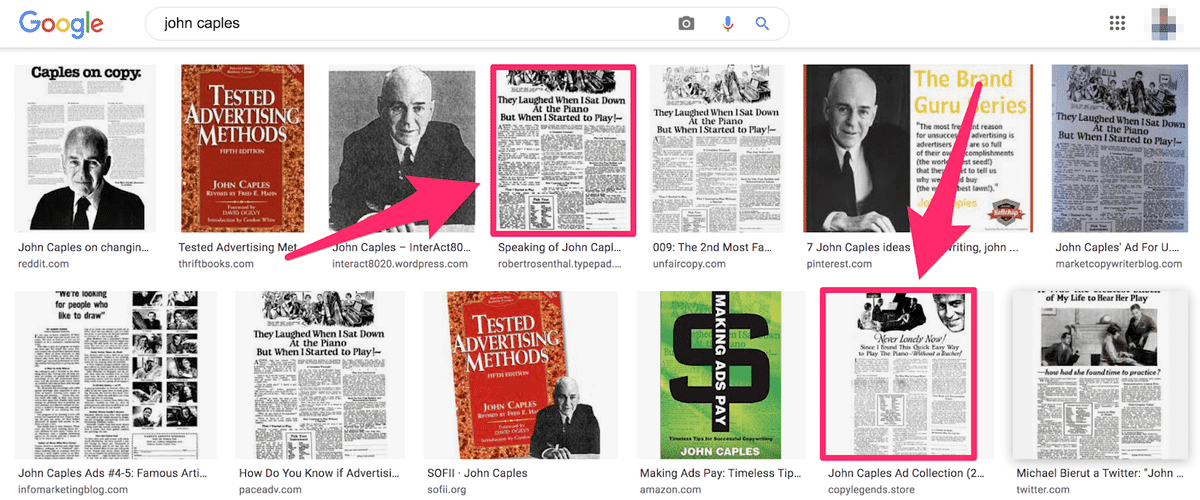 There are a few headlines where you can remove the unnecessary words and create a template to base future headlines.
Tip: Tilt the original headline towards something that makes sense for your brand.
For example, let's take the above headline "They Laughed When I Sat Down At the Piano But When I Started to Play."
If you remove the words "laughed," "sat down at the piano," and "started to play…" you get a formula that reads like this:
They [Did Unpleasant Thing] When [Unexpected Thing], But When [Desirable Outcome from Doing Unexpected Thing].
Now use your new insta headline formula to write your "on-brand" version. For example, starting your online business could read:
"They Balked When I Signed Up for the Zero-to-Launch Business Program, But When I Made My First $10,000."
Bonus: Try this list of headline formulas.
Email Swipe File
As I mentioned earlier, I have a fake email address for exploring email marketing examples. I'm curious about what other brands' "welcome" and "thank you" emails look like.
I even created categories in my Gmail account.
For example, I joined Active Campaign's email list to see how they position their "welcome" and "thanks for subscribing" emails.

Tip: For finding other swipe-worthy emails, sign up for companies you like or products you use. For more help, check out sites like Really Good Emails or Campaign Monitor.
Sales Page Copy
I'm a fan of Ramit Sethi. His copy is first-rate. If you ever want to get ideas, head to his product page and scroll through his library of online courses.
You can do the same. Go to any website you like or have bought items from. Look at your purchase history or bank statements for ideas.
When I find memorable phrases, I'll take screenshots and save them for later.
Advanced Tip: You can use the insta formula method with sales copy too.
For example, here's the opening sales copy to one of Ramit's courses: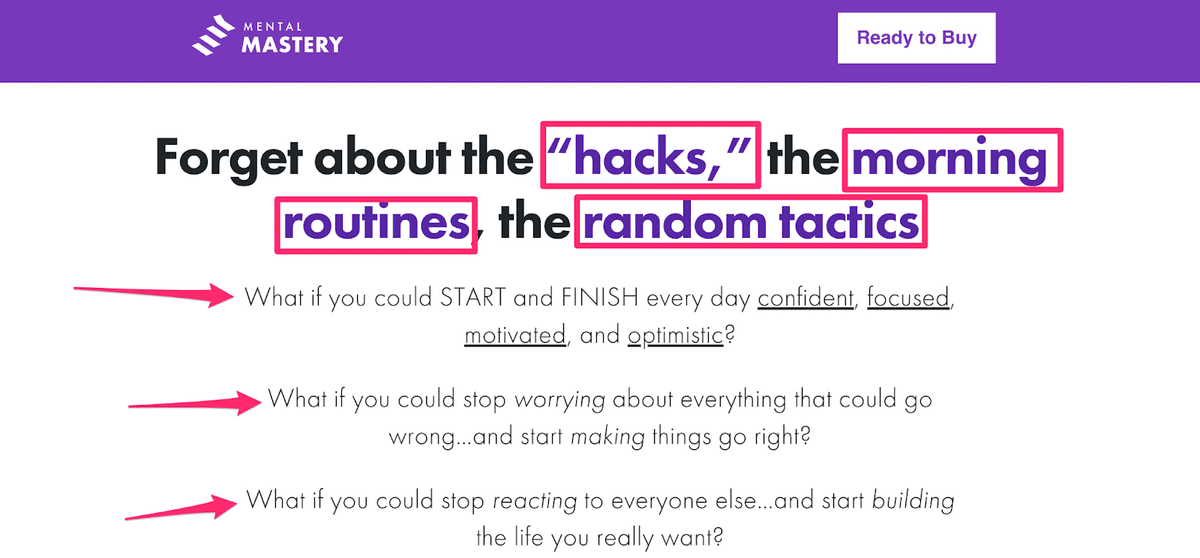 This course caters to the personal development niche. His lead challenges many widely held beliefs of this industry.
Here's how you can insta formulize this:
What are some of the widely accepted beliefs in your niche that you can challenge?
Then, remove the words "hacks," "morning routines," and "random tactics" and plug in terms relevant to your topic.
Next, he asks his readers to imagine a better future for themselves with the phrase "what if." What is that mean to your subscribers?
Hint: It's the desired outcomes that people in your industry want.
For example, if you run a Saas company, your customers might want access to quick and easy IT support.
Social Media Ads
If you use social media, take note of the ads you encounter while visiting specific pages. For example, when scrolling my Twitter feed, I see all kinds of promoted content: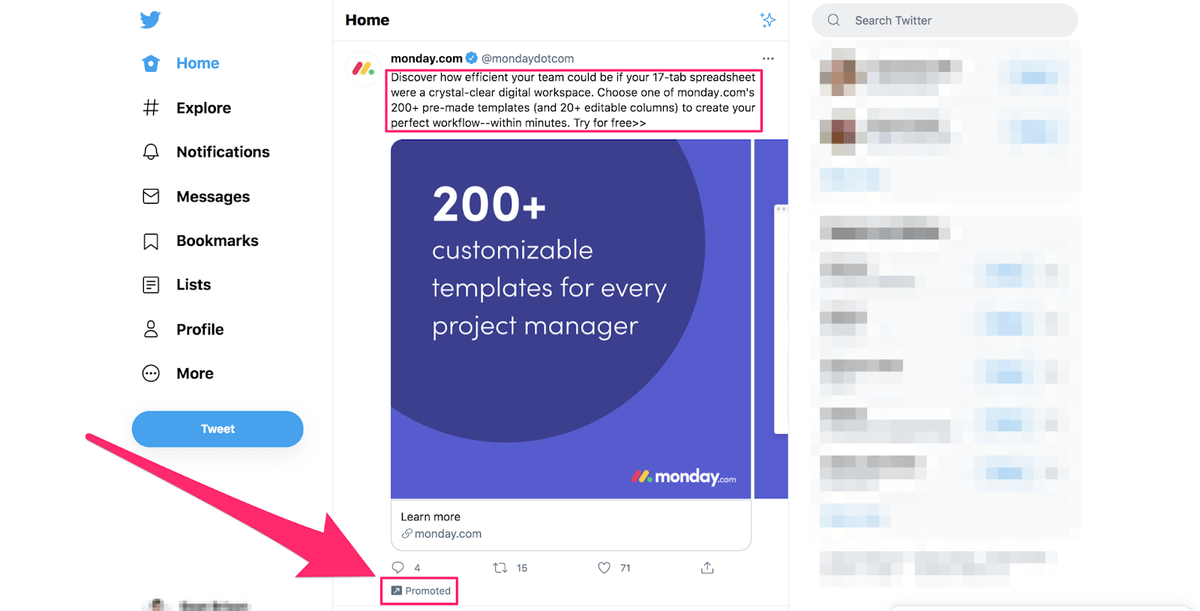 If you encounter anything eye-catching, snap a screenshot or save it to a tool like Evernote.
The same holds for Facebook or Linkedin. The ads are easy to spot because they'll read "promoted" or "sponsored."
Take note of the copy, product description, and imagery.
For Twitter ad swipes, head here. You can read about Linkedin ad swipes here. Or check out these Facebook ad swipes.
And for all manner of things: SwipeFile.com  and Marketing Examples are excellent.
Tip: Examine Google ads appearing at the top of SERPs and hijack their copy for inspiration.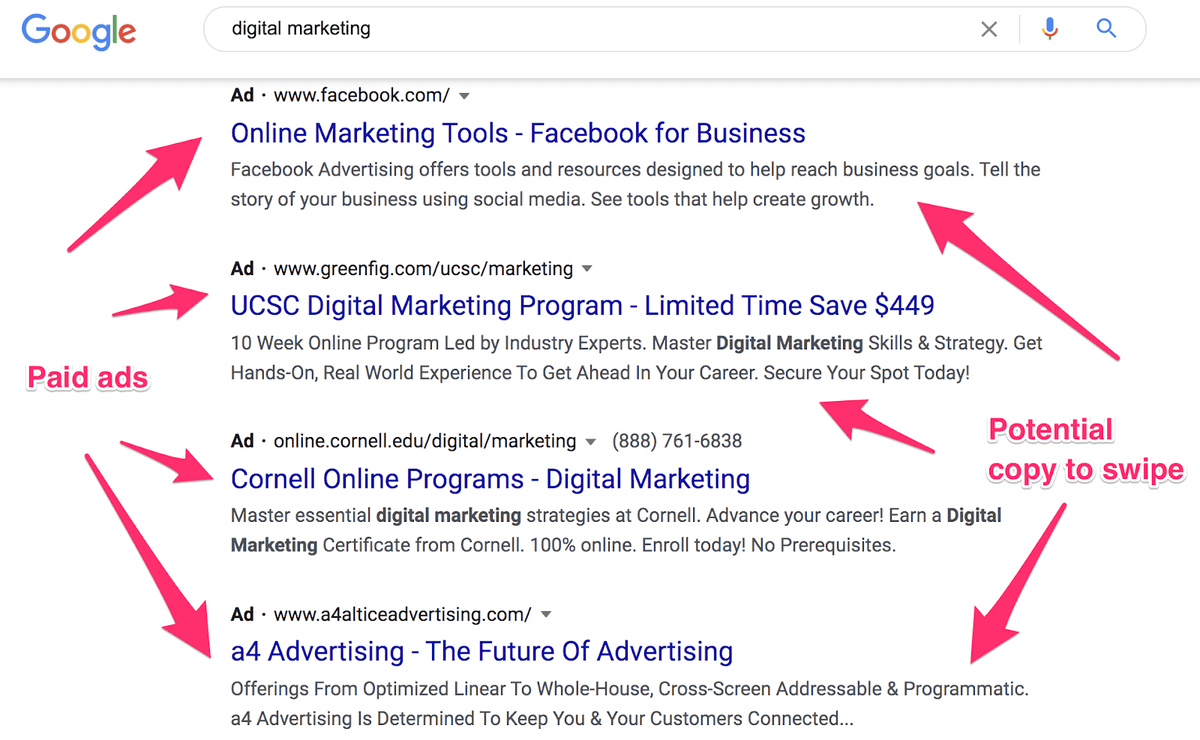 Further Reading:
How to Create Your Swipe File
In his book, The Art of Creative Thinking, Rod Judkins mentions how director Peter Bogdanovich possessed an encyclopedic knowledge of film.
How did he do it?
By accumulating 5,316 index cards, he filled with data of every film he ever saw between the age of 12 and 30.
When studying a topic, research your subject in every imaginable way to have a pool of knowledge at your disposal.
You can store a swipe file anywhere.
Keep a physical version in a manilla folder. Keep a digital copy in Evernote. It depends where it'll make the most sense for you.
It should be somewhere you can access it easily. If you're constantly browsing the web, a digital copy will most likely be the better choice.
If you read lots of magazines, periodicals, and newspapers (and you prefer clipping out swipe-worthy material), a briefcase or Filofax will be best.
It depends on where you're finding inspirational marketing examples.
Save On Your Computer
Hit "Shift + Command + 4" on your Mac, then take screenshots of anything that catches your eye. Then save it in a folder on your computer.
Bookmarks In Your Browser
You can download any app and use it as a browser extension bookmarked in your menu bar.
I sometimes use Pocket and clip articles I like.
For example, I was surfing the web, and I stumbled upon this article with a catchy headline.
So I used Pocket to grab the URL and store it in my headline swipes and tagged under "Headlines."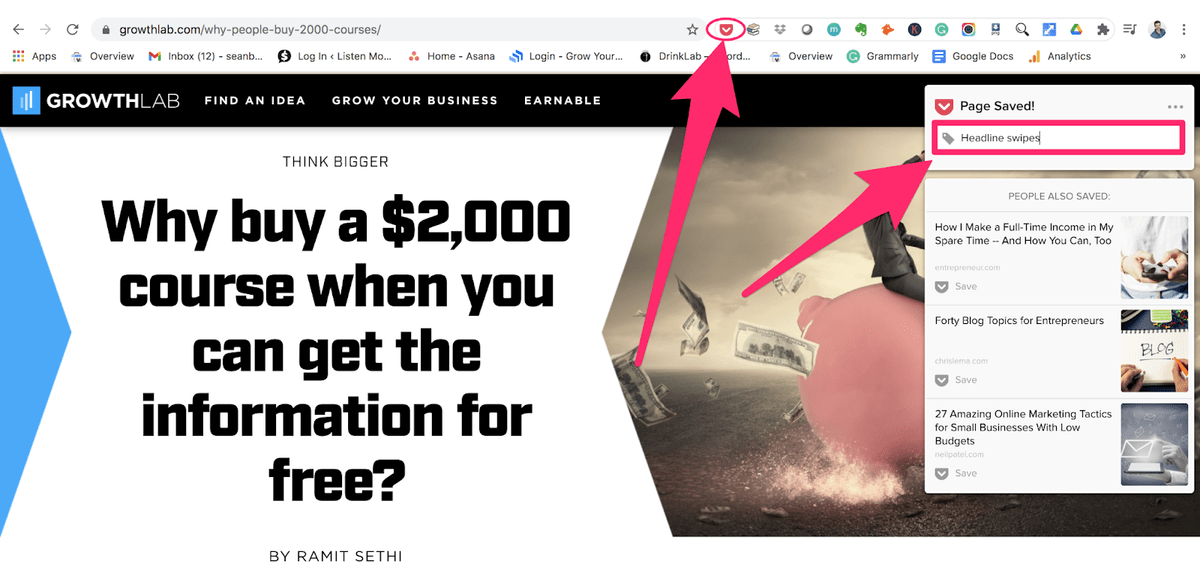 Save On Your Mobile
Take screenshots on your phone to be added to your swipe folder later.
However, you can sync cloud-based apps like Pocket or Evernote across your devices.
Then, when you're reading something online, there's typically an option to save it or download it right there (without needing to take a screenshot).
Customer Testimonials
Talking to your customers is perhaps THE BEST way of ethically getting inside their heads. There are several reasons why you should do this:
You'll write like they talk in your copy
Understand their pain points and objections
Discover their wants and dreams
Try creating a spreadsheet or Google doc labeled testimonials (or voice-of-customer) with three columns labeled "memorable phrases," "wants," and "emotional reactions."
Share it with your team and let all members contribute to it.
You'll glean all manner of insights when using this.
Tip: Create a survey or Google form and send it to your readers, asking them specific questions about your business.
Try Asking These Four Questions to Decide If It's Swipe-Worthy
In his post on copywriting exercises, Neville Medhora mentions four metrics to guide your swipe collecting.
Look for copy that makes you:
Click
Sign up
Laugh
Go "whoa!"
When creating your swipe file, see if it ticks one or more of those boxes before adding it.
Helpful Swiping Tools
Below represent a few tools to help you on your swipe file-creating journey. Use what makes sense for you.
Cloud-based tools and apps work great because:
No software download required
Syncs across every device
Pinterest
You can create Pinterest boards to store swipe-worthy material. Just label each board by category or brand.
You can have boards for social media ads, sales copy, or another relevant category that'll help.
Login and hit the "+" icon in the lower right corner of your screen to create yours.
Evernote
Evernote is perhaps THE organizational tool used by countless people, from productivity geeks to freelancers to entrepreneurs.
Whenever you encounter something online worth saving, you can use its "web clipper" to grab it.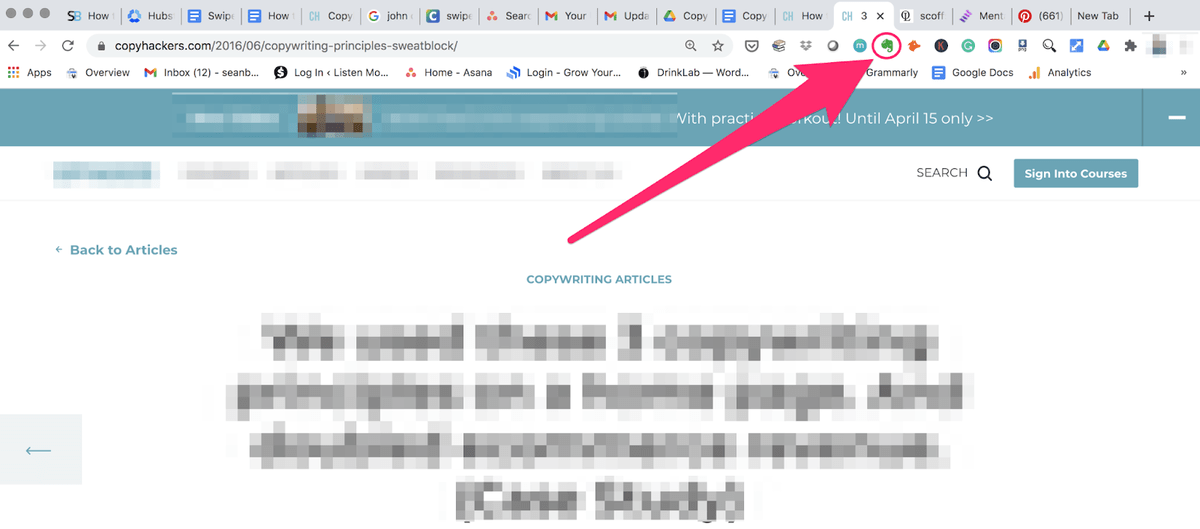 Once you click, it'll give options for how you'd like to store your materials.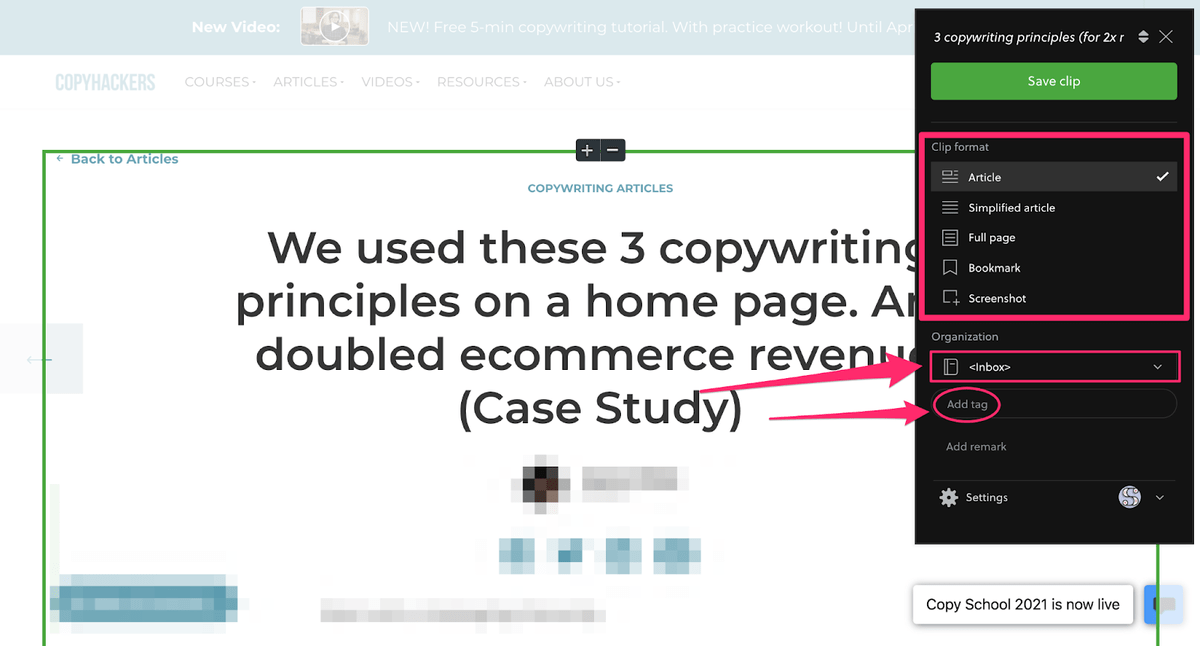 Then you can use the settings to save it in the format and organization that suits your needs. Then add tags for enhanced customization (e.g., swipes, email subject lines, CTA button swipes, etc.)
Pocket
I mentioned Pocket earlier. Just grab whichever article you're saving and click the "Pocket" icon to save swipes and use tags to distinguish between types.
You might use the tags:
CTA button copy
Blog post intros
Meta descriptions
Gmail
If you have a Gmail account, head to "+ Create new label" and hit "Save."
For example, this email subject line I got from Nick Loper caught my eye:

So I'll add it to my email subject line swipe category
Here's how: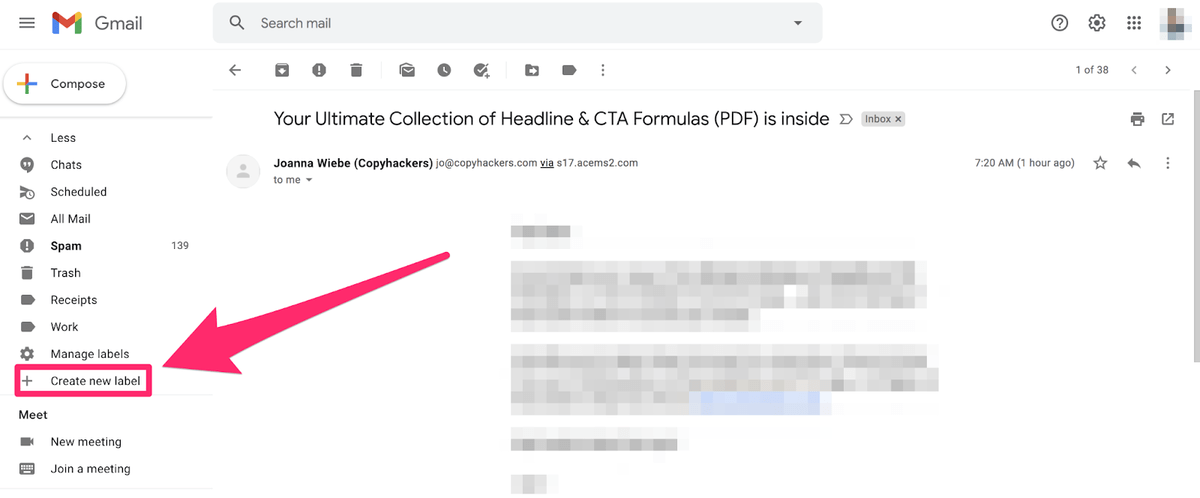 After I create a new label, I'll nest it under the parent labeled "Swipes."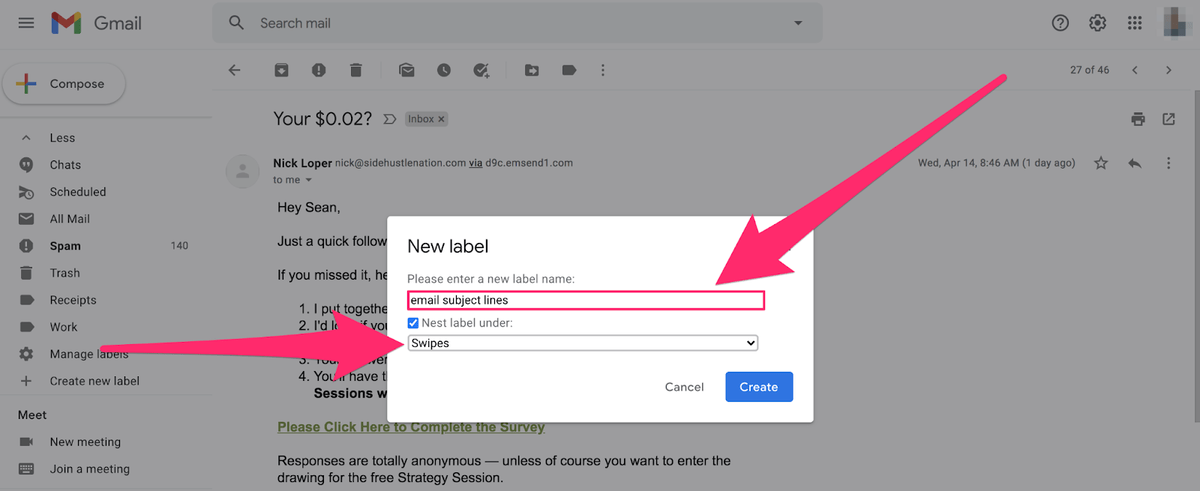 Nesting it under the parent label lets me organize by category while keeping my swipe file in one place.
Here's how it'll appear in your Gmail account:

Airstory
Airstory lets you save and research data as cards. Here's an advanced tip from Copy Chief Joanna Wiebe on how she uses Airstory combined with Gmail and Zapier.
Whenever she gets a swipe-worthy email, she attaches a "Star" label to it in her Gmail account, tags it as "Swipes," then uses a Zapier trigger to send it to Airstory as a card.
Next, she goes through her Airstory card library and searches using the 'Swipes' filter. This lets her see them all in one place.
Notion
Notion is a project management tool that lets you get organized. It's also excellent for storing swipes or commonplace books.
I use Notion to collect swipe-worthy intros, catchy words for headlines, meta description formulas, and more.

I'll use the parent topic "Writing" and create category pages inside of that.
Last Words
Please don't reinvent the wheel when it's time to write your next ad, CTA button, or blog post intro. Use proven formulas. Whether you're a freelancer or in-house creative, when you're in doubt, defer to your swipe file for inspiration. It'll not only help you find the right words, but it'll also get them faster!
Need ideas on which words to use? Read our post about trigger words.
Our creations in your inbox, weekly.
We've built multiple six-figure online businesses that our moms are proud of.
We'd like to help you do the same.