Did you know that 75% of people never scroll past the first page of search engines? So if you rely on organic traffic, you need a basic understanding of SEO. It's the lifeblood of your business.
But if you're thinking, "There are hundreds of ranking factors! I have no idea where to focus my efforts for the highest impact! " I've got good news.
You don't need to be a technical genius to optimize your site. I've outlined 10 tactics for easy SEO quick wins to give you a competitive edge.
Let's dive in.
1. Optimize Title Tags, Meta Descriptions, & Web Page URLs
From a SERP perspective, your title tag, meta description, and web page URL are the front door to your site. It's what searchers see when scrolling through results to their queries.
In the below example, you see:

There are ways to optimize how your web page displays in the SERPs to make it more attractive. We'll start with these to keep it simple.
The headline above is SEO-friendly. It features:
Web page URL
Your title tag
Meta description
You can tell from that information what the post is about.
You can adjust your title tag and meta description when using WordPress with an SEO plugin such as Yoast.
To do it, scroll to the bottom of your article in the post editor and adjust your title tag and meta description here:
Tips for crafting a winning headline:
Speed: Use words like "quick," "fast," or "right now" if this is a strong selling point.
Comprehensive: Use words such as "ultimate" or "definitive" when covering a subject in-depth.
Up-to-date: Use the current year to signal freshness.
Call them by name: Say who your article is for (e.g., free SEO tools for bloggers)
Parentheses: Use rounded brackets to break up your headline
You can also try headline analyzer tools to cross-check your drafts:
These dissect your headline by word type. For example, Co-Schedule organizes yours by:
Common words
Uncommon
Emotional
Power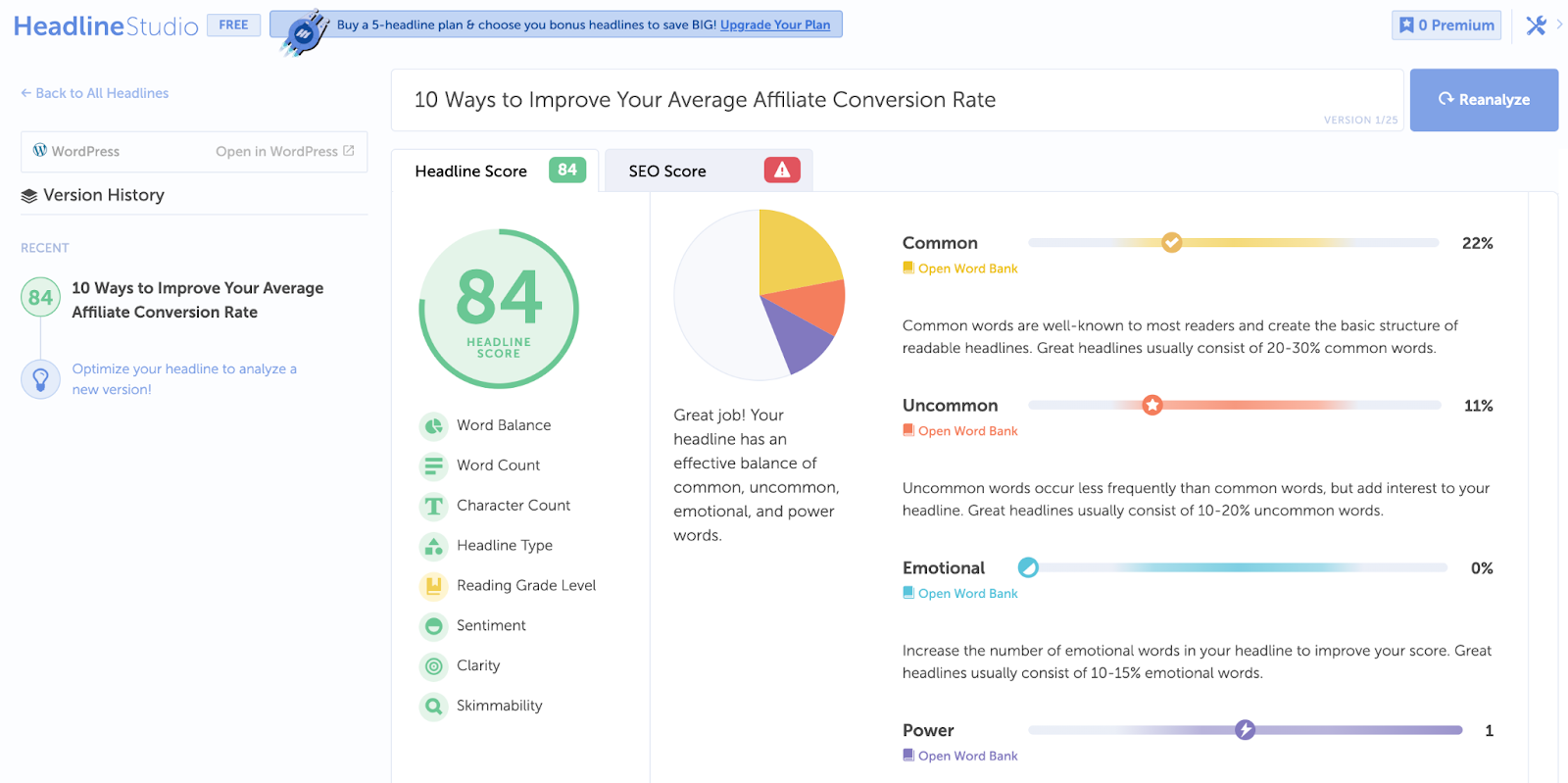 We use Co-Schedule when writing our blog posts. You can connect it to WordPress inside the post editor.
Meta Descriptions
Think of your meta description as a continuation of your headline. Your headline attracts, and your meta description is the subheading providing additional information.
Here's where you can include extra information that couldn't fit into the title.
For example, if your headline makes a bold claim or has a unique value prop, let the meta description explain it.
Tip: Aim to keep your meta description's length below 160 characters; otherwise it gets truncated in the SERP.
Web Page URLs
Have you ever seen a URL that looked like this?:
You have no idea what that web page is about because it's a jumbled assortment of characters (much like an uncloaked affiliate link).
If your URLs look like this, it's an easy fix.
Head to Settings > Permalinks inside the WordPress dashboard and select "Post name." This lets you create short, keyword-rich URLs that inform searchers about your content.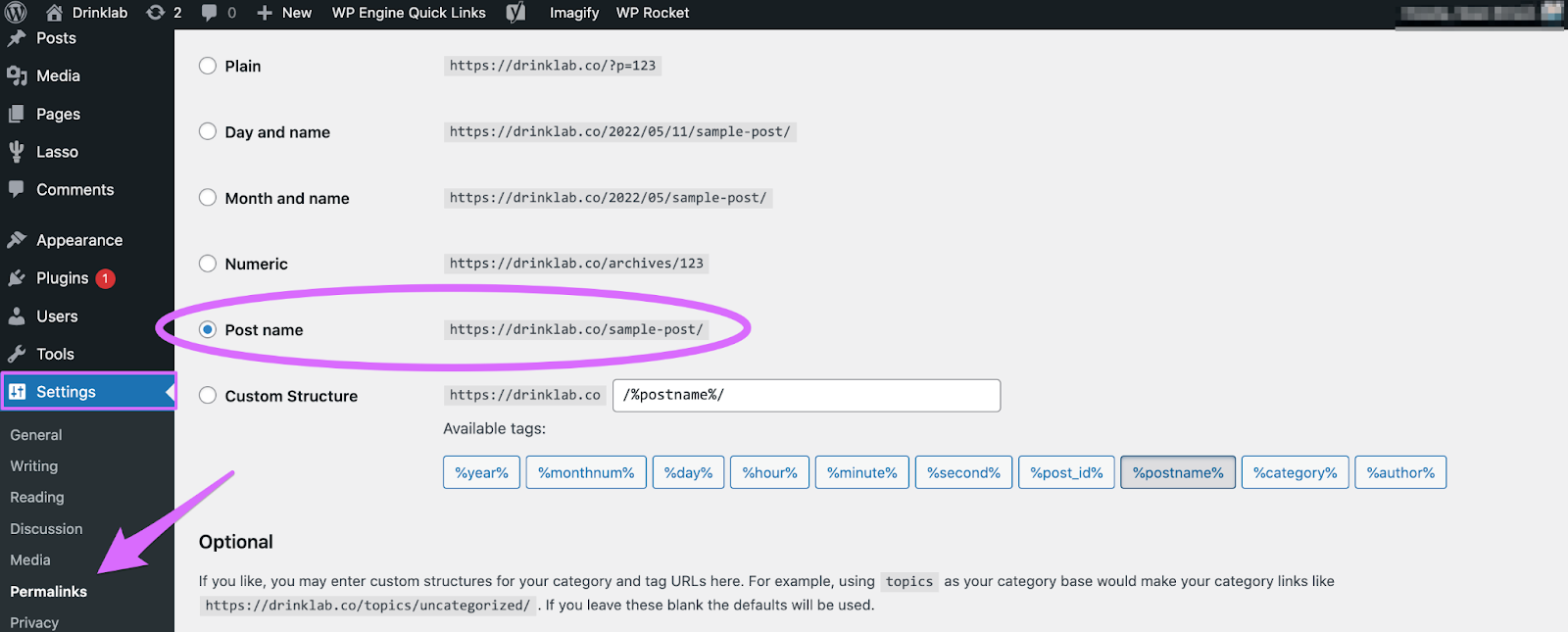 2. Optimize Your Image's Alt Text
The visually impaired use screen readers to consume your content. When their software encounters an image, it describes the image using alt text.
If yours lack descriptive text, it'll read the file name (e.g., "screenshot 1099.png").
Imagine how confusing that is. Alt text can negatively affect your SEO, too, because it makes for a poor user experience.
And Google is all about providing the best experience for search.
So review your site's images to ensure they have alt text. You can spot the missing culprits by using an SEO tool. We use Ahrefs.
Head to Site Audit > Overview > Images.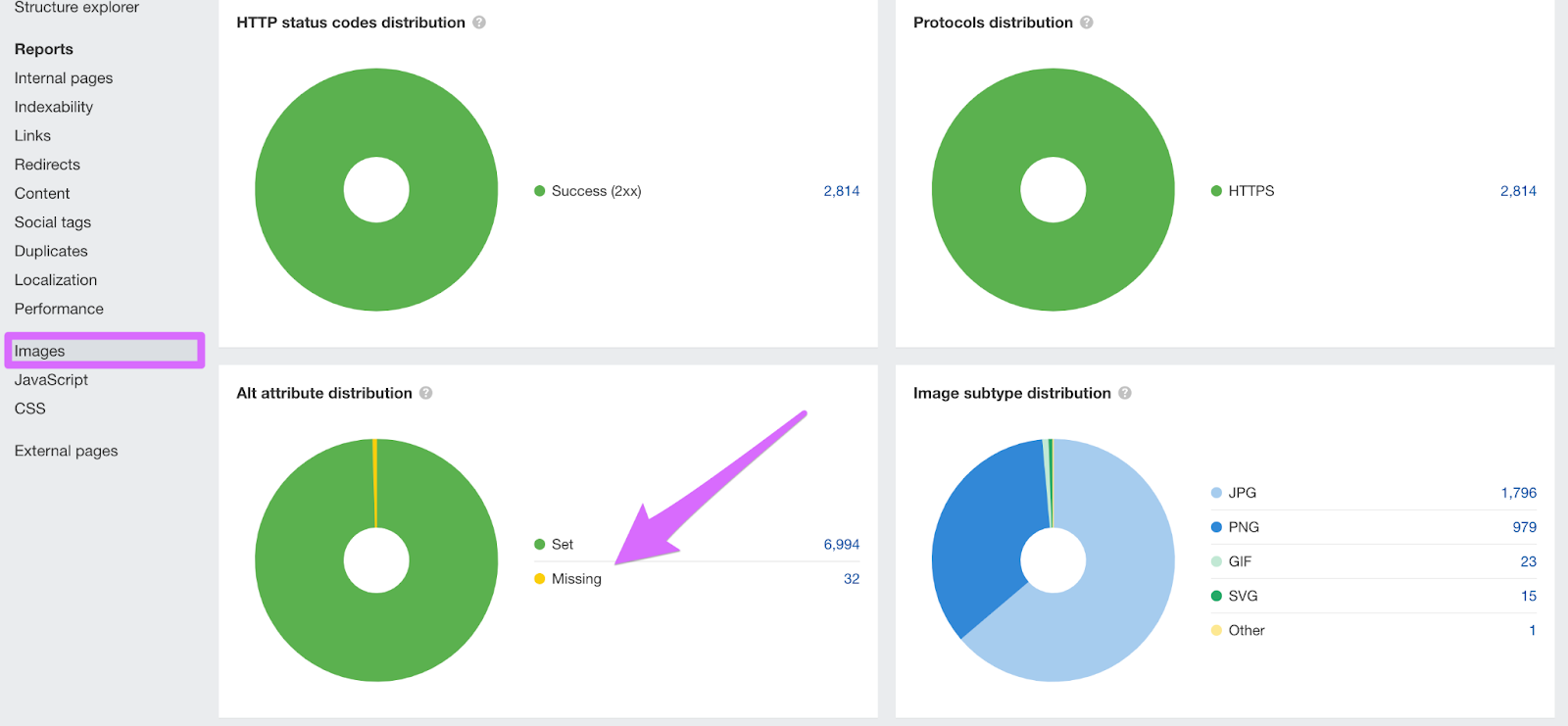 Click "Missing" to locate posts without alt attributes.
Alt text gives search engines a better idea of your post. Check out this guide about alt text for SEO for a detailed explanation.
Further Reading:
3. Speed Up Your Site with Managed WordPress Hosting
I'll explain managed hosting the way it was explained to me:
Managed hosting is like living alone in a big house with a private butler, while shared hosting means you've got roommates, a tiny house, and no butler.
The amount of speed and support your site gets with managed hosting is superior, and that's why all of our brands use it.
We're fans of WP Engine because of their live chat, speedy caching, and staging platform, but you can try plenty of alternatives.
Page speed is a huge ranking factor. Even a 0.1% change in load time makes a difference.
Other quick ways you can speed up your site:
Further Reading:
4. Make Internal Links Part of Your SEO Strategy
Internal linking connects a page on your site with another.
It also helps pass relevance and authority to your content while improving navigation for search engines and readers.
Thoughtful internal linking uses anchor text to inform visitors where you're sending them. So, instead of saying "click here," try using your keyword.
For example, if you want to send readers to an article about keyword research, use that keyword in your anchor text.
This lets people know what your content's about. In addition, it helps boost engagement. After all, you're keeping visitors on your site longer because you're clear about where you're sending them, so it's not a guessing game.
This also helps reduce your bounce rate.
Sidenote: Bounce rate is when a person visits your page and leaves without taking further action. Typically, lower bounce rates signal that people are spending more time on your site clicking links.
If you have pages with few internal links, here's what you can do (We'll use our keyword research example from earlier).
Let's say you just wrote a post about keyword research, and you want to link to that post. You can use Google with advanced search operators.
Here's how it works.
Type your site's domain into Google with your target keyword.
site:getlasso.co "keyword research"
Now check the SERPs.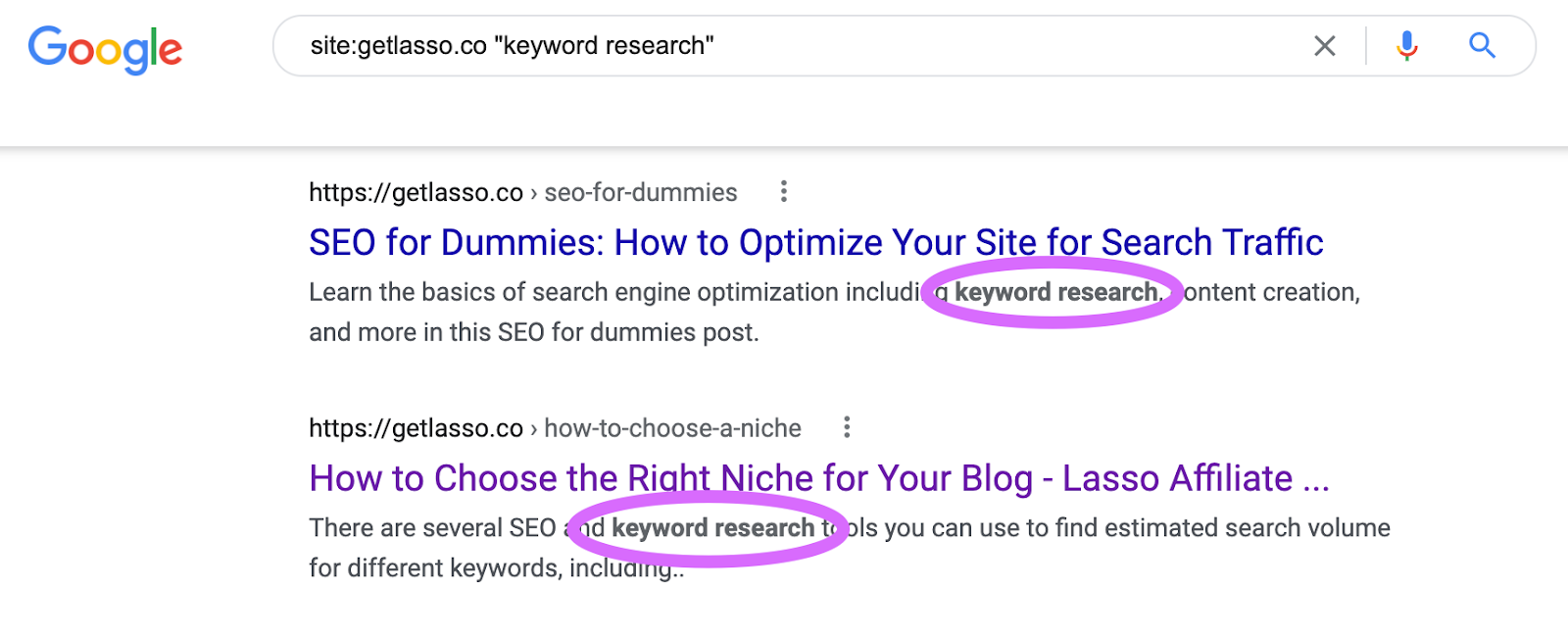 You can see existing articles to add the link to your new post.
You can also try internal linking tools. For example, when using Yoast's premium plan, you'll see the number of internal links in the post overview.

This lets you identify the number of internal links pointing at your post and how many links point to other posts.
Further Reading:
5. Target Keyword Mentions with Alerts
If you're trying to stay abreast of trending topics (or what people say about your blog), you can get email notifications whenever there's a mention across the web.
Start with setting up an alert.
Head to Google Alerts, enter the word you want to track, then click "Create Alert."

You can filter by:
How often you receive them (e.g., as they happen)
How many you get (e.g., only the best results, all results)
Where to deliver it (your email or RSS feed)
This can help with your "internet citation-building" (i.e., link building).
If you want to get more strategic, use an SEO tool like Ahrefs to monitor metrics like:
Backlinks
New keywords
Brand mentions
Head to "More," and when the dropdown menu appears, click "Alerts."

For example, the backlink alert informs you when your domain gains or loses backlinks (as well as monitor new backlinks to competing pages).
Alternatively, the brand mentions alert tracks the pages mentioning your competitors but not you.
It's more comprehensive than Google Alerts (but at least Google's free!).
6. Connect Your Site to Google Analytics & Google Search Console
Measuring your site's performance can help boost your positioning in the SERPs. Better placement means more organic traffic.
More traffic = superior SEO.
You can spot your site's top entry pages related to specific search queries and how they interact with your content.
For example, when I review our finance site's acquisition channels, organic traffic is a massive driver while Pinterest is not.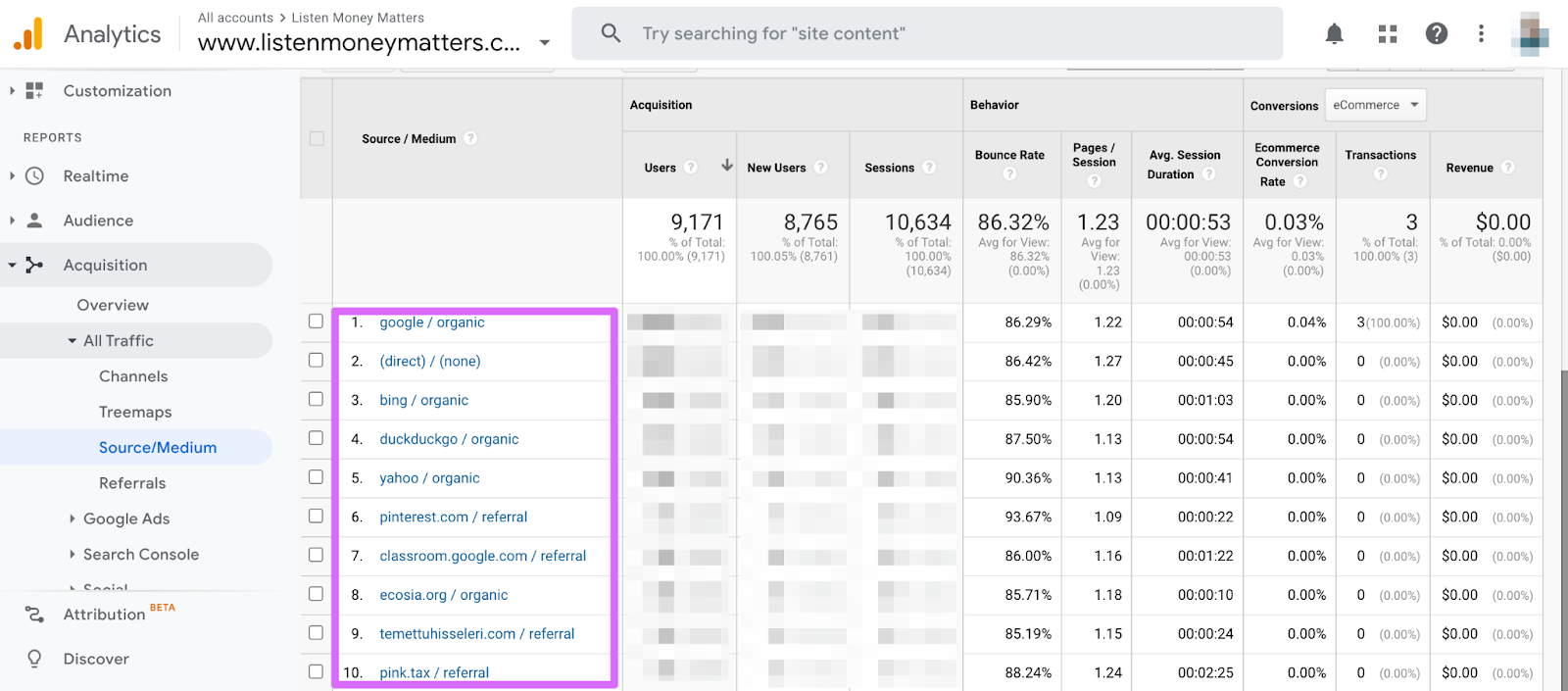 You can use this data to invest more heavily in improving your site's SEO.
Or, you could use the data to test smaller alternative traffic sources (e.g., Pinterest) to see if it produces more page views to your blog.
Sidenote: If you earn income via affiliate marketing, you can use Google Analytics to track top-performing affiliates. To find out how to use Lasso with Google Analytics for tracking clicks, read this.
Further Reading:
7. Create A Sitemap for Easier Navigation
Sitemaps serve as a roadmap and make it easier for web crawlers to find your site's important pages. Of course, this isn't a requirement, as Google will still index your content, but why not make it easier?
Not every CMS generates a sitemap, so you may need to use an SEO plugin. For example, WordPress doesn't, but it'll do it for you if you install Yoast.
Once you've installed it, head to SEO > General.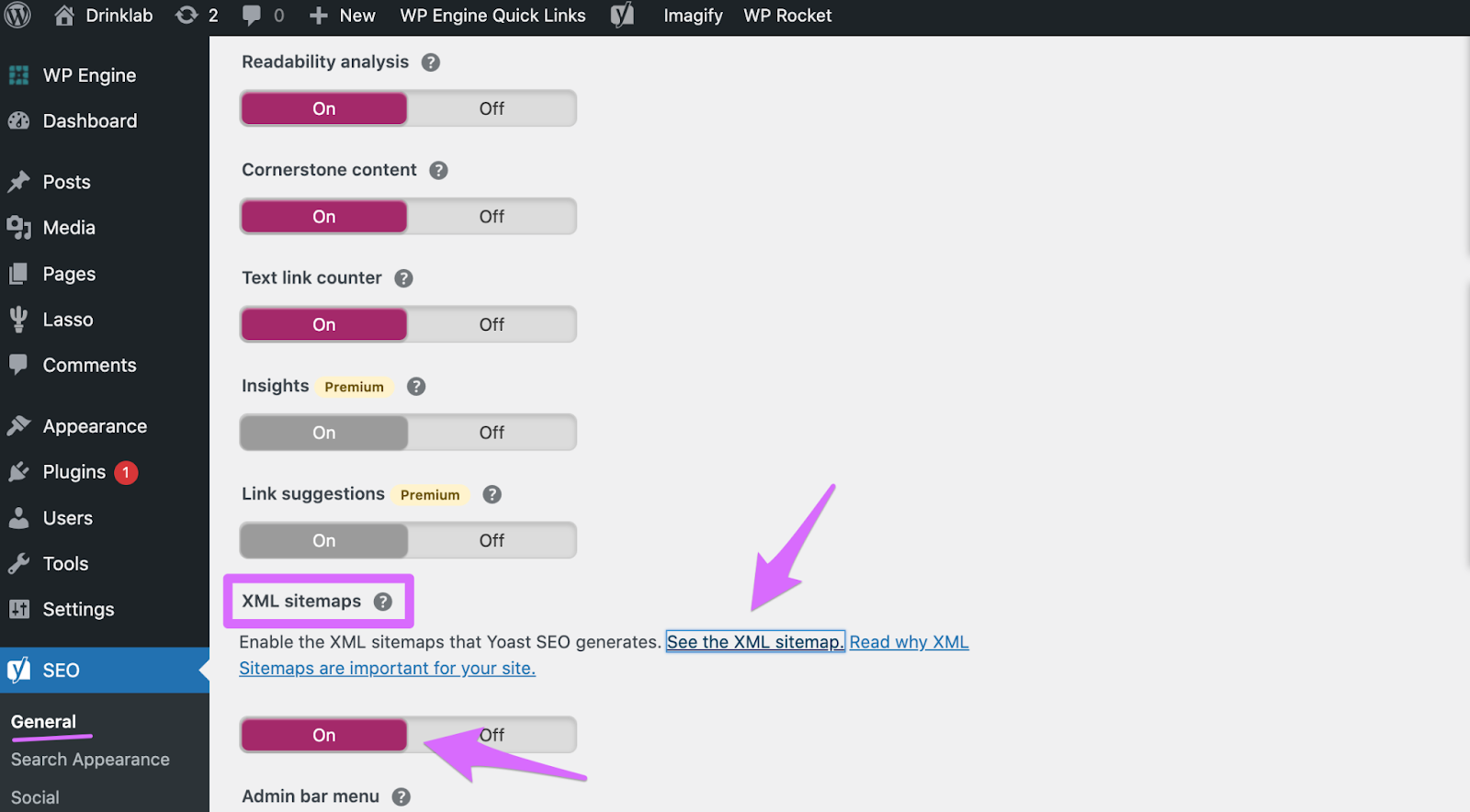 Toggle it "On" and click "See the XML sitemap."
According to Google:
If your site's pages are properly linked, Google can usually discover most of your site. Even so, a sitemap can improve the crawling of larger or more complex sites, or more specialized files.
Tip: You can create a robots.txt file for your site. It tells bots which pages to crawl and which to avoid. Read this guide from Google on how to do it correctly.
8. Use More FAQs In Your Content
After you've covered your post's main point and hit your target keyword, find more questions getting asked by searchers.
The benefit of doing this is two-fold:
You capture more keywords
Transforms mediocre posts into comprehensive, high-quality content pieces
These are ranking factors and can give your article a needed boost. An easy way to do this is to add an FAQ section to your articles.
We do this with the product reviews on our personal finance site (like the below example in our Discover Bank review).
The h2 reads "Discover FAQs," The h3s are taken from Google's People Also Ask box.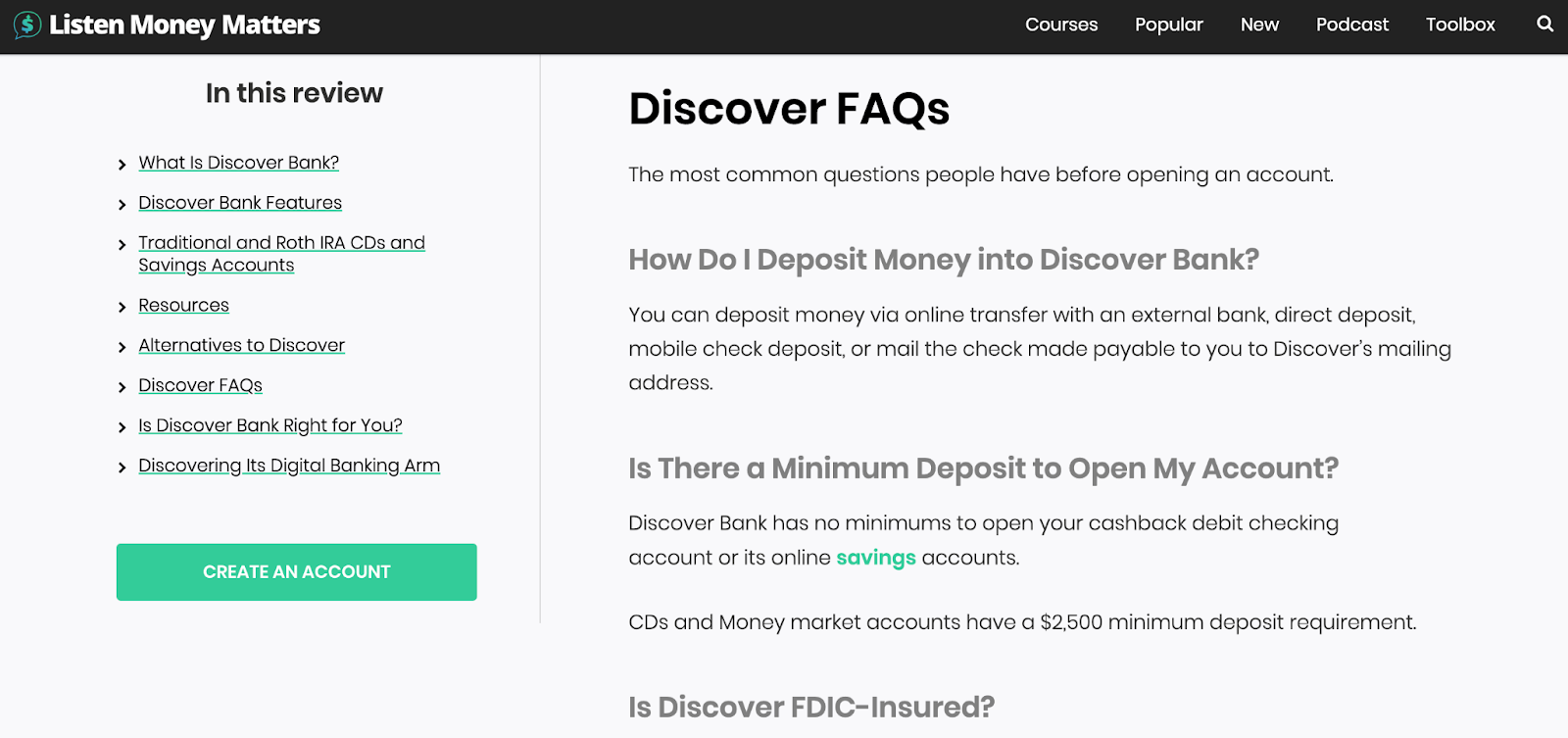 To find your FAQs, open an Incognito tab and type your keyword into the search field. Then scroll down until you find the People Also Ask box.

To find more questions, click the carat to the right, and another set appears to find more questions.
Tip: Try AlsoAsked.com. It aggregates all of the PAA search data into one place.
Curate content to answer questions, as this can help you win featured snippets and place your content at the top of page one.
Further Reading:
9. Examine the CTAs of Your Content with High Page Views
Every piece of content you write should have a goal.
Whether it's sending them to read another article, a trial sign-up, or make a purchase. You want visitors to take these actions in your call-to-action (CTA). If it's unclear, you lose traffic (and revenue).
Remember our internal linking example from earlier?
When you thoughtfully link to other places on your site, you extend the user experience and signal that people enjoy your material.
You can use displays to highlight specific CTAs and place them higher up the page (versus a single CTA text link at the bottom of your blog post).
For example, we use our Lasso displays with certain lead magnet offers and place them before the 3rd h2 of every post (like this one below).

This ensures more people see them (and maintains engagement as they remain on our site longer). In addition, the CTA links to our newsletter sign-up.
When you need to make changes to your display, you can do it on its Link Details page—for example, by modifying CTA buttons and descriptions or updating images.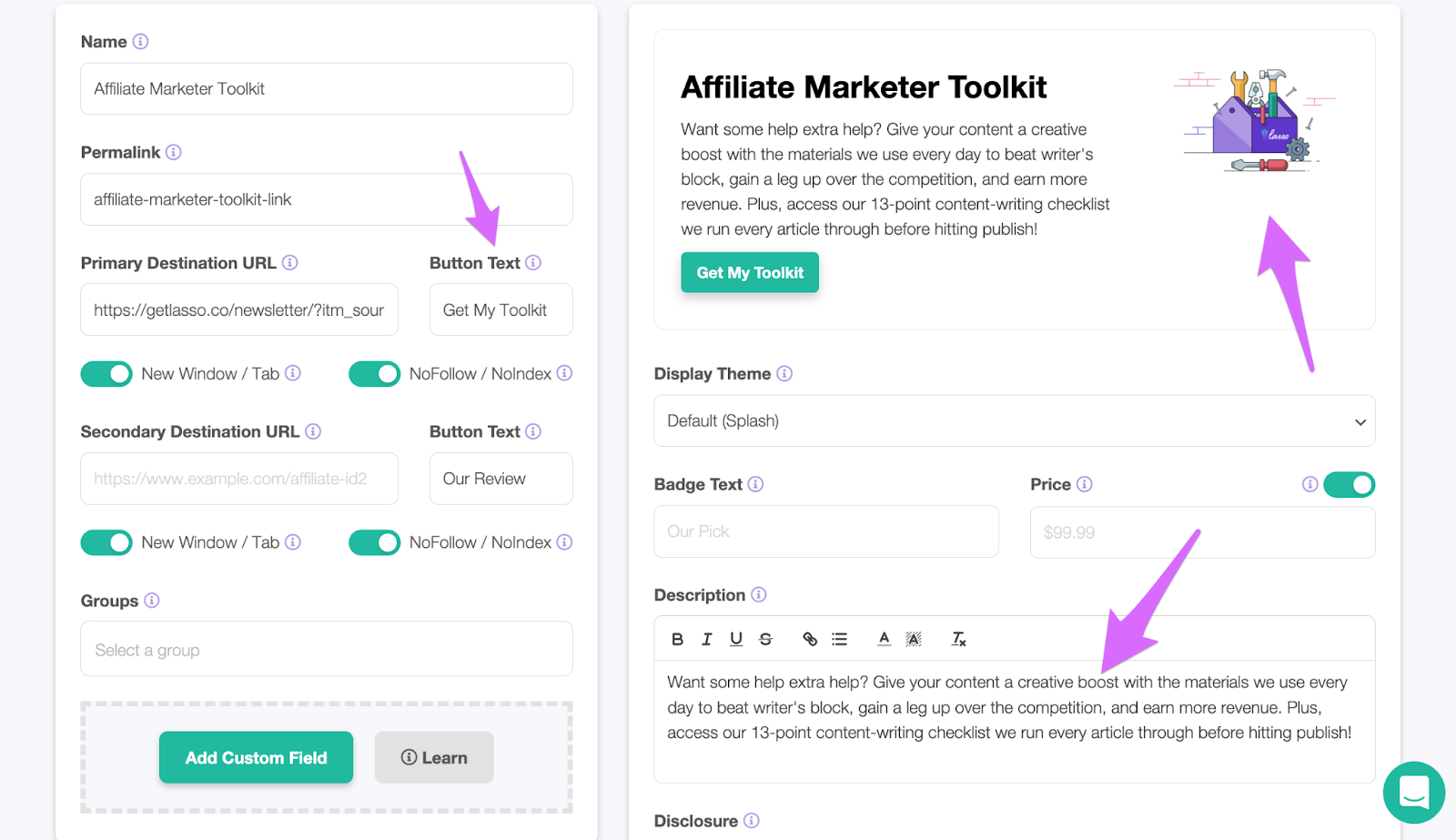 Review your high-trafficked pages and ensure your CTAs are optimized to send people smoothly along your funnel.
Further Reading:
10. Use SEO Content Optimization Tools
We've mentioned Clearscope before.
It's worth it when you're ready to take your content to the next level as it identifies:
Related keywords to include in your content
Keyword frequency of ranking posts using the same terms
Ensures you cover the words people tend to use in searches
It'll also help you spot which phrases your competition doesn't use. This gives you a significant advantage over content creators not using this software.
We started using it years ago and found it's made a difference.
What Are the Three Types of SEO?
The three types of SEO are on-page SEO, off-page SEO, and technical SEO.
Coming from a writer's perspective, I gravitate towards on-page SEO expertise (e.g., fixing title tags and revising meta descriptions) as they're most in my control and the easiest to fix.
But it's worth knowing all three SEO buckets.
Technical SEO involves site speed and reducing the number of HTTP requests. These may require more time and effort.
Off-page SEO relates to backlinks and social media mentions. These feed into Google's E-A-T score and demonstrate your site's authority.
Further reading:
Is SEO Only for Google?
No, SEO isn't only for Google.
While Google owns the largest market share (roughly 85%), other search engines like Bing (coming in second at ~7%) and Yahoo are other options.
SEO stands for search engine optimization, each having its own algorithms. So, you can optimize for any of them the same way you would for Google.
You'd just have to adhere to their webmaster tools and guidelines. Then, check your Analytics to see where your organic search traffic comes from.
What's Your Next SEO Win?
With so much to do and nearly 200 SEO ranking factors, it's not surprising that many just throw their hands up and leave it to chance. But hopefully, this post revealed you're more in control than you thought.
You can do things right now to win better SERP placement, provide a superior user experience, and boost income. Curious to learn more about how we help bloggers build profitable online businesses? Read this.
Our creations in your inbox, weekly.
We've built multiple six-figure online businesses that our moms are proud of.
We'd like to help you do the same.