Does it seem like everyone has lifestyle blogs these days? What are they, and why are there so many? Is starting one that easy? If you've ever asked yourself these questions, you're in luck. This post explains all of the ways you can stand out and make money in this niche.
Let's dive in.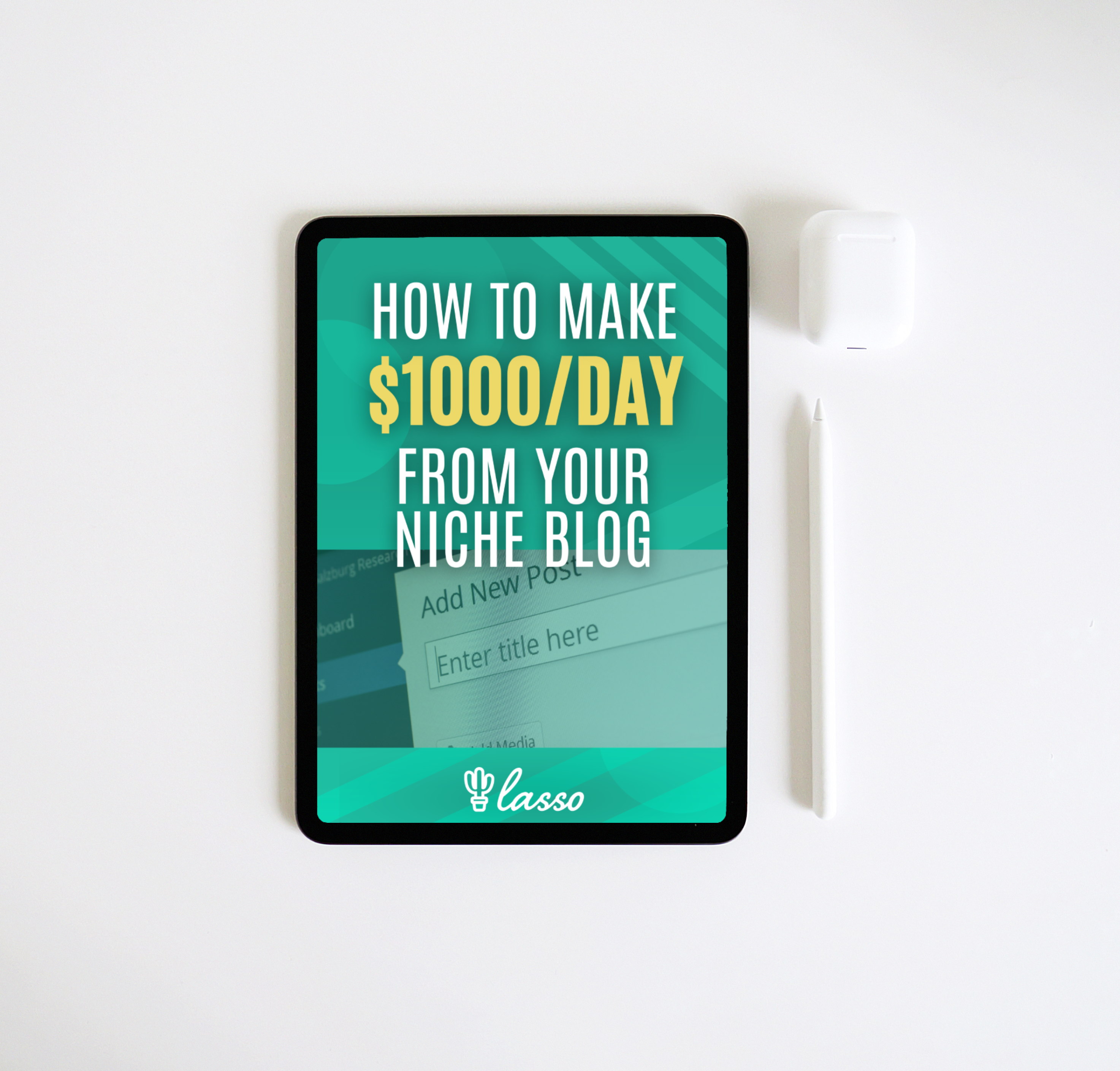 Get Your FREE 20-Page Guide To Making $1000/Day From Your Niche Blog
What are Lifestyle Blogs?
Lifestyle blogs are a type of personal blog whose author creates content about some aspect of their life, career, hobby, daily activities, or personal interests to share with readers and subscribers. That content can teach, inform, or just entertain its target audience. –
Mark Twain advised aspiring writers to "Write what you know." It's good advice for aspiring bloggers, too, which is why starting a lifestyle blog is such an attractive option.
When you write what you know, you already have extensive knowledge of your subject and can share your lifestyle tips with readers. If you're a chef, you don't have to research chopping an onion. You already know, so you can just sit down and write a post about it.
Lifestyle blogs can be a moneymaker.  Let's look at our chef example.
A chef with a food blog can become an Amazon partner doing reviews on cookware, kitchen appliances, and cookbooks. She can write and sell a cookbook.
The chef can partner with food delivery services and write sponsored posts. She can start a podcast and sell ads. And even start a YouTube channel offering cooking tutorials.
Plenty of YouTubers started as top lifestyle blogs, including Lauryn Evarts of The Skinny Confidential.
But starting one in the lifestyle blog niche means you are wading into a crowded field. 
To date, there are more than 500 million blogs out of 1.7 billion websites in the world. Their authors account for over 2 million blog posts daily.
How many of those are lifestyle blogs? I couldn't find that stat, but we can safely assume that millions of those 500 million blogs are lifestyle blogs.
That isn't meant to dissuade, just to inform.
Successful Lifestyle Blog Topics
These are some broad categories for popular topics for lifestyle blogging:
Home Decor
Interior Design
Wellness
Fitness
Beauty
Fashion
Travel
Parenting
Food
New Blogger Questions
Before we jump in with both feet, let's answer a few of the common questions you might have before starting any kind of blog.
How Much Does It Cost to Start A Blog?
Many bloggers start blogging as a hobby, a way to share an interest, parts of their daily lives, and hacks with like-minded people.
They hope to make money at some point but understand that making money blogging is not a guarantee and not something that happens overnight.
So you don't want to make a big out-of-pocket investment to get your healthy living or beauty tips or fashion blog up and running.
Luckily, the cost of getting started is pretty low:
You'll need a computer, of course, but I'm assuming that you already have one. You're not currently reading my blog on a stone tablet, after all. Do you need to upgrade your computer? Probably not. I do 100% of my blogging from a Chromebook that costs probably under $300. I don't remember because it's a few years old and I didn't opt for a more expensive computer because I don't care about fancy technology and what I bought works perfectly well for what I do.
For less than $100, you can get a domain name and web hosting for a year.
Boom, that's it. $400 or so if you don't have a computer, and about $100, if you do, will get you the bare bones you need to start a lifestyle blog.
If it starts gaining traction or you're just the kind of person who wants to go all-in from the jump, there are optional things you can choose to invest in.
Further Reading:
How Many Bloggers Make Money?
There is good news and bad news. The bad news is that fewer than 10% of bloggers make money. The good news is that you can make a substantial amount of money blogging.
Here are some of the best lifestyle blogs estimated annual revenue numbers:
Healthline: A healthy lifestyle blog, $100 million.

How Long Does It Take to Make Money Blogging?
There are so many variables in play that make it impossible to give a definitive answer, but among bloggers who make money, six months to a year is a good estimate.
But that is 6-12 months of a hard time busting rocks.
There is a difference between a blog that makes money and a blog that's profitable. And an even greater difference from one that's profitable to one that lets you quit your day job and make a full-time living.
If you use a tool like Lasso, it can help you bridge those gaps. Here's proof and more proof.
Further Reading:
Starting A Lifestyle Blog
Alright, here we go. Let's get down to the business of starting a lifestyle blog.
Choose a Topic
There are plenty of blog topics you could cover solely to make money without having much interest in the topic.
Sidenote: I don't recommend this because it won't be gratifying for you, and while any kind of work is not always a barrel of laughs, blogging can be pretty fun, and I think it's a shame to deny yourself that.
I also don't think it's a great idea to create a strictly mercenary blog because a portion of the audience, those who are especially passionate about your topic, may be able to detect your lack of passion and not want to stick around.
But that's especially true of lifestyle blogs. You're supposed to be blogging in some sense about your life! I mean, the clue is in the name.
People interested in your topic will sniff you out as a poseur right away, and your blog will not take off.
So when choosing a lifestyle blog topic, don't choose something because you think it will make money. Choose something you are genuinely interested in and at least somewhat knowledgable about.
Choose a Niche
Because the popular, money-making topics among lifestyle blogs are so oversaturated, the way to find success with less competition is to choose a smaller niche within a larger topic.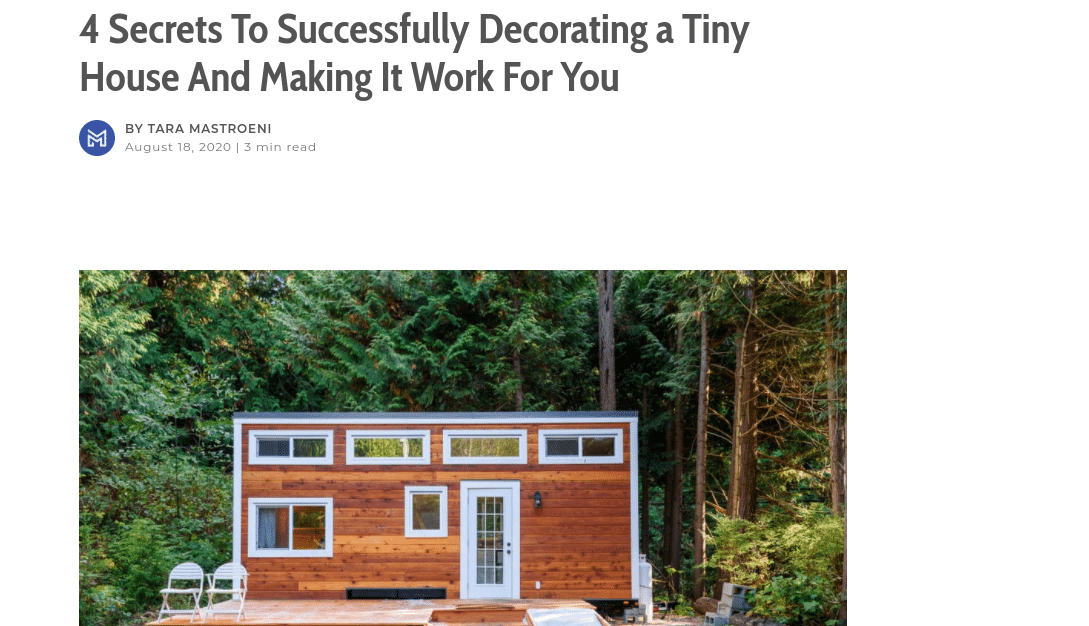 In the home decor arena, you could niche down to DIY decor for tiny houses.
Choose a Focus
A blog is not the place to use a scattershot approach. It will make it hard for an audience to understand the purpose of your blog, and it will make it harder for you to create good content.
"Jack of all trades is master of none," as the saying goes. You want to reach and keep your target audience from Day 1.
These are some ideas for a great blog focus:
Reviews
In terms of making money from affiliate marketing, doing product and service reviews is probably the most lucrative.
Mattress Clarity, a site that only started in 2015 and is dedicated to reviewing mattresses, makes a whopping $600 million from affiliate marketing!
When a reader buys something you recommend using your link, you get a portion of the revenue. Using the tiny house decor idea, you could recommend everything from furniture to cabinets.
Your Experiences
Your life and experiences have to be pretty compelling if you want this kind of focus for your blog. If you simply bought and decorated a tiny house, meh.
It's not that interesting, and it won't provide content for very long.
But if you were an interior decorator who had a business decorating tiny houses, that would be more interesting.
You deal with many different people; they have different tastes, lots of different types of houses, lots of different budgets. You have a lot of valuable personal stories to share with readers.
Advice
If you're going to dole out advice, you have to have a lot of experience with your chosen topic. The tiny house interior decorator would be well placed to advise those seeking to decorate their own tiny houses.
Choose Your Blogging Platform
There are free platforms, but if you're serious about having a professional blog that makes money, it's better to spend a little money.
Hosted platforms add the host's domain onto the name of your blog, so rather than TinyHouseDecor.com, your domain name will be TinyHouseDecor.blogspot.com. 
That isn't good for SEO (search engine optimization), and you won't be able to join affiliate programs, including Amazon.
Free blogging platforms limit the plugins you can download, giving you less control over your site and have limited features like memory space and bandwidth, which will stunt the growth of your site.
The best blogging platform is WordPress.org (not to be confused with WordPress.com). It gives you total control over your site and is user-friendly.
You own your site and all of the data on it, so as long as you're not breaking any laws, your site can't be suspended for breaching TOS.
It allows you to run ads on your site without sharing the revenue with WP. You can use tracking tools like Google Analytics to track your stats.
Further Reading:
You can monetize your site by creating an online store, take credit card payments, and ship items directly from your site rather than having to open a store on another site.
Choose Your Domain Name
Choosing your domain name is like naming your baby and just as stressful! You have one chance to get it right, so think about it carefully.
Keep it short: A name with two or three words will be easier for people to remember and type into their browsers.
Don't be too clever: You want your name to be creative but not so creative that people have no idea what the site is about.
Don't limit yourself: Don't make your name so niche that you can't expand into slightly broader topics as your blog grows.
Choose alliteration: Using the first letter for each of at least two or three consecutive words for your name will help people better remember it.
Cheat: Use a blog name generator if you have wracked your brain and the brains of everyone you know and still come up short. A domain name generally costs $10-$15 per year. You can get your domain name through Bluehost; more on that below.
Choose Hosting
Your blog isn't "live" (i.e., accessible to people on the internet) until it's stored on a server, so you need to choose a web hosting company.
Lasso recommends Bluehost as a great low-budget pick. Even WordPress recommends them. Bluehost offers really affordable hosting plans with monthly prices starting at just $3.95.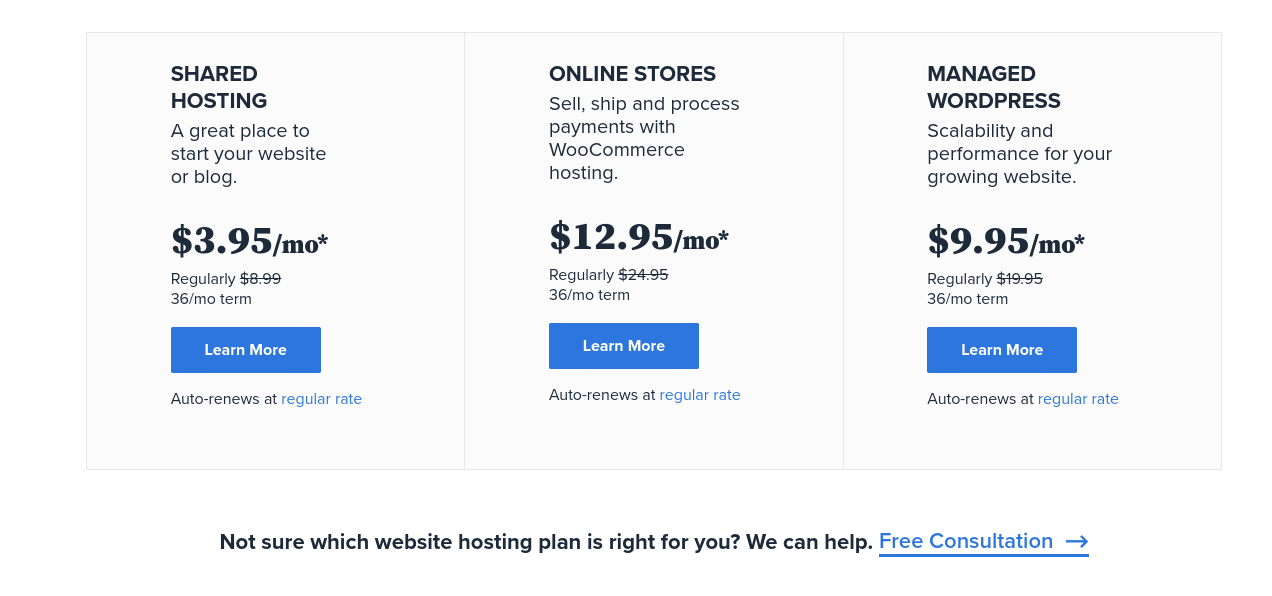 They offer a lot more than just hosting. You also get custom blog themes at the $3.95 a month plan, a free domain name for the first year, 24/7 support, and more.
They'll walk you step-by-step through the entire process of setting up your account and launching your blog:
Get Website Hosting In 6 Steps
1. Select your plan from the options above. The $3.95 plan will give you the basics you need to start a lifestyle blog.
2. Choose your domain name. Your blog name is a big decision, so you can skip this step and come back to it later.
3. Register your account with Bluehost. This is just information like your name, address, phone number, etc. You don't need to create an LLC or have a Tax ID to secure hosting for your site.
4. Choose your hosting package. You can choose 12, 24, or 36-month.
5. Choose optional package extras. You can pay for add ons like Domain Privacy Protection, Bluehost SEO Tools, and more. If you're unsure if you need any of the extras at the moment, you can go back and add them at any time.
6. Enter your payment information. Then, hit "Purchase Now."
Now it's time to launch your site!
Answer what kind of site you're creating (blog), what type (personal), and who you're creating the site for (yourself).
Choose the features you want to add to your site like Blog, About Me, or Store.
Tell Bluehost a bit more about your site, like what you want to name it and your tagline (the description that will show up in web searches and metadata). You can skip this step.
Choose a theme. If you're undecided, you can skip this step or change it later.
Click "Launch My Site," and you've done it. Your site is live on the internet!
Choose a Theme
A theme is a piece of software that modifies the look of your blog. You want a theme that's clean and pleasant to the viewer's eye.
Sidenote: WordPress offers many free and paid themes, but free versions can't be fully customized, so your blog will look like all the rest.
To avoid this, it's best to choose a premium theme. As you saw above, Bluehost offers a variety of themes too. You can find WordPress themes inside your Dashboard under "Appearance."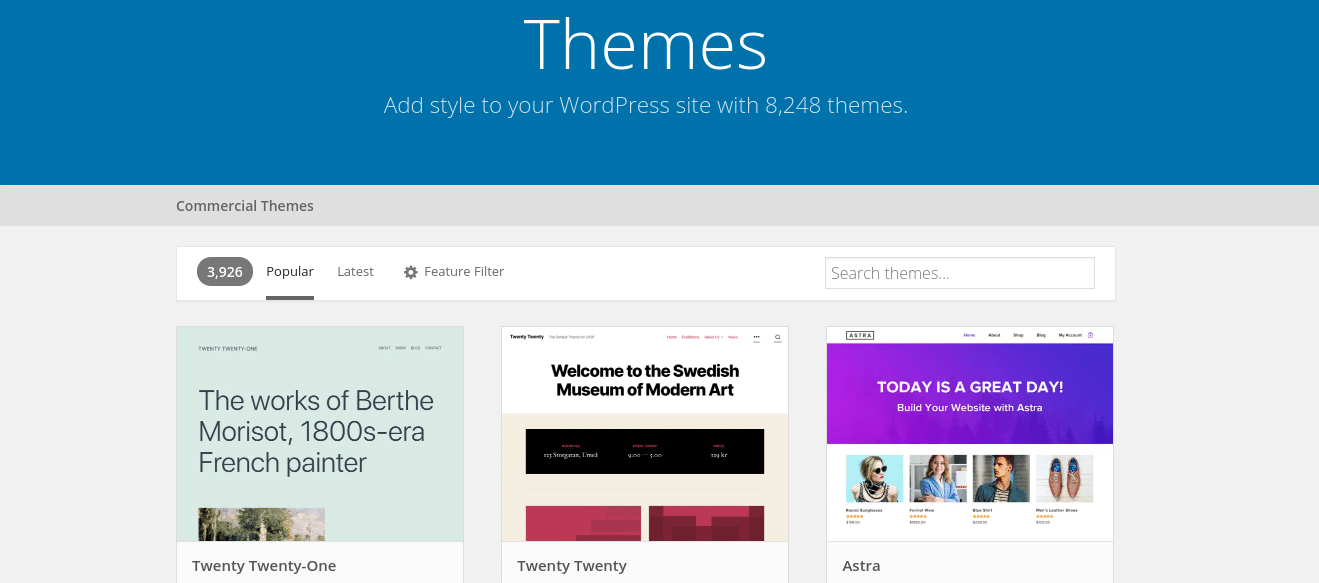 The sheer number of themes available can be overwhelming. You can always change it, but your theme is the face of your blog, and readers will come to know it. I'll speak for myself, but I'm sure that I'm not alone.
When a blog I read regularly changes its look dramatically, I feel totally betrayed. Okay, betrayed might be a tad overdramatic, but I don't like change!
Think long and hard about your theme, so you aren't changing it often.
Here are some things you should look for when choosing a theme for your own lifestyle blog:
SEO optimized
Clean design
Supports useful plugins
It's optimized for mobile
It is easy to customize
Has easy to read, attractive fonts
Has intuitive navigation
Good functionality
Fully responsive
Premium WordPress themes are designed to be SEO and mobile-friendly, provide security to protect your site from malicious code, and give you customer support access.
Tip: Customer Support is HUGE and good to have when you're new to blogging (or not especially tech proficient).
Choose Plugins
Without plugins, your blog will just be walls of text. The right plugins make your site visually appealing to readers and can make your life easier too. Here are some of the best plugins for new blogs:
There are literally thousands of plugins, and you don't want to overdo it because too many will slow your site. These are some critical ones for new bloggers.
Create Essential Pages
I know you're dying to get to writing and get that first post out to the world, but not so fast. There are some pages you need to have ready to go when you launch your blog.
The minimum is an About, a Contact, and a Privacy Policy page.
About
This page is where you get to tell your readers a little about you and your blog. It's nice to include a bio and a photo of yourself; people like to know what the person behind the blog looks like. Keep the tone friendly, welcoming, and informal.
Contact
This page gives readers information about how to contact you. You can include links to your social media accounts, email address, and a contact form. Some bloggers list a phone number, but I would hesitate to do that.
Tip: I also recommend not listing your home address. Get a PO Box. Another good idea is to add an FAQ page either here or as a separate page.
It saves you having to answer the same basic questions over and over via email. Be sure to check and answer emails frequently. You want to build audience engagement, and answering reader emails is a good way to do so.
Privacy Policy
This is the place for all the required legalese, including a monetization disclaimer, terms of service, and privacy policy. There are Privacy Policy Generators that you can use to create a policy for your blog.

Your Logo
Your logo is going to be your visual brand, so you want to get it right. The colors and design will be on your blog and everywhere you promote it, so it's just as important as the name.
You can use a free site to create your logo or find a freelance designer on a site like Upwork or Fivver.
Publish
It's best to decide on a publishing schedule and to have a few week's worth of content in the can before launching your blog.
You want to have deadlines for yourself, let readers know when to expect new content, and have enough content to allow you to stick to a publishing schedule should your personal or work life get in the way of writing.
This is especially true of lifestyle blogs that follow the blogger's life. Readers may not expect daily updates but weekly at least.
How much content should you have ready to go? Two weeks is probably enough if your work life is predictable and you don't have kids. If you can't say as much, a month's worth of content is better.
Further Reading:
Promote Yourself
No one who starts a blog wants to write into the void, that's called a diary, and it's a lot less work. So you've got to get your blog out there in front of your target audience.
SEO: The number one way to grow your blog is to get crazy good at SEO. All the self-promotion in the world doesn't come close to what a tight SEO game will achieve for you. Eat it, sleep it, breathe it.
Learn more about optimizing your site for search traffic in our SEO for Dummies post.
Social media: Most advice says to create social media pages for your blog on all big platforms and launch them simultaneously. Don't do this. Start with one and nurture it before expanding to another.
Find the right forums: Look for discussion forums that discuss lifestyle blogs and your particular topic and promote your blog in those places (but tread carefully). Many forums react poorly or outright ban blatant self-promotion.
Reddit can be especially dangerous. A mention on Reddit can gain you thousands of eyeballs, but the site's users famously hate self-promotion and will tear you apart for it.
Spread the word: Tell everyone you know about your blog, share the link and when appropriate, ask them to share it on their social media pages. Lifestyle blogs may not be appropriate for sharing material with people in your professional life, depending on your topic.
Guest post: Reach out to fellow bloggers and influencers on your topic and offer to write a guest post for them for free in return for a link to your own blog in your guest post.
Advertise: It takes money to make money, as the saying goes, and when your blog is very new, it can be worthwhile to spend some money advertising.
Start Making Money
A blog can be a fun hobby, but we all want to make extra money, and even if you enjoy blogging, it is work and no one's time is free. So let's make some money.
Affiliate Marketing
Affiliate marketing is why it's so important to have a niche for your blog. People interested in what you're blogging about are the prime audience to buy things you recommend, and that's essentially what affiliate marketing is.
Google Adsense
You need the traffic to make money via Google Adsense, but it's still worth your time to set it up when you launch your blog because every penny counts, especially when the cost of running your blog is coming out of your pocket.
Sell Something
A digital product like an e-book is the easiest thing to sell because you don't have to create, store, and ship a physical product.
And selling a digital product is a great form of passive income. You only have to create the product once (and perhaps update it periodically), but you can sell it repeatedly.
Sponsored Content
As a lifestyle blogger, brands may reach out to you to review or promote their products to your readers in exchange for money or free products.
Warning: Don't recommend things to your readers that you don't think are quality and worth their hard-earned money.
You will make some money or get some free stuff in the short term, but you'll lose the trust of your readers and their loyalty.
Further Reading:
Should You Start a Lifestyle Blog?
Why not as long as you have enough knowledge of the topic to provide value to other people? You can even make money at it. But a lifestyle blog or any blog is hard work, and you won't enjoy every aspect of it.
Make sure writing is something you have a passion for, and you're not just doing it to make money. Best of luck on your blogging journey!
Want more? Here are 11 Profitable Niches That Earn Money.
Our creations in your inbox, weekly.
We've built multiple six-figure online businesses that our moms are proud of.
We'd like to help you do the same.