Does it seem like everyone has lifestyle blogs these days? What are they, and why are there so many? Is starting one that easy? If you've ever asked yourself these questions, you're in luck. This post explains how to start a lifestyle blog that stands outs and makes money.
Let's dive in.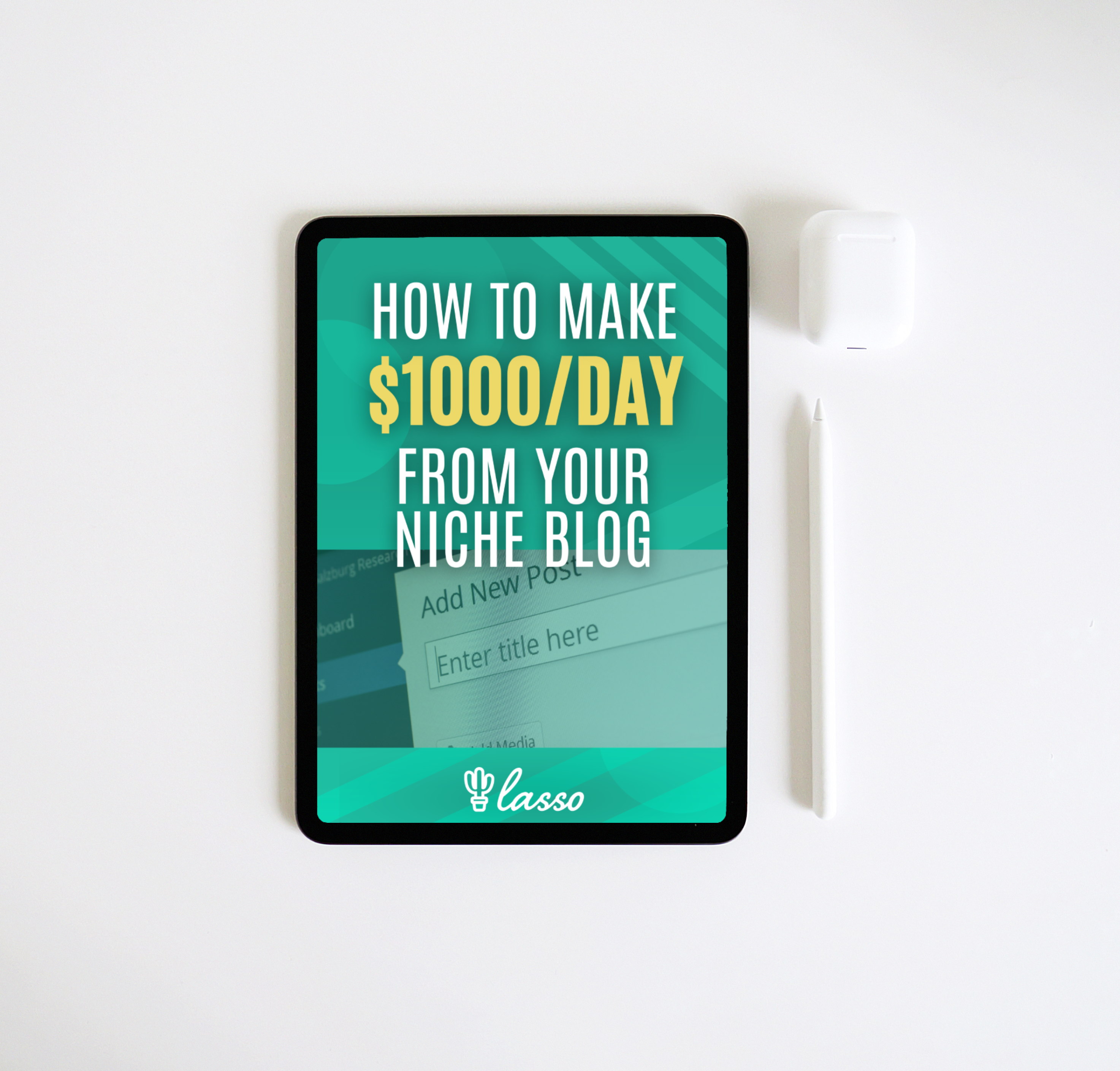 Get Your FREE 20-Page Guide To Making $1000/Day From Your Niche Blog
Why Should You Start A Lifestyle Blog?
Lifestyle blogs let you share an aspect you're passionate about (such as your life, career, hobby, daily activity, or personal interest) online.
And because you're already passionate about it, it's a fantastic way to monetize and support your interests.
If your own lifestyle blog takes off and becomes a full-time business, that's even better.
Whoever said, "If you love your job, you'll never work a day in your life," was lying. Work will always be work.
But if you love what you do, then work is much easier.
Successful Lifestyle Blog Topics
These are some broad categories for popular lifestyle blogging topics.
Food
Travel
Beauty
Fitness
Fashion
Wellness
Parenting
Home Decor
Interior Design
Many are a combination of several of the above niches. For example, the popular lifestyle blog Wit & Delight covers topics from fashion to parenting to travel. While Cupcakes and Cashmere's content gravitates toward interior design, beauty, and food.
How to Start A Lifestyle Blog Step-By-Step
Creating an excellent lifestyle blog is easier said than done, but this process will make it much easier (without buying an expensive blogging course).
Here's my step-by-step guide to creating a winning lifestyle blog.
Step 1. Do Your Research
The first thing you should do before starting a blog (or anything) is research.
There are three primary types of research you should do:
Niche Research
You're probably thinking, "I already picked a niche!"
But for blogging, that needs to be more specific, at least in the beginning.
Monster lifestyle blogs already dominate the search engine results pages (SERPs) for the most competitive keywords in the niche.
The only chance you have of competing with them is proving to search engines like Google that you know more about a specific sub-niche as a lifestyle blogger.
Here are some ways to find a sub-niche:
Pick a smaller demographic. If you publish content for DIY tiny house decor, not only will Google reward you, but you'll build a tighter bond with your audience.
Choose a specific type of content. Instead of covering many categories like several of the popular lifestyle blogs, cover a single sub-niche. Then write a post for every possible aspect of it. So, don't write about parenting, wellness, and fitness. Only write about parenting for single moms. That narrow scope will help keep your content focused.
Focus on another platform. By building a brand on YouTube, Instagram, or TikTok, you'll get people to search for your name on Google. Then, you can convert that traffic on your website.
We've written extensively about niche research for bloggers, but you should look for these qualities in your final choice:
A mix of big and small competitors. If the niche doesn't have big sites, you won't earn much money. If there aren't small sites, you won't be able to compete.
Income potential. A healthy mix of affiliate offers, display ads, and original products will allow you to diversify your income.
Keywords and link-building opportunities. You'll do more extensive keyword research later; you're just looking for content gaps. Are there keywords you could realistically rank for and get traffic early?
After you've chosen a sub-niche, it's time to dive deeper into the research.
Competitor Research
Once you've chosen a niche, you must find out who you're dealing with.
Using a tool like Ahrefs, dive into each big site you identified in your niche research.
Take note of their most linked-to pages. These will inspire your link-magnet content (content that you want other sites to link to).
Then, look at the highest traffic pages for the small sites you found. The top keywords for those pages will be your early targets. (If they can rank for it, so can you.)
Add this information to spreadsheets or Notion documents to reference as you produce content.
Early Keyword Research
After you've identified some target keywords in your niche, it's time to double down.
Identify the keywords that are most relevant to your niche. These are your "seed keywords."
Seed keywords are broad terms used to generate super-specific long-tail keywords.
Examples of seed keywords:
Weaving
French Press
Ramen recipes
Take your seed keywords and feed them into your keyword tool of choice. I like using Ahrefs.
Add them to the report and hit search. Then, go to "Keyword Ideas" and click "Matching Terms."
This list will contain thousands of possible terms for you to write about. I recommend targeting the lowest-volume keywords possible, no matter the traffic.

Getting traffic will take a lot of work when starting your lifestyle blog. But you can get it by targeting keywords that other site owners ignore.
TIP: When starting your lifestyle blog, focus on info content (question keywords). The content will be more helpful for your audience and less competitive since monetizing it is more challenging.
Step 2. Set Up Your Lifestyle Blog
Once you choose a niche, it's time to set up your site. The first step is choosing a domain name and purchasing a hosting plan.
Register A Domain Name And Set Up Web Hosting
Many services can help you register a domain name, but I recommend getting one from your hosting provider. (They usually include a free domain name when you buy hosting.)
Sidenote: I'd stay away from Godaddy. They have awful customer service, and there are better options at the same price.
Here are a few hosting companies that are great for beginners:
Once you've decided which hosting company to build your site with, you must choose a domain name.
How to choose a domain name
Please don't create an exact-match domain name, like bestcampingtentsforcouples.com.
It's limiting, has terrible branding potential, and looks amateurish. You can do much better.
Instead, spend some time brainstorming lifestyle blog names that have the following:
Three words or less
A keyword related to your niche
A feeling, emotion, or quality you want your website to communicate
So, instead of the example used above, you could register a domain like:
acouplecampers.com
campingeasier.com
expertcampingadvice.com
All three of those are available as I'm writing this, and all would be easy to build a brand around (not to mention better for Search Engine Optimization or SEO).
After you've chosen and registered your domain (following the instructions from your hosting company), you're ready to install WordPress and start building your site.
Set Up WordPress
The first step to setting up your site is to install WordPress.
Note: WordPress is an open-source software found on WordPress.org. WordPress.com is a premium blogging platform, but you never need to pay to install WordPress on your website, even if it's self-hosted.
Any legitimate host these days will offer automated WordPress installation with the click of a button. Follow their instructions, and contact support if you need help.
Once you've installed WordPress, go to your WordPress Admin Dashboard and start customizing your site.
TIP: You can find your dashboard login page at yoursite.com/wp-admin
From the sidebar, go to Appearance>Themes, and choose a WordPress theme you like.
These are the free themes I recommend for new bloggers:
Astra
Kadence
GeneratePress
You could also buy a premium theme, but free themes are fine in the beginning.
Install Essential Plugins
A lot of people are afraid of plugins because they think more plugins will slow their site down.
However, any good plugin these days is built for speed, so you shouldn't worry too much about it.
If you're still worried about site speed, our Cloudflare review shows how to perfect it.
Click "Plugins" in your WordPress dashboard sidebar to install a new one. Then, click on "Add New" and either upload a plugin ZIP file or search for free plugins in the WordPress Plugin Repository.
Here are a few plugins to extend your site's functionality that I recommend for every new lifestyle blog:
Lasso Lite – The best way to insert product displays and affiliate links into your content is to use Lasso. Lasso Lite is the free version of Lasso and is great for new sites.
Cloudflare – I recommend the paid Cloudflare plan, but even the free CDN will do wonders for your site speed.
Imagify – Big images are the biggest thing that slows down websites, and an image optimization plugin like Imagify fixes them instantly.
RankMath – RankMath is my favorite SEO plugin, but you could also use Yoast SEO or All-In-One SEO. SEO plugins provide guidelines rather than done-for-you solutions.
Now that you've installed and set up WordPress and your plugins, it's time for some branding.
Design Your Site
I'm not a web designer, but here are a few guidelines for beginners to create a professional-looking site:
Use two colors: You only need two colors for your brand, a primary and an emphasis color. The emphasis color should contrast your primary color and only be used for CTA buttons.
Use one or two fonts: You don't want to overwhelm your audience. A tried and true technique is to use one font for your headings and one for your body text. It also helps to have one serif font and one sans serif font so they stand apart.
Start with a text logo: Too many marketers get hung up on details like logos. You don't even know what your site is going to be yet. Give your brand time to develop by starting with a simple text logo.
Don't worry too much about your site's design in the early stages. You can change all this stuff later when sales start coming in.
Further Reading:
Step 3. Write Great Content
Now that you officially have a site, it's time to fill it with top-notch content.
You won't get really good at it until you've done it for a while, so it's best to start as early as possible.
Here are a few ways to publish better articles from day one.
Immerse Yourself In The Niche
This may be obvious to some, but you won't be a successful blogger without first-hand experience.
Search engines and readers can tell if you're blowing smoke. For example, if you're writing blog posts about products and topics you don't have experience with, someone will call you on it.
You'll need to invest in your lifestyle blog for it to succeed. The problem is a lot of lifestyle bloggers can't afford every expensive item in their niche.
Find what experiences you can afford, and document them. Then, if nothing else, write it off as a business expense.
Invest in your blog, and it will pay off later.
Build a Solid Framework
Before I write a blog post, I build an outline using Dynalist.
I look at what competitors have published for my keyword, write down my version of the headings, and move the structure around until the flow makes sense.
Not only does this give me a solid foundation to build my article upon, but it helps me pace my article. For example, if I've written 300 words under an H3 heading, I need to wrap it up and move on to the next point.
You should take a similar approach to your lifestyle posts. For example, if you're reviewing a destination, jot down your thoughts about transportation, accommodations, and attractions.
If you establish solid guidelines, your posts will practically write themselves.
Add Photos and Videos
Adding photos and videos to your blog posts will provide countless benefits.
First, original images tell your audience that you're legit. If you say you've visited a place and have a photo of you at that place, there is no doubt you're telling the truth.
Also, images and videos increase the time readers spend on your page. That signals to Google that your article fits what readers are looking for.
Lastly, images encourage clicks and make your posts look better. They also break up a post and allow your readers to breathe before reading the rest of the article.
Further Reading:
Step 4. Promote Your Blog Posts
Once you publish a blog post, you need to promote it.
Seriously, most lifestyle bloggers post and pray. If you use even one of these promotional methods, you're doing more than 99% of the competition.
Build A Mailing List
There's a reason why email marketing is the only form of online marketing that's barely changed in the past 15 years. It works.
It's also tough. The best lifestyle blogs ask readers to join their mailing lists, so you must give them a special reason to sign up for yours.
It could be tutorials, specific shopping lists, cheat sheets, or anything else that sets you apart from other lifestyle bloggers.
Why go through all this headache? Because anyone who signs up for your mailing list is devoted to what you have to say. These people are your congregation.
If you recommend a product to your mailing list, they'll likely purchase it. So, at a bare minimum, send your new blog posts to your mailing list to pump up early traffic numbers.
Be ethical, but find things your mailing list will appreciate and sell, sell, sell!
TIP: You can find many premium sales email templates on Canva. Work smarter, not harder!
Leverage Social Media Platforms
Most bloggers are secluded by nature. Instead, we spend time in front of a screen creating content.
However, it's recently become evident that social media and blogging go hand-in-hand. Especially in the lifestyle niche, where readers care about the person behind the blog, social media can be a game changer.
I don't recommend spending all day on Twitter, but comment on popular threads, build relationships with influencers, respond to outreach, and share helpful things. Also, shout out when you have a new blog post!
Collaborate With Other Lifestyle Bloggers
As website owners, we think of our competitors as enemies, which is a bit silly. But, when you think about it, they're just like us, trying their best to hustle and make things work.
Instead of worrying about how other lifestyle bloggers will outrank you, reach out and see if you can work together.
If you build a network of small lifestyle bloggers who all promote each other's content, you'll stand a much better chance of competing with established lifestyle authorities.
Step 5. Monetize Your Lifestyle Blog
So you've built a site, written content, and promoted it. You've grown an audience. Now it's time for the fun part.
Let's make some money.
Affiliate Marketing
I recommend lifestyle bloggers start with affiliate marketing before any other monetization method.
I love affiliate marketing because it's a low-effort way to monetize your website without ruining your reader's experience.
To monetize your lifestyle blog with affiliate marketing, first, you have to identify products your audience will find helpful. Then, find the affiliate program for those products.
For beginners, I recommend focusing on the Amazon Associates affiliate program. The conversion rate is incredible, and you can diversify when your site is more successful.
For products that aren't available on Amazon, do a Google search for "[Product] affiliate program," and you'll find their program's signup page.
Once approved for your affiliate program, add your affiliate link to products and images, and you're ready. You'll earn a commission if a reader clicks on your link and makes a purchase.
Make More Affiliate Income With Lasso
If you want to take your affiliate marketing strategy to the next level, I recommend you sign up for Lasso.
Lasso is a WordPress plugin that helps affiliate marketers manage links and create product displays that convert.
Let's say you're monetizing your site with Amazon Associates and want to recommend a fancy piece of merch.
All you need to do is paste the Amazon link in your Lasso dashboard, add some spicy sales copy, and you're ready to insert that link into your blog posts.
Your product displays could look like this one:
Great Displays Increase Conversions!
If you ever need to change the link, you can do it once in your Lasso dashboard, which will update the link across your entire website.
That's not mentioning things like Tables, Grids, Lists, Link Alerts, etc.
If you want to monetize your lifestyle blog easily, join Lasso.
Best for Monetization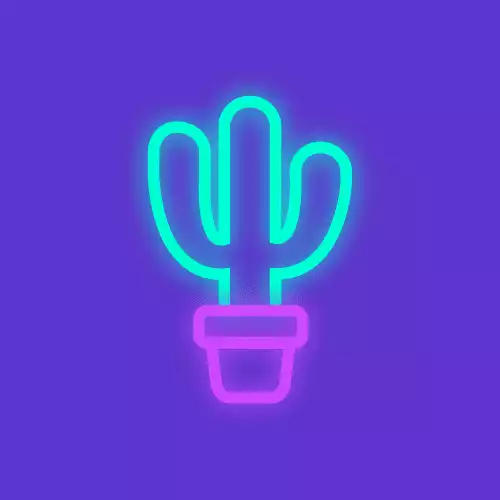 Display Ads
Another great way to monetize your lifestyle blog is with display ads. Display ads use cookies for advertising products your readers will love, so it's a very individualized experience.
Display ads are also the most passive monetization method. You turn them on, configure the settings, and wait for the money to roll in.
The drawback to display ads is that nobody likes them. It's why so many people install ad blockers in their browsers (which stop you from making money, by the way).
Tip: If you use display ads on your lifestyle blog, configure the settings to prioritize user experience. By being selective with your ad placements, you'll make more money in the long run.
Here are the best ad networks to join based on your site's page views:
50,000+ Visitors per month – Mediavine
10,000-50,000 Visitors per month – Ezoic
<10,000 Visitors per month – Google Adsense / waiting to grow
NOTE: With the low rates ad networks pay, it won't be worth running display ads if you have less than 10,000 monthly visitors. You're better off focusing on affiliate offers and creating more content to grow your following.
Digital Products
Selling digital products is the easiest way to transition from advertising other people's products to selling your own.
That's a significant step to take because it means instead of earning 3-8% of the profit, you're taking 100% of the profit.
The drawback to selling anything is that you're responsible for the bulk of the work. You need to provide customer service, handle returns, and find a way to process payments and distribute products.
Once you've created a digital product, connect a payment processor like Paypal or Stripe to your site with a plugin like Woocommerce.
Then you can use a tool like Convertkit to automatically email the lead magnet to customers after they've finished checking out.
It's a lot of work, but the extra profit is worth it.
Consulting
Because lifestyle blogging is so diverse, it's an excellent niche for selling consulting services.
If you've done what I recommended and immersed yourself in the niche, you'll have gained valuable knowledge to sell to your readers.
The best thing is they'll tell you what they need help with.
As your audience grows, there will doubtlessly be people reaching out and asking you for help.
Offer them an hour of your time for $100. Of course, the worst thing they can do is say no, right?
If you find you're selling a lot of consulting services, you can even create a section of your site dedicated to your services.
👉 Sidenote: You can use Lasso to increase your consulting sales. Set the destination link to your contact page, and you're all set! 🔥
7 Tips For Building A Successful Lifestyle Blog
Now that you know how to build your first blog, here are a few tips to accelerate your success.
1. Be Authentic
I said it before, but it bears repeating: people will know if you're faking it.
You need to live in that world to be an authority in this niche. Experiment and gain experience.
That way, when you write about your experiences, your readers will relate to you and believe you know what you're talking about.
2. Encourage Engagement
A lot of lifestyle bloggers get to a point where they struggle to find things to write about. Which is silly because all you need to do is ask your audience.
If you ask your Twitter audience what they want you to write about, they'll give you three months of post ideas in a snap. And, since it's what they asked for, you won't need to wonder if it will resonate with them.
3. Niche Down
If you've published 100 articles, but only ten are getting traffic, you probably need to niche down.
Since some of your articles rank, it means Google considers you an authority in something. So look for similarities between those articles and double down on them.
Wait until most of your content gets traffic, then start broadening your content strategy.
4. Provide Better Offers
A simple way to increase your lifestyle blog's revenue without increasing traffic is to focus on conversion rate optimization (CRO).
Adding product displays to posts, changing CTA button colors, or tweaking your sales language can increase your site's profits overnight.
5. Diversify
If you follow any of the creators on niche site Twitter, you may have noticed many creators get hit by Google algorithm updates and panic. Or, when Amazon cuts commission rates, people have meltdowns.
When you diversify your traffic sources and revenue streams, a large corporation can't destroy your site on a whim.
6. Outsource And Automate
Hopefully, after following my advice, you'll create a wildly successful lifestyle blog that you'll be burdened by your success.
When your site is taking off, you'll likely hit a plateau. You'll be limited by your ability to churn out content. That means it's time to hire a writer (or a team of writers). You can find good writers on ProBlogger and Upwork.
If you're spending a lot of time searching through spreadsheets for the correct affiliate link, it's time to automate that process with a tool like Lasso.
There are only so many hours in the workday. So spend less time on things that can be outsourced or automated, and invest your time in more important tasks.
7. Repeat What's Working
The significant difference between successful and unsuccessful lifestyle bloggers is that successful people run tests and track results.
If you track your clicks with Google Analytics and see what kind of products your audience resonates with, then publish more blog content about those products.
Test everything you can think of and measure the results. Then, when you spot a trend, jump on it. This strategy will grow your revenue exponentially.
Further Reading:
How To Start A Lifestyle Blog | FAQ
How Much Do Lifestyle Bloggers Make?
The income range for lifestyle bloggers is enormous. Many bloggers make no revenue, while some lifestyle blogs make over six figures per month. It all depends on traffic and how well you present your offers.
How Can I Monetize A Lifestyle Blog?
The best way to monetize a WordPress blog is with affiliate marketing, but you can also use display ads, sell digital downloads, or even sell coaching services.
How Do Lifestyle Bloggers Get Paid?
Most lifestyle bloggers make money through affiliate commissions and advertising fees. These monetization methods pay out one or two months after the generated fees.
Some lifestyle bloggers also sell sponsored posts, consulting services, or their own products. In these cases, a payment processor like PayPal or Stripe is necessary.
Is Lifestyle Blogging Easy?
Nothing worth doing is easy, but that doesn't mean lifestyle blogging isn't fun.
As a lifestyle blogger, you'll get to go places, try new things, and meet new people. And it will be part of your business! What could be cooler than that?
Is It Worth Starting A Lifestyle Blog?
It's worth it to start a lifestyle blog. Not only can you make a living from it, but you can also build a community and control the conversation.
Once you're an established authority, people in related industries will take you seriously.
Further Reading:
How To Start A Lifestyle Blog | Final Thoughts
That's all my advice for someone wondering how to start a lifestyle blog.
This is a harsh industry. People work for months and even years before their blog earns its first sale. So you might lose money in the first year. But it's worth it.
If you want to become a successful lifestyle blogger, follow the tips in this guide, be persistent, and publish the type of content you'd like to read. It's a lot of hard work, but you can do it if you stick with it and keep learning.
After you build something incredible, come back here and tell me about your blogging journey. Good luck!
Our creations in your inbox, weekly.
We've built multiple six-figure online businesses that our moms are proud of.
We'd like to help you do the same.