Trying to figure out how to rank higher on Google? Let's fix that. This post details 9 tips you can do right now to improve your site's visibility, performance, and rankings.
Let's go.
#1. Improve Organic CTR to Get More Traffic
First, let's find the target keywords and pages in question that need optimizing. You can do this a couple of ways:
Google Analytics
Ahrefs (or another paid tool like SEMrush)
Popular opinion says to target keywords in positions 11-20 but also in spots 2-10. So let's start with keywords that rank in positions 2-10, as that's where you'll see the biggest traffic increases.
We know this when looking at organic search click-through rates (CTR) from Advanced Web Ranking data: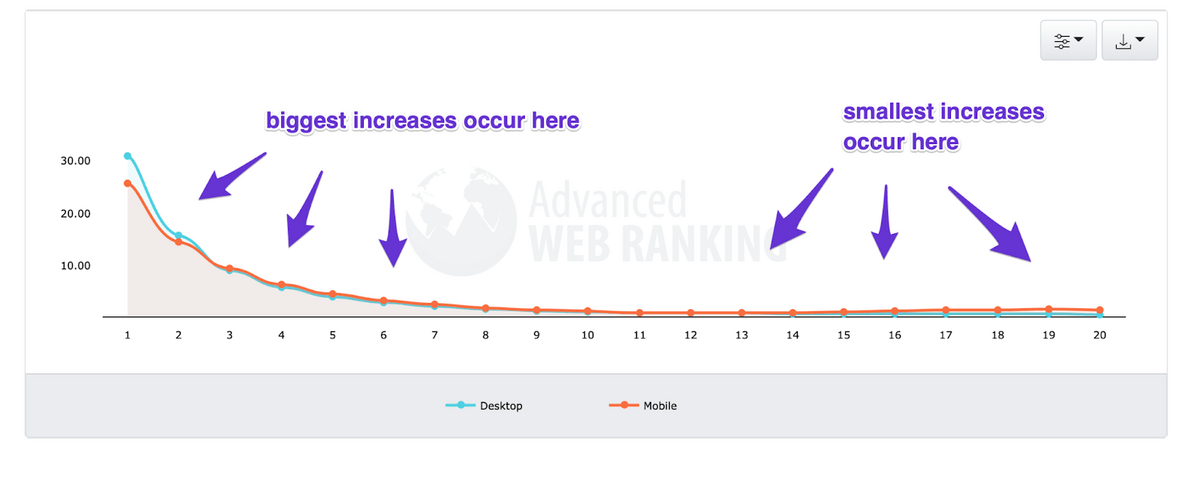 For example, if you climb ten spots from position 20 to 10, it's a marginal gain (0.42% CTR in position 20 to 0.93% CTR in position 10).
On the other hand, jumping from position 6 to 5 goes from 2.73% to 3.83% (desktop).
If you want to gain traction fast (and see more traffic), start with keywords you already rank for in the top ten spots.
Targeting Positions 2-10
You can paste your domain into a tool like Ahrefs Site Explorer, then head to the Organic Keywords report.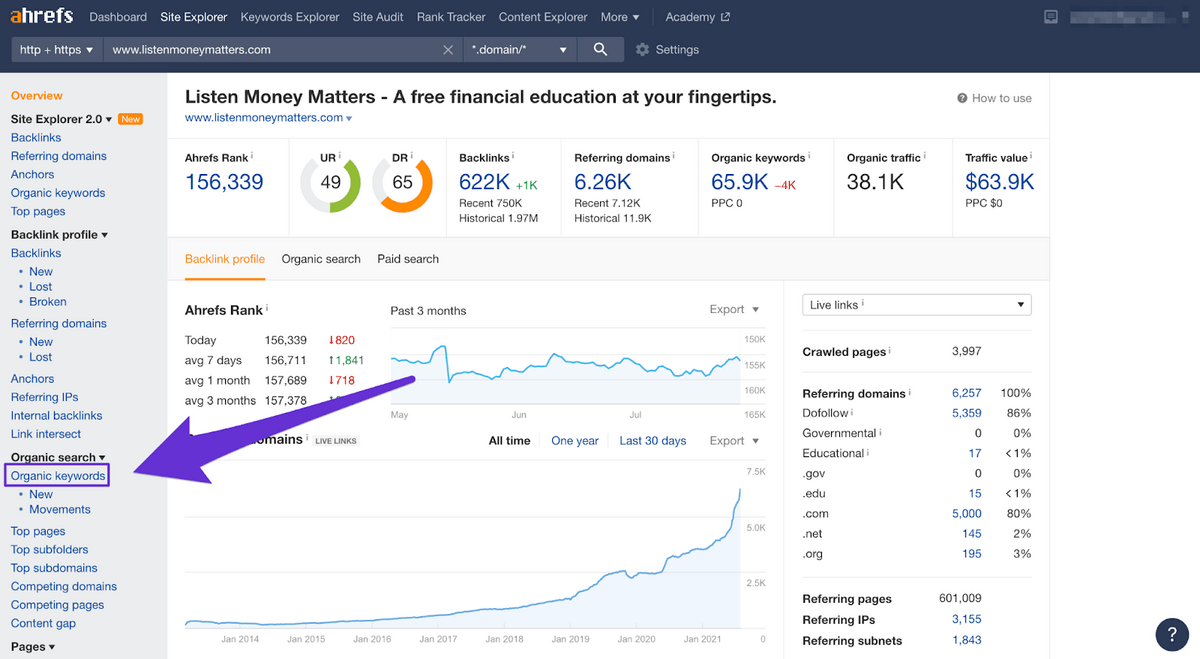 Then filter your keywords for positions 2-10, exclude all SERP features, and choose "Only linking to target."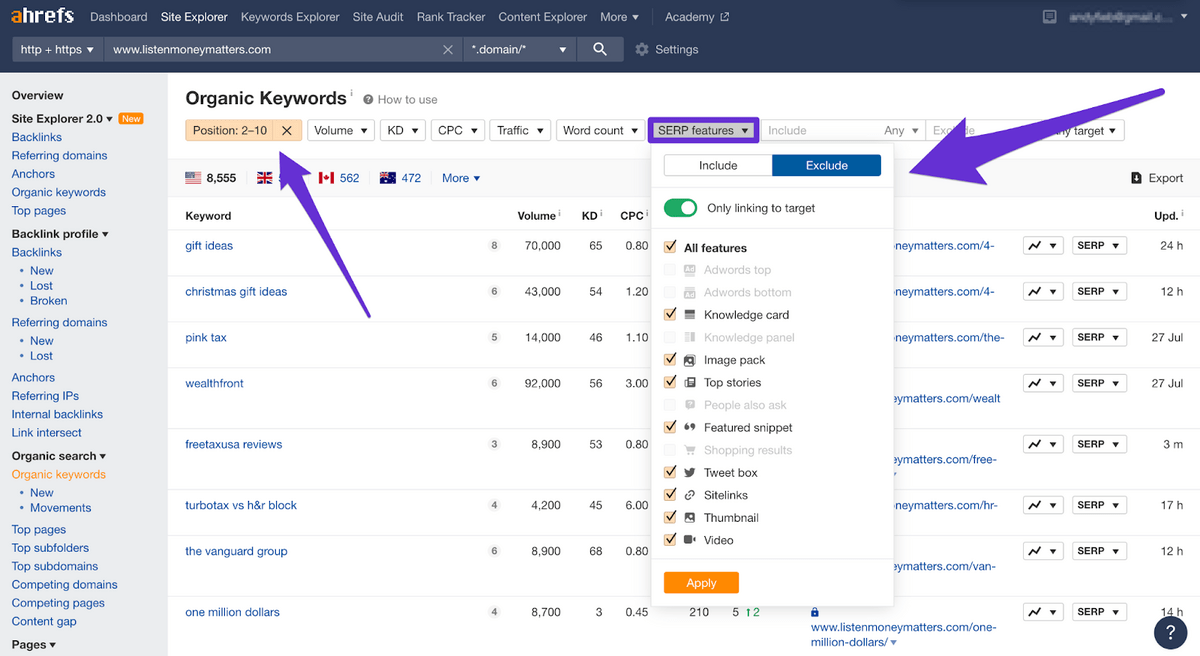 Now, you'll see the keywords you're already ranking for that need a little love. From here, it's a matter of determining which keywords:
Have the biggest business value
Have a lower KD score
Generate a decent amount of search traffic
Sidenote: SERP stands for search engine results page and is what Google displays when searching for a keyword phrase.
Targeting Positions 11-20
You can do this for free with Google Analytics (GA). If using GA, head to Acquisition > Search Console > Queries.

Click "Advanced filter" (I already have one in place, so I'll click Edit"). Then, set the filter to "Include Average Position Greater than 10" and click "Apply."
Then click the "Average Position" column to see those keywords descending from highest to lowest position.

This only works if you've linked your Analytics to Google Search Console. Check out this post on how to do that.
Alternatively, you can use Ahrefs for this too. Follow the same steps from the first example but replace your high-ranking keywords in spots 2-10 with your target keywords ranking in spots 11-20.
Here's why targeting both 2-10 and 11-20 are both good ideas.
While the bigger gains come with 2-10 ranking positions, I also think it's important to get those small gains.
It's like when you're paying off debt: some argue that paying off the credit card with the highest interest rate is best. While others say paying off the one with the smallest balance is better.
Here's the thing:
There's no bad option because you're still paying off your debt.
Another thing:
You might see a huge boost in rankings from a post in the 11-20 tier because it was outdated and didn't match search intent (more on that below). However, once you adjust for that, it's possible to see a nice jump in the SERPs (even landing on the first page).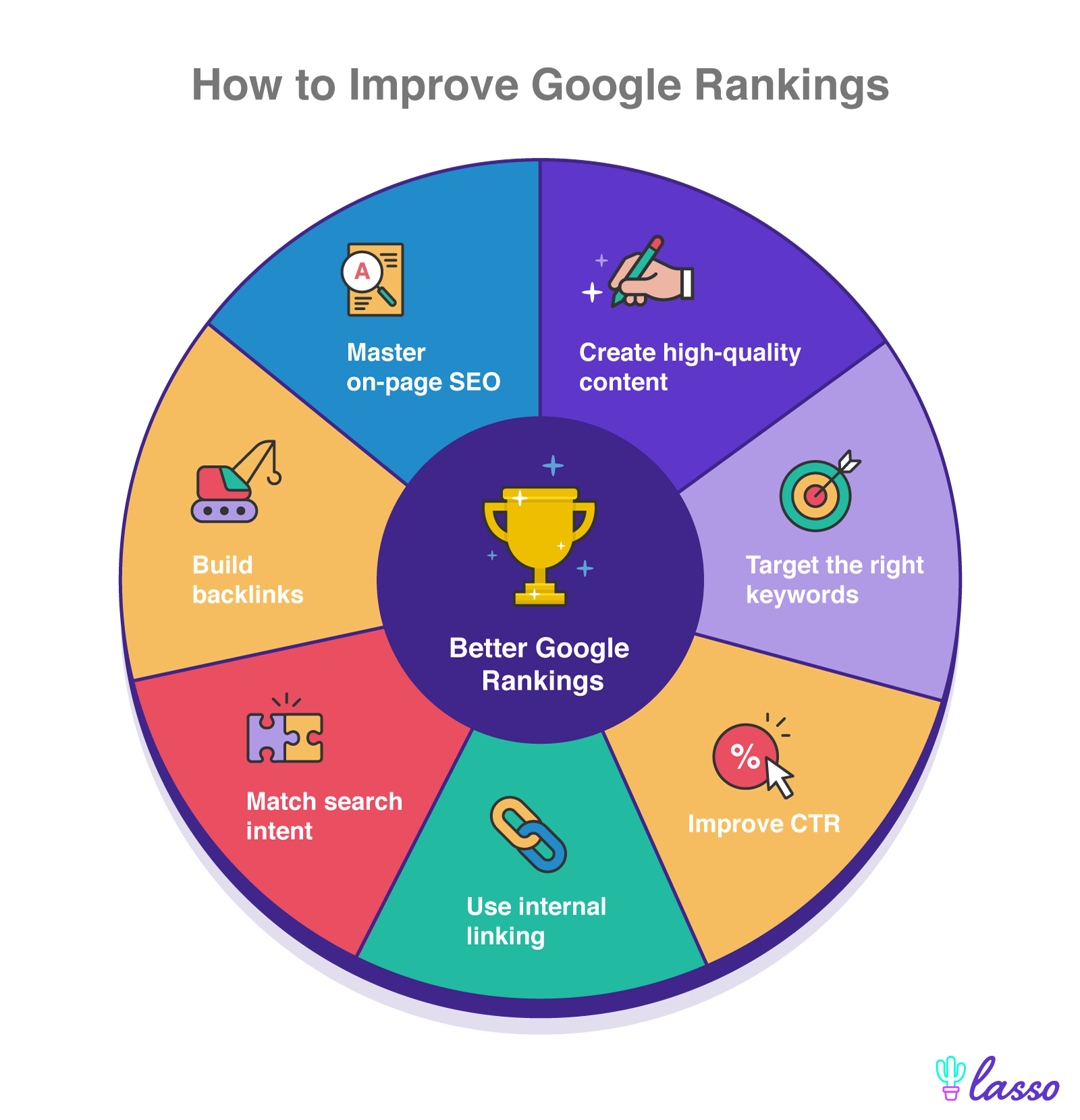 Sell Your Content to Your Readers
Improving CTR goes a long way to getting more eyeballs on your blog. Think of everything on your site as an entry point that takes visitors from point A to point B – whether it's an article appearing in the SERPs or a product display; you want to attract clicks.
I'll highlight two examples of entry points and how you can optimize them.
Entry Point: the SERPs
If you're optimizing for organic search, then you'd want to ensure every post has a good:
URL
Title tag
Meta description

We could revisit the above post and adjust the title tag, so it's not truncated in the SERP.
Those three elements (aka "blue ink") are what you typically see in search results. If your site has nabbed a rich snippet, yours may include added components such as star ratings, time lengths, links to other pages on your site, number of reviews, etc.

Tip: Try using an SEO toolbar browser extension for doing a quick on-page analysis of your competitors. Both MOZ and Ahrefs have one. They help to study meta descriptions and title tags to see what works (including the character counts).
For example, this post's title gets cut off:
When using an on-page SEO toolset like Ahrefs, you can see how many characters the title has.
The below has 67 characters which is why it's truncated.

These tools are great ways to study top-ranking headlines and meta descriptions to see what works. Higher CTRs signal to Google that people like your content (and leads to more traffic).
We cover tips on optimizing your title tags, metas, and URLs in the "Master On-Page SEO" section below, so be sure to read to the end of this post.
Entry Point: Product Display
Product displays are the optimal way you can promote any kind of product on your website. Text-only links won't get you as many clicks.
The more information you can give your readers, the more enticing your offer becomes (much like nabbing a rich snippet in the SERPs in the previous example).
If you're using a tool like Lasso, you can create custom product displays to showcase its:
Star rating
Pros & cons
Trust badge
Custom descriptions
Secondary CTA button
Winner and Best Overall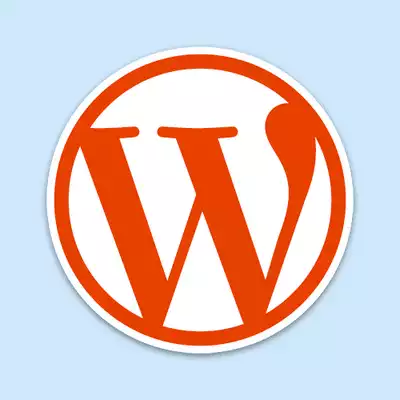 WordPress
WordPress comes out ahead thanks to unlimited flexibility, powerful themes, and awesome plugins (like Lasso) available through the community. There's a bit of a learning curve for new WordPress users but the platform's raw power more than makes up for it.
Pros:
eCommerce & SEO-friendly

Flexible hosting options

Extensive template library
Cons:
Lacks "official" customer support team
Explore WordPress.org
Read Our Review
When you think of each place of your website as an entry point, consider the job that needs to get done. Whether it's an opt-in on your homepage or a CTA at the end of a blog post, where do you want your visitors to go next (and will it attract clicks)?
Further Reading:
#2. Create High-Quality Content
It sounds like a no-brainer but needs repeating. It's no secret that the number of backlinks determines page rank (i.e., higher rankings typically go to content with more backlinks).
Write things that people want to link to, and it typically gets more shares across social media and linked to from other websites. While nobody knows every element of Google's algorithm, creating detailed, high-quality content gives readers a better user experience.
It takes more time but is worth it.
For example, this blogging statistic from Orbit Media shows that the number of hours successful bloggers spend writing a post is six hours or more.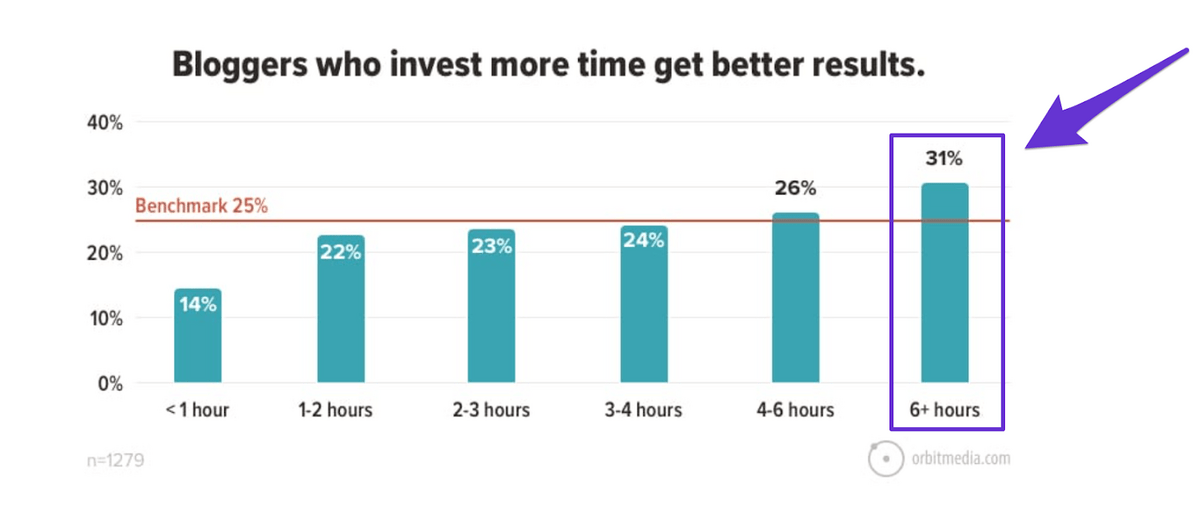 While Rebekah Bek says:
For reference's sake, it can take us more than 20 hours to write a blog post at Ahrefs.
So, the time invested (and your posts are investments) pays off if you consider Google as a long-term acquisition channel where you get organic traffic.
So, take the time to create something meaningful. Here are some steps you can take to create things people want to link to.
Build Link Magnets
Link magnets attract links. They're things people want to link to, whether it's a study, video, infographic, or something else.
Brian Dean of Backlinko mentions that many bloggers and journalists cite his content by becoming a data source and packing his posts with stats and figures.
For example, take a look at this SERP (I used search operators to find his posts with the words "we analyzed" in the title as these types tend to be case studies and data-driven reports):
He's written eight case study-style posts (and that's only with the words "we analyzed"). When creating studies like these, you become the linkable source.

You can see this single post (above screenshot) has nearly 1,000 new links in the last six months when adjusting the filters to:
dofollow links
New links
Links appearing "In Content"
Setting the language filter to "English"
You can do this for any industry or niche you're in.
When you examine the anchor text people use when linking, many times it's either a metric or the words "a study by":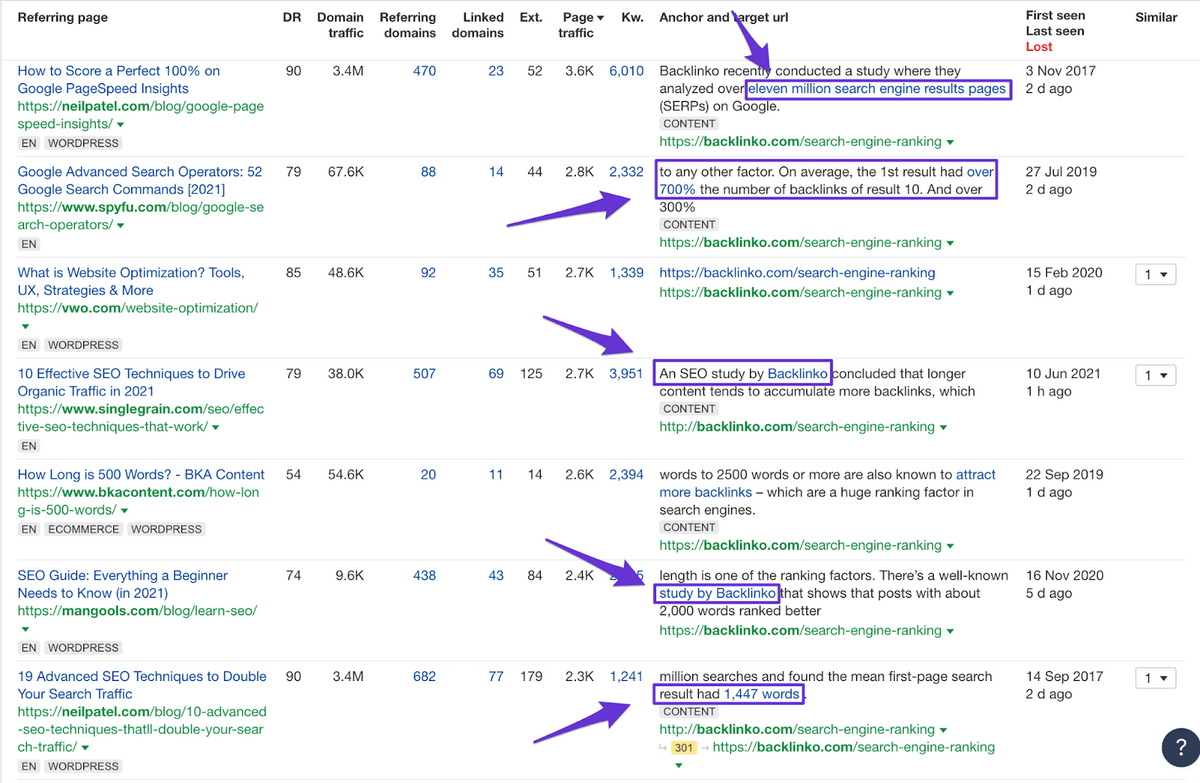 That shows people are hungry for data. Seeing the ways people link to specific content pieces can inform you what they find link-worthy.
And this is only one example. You can try this search operator hack to determine what studies your competitors have already created.
Just use these filters:
site:domain.com intitle:case study
So, my example in the search field read:
site:backlinko.com intitle:we analyzed
You can see what studies people are linking to and look for any gaps that might present you with an opportunity to write your own.
Further Reading:
Add Visual Content to Boost Time On Page
Reduce bounce rate and lift your "time on page" metrics by adding visual elements to your posts. This does two things:
Serves as a visual guide
It keeps readers on the page longer
Visuals also break your content up into sections which makes it easier to consume.
If you still need more convincing on why our brains are wired to respond to visual marketing, check out this infographic. 
Sidenote: Technically, bounce rate refers to single-page sessions, so if readers spend 30 minutes on one of your pages and then close their browser or return to the SERPs, that's still a bounce. But, it's still better to keep them on the page and potentially lead them to other parts of your website.
Tip: When adding images, label them with alt text and use keywords when relevant.
#3. Target the Right Keywords
We've written about this before, so I'll link to it at the end of this section. But, without going into too much detail, targeting the right keywords means learning the language your audience uses to search for content.
You want to target those terms and phrases that people are already searching for. This makes it easier for search engines to find your content and display it.
Keyword research is an important part of Google rankings because that's how searchers find you.
Once you've decided on your keyword, use tools like Clearscope that show you related phrases. This helps you to include more relevant terms and helps Google to understand better what your web page is about.
Further Reading:
#4. Use Internal Links
Internal links pass authority and relevance from one page on your site to another. They also make your site easier to navigate and give the page you link to a small rankings boost.
One way to find internal linking opportunities is to use Google's "site:" search operator.
For example, I recently wrote a post about featured snippets, and now I want to link to that new content from existing posts on my website.
To do this, I'd use this search operator:
site:getlasso.co "featured snippet"
When I do that, Google finds every mention of the phrase on my website:
Then I'd head to those posts, hit "Command + F" to find where my keyword appears in the article, then add an internal link using the anchor text "featured snippet."
Tip: Linking from a stronger page to a weaker page can also give the weaker page a small boost.
A good internal linking strategy helps your readers find additional content that one post may not cover in detail, but another does.
Further Reading:
#5. Match Search Intent
Matching search intent is one of the most important things you can do because if you publish a blog post that doesn't match what's on the first page, you're SOL.
Google tries to understand the intent behind a search query. That's why different terms yield different results.
For example, when I enter men's dress shoes, I get many eCommerce pages listing in the SERPs.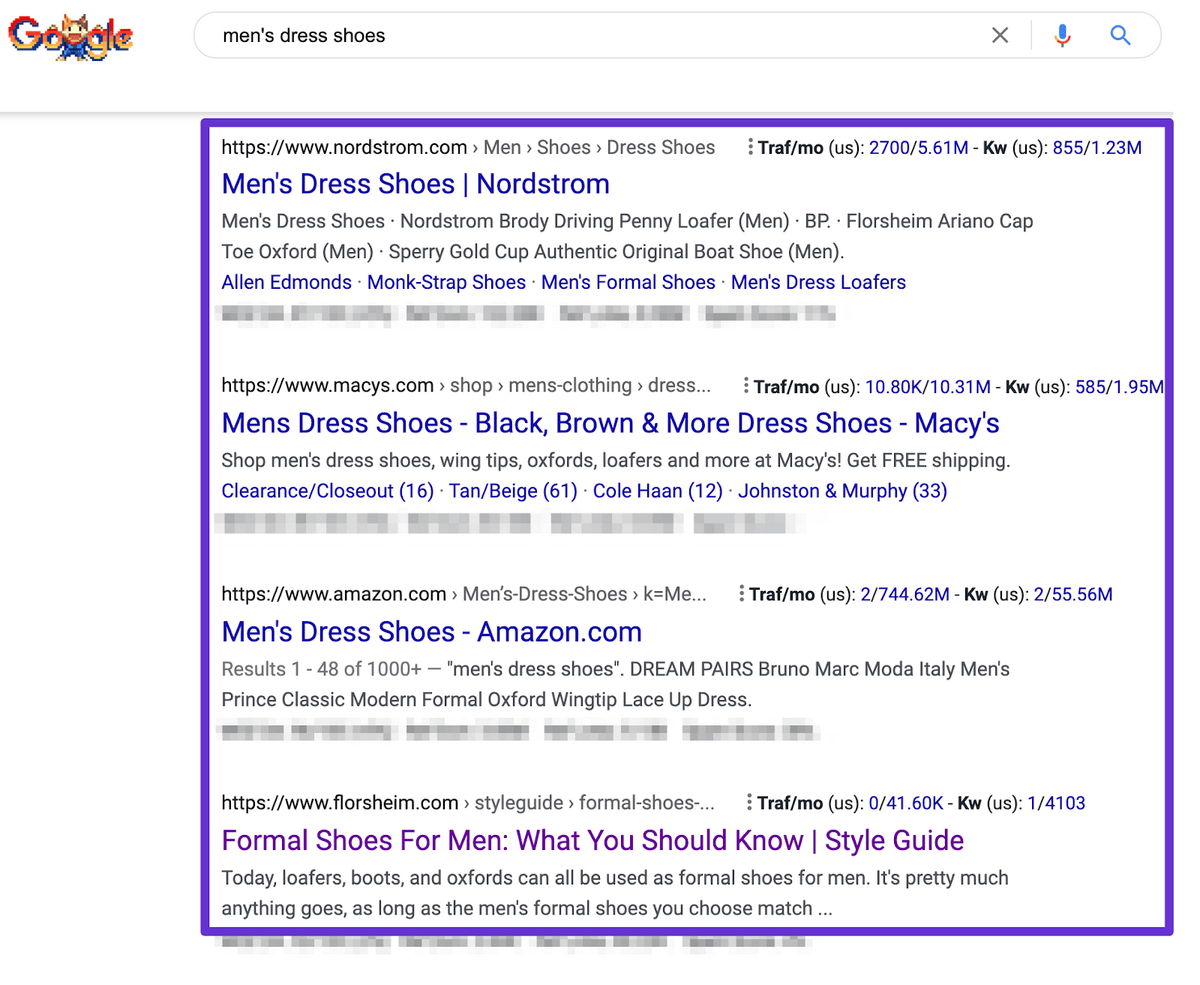 Notice there are no blog posts about what dress shoes are or the best dress shoes to get – only eCommerce pages.
Now, when I search for another term, "link cloaking," I get blog posts primarily and "how-to" articles: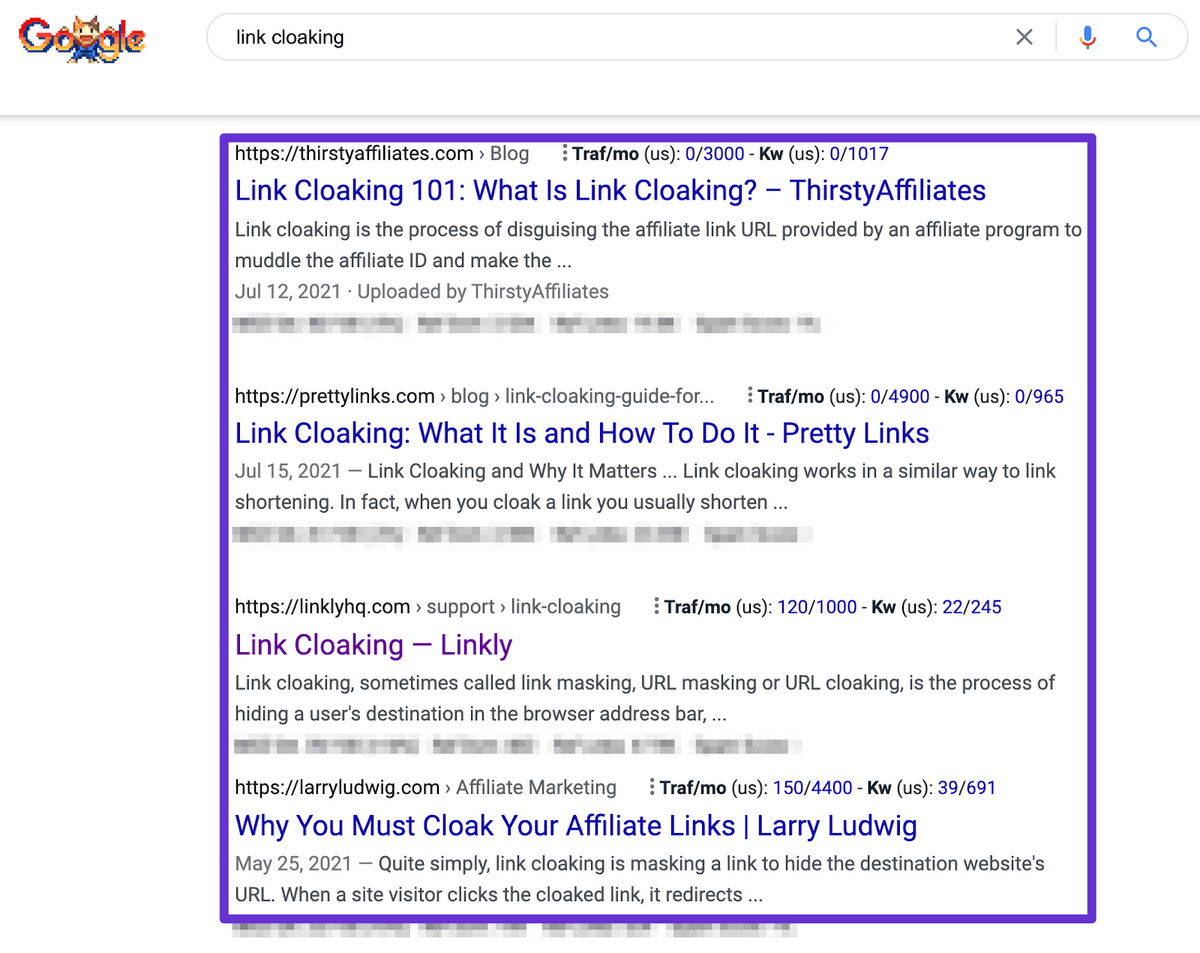 That's why it's a good idea to check what content type is ranking on the first page.
#6. Build Backlinks
The number of referring domains pointing to a website is a ranking factor determining your domain's authority. The more referring domains, the higher your authority.
There are several link building strategies you can use, including:
Broken link building: When you reach out to the webmaster and tell them you found a broken link on their site and ask to replace the broken link with yours (tried and true SEO strategy)
Guest blogging: When you pitch to related sites asking to write and publish a piece of content on their site. Guest posting is a great way to leverage another website's audience.
Turn brand mentions into links: When you find people who mention your site but don't link to it. You can reach out to these outlets and ask for a link. Again, it should be relatively easy since they're already talking about you.
You can also try outreach tactics using SEO tools like Ahrefs or SEMrush to see who's linking to your competitors but not you, and then reach out to those people pitching why your post would make a nice addition to their blog.
Any of the above methods can lead to a boost in your search ranking.
#7. Master On-Page SEO
It's a good idea to know the basics of how Google search results work if you're a webmaster or blogger. Search engine optimization (SEO) is when you write posts that make it easy for search engines to find you.
On-page SEO is a quick win because it's something in your control. Here are a few tips to get started.
If you're jockeying for a spot on the first page of Google, the three things to focus on first is your:
Title tag
Meta description
Url slug
Include your keyword in the title tag
Sounds like a no-brainer but worth mentioning. If you're writing a post with the keyword "blog taglines," you should include that phrase somewhere in your headline, so people know that's the primary topic.

Ideally, aim to put your keyword phrase as close to the beginning of your headline as possible when it makes sense.
WordPress plugins like Yoast SEO can help with this. We have it installed on our sites. It gives you an indicator about title tag placement: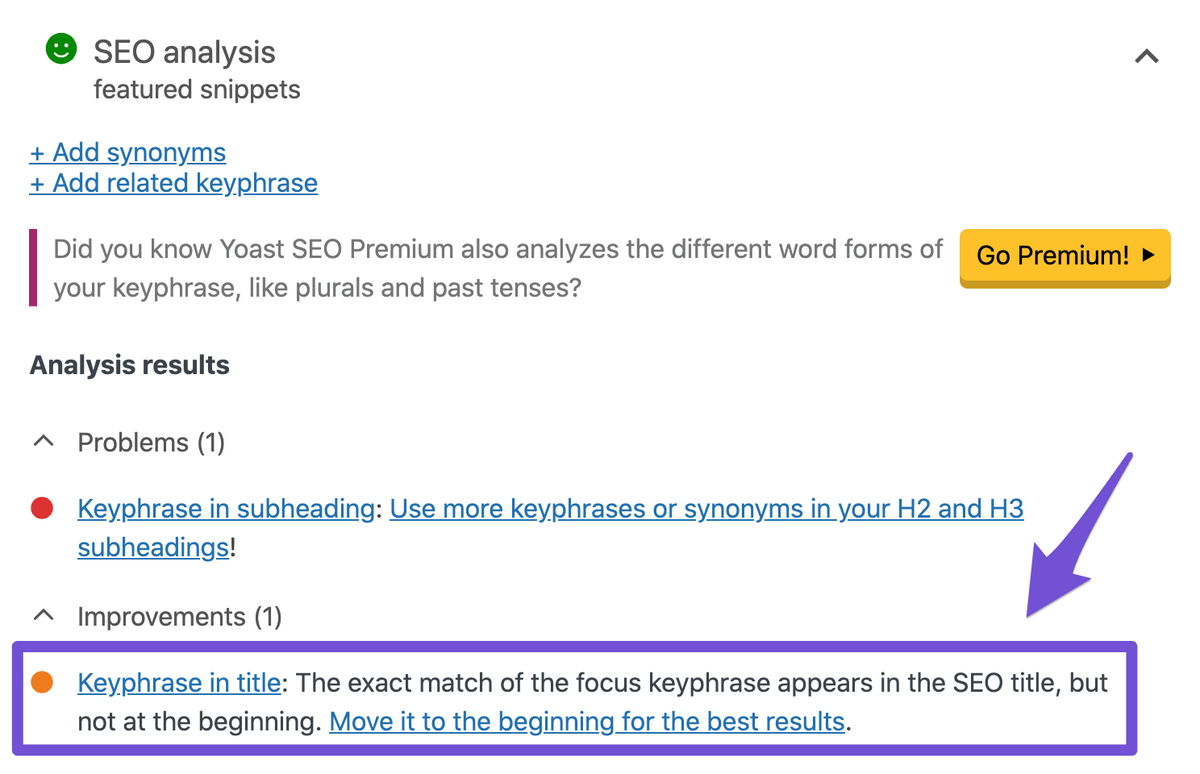 It tells you to place your keyword phrase closer to the front of the headline when it detects otherwise.
Sidenote: Sometimes, placing your keyword at the beginning of your headline isn't the best choice. For example, the above had the phrase "blog tagline" near the end as it felt more natural.
Tips on writing clickable headlines:
Use numbers (people love numbered lists and step-by-step tutorials)

Ask questions (create curiosity gaps that compel people to "find out")

Use benefit-driven copy (show them what they'll get out of it)

Tip: try using parentheses in your headlines to break up your copy, make it more eye-catching, and hook readers.
Write click-worthy meta descriptions
Google doesn't place much weight on meta descriptions as a ranking factor. Sometimes, they even use their own from other parts of your content, so it's not 100% in your control.
But it's still worth doing because it's another opportunity to "sell" your content to searchers.
You can follow a simple template when writing yours. Try using Problem. Solution. CTA. For example: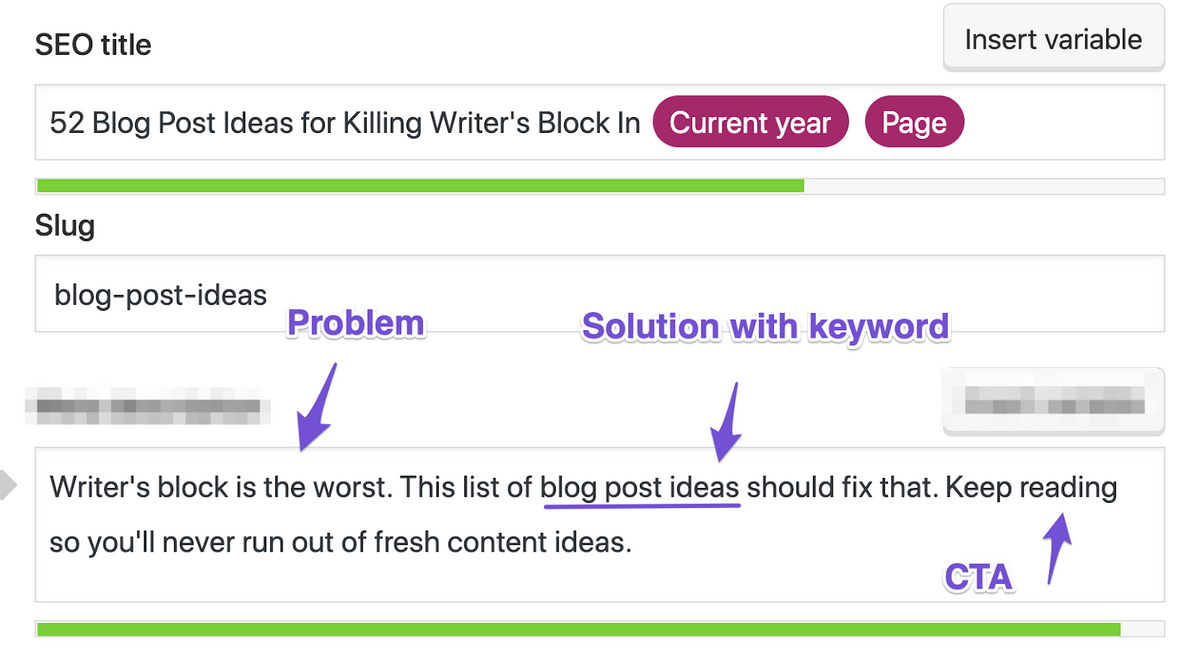 Use short, keyword-rich URLs
Make it obvious at every step by telling them what they're about to read – even your URLs.

You can change your URL slug inside your CMS by clicking "Edit." Sometimes WordPress will automatically include your entire headline in the slug and make it too long. That's why it's a good idea to check yours before hitting publish.
Sidenote: The slug refers to the part of the URL after the domain. For example, "niche keyword research" follows the domain and is the "slug" portion of the URL.
You should be able to look at a website's address and know what the page is about. However, this only scratches the surface of on-page SEO. If you want more details, you can read about them here.
#8. Make Your Site Mobile-Friendly
Here are seven reasons you want a mobile-friendly site:
Most internet traffic comes from mobile devices.
More people buy products on their mobile phones.
Ignoring mobile users alienates over half of the internet.
It's a ranking factor.
Designing for mobile is easier than desktop.
Creating and formatting content is simpler.
Maintains your site's relevance
The number of smartphone users has increased to 3.5 billion worldwide. Mobile devices generate over 50% of traffic globally. This single reason is why you need a mobile-friendly website.
If you're not optimizing for that demographic, your competitors will. So here's what you can do.
Take Google's Mobile-Friendly Test to understand how your site fares. Once you get the results, follow their recommended next steps.
Why listen to Google? Because they're the most widely-used search engine in the world.
Adjusting your website to meet mobile users' needs can increase your site's visibility, improve SEO rankings, and increase earnings.
Further Reading:
#9. Boost Your Site's Page Speed
Page speed is essential for many reasons; SEO, your users, and your bottom line. Using specially designed tools helps your page load quicker.
If your pages load slow, your visitors are more likely to leave.
To test your site's speed, you can use free tools like GTMetrix or Google Page Speed Insights.
Think page speed doesn't matter?
Google says when your page load time increases from one second to three seconds, your bounce rate rises 32%; from one second to five seconds, bounce rates increase by 90%.
This Tweet also hammers home the point that Google wants to give users the best experience possible (which includes both mobile-friendliness and fast-loading sites):
Speed and mobile-first indexing: The mobile speed update in July is independent of mobile-first indexing. Fast sites are awesome for users, especially on mobile, since devices & connections there tend to be slower than with desktops.

— Google Search Central (@googlesearchc) June 14, 2018
You can use a combination of WordPress plugins to enhance your site's overall performance. For example, Cloudflare, WP Rocket, and Imagify power Lasso.
We use Cloudflare's CDN (Content Distribution Network) to speed up content deliverability to our site with the added benefits of reduced bandwidth and increased site security.
WP Rocket helps with browser caching, image lazy loading, and removing unnecessary WordPress Javascript (e.g., emojis).
Imagify uses image compression to automatically reformat your images with enhanced algorithms to reduce their weight.
Google ranks pages with faster load times higher up the SERPs. A good user experience includes page speed so be sure your site's up to snuff.
Further Reading:
Last Words
Trying to figure out how to rank higher on Google shouldn't feel like learning astrophysics. You can do it, but you need to put in the work. These tactics can help you climb to page one faster.
Chances are, there's one area of your site that needs improvement, so start there. Of course, everyone's at a different stage, but I think we're all chasing the same thing: more organic traffic, leads, and conversions.
Want more tutorials? Read this.
Our creations in your inbox, weekly.
We've built multiple six-figure online businesses that our moms are proud of.
We'd like to help you do the same.