WordPress users have thousands of themes to choose from, which can be both a blessing and a curse. While the massive selection provides virtually unlimited possibilities, many beginners struggle to choose a theme because there are so many options. So how do you know which one is the right choice?
This article takes a detailed look at the topic so you'll know how to choose a WordPress theme that's right for your site and your specific needs.
Wanna learn how to build a profitable online business in three minutes per week? Then, join our newsletter, The Monday Marketer.
Why Your Theme Choice Matters
The theme you choose will significantly impact the overall look and design of your WordPress site or blog. That might seem like the most significant factor, but several other reasons are just as important.
The theme dictates the functionality of your site.
A poorly coded theme might load slowly, which hurts the user experience and is terrible for search engine optimization (SEO). It's also possible that the theme could have code conflicts with plugins, causing problems for you or visitors.
You'll also be impacted by the support, or lack thereof, from the theme developer.
You can change themes at any time, but it's not something you'll want to do frequently. As your site grows, changing themes can become a big task that impacts many details throughout your site.
It's best to put some time and effort into the decision upfront to be sure you're choosing a theme you'll be able to use for a while.
Free Theme or Premium Theme?
There are two main categories of WordPress themes: free themes and premium themes. Some offer a basic version with a premium optional upgrade.
The cost of premium themes will vary, but typically it's less than $100.
Most themes will come with customer support and updates for one year. So while you technically can continue using the theme without paying again in the future, you'll want to have access to future updates, which means you'll need to renew the license.
An outdated theme is a security risk and may lead to WordPress compatibility or plugin issues.
Going with a free theme might seem like an easy choice since you won't have to spend any money, but with a budget of only $50 – $100 per year, you can get access to a premium theme that offers more features, as well as professional support from the theme developer.
Here are some of the reasons why you might want to go with a premium theme:
Tip: If you don't have the budget and need a free option, be sure to go with one from a reputable developer. There are some excellent choices available. Kadence, Astra, and GeneratePress are some of the best WordPress themes.
The best free WordPress themes all offer premium versions as an optional upgrade.
They're also lightweight, well-coded, and load quickly.
Astra and GeneratePress are solid choices, but Kadence is my top recommendation. The free version of Kadence offers incredible customization options, mainly when used with the free Kadence Blocks plugin.
It's very close to what you would get with a premium theme. The main difference is the lack of priority support.
Further Reading:
The Best Places to Find WordPress Themes
It's possible to find and download WordPress themes from countless different websites, but it's highly recommended that you only use themes from reputable, trustworthy sources.
Otherwise, you could use theme files injected with malicious code or hidden links. Here are some top places to find free or premium WordPress themes.
WordPress directory: You can download and install these themes directly from your WordPress dashboard.
StudioPress: StudioPress was one of the first premium WordPress theme shops, and they're still going strong. Their Genesis theme framework is a favorite of many developers and website owners.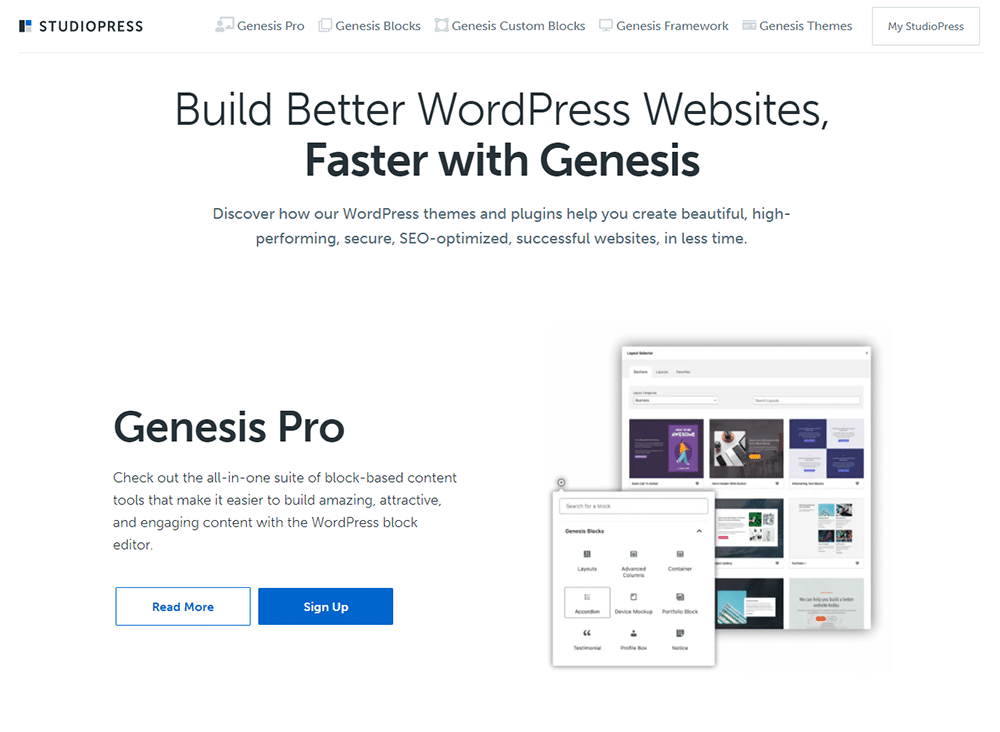 Elegant Themes: Elegant Themes is another shop that's been around for a long time. They offer two themes, Divi and Extra, that are highly flexible and beautifully designed.
Thrive Themes: Thrive Themes offers a theme builder that allows you to create a custom design and layout without coding.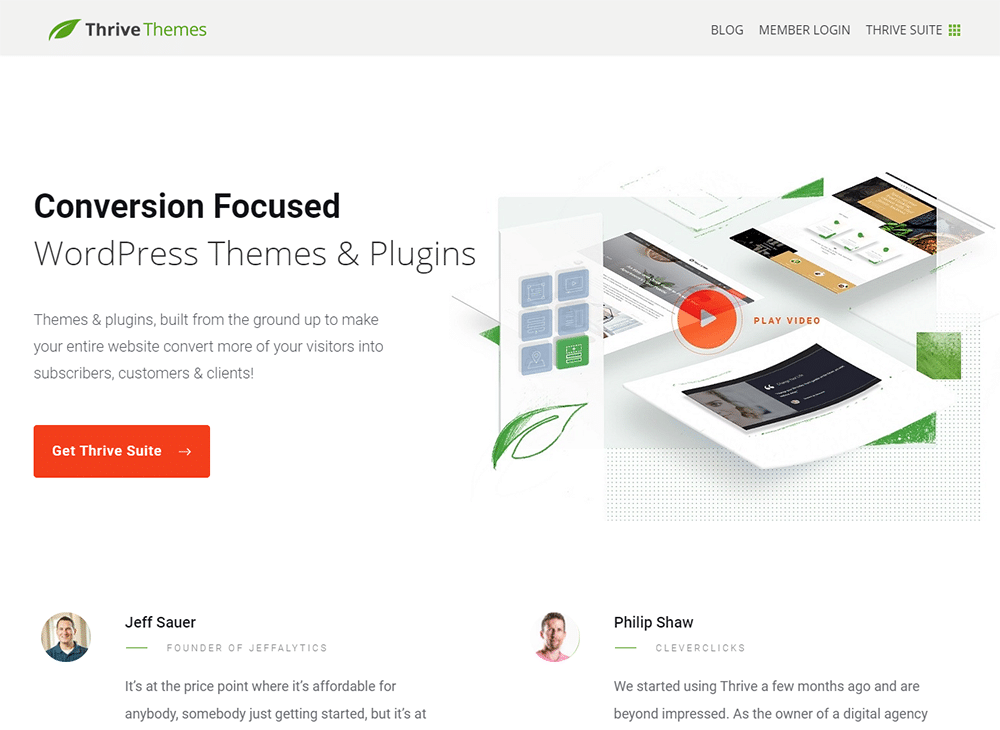 ThemeForest: ThemeForest is a popular marketplace that sells themes from various sellers. You can find all the different kinds of premium themes here.
For example, Total by WP Explorer is a multi-purpose, premium WordPress theme that fits various web design projects well.
While ThemeForest offers an outstanding selection, you need to be careful with the themes you purchase there.
Tip: The level of customer service and support you'll receive will vary depending on the seller or developer. Be sure to check the reviews from other customers before buying.
How to Choose Your WordPress Theme
As you're evaluating and considering different themes, here are some specific factors and details to keep in mind.
1. Responsive Design Layout
With about half of all internet traffic coming via mobile devices today, your website must look and function well on any device.
Thankfully, every quality WordPress theme available today is mobile responsive. So you won't find any modern-quality themes that aren't mobile-friendly.
Check the description or features of any theme you're considering, and you should find details about it being a responsive theme. You can also check to see when the theme was last updated.
Old themes that are outdated may not be responsive. At WordPress.org, you can see the date of the previous update for every theme.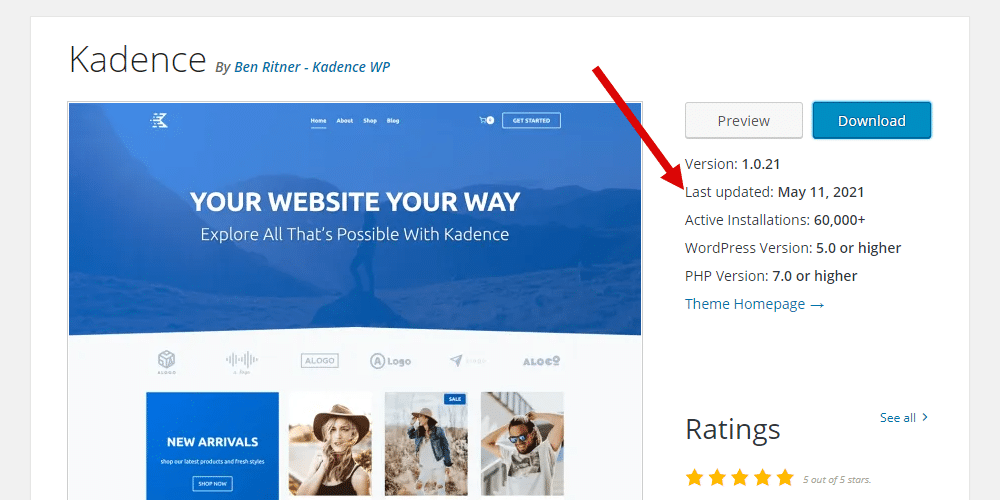 If you're looking at a premium theme, many developers have a changelog on their site where you can see the dates and details of all updates.
You can view Lasso's by heading inside your WordPress Dashboard > Plugins. Next, click "View details."

From there, click "Changelog."

2. Page Load Speed
The speed of your WordPress website is essential for user experience and SEO, and your theme can significantly impact how fast or slow your pages load.
Sidenote: It's challenging to judge a theme's speed before purchasing because other factors, like plugins and your web hosting, will impact page load speeds.
However, there are some things you can do to test any theme you're considering.
You can't always judge a theme's speed by the demo provided by the developer. In addition, the environment of the demo could be drastically different than your website.
Most times, a simple Google search yields a substantial amount of data.
Page speed is vital; test results are available on the most popular WordPress themes. In addition, you can usually find some data that grades or critique the theme based on its test performance.
The three high-quality free themes I mentioned (Kadence, Astra, and GeneratePress) have earned a solid reputation for performance, including fast loading times.
Going with a theme known to perform well is an easy way to ensure that it won't slow down your site.
Further Reading:
3. Layout Options
The leading themes today give you layout options. The details will vary, so check what's available before choosing yours.
Most have a demo site that displays the different templates or page layouts you can use. You can also check the demo to find a design that works for your site.
Some give you more control than others. For example, you might be able to make changes to how your pages or posts display, create a customized homepage or have complete command to create the layout you want.
4. Page Builder
Many modern WordPress themes either include a drag-and-drop page builder or work with a leading one like Elementor or Beaver Builder.
With the help of a page builder, you can create custom layouts for pages and posts without the need to code.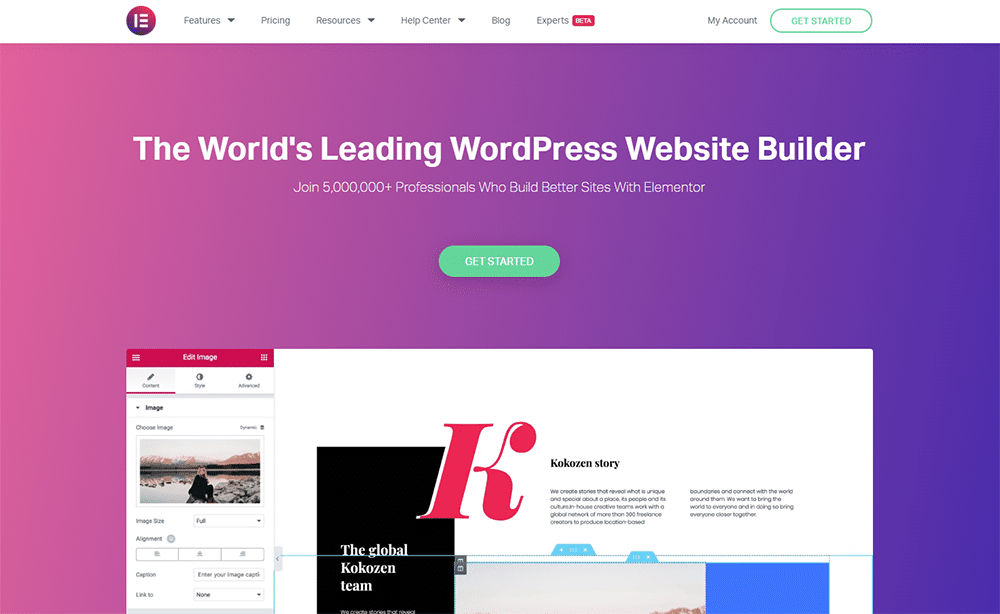 If you have a preferred page builder plugin you like to use, check for compatibility before deciding on a theme. If you can't find the details you're looking for, reach out to the theme's developer and ask if it's compatible.
Takeaway: Some themes will give you capabilities beyond a standard page builder. For example, the themes from Elegant Themes and the Thrive Theme Builder allow you complete control over your entire site, not just the page content. You can edit the header, footer, sidebar, search pages, and more.
Further Reading:
5. Customization Options
Some themes allow you to use the customizer in the WordPress dashboard to control details like colors, fonts, logos, headers, sidebar widgets, and more.
The options you'll have depends on the theme you're using. Check its details to see what options are available in the customizer.
The customizer is an easy way to control the look of your website without the need to code. But, of course, it's a major plus if a theme provides extensive customization options.
Further Reading:
6. Compatibility with Plugins
Up-to-date themes that are well-coded should work with most WordPress plugins. Some themes will list popular plugins that are compatible, but there are far too many plugins to expect to find details on them all.
If you have a favorite plugin essential to your site, it's a good idea to reach out to the theme developer and ask if it's compatible.
For example, if your site uses Gravity Forms for custom contact forms, you might want to check to verify that the theme is compatible.
Tip: Before going live with a new theme, it's always a good idea to test it first. Many web hosts offer staging environments where you can duplicate your site and activate a new theme. Staging environments are ideal for testing a theme's compatibility with your plugins.
7. SEO
Some themes offer specific features or functionality for search engine optimization.
SEO features in a theme aren't 100% necessary, but you'll want to be sure the theme will work with leading SEO WordPress plugins like Yoast SEO or Rank Math.
These plugins will give you everything you need, even if the theme doesn't include any specific SEO features.
Optimizing for organic search is a critical consideration for bloggers since most blogs get most of their traffic from Google searches.
You don't want to put in a lot of effort blogging and be held back by a poor theme.
When it comes to SEO, make sure that you're choosing a theme from a reputable developer and preferably one with a reputation for clean code.
The Genesis Framework from StudioPress is an excellent option.
8. User Reviews
You can learn a lot about the quality of a theme from reviews from other users. Themes in the WordPress.org directory all have ratings and reviews you can check.
Themes at ThemeForest and some other marketplaces also include reviews and ratings. Premium theme shops may not have reviews on their site, but you can find them elsewhere.
For example, Elegant Themes has a 5.0 (out of 5) rating at TrustPilot with over 15,000 reviews. That should give you a lot of confidence.

Remember that even a good theme will have some unhappy users, so don't write off a potential candidate because of one bad review.
Further Reading:
9. Support
One of the downsides to using free themes is the lack of support. You might use the WordPress forums or try contacting the developer, but you can't count on getting help from a free theme.
Having access to customer support is one of the biggest reasons to consider paying for a premium version, but the support options will vary.
Some theme developers use forums, while others favor a support ticket system. It's a good idea to check on the details before purchasing. You can also pay attention to user reviews that mention support as either helpful or not helpful.
Many theme providers also offer a knowledge base with video or text-based documentation and tutorials. This documentation is a great way to get the information you need without waiting for a response from customer service.
10. Price
Of course, price is also a factor you'll need to consider. Do you have the budget to spend $50-$100 on a premium theme? Most are reasonably priced, so you don't need to spend much money.
Tip: If you can't afford a premium theme, consider using a free version that offers a premium upgrade (like Kadence, Astra, or GeneratePress). That way, you could start for free and upgrade later.
Further Reading:
11. Licensing
If you're considering a premium theme, check the licensing details.
Some only allow you to use it on a single website, and then you would need to upgrade to a more expensive license if you want to use the theme on multiple sites.
Others allow for unlimited use without the need to upgrade. Some also differentiate between using the theme for your sites vs. client websites.
This is especially important if you own multiple sites, might launch other sites in the future, or if you set up and manage sites for clients. Themes that allow unlimited use, like Elegant Themes, are a fantastic value because you won't need to buy on a per-site basis.
12. Functionality 
No theme is suitable for every website. Think about your site and the specific features or functionality it needs. Then, be sure any theme you choose will include that functionality or allow you to use a plugin that will provide it.
One of the most common examples is e-commerce. WordPress websites can sell products through the free WooCommerce plugin, but not all themes work with WooCommerce. If you plan to use it, check any theme you're considering and see if it's compatible.
The leading premium themes are continually updated and improved. A major perk of going with a theme from StudioPress, Elegant Themes, or Thrive Themes is that they will add new features and functionality in the future.
13. Browser Compatibility
Every quality modern WordPress theme should work well in different browsers like Google Chrome, Firefox, or Safari.
You won't find issues here if you stick with the leading themes and theme developers, but if you're considering another choice, it's a good idea to test the demo in several browsers.
Final Thoughts About Choosing Your WordPress Theme
Don't be overwhelmed by the sheer number of themes available. The perfect option is out there, and if you start by looking at those known to be the best, you'll probably find one that meets your needs quickly.
If you're unsure how to choose a WordPress theme, go through the points covered here, and you'll be well on your way.
Curious to learn more about using WordPress with your affiliate site? Join our newsletter.
Our creations in your inbox, weekly.
We've built multiple six-figure online businesses that our moms are proud of.
We'd like to help you do the same.