Having trouble getting Google's featured snippets? Let's fix that. This post explains what they are, how to get them, how Google chooses featured snippets and more.
But before we go further, first, a quick refresher.
What Is A Featured Snippet?
Featured snippets answer specific questions of a user's search query that display at the top of Google's search results. Google automatically pulls the information appearing in a snippet from web pages already ranking on the first page of the SERP.
Clicking a snippet takes the searcher to the section of the page appearing in the featured snippet.
They're like snapshots of web content that highlight relevant parts of a page. So, when you click the snippet, you're taken to that specific section.
Types of Featured Snippets
If you want to own a featured snippet, it's a good idea to know the different types before trying to seize an opportunity.
1. The Paragraph
Sidenote: The above URL in the screenshot that owns the featured snippet has a significantly lower domain authority (DA 17) than the post in position two (DA 73). This reveals that you don't need a high domain rating to get the featured snippet; you only need to rank on the first page.
2. The Table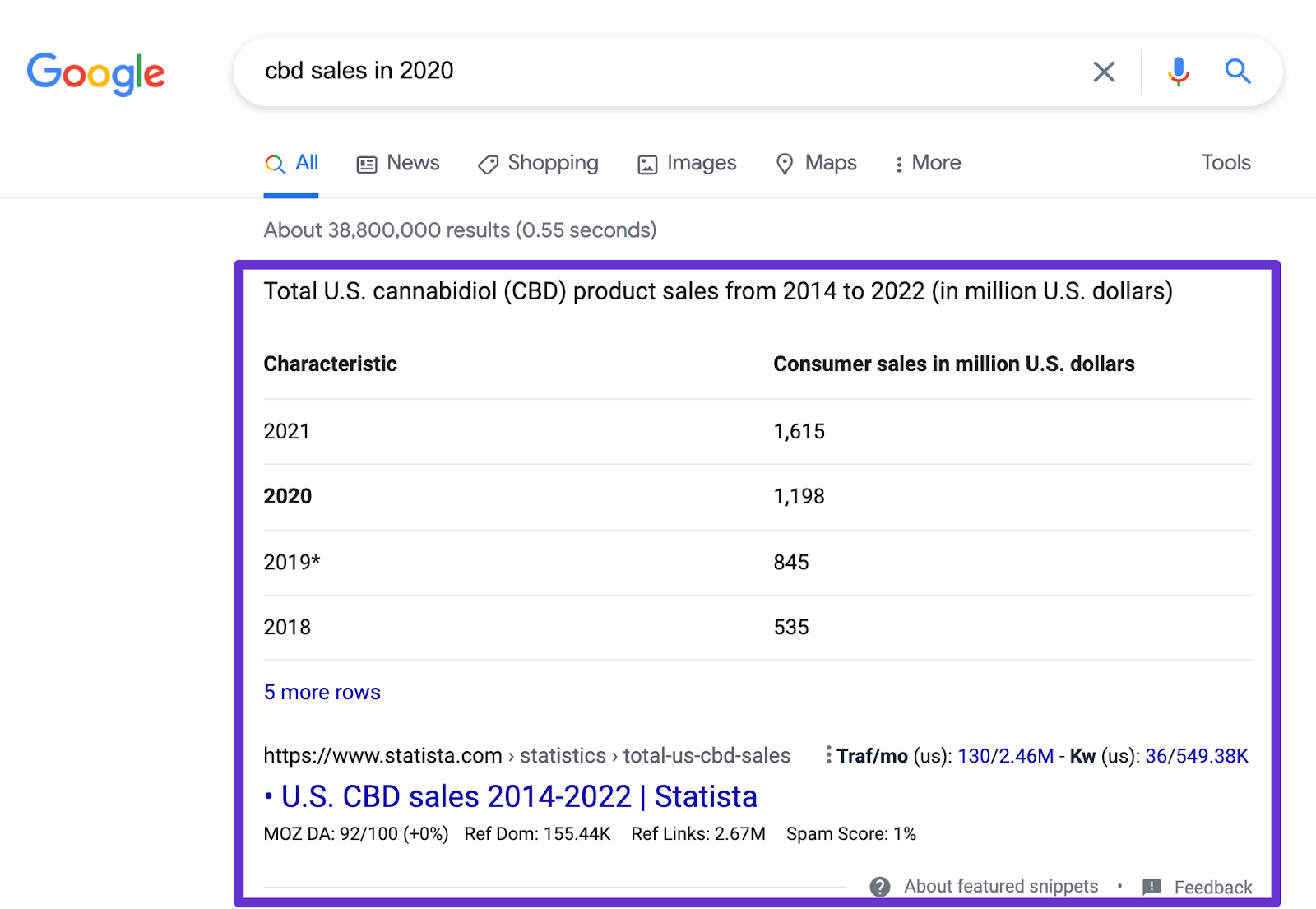 3. The Numbered List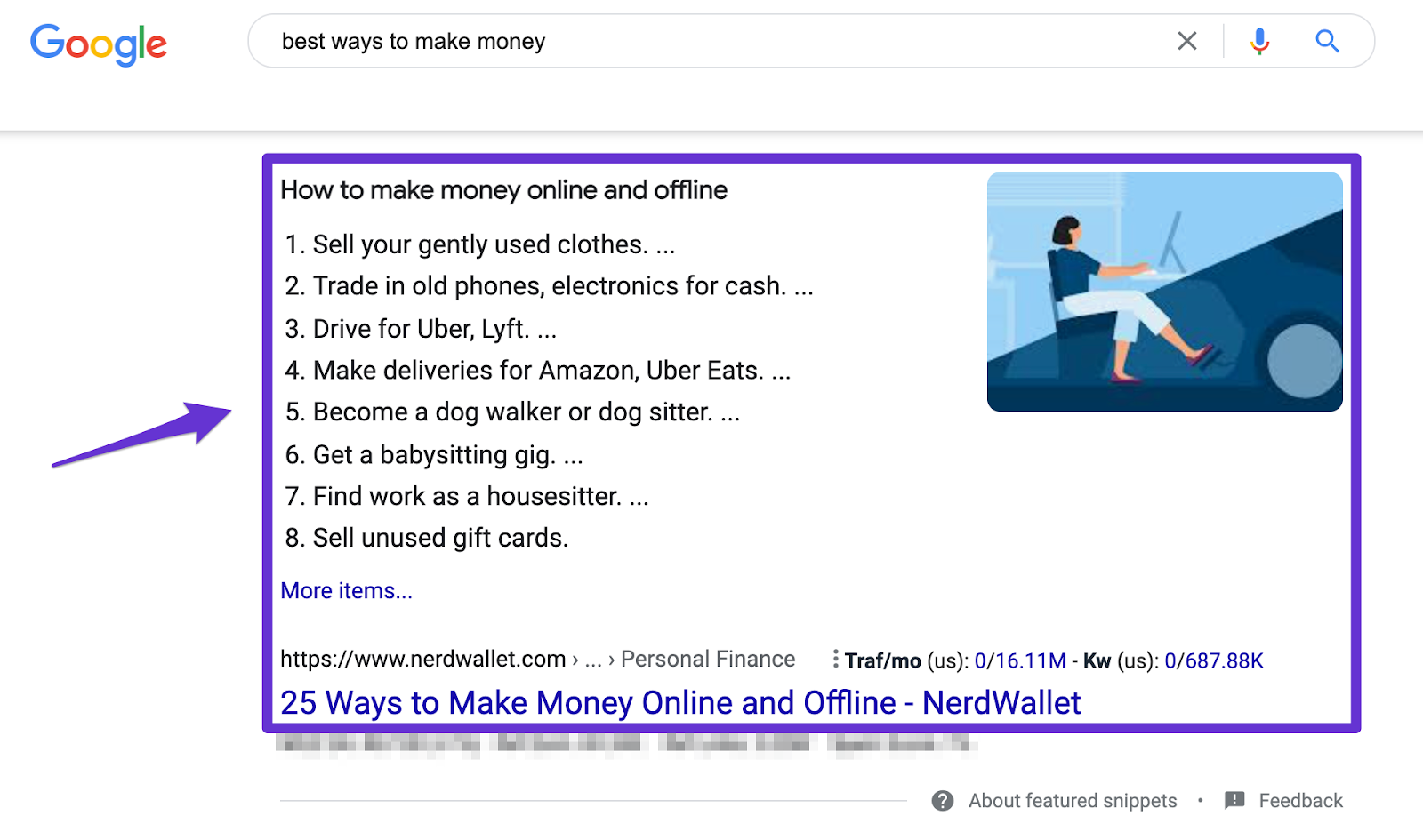 4. The Bullet List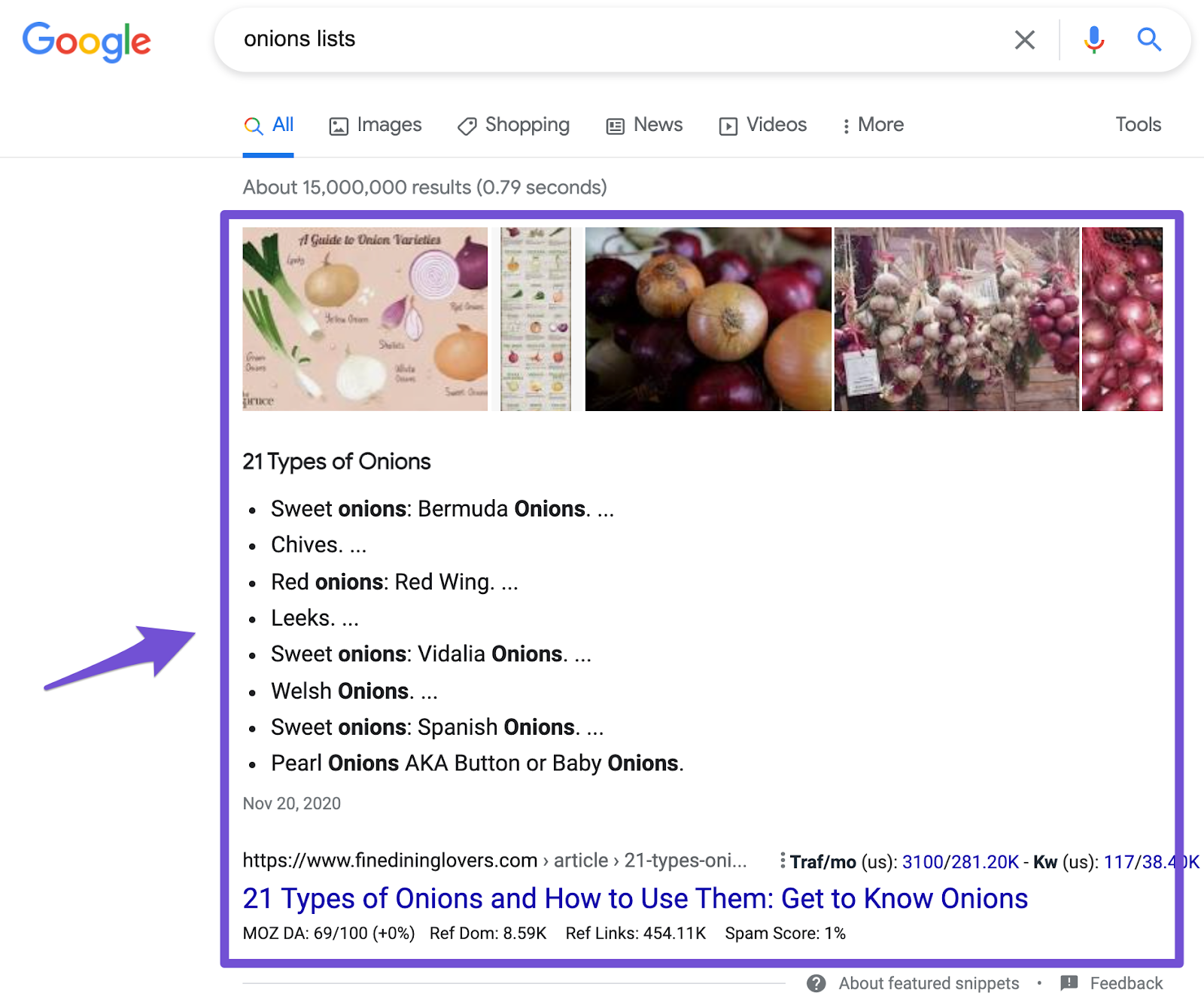 5. The Video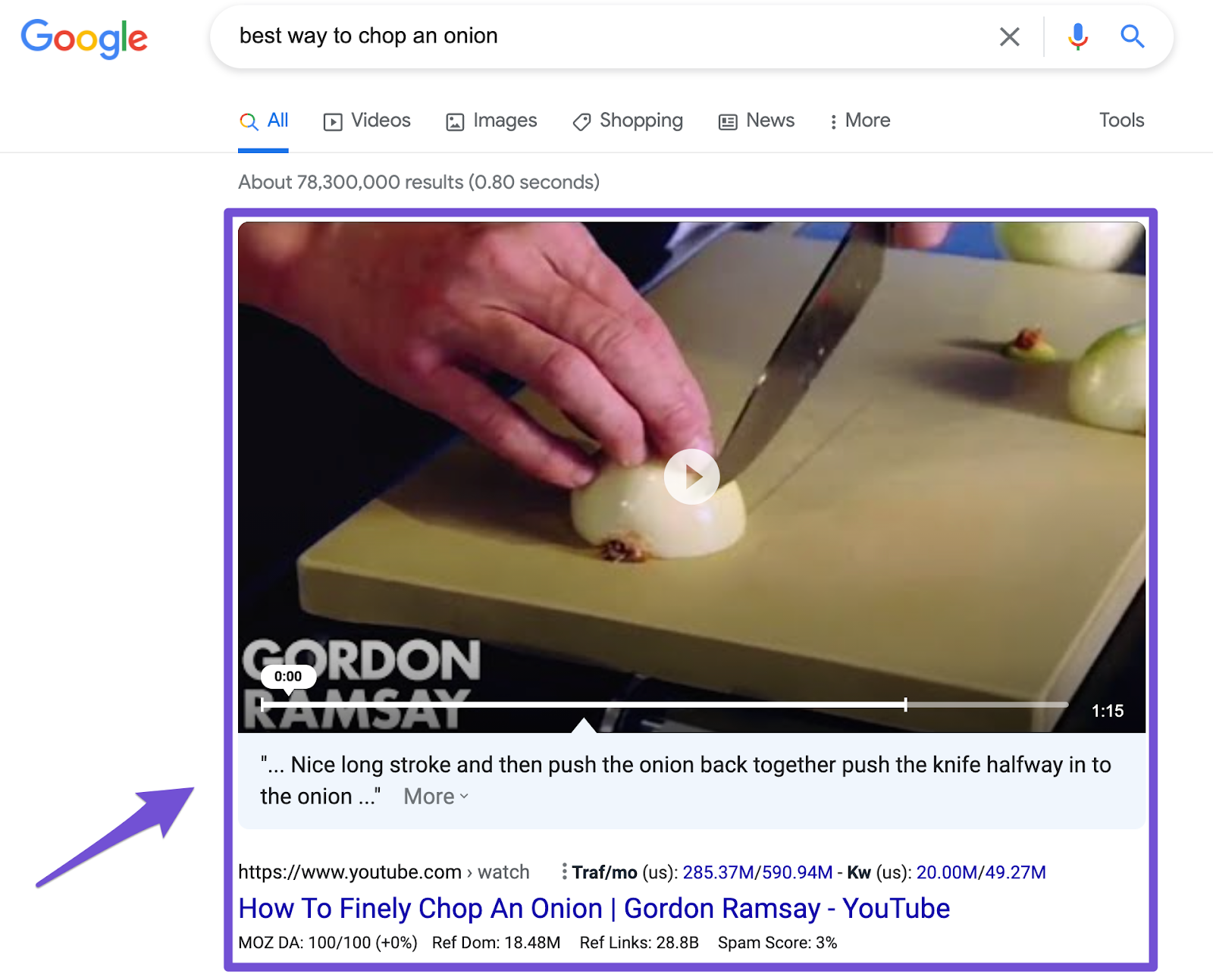 There are other types of snippets that appear in Google searches. For example, the People Also Ask sections, knowledge graphs, or the answer box (the answer box only shows the answer without linking to a source like in the below screenshot).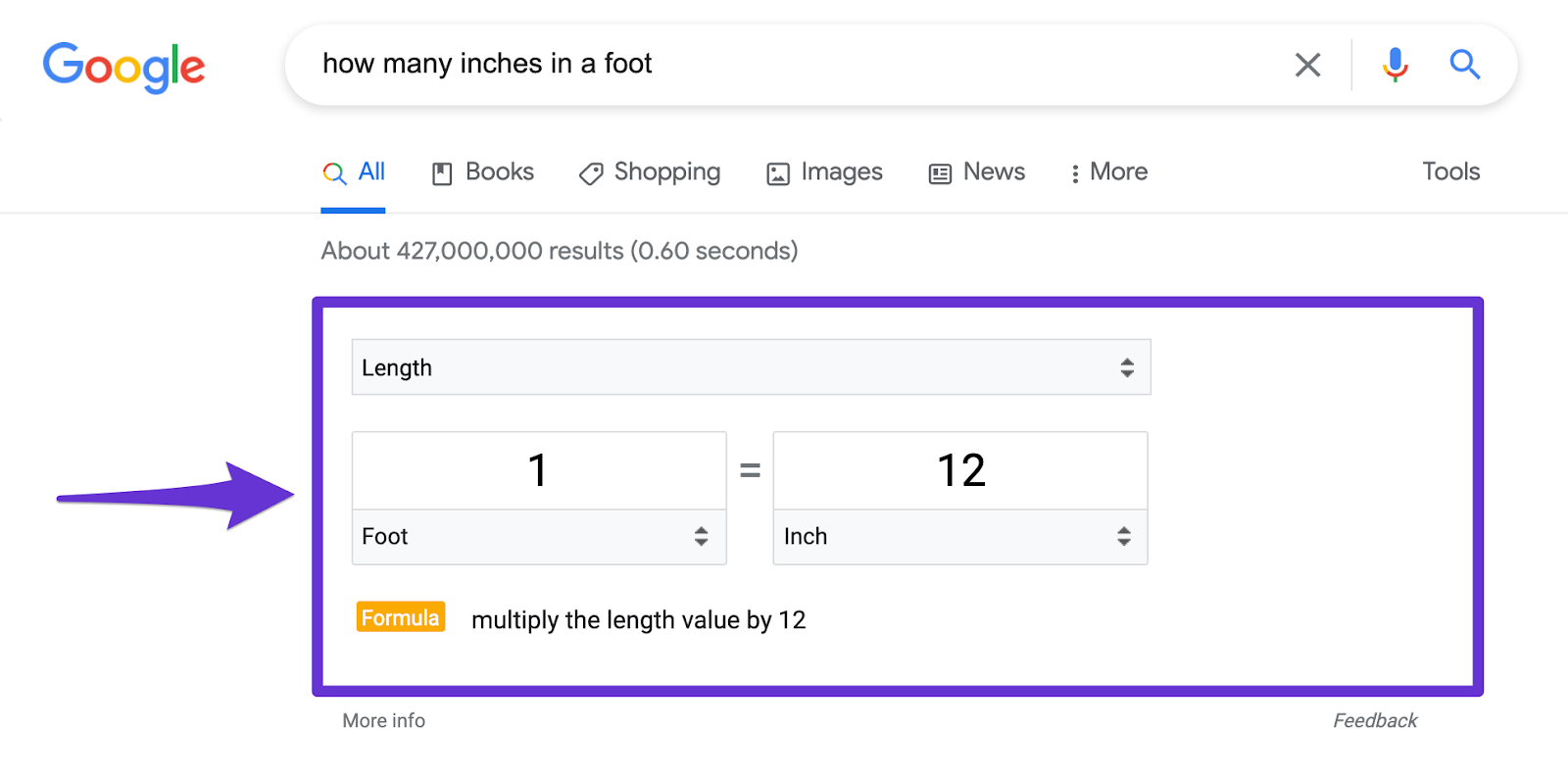 This requires no further click because the answer displays in the search results.
Benefits of Ranking for Featured Snippets
The more consistently you're at the top of the search engine results page, the more eyeballs see your content. Here's why that's good.
Catapult to the #1 Position
You no longer need to rank #1 for a keyword. Instead, if you're already on page one and Google deems your piece of content relevant to a user's search query, you'll jump to the number one position (recall our Paragraph snippet example from before?)
Sidenote: Since featured snippet deduplication, your article can no longer be listed multiple times on page one (i.e., you can't own the featured snippet and have the same post ranking somewhere else on the first page).
Takeaway: your URL owning a featured snippet won't get listed twice. This started happening back in 2020.
Here's the Google Search liaison in his own words:
If a web page listing is elevated into the featured snippet position, we no longer repeat the listing in the search results. This declutters the results & helps users locate relevant information more easily. Featured snippets count as one of the ten web page listings we show.

— Danny Sullivan (@dannysullivan) January 22, 2020
Deduplication aside, it still gives the underdog a shot to outrank pages with a higher domain authority – which is a good thing.
Boosts Perceived Trust & Authority
When your brand starts appearing for more queries at the top of Google search results, people start seeing it as the thought leader in that niche's industry.
This can substantially increase the click-through rate (CTR) to your site with the added benefits of more organic traffic, page views, and social media shares.
The more SERP real estate you occupy, the quicker your success. When people search for specific topics and continuously see your name displaying in the search results, that's a significant growth driver.
You might also glean other useful metrics about what your visitors do once on your site.
How Does Google Choose Featured Snippets?
Google's automated systems and algorithms decide if a page would make a good featured snippet for a user's search request.
Think of featured snippets as highlights of relevant content that showcase a specific feature to someone's search. For example, Google scans its index of web search listings and finds the most helpful article (in Google's eyes) to the person searching.
Google's algorithms are continuously evolving to find the best snippets to match queries.
Sidenote: Adding structured data (e.g., HTML tags) to your site can help Google better understand what your site is about. It can also boost rankings and get you more featured snippets. Check out this guide from Google that goes into more detail on the topic based on the type of content you produce.
Basic Structured Data Example
To further illustrate this point, here's an example of wrapping your article using the <ol> tag (ordered list tag) – Google loves list posts (See below for a breakdown of this GIF).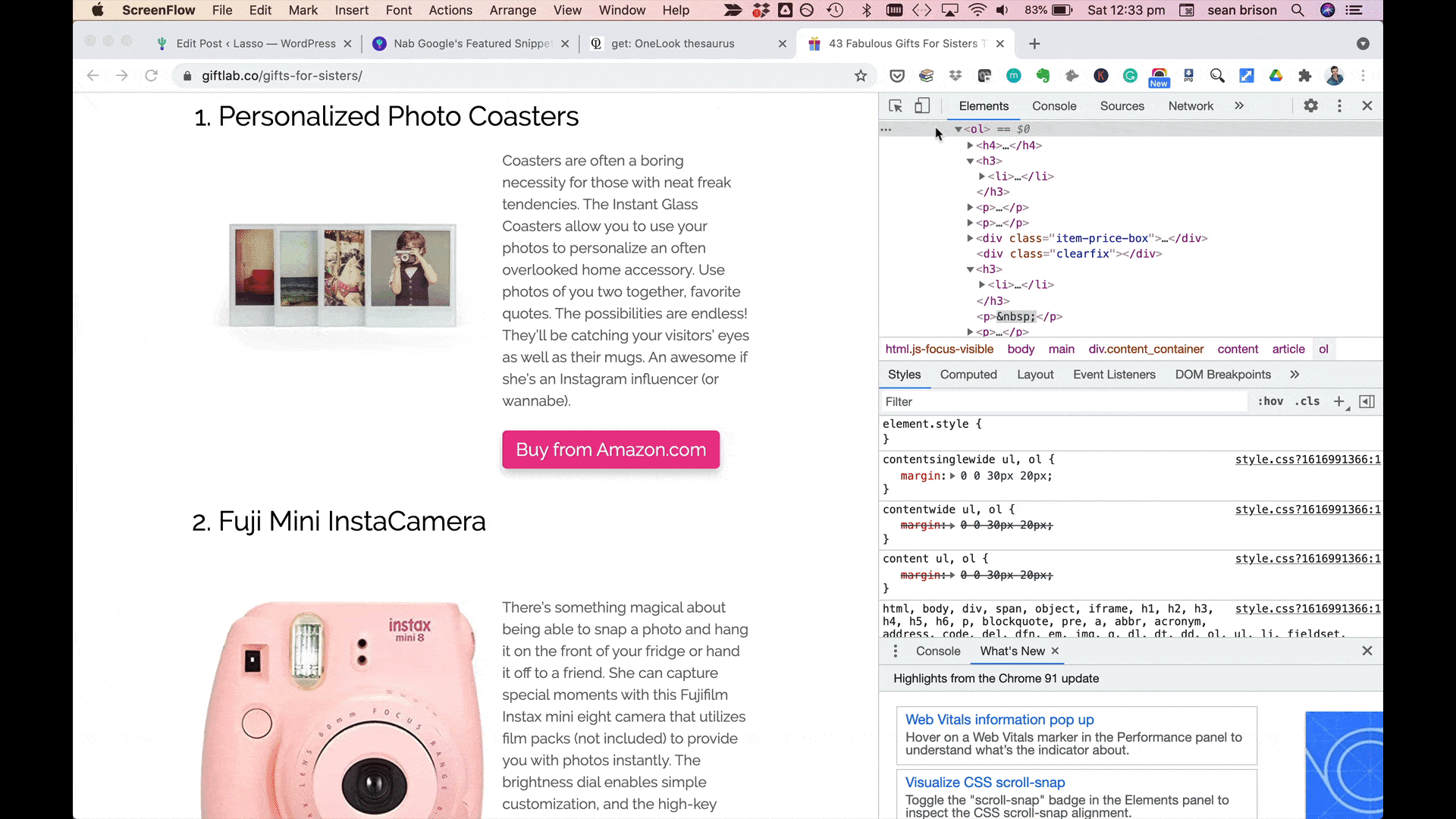 First, when hovering over the <ol> tag, it highlights the entire blog post in blue. This wraps the entire article into a numbered list. Then, when Google crawls this page, it recognizes it as a "list" post.
Next, we hover over the <h3> tag. This is what Google uses for its bulleted and numbered lists appearing in featured snippets. In this example, the h3s are "Insta Coasters" and "Macaron Bath Bombs."
Finally, we land on the <li> tag which is the actual list element that creates the number.
Here's how it displays in the SERP:
The above is a basic example of restructuring the HTML of an ordered list. There are many ways to approach this based on your site's content (refer to the above linked-to Google guide). Reach out to a developer for potential adjustments you can make.
How Do You Get Featured Snippets?
Optimizing for featured snippets takes a bit of skill. You can't just mark your page as a featured snippet. Instead, Google's algorithms decide based on a user's search request.
Because Google automates this process, the best you can do is create good content that's properly formatted (more on that in a minute). This makes it easier to know what the page is about.
Pages can show different snippets for different queries. It all boils down to what the user is searching for and the topic of the query.
You can also adjust snippet presentation by either opting to prevent Google from displaying snippets of your site (not recommended!), or you can tell Google the maximum lengths you want your snippets to be.
Use the nosnippet meta tag to prevent snippets displaying or the max-snippet:[number] tag to set your snippet to a maximum length.
Finding Featured Snippet Opportunities
First, let's find SERPs that trigger featured snippets for specific keywords. To do this, you'll need a third-party tool like SEMrush or Ahrefs.
I'll use Ahrefs.
Paste your domain into Site Explorer, then head to the "Organic Keywords" report, filter for:
Positions 2-10
Volume 1,000 – max
SERP features to include "Featured Snippet."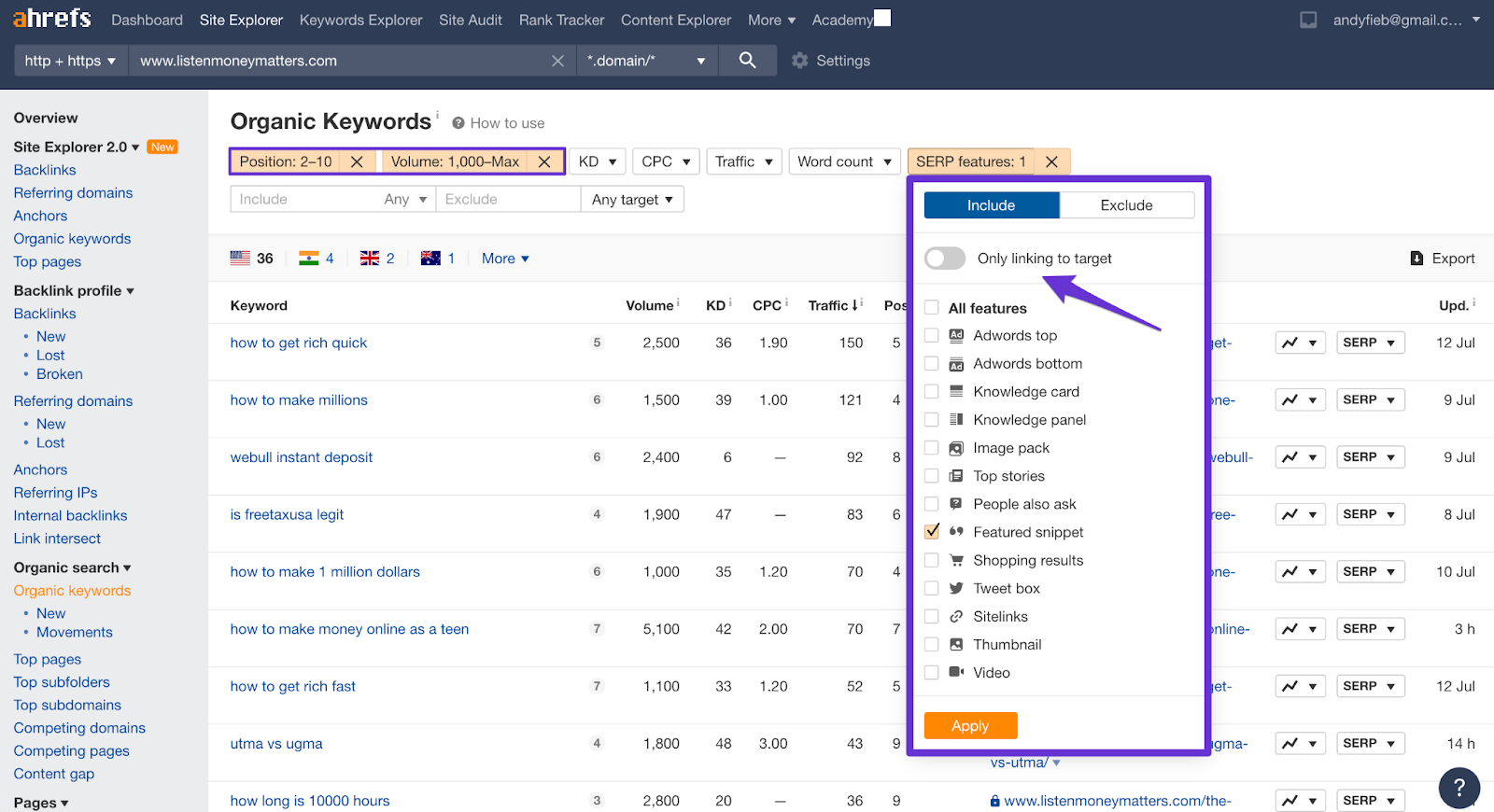 Leave the "Only linking to target" toggled to the "Off" position. Doing it this way shows you keywords that trigger a featured snippet. This involves finding those terms that you already rank for but don't have a snippet.
Sidenote: If your site has thousands of ranking keywords, try adjusting the positions filter to "Positions 2-5" for a smaller listing.
You can manually check to see where your post stacks up in the SERP using an incognito window. In some cases, you may actually own the snippet.
When I check our UTMA vs. UGMA, we're sharing it with another website in the #2 spot: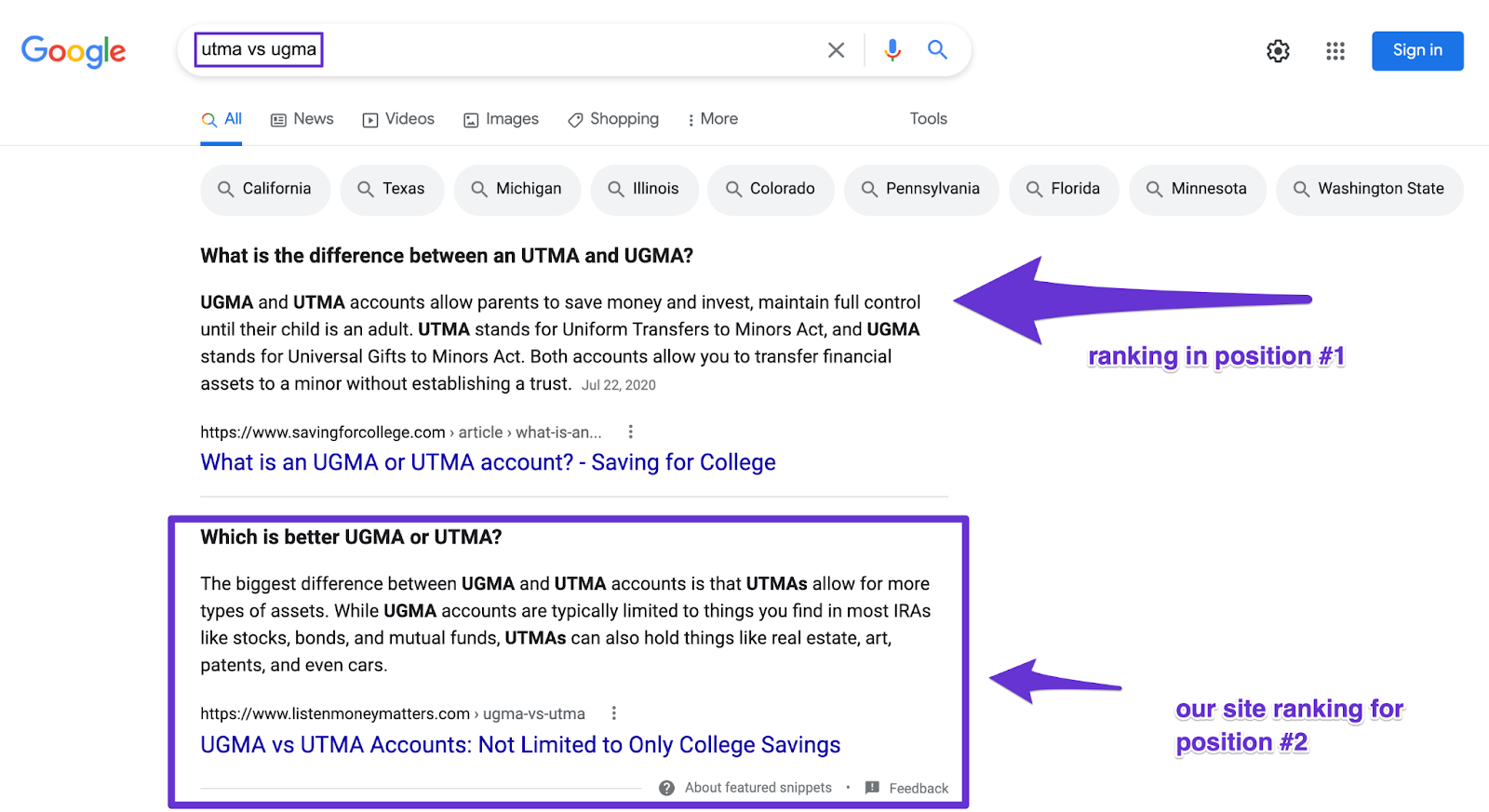 Next, determine the business value of your ranking keywords.
Scanning our site's keywords below, I'd determine the phrase "how long is 10,000 hours" has a lower business value than "is FreeTax USA legit" and "how to get rich quick" (the latter are reviews and list posts that have more monetization opportunities).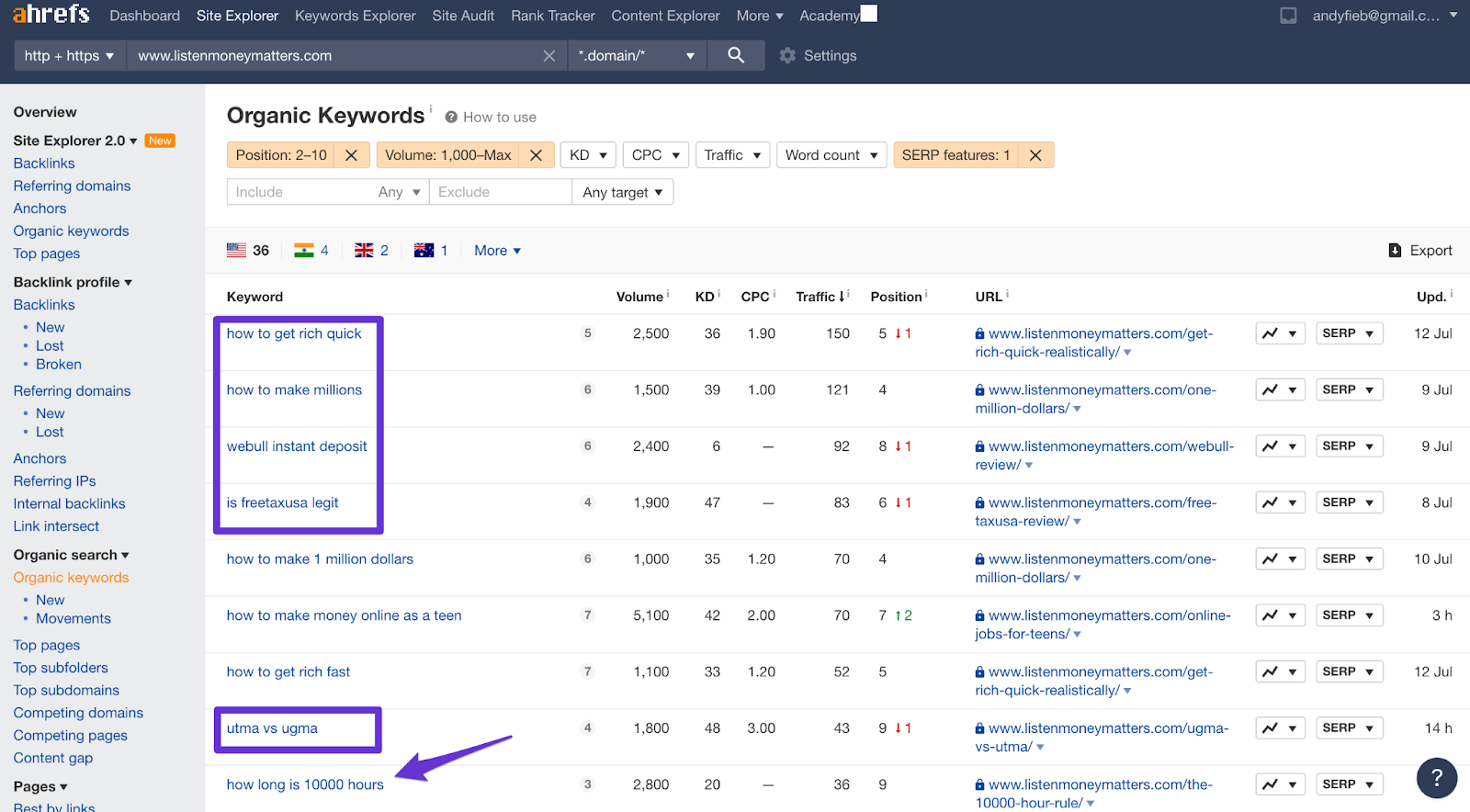 If you're an affiliate marketer, now's also a good time to ensure your product displays are optimized.
If you're using a tool like Lasso, you can equip your affiliate links with badges, secondary buttons, custom fields, and more (see below screenshot).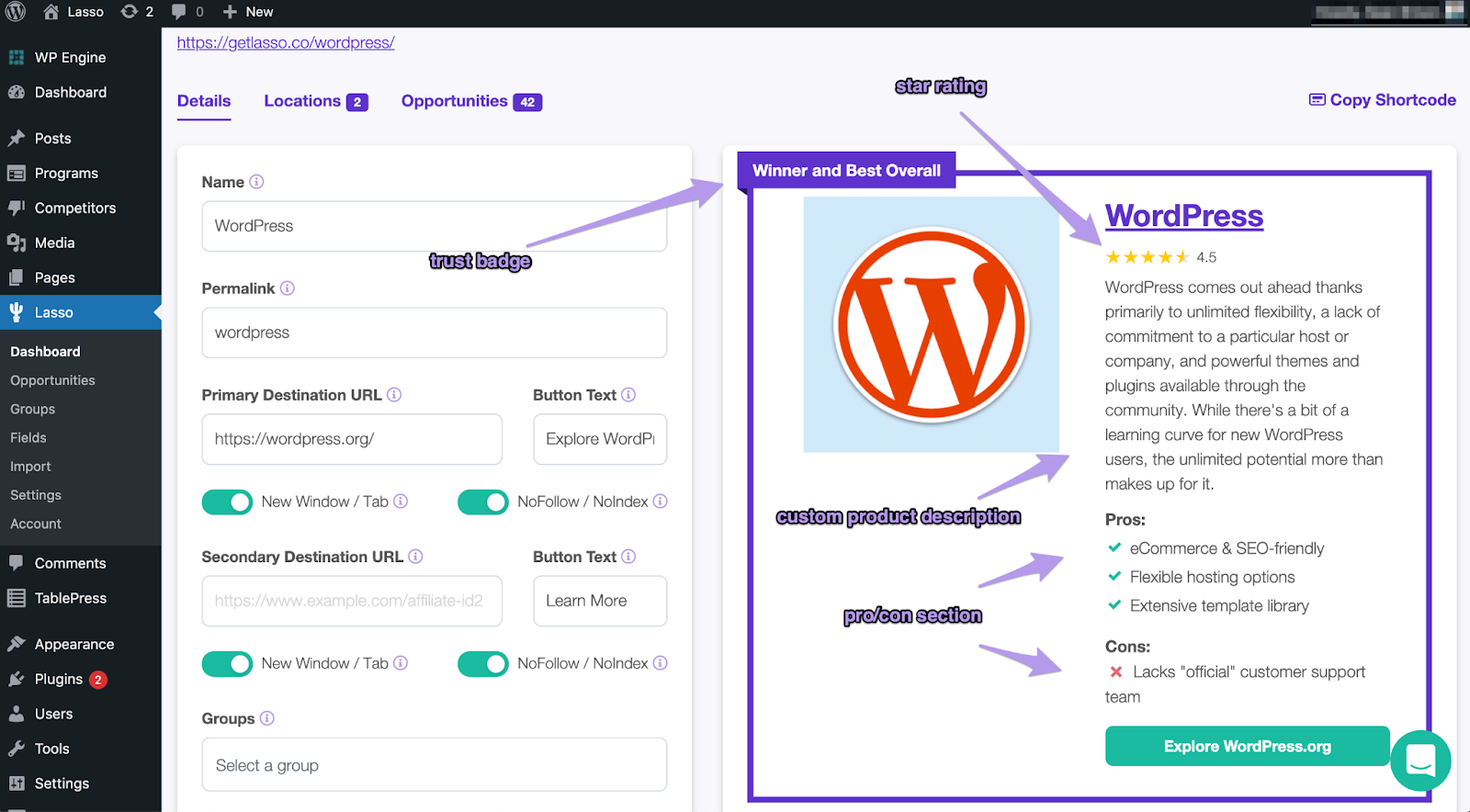 Further Reading:
Returning to our featured snippets, using the keyword "how to get rich quick," we see that Google prefers a numbered list for this query: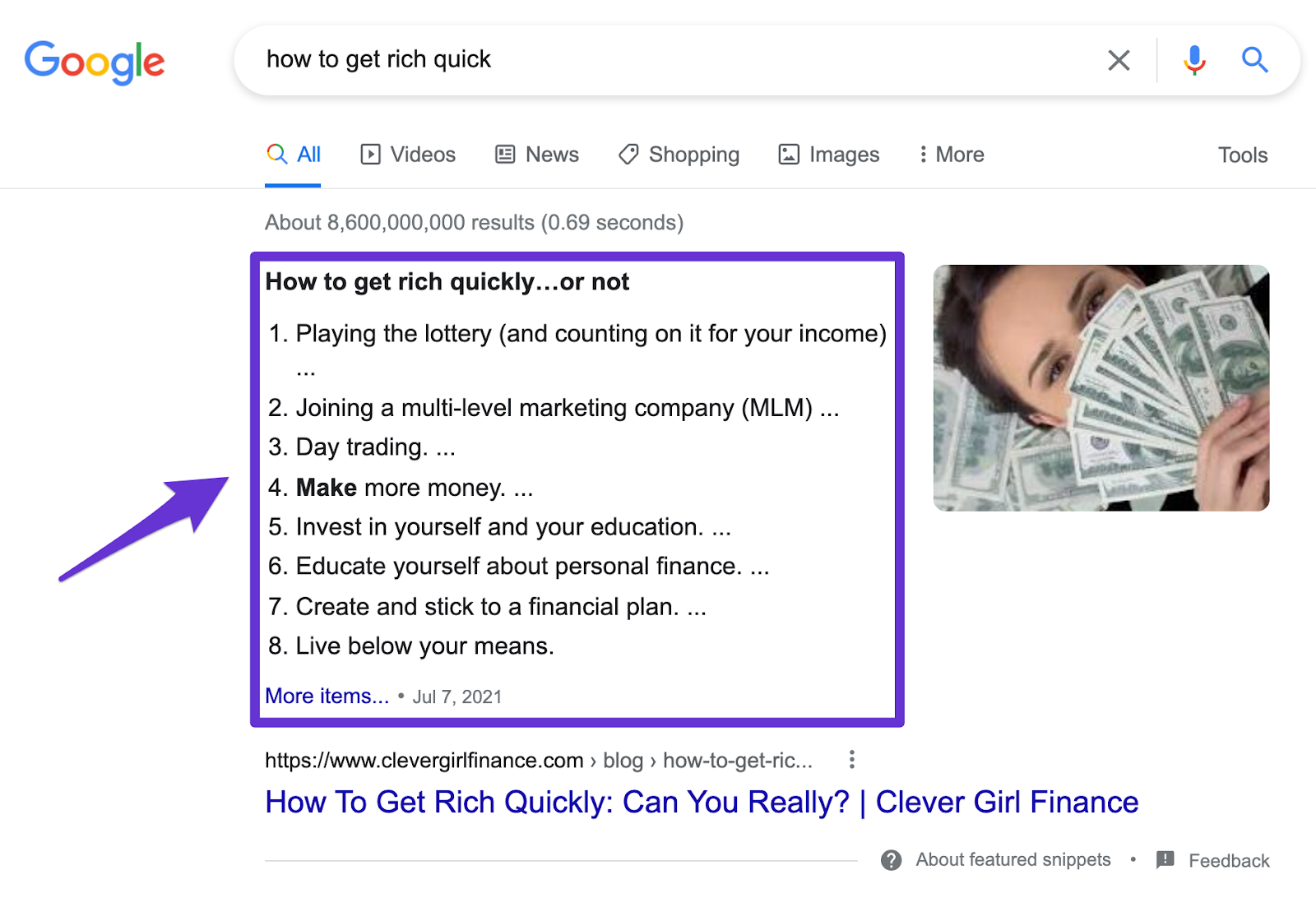 When I look at our article, it's not a list post. So, a quick fix would be to turn it into a numbered list and then wait a few weeks (or months) to see if Google recognizes it.
Another tactic could be to run a Content Gap Analysis between your site and your competitor's to find any topics or keywords that they include in their list post (but you don't).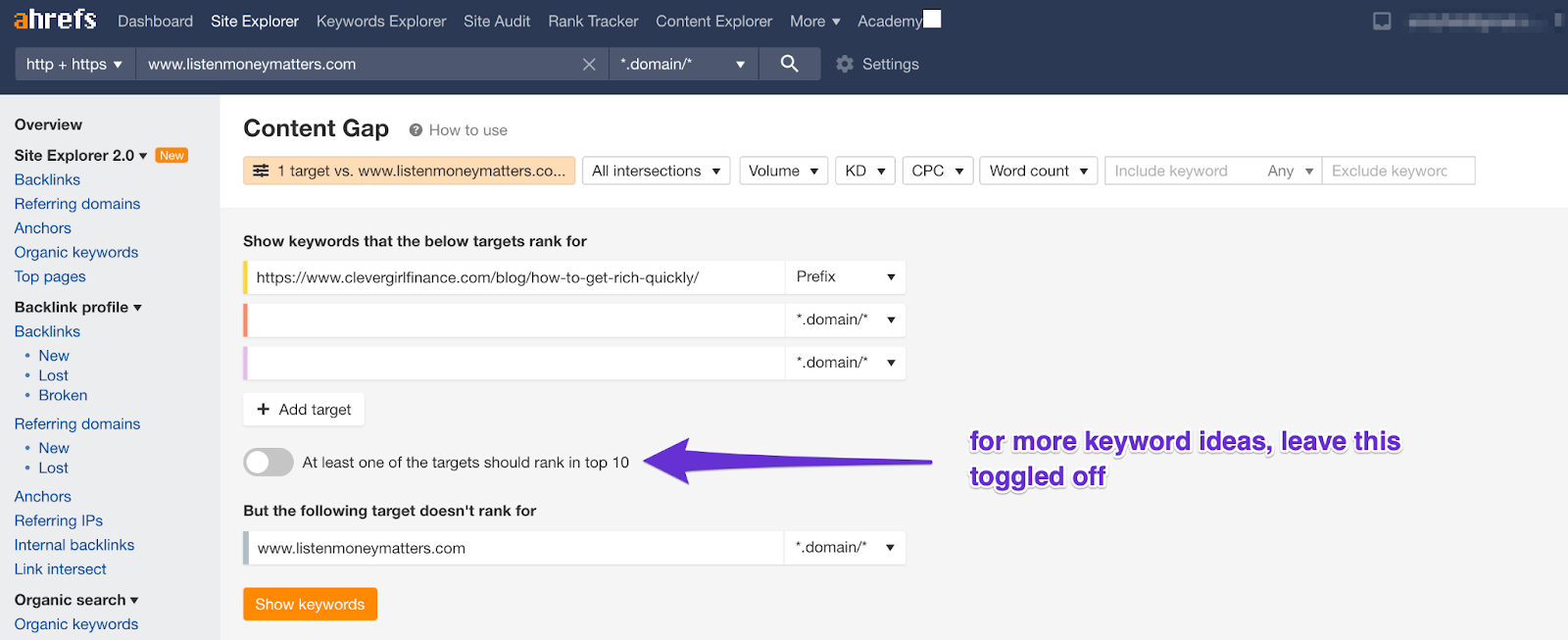 CleverGirl Finance is a solid site and ranks for over 131K keywords according to Ahrefs data:

Our site ranks in a similar position (we rank for fewer keywords but have a higher domain rating and more backlinks):

So, getting the featured snippet is possible but not necessarily easy in this case.
Creating Content that Gets the Featured Snippet
When conducting keyword research, make sure you're targeting words with a high click percentage. For example, our "how many inches in a foot" search term from earlier gets 17% organic clicks.

And the number of searches without clicks is 82%. Why? Because the searcher already got their answer, so no further action is needed.
Ideally, you want people to visit your site to find more details.
If you already have a keyword list, you can manually type them into Google one by one to see what displays in the organic search results.
However, this is time-consuming. Another way to do this is with a tool. I'll use Ahrefs again.
Tip: You can find out which keywords trigger a featured snippet by using Ahrefs Keyword Explorer. Enter your seed keyword into the field and click "Also Rank for."
For example, if you're writing a post about what Bourbon is and how it's made, you'd type your seed keyword, bourbon, into Ahrefs.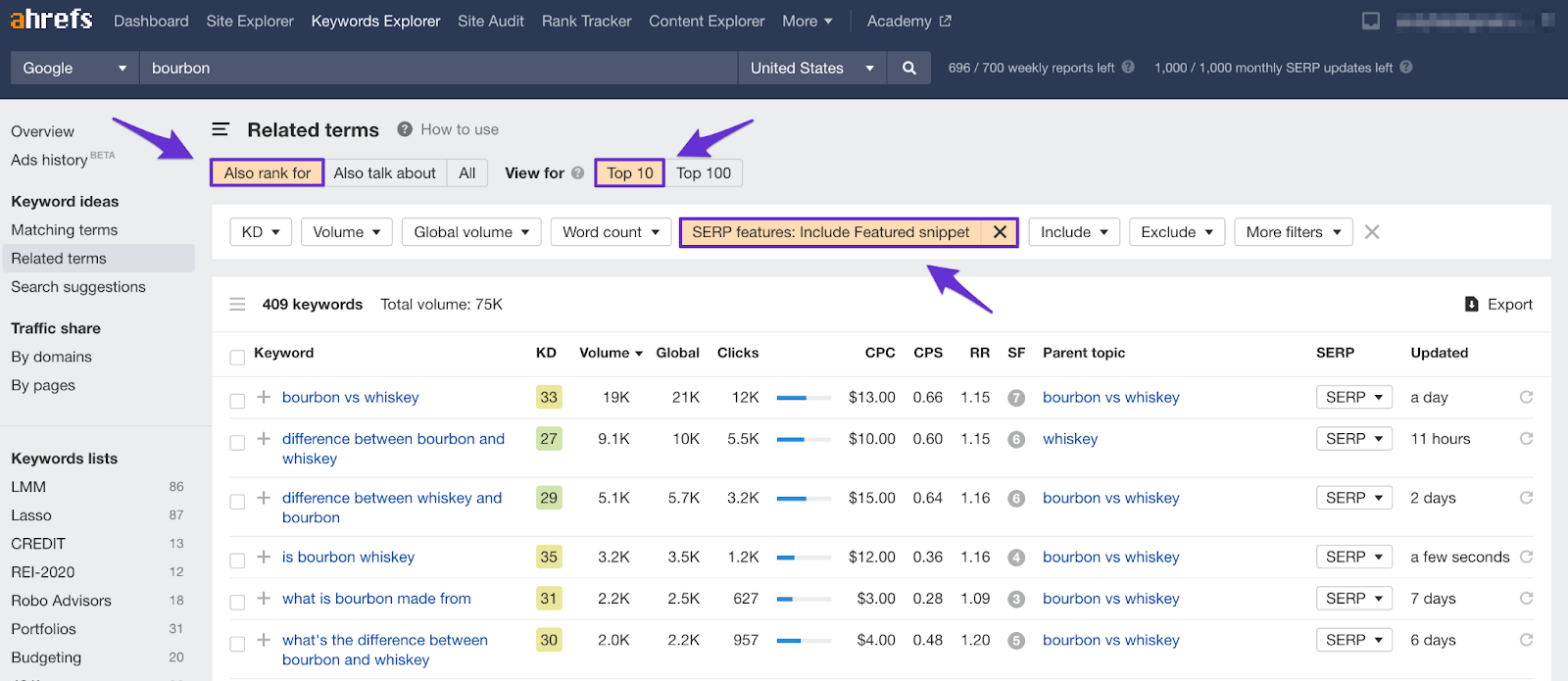 Ahrefs displays keywords that the seed keyword "bourbon" also ranks for. So, you could include them in your bourbon article to cover these topics too.
To test, enter any of the keywords shown on this page into Google. For example, when I try the first one, "bourbon vs. whiskey," here's what we see: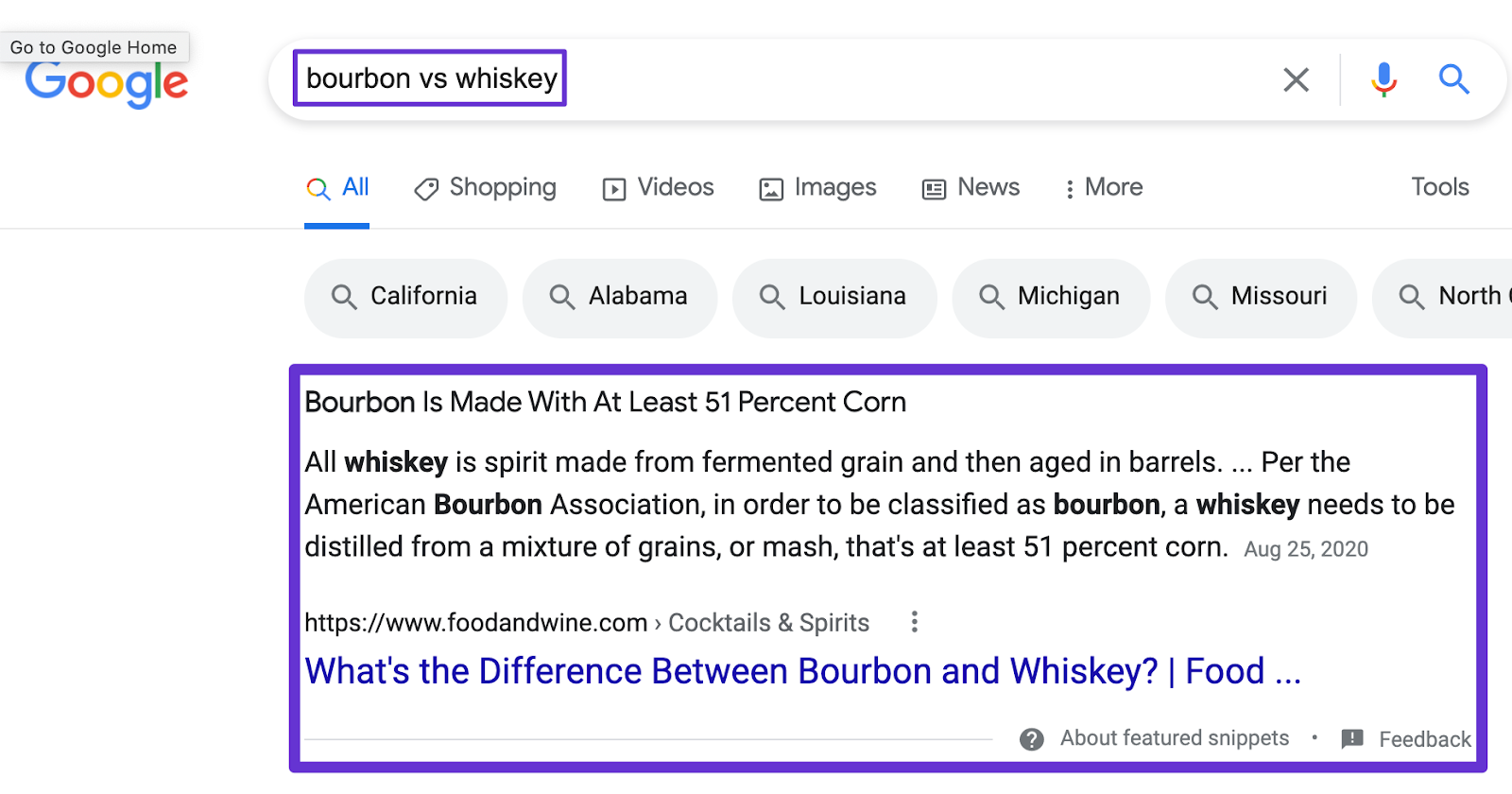 And if your keyword list is too big, you can also experiment with the filters to find more keywords with lower keyword difficulty (KD) scores and higher search volume.
For example, you could target keywords with a:
KD score maximum of 30
Minimum monthly search volume of 500

Sidenote: According to an Ahrefs study, most featured snippets were triggered by longtail keywords searches. So, experiment with the word count filter. Try setting it to "4 – Max" and see what you find. You can even set it to 10 – Max (more on that later).

You can also head to Google Search Console to see which search queries drive traffic to your site.
Head to Search results > Queries: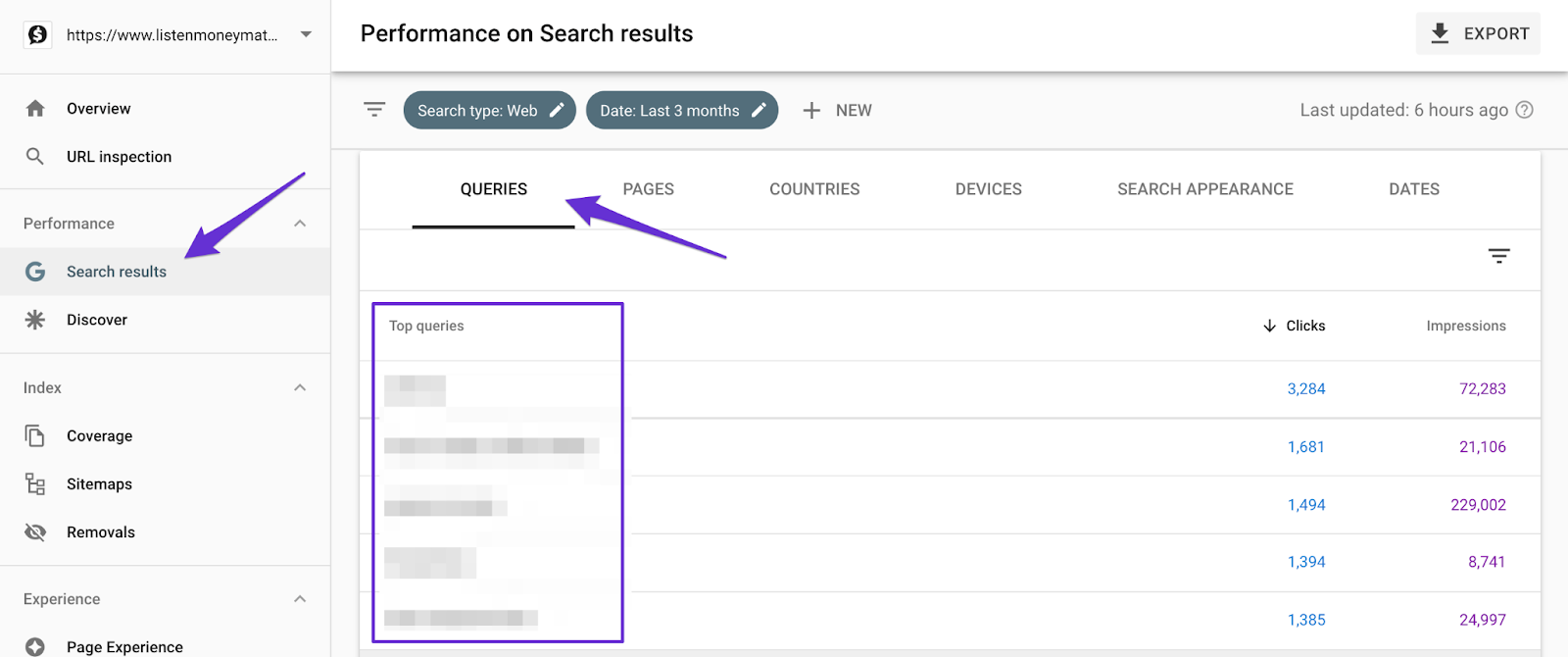 This report shows the queries driving the most organic traffic to your site. In addition, you may find new content ideas to help craft your SEO strategy.
Further Reading:
Featured Snippets vs. Rich Snippets: How They're Different
Featured snippets are not the same as rich snippets. Rich snippets are like regular search results on steroids. They appear as enhanced versions of a regular search query. They also don't answer questions like featured snippets.
For example, a regular search listing (unofficially referred to as "the Plain blue link") contains:
URL
Title tag
Meta description
Here's what that looks like:
And a rich snippet looks like this:

You can see this result can help boost organic traffic because it also links to other articles in the results to give searchers more options. It also has:
A star rating
The number of reviews
The cook time
The more info you can provide your readers, the better your odds that they'll click your link and improve your click-through rate.
Further Reading:
Optimizing Your Posts to Get More Snippets
Here are a few things you can do with your creations to increase your odds of owning more featured snippets.
Check out this stat from a SEMrush study:
Of keywords made up of 10 words, 55.5% had a featured snippet
Recall our Ahrefs word count filter from earlier? Experiment with setting it to "10 – Max" for longtail variations of your seed keyword for more topic ideas.
These metrics aren't hard-and-fast rules – your readers come first. So use them only as a guide to finding more opportunities to serve your audience better.
Optimizing for Table Featured Snippets

If you use tables on your site, make sure they have table tags (e.g., the <tr> tag). This helps Google better understand you have a table displayed in your content (see above screenshot).
tr class= "row-1 odd"
Most plugins already have this built into them, so you should be fine.
For example, the Table Press plugin for WordPress is already optimized with basic markup, so search engines know your table is a table.
Sidenote: It's worth noting that average table size is also an indicator of owning the snippet with the five rows and two columns on average.
Optimizing for Lists Featured Snippets
Wrap your headers and subheadings in H2s and H3s to make them more easily understandable when search engines crawl your site.
For example, this post wraps the primary topic in an H2 while the 11 examples are all H3s: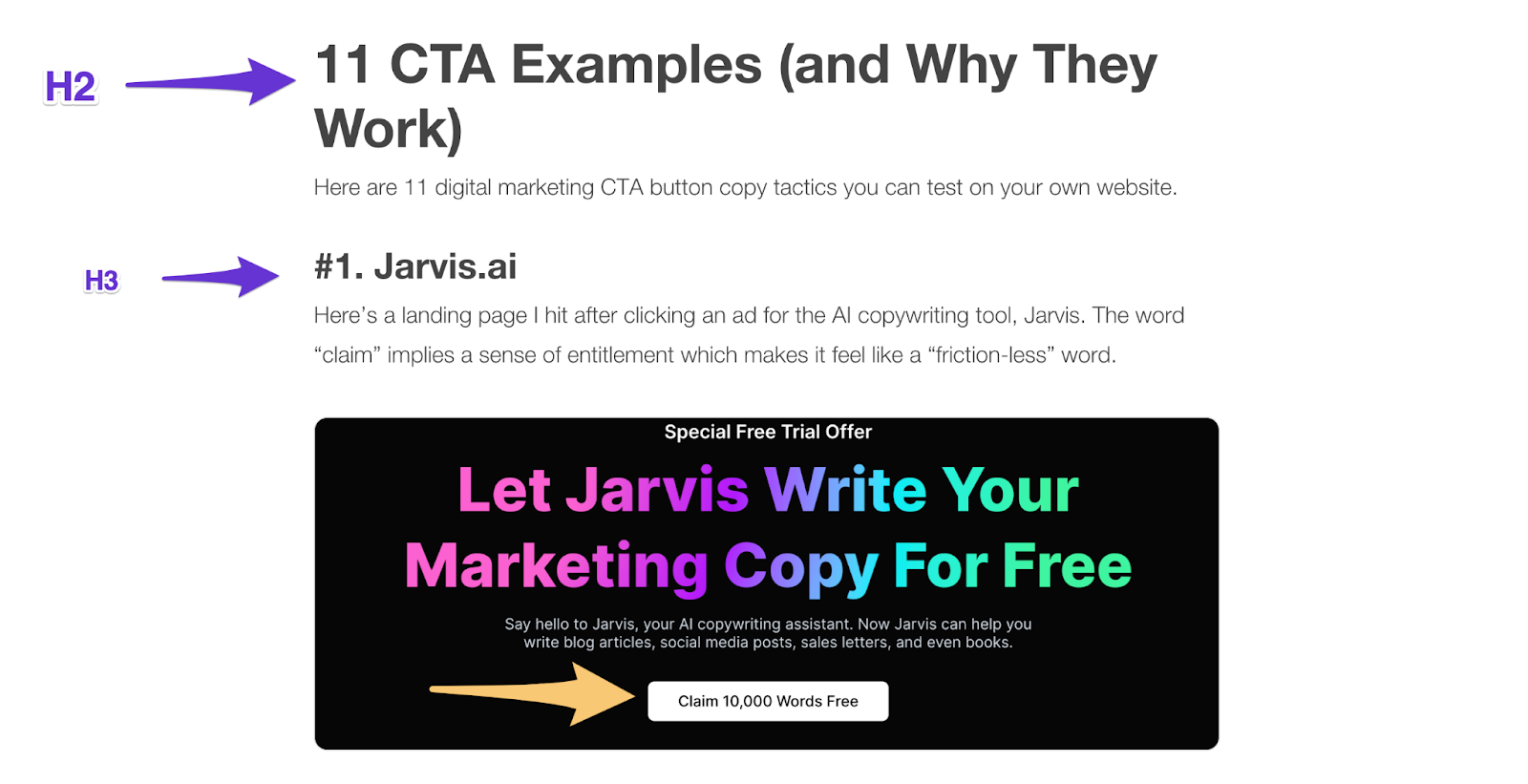 Make sure when crafting your posts in WordPress, you format in a descending hierarchy from h2-h6: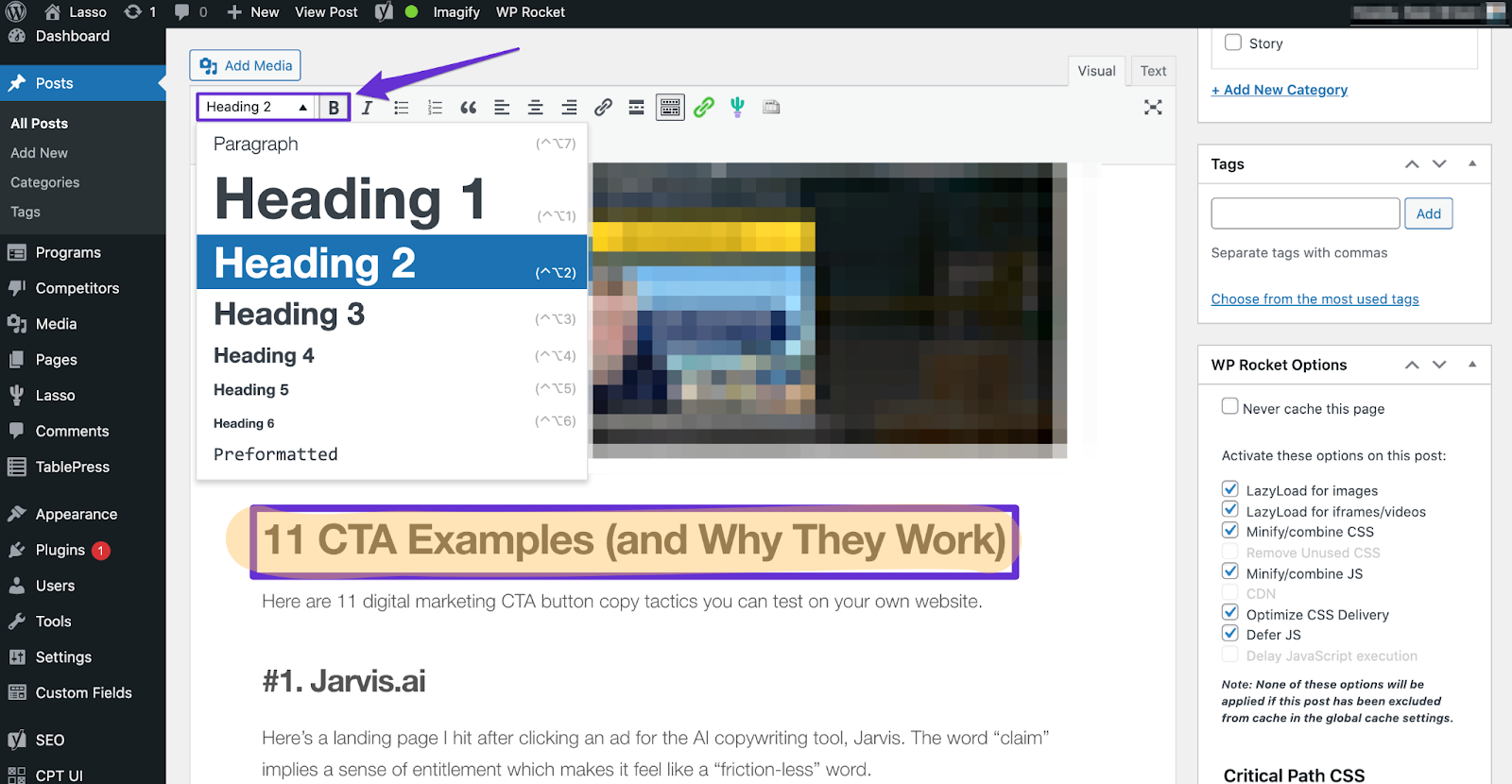 Focus on proper formatting first before worrying about schema markup or other HTML optimization tricks (e.g., wrapping your list post with the <ol> tags from the earlier GIF example).
Takeaway: Before grabbing the featured snippet, you'll need to be on page one. Increasing your site's domain authority helps accomplish this because every page with a featured snippet already ranks on the first page.
Optimizing for the Paragraph Snippet
The majority of paragraph snippets answer questions. For example,  "what is content marketing," or "what is a search results page."
Paragraph snippets get the most of all the featured snippet types. In the same study from SEMrush, 70% of snippets are paragraphs. If you're going to optimize for one, pick the paragraph.
The best way to optimize for these is to answer immediately below the question. For example, let's say your H2 is "What Is Affiliate Marketing?"
You'd want to provide a no-fluff answer that gets straight to the point in the paragraph below it (like we did here):

You can see this in the SERPs: the paragraph snippet answers it in the first sentence.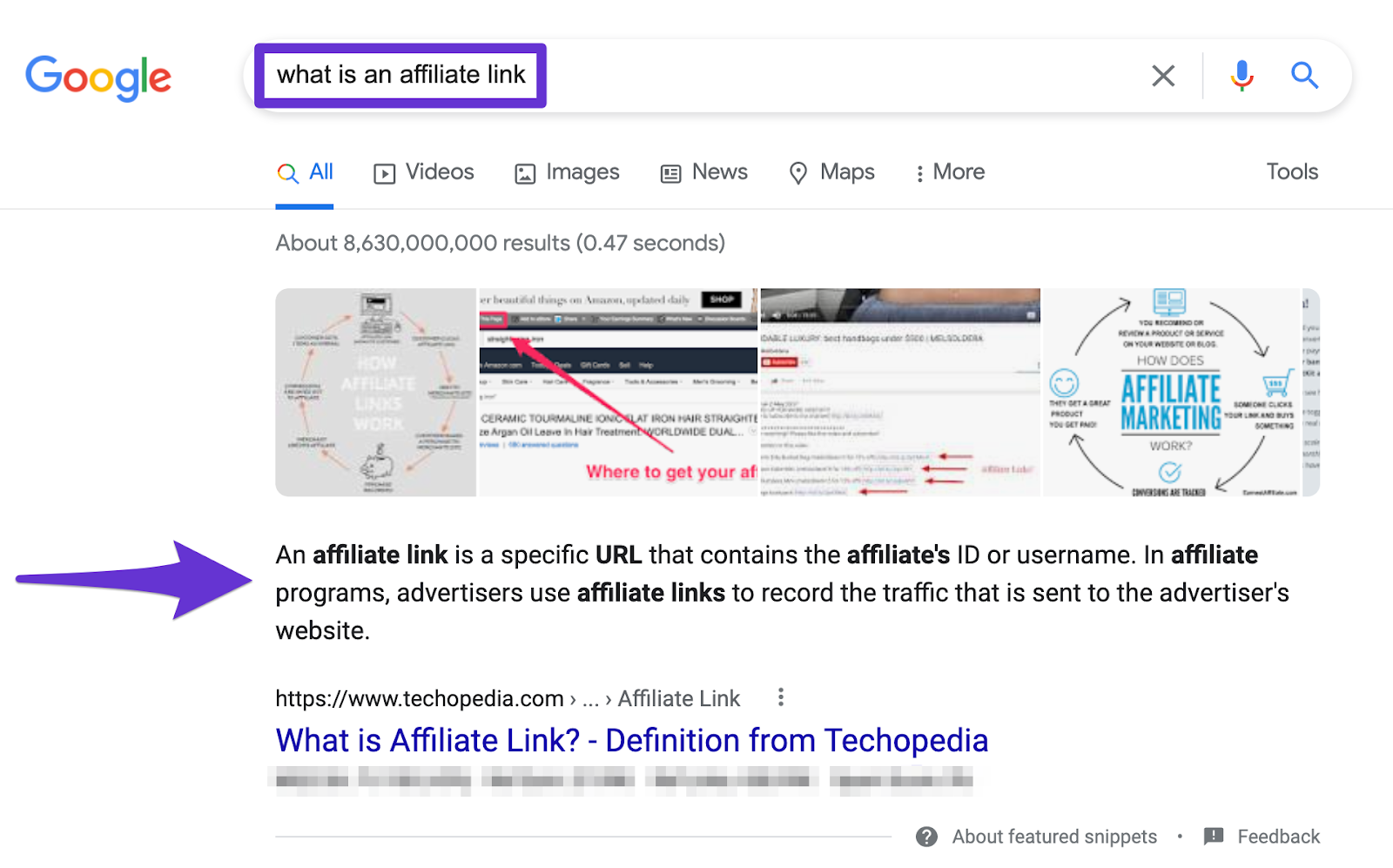 That's because Google is looking for the best answer to help the searcher. So think about the kinds of questions your target audience asks about your niche topic.
Sidenote: When using voice search, Google pulls the answer to your question from the featured snippet.
The top 5 question-based words triggering featured snippets:
Tip: Optimize for the Definition snippet by answering related questions in your posts. You can even try adding an FAQ section.
For example, in our product reviews, we feature an FAQ h2 that pulls from Google's People Also Ask (as well as the product's support page of common questions users have) as we did with this Discover Bank review:

Further Reading:
Optimizing for Video Snippets
Only ~4% of snippets appear as videos. So, it may not be worth the effort. But, if you do try for this one, include the h2 or h3 right above your video to give Google context.
Many "how-to" articles optimize for this by conducting keyword research for specific terms, finding the FAQs, and answering them in the video.
For example, when I search "How to Use YouTube," a video snippet is in the number one spot with a timestamp indicating the specific place in the video where you'll find that information.
Videos displaying as featured snippets have an average duration of just over six minutes (6:35 to be exact).
Sidenote: This query came in the form of a  "how-to" question and was one of the top five words triggering featured snippets.
Target the low KD keywords in your post and add a video element to it properly formatted (ideally right beneath a header or subheading).
Last Words
The more featured snippets your site owns, the more eyeballs you'll have on your site. Since the vast majority of snippets answer specific questions, that's a good place to start. But don't let that be the basis of the content you create.
Your audience's needs come first, which can serve as your content creation's "North Star." People need help solving problems. So, your site should start with the pain points of your readers, then determine the questions you can answer to help them.
Want more search traffic optimization tips? Read this.
Message me on Twitter to keep the conversation going.
Our creations in your inbox, weekly.
We've built multiple six-figure online businesses that our moms are proud of.
We'd like to help you do the same.