Affiliate disclosures aren't so bad. I mean, they're mandatory, so you have no choice. But they don't have to be stuffy, legal, and lame.
Yes, you need to have an affiliate disclosure for both the FTC and Amazon. The FTC requires disclosure to ensure transparency and prevent deceptive advertising, while Amazon's affiliate program policies also mandate disclosure to maintain trust and credibility with customers. Failing to include a disclosure may result in penalties or termination of affiliate accounts.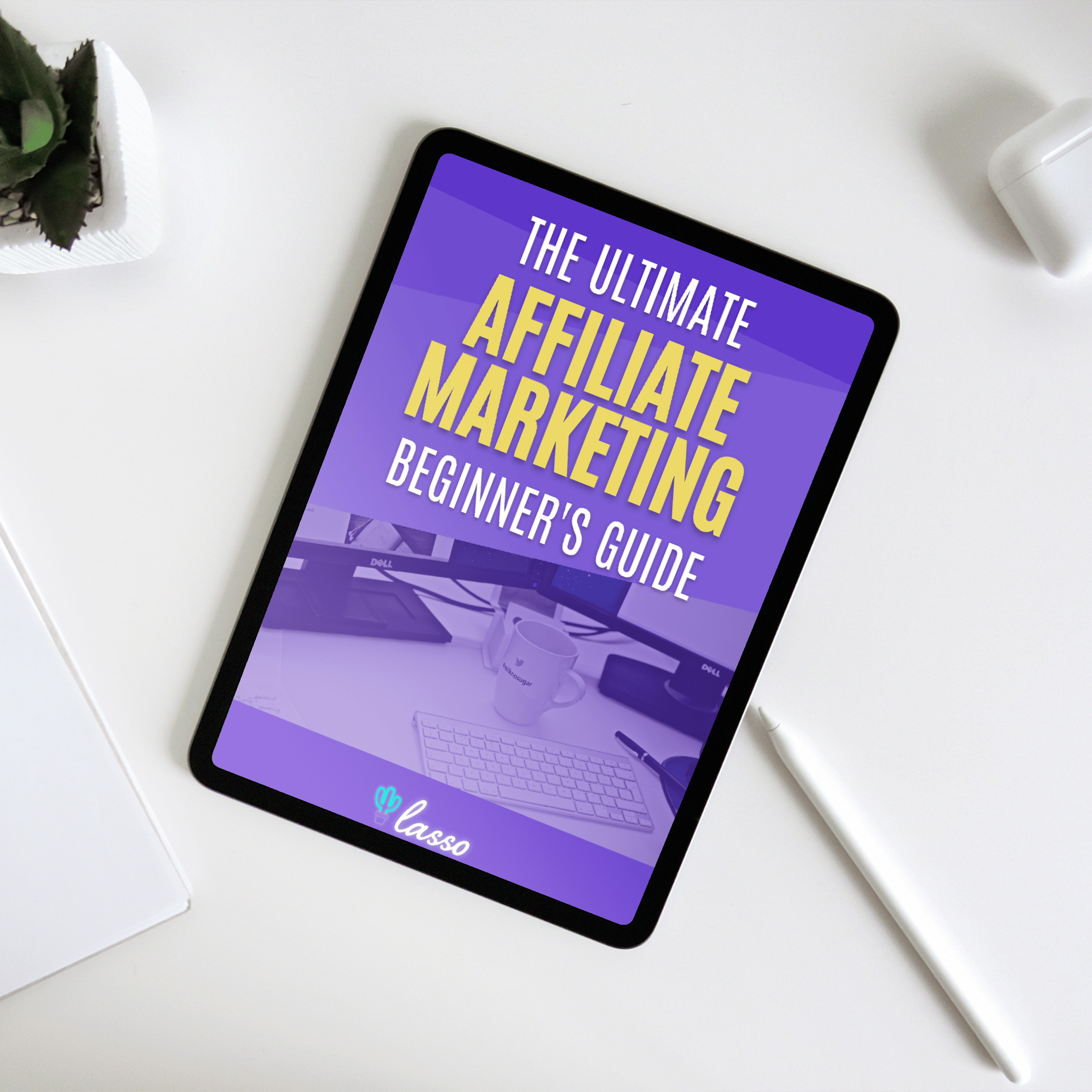 Get Your FREE 30-Page Affiliate Marketing Beginners Guide And Grow Your Site Today
Table of Contents
8 Excellent Amazon Affiliate Disclosure Examples You Can Copy
What Is an Affiliate Disclosure?
An FTC affiliate disclosure is a disclaimer that informs consumers or potential buyers (aka your visitors) that you are in a paid relationship with the company or person you're linking to as an affiliate.
The FTC are the Federal Trade Commission, a government agency that protects consumers. Here are their complete disclosure guidelines on affiliate marketing.
Then there's Amazon.
Do you have to disclose you are an Amazon affiliate?
Yes! The Amazon affiliate disclosure says you have to mention somewhere on your site that you're in a paid relationship with Amazon (in addition to the FTC's disclaimer).
Per Amazon's Operator Agreement, you must include the following statement (or something similar) on your site:
"As an Amazon Associate, I earn from qualifying purchases."
I display mine in my website's footer for Swim U: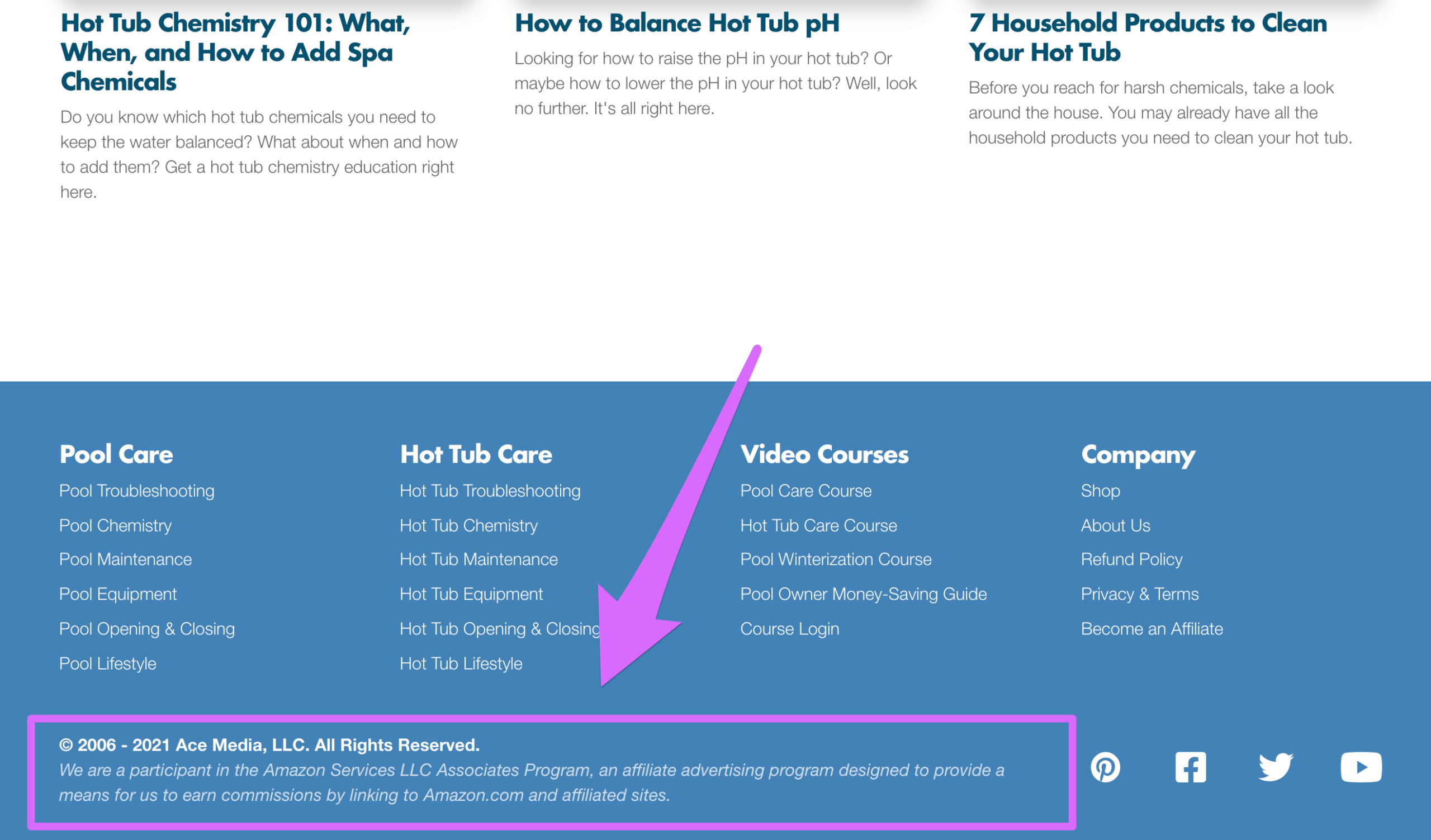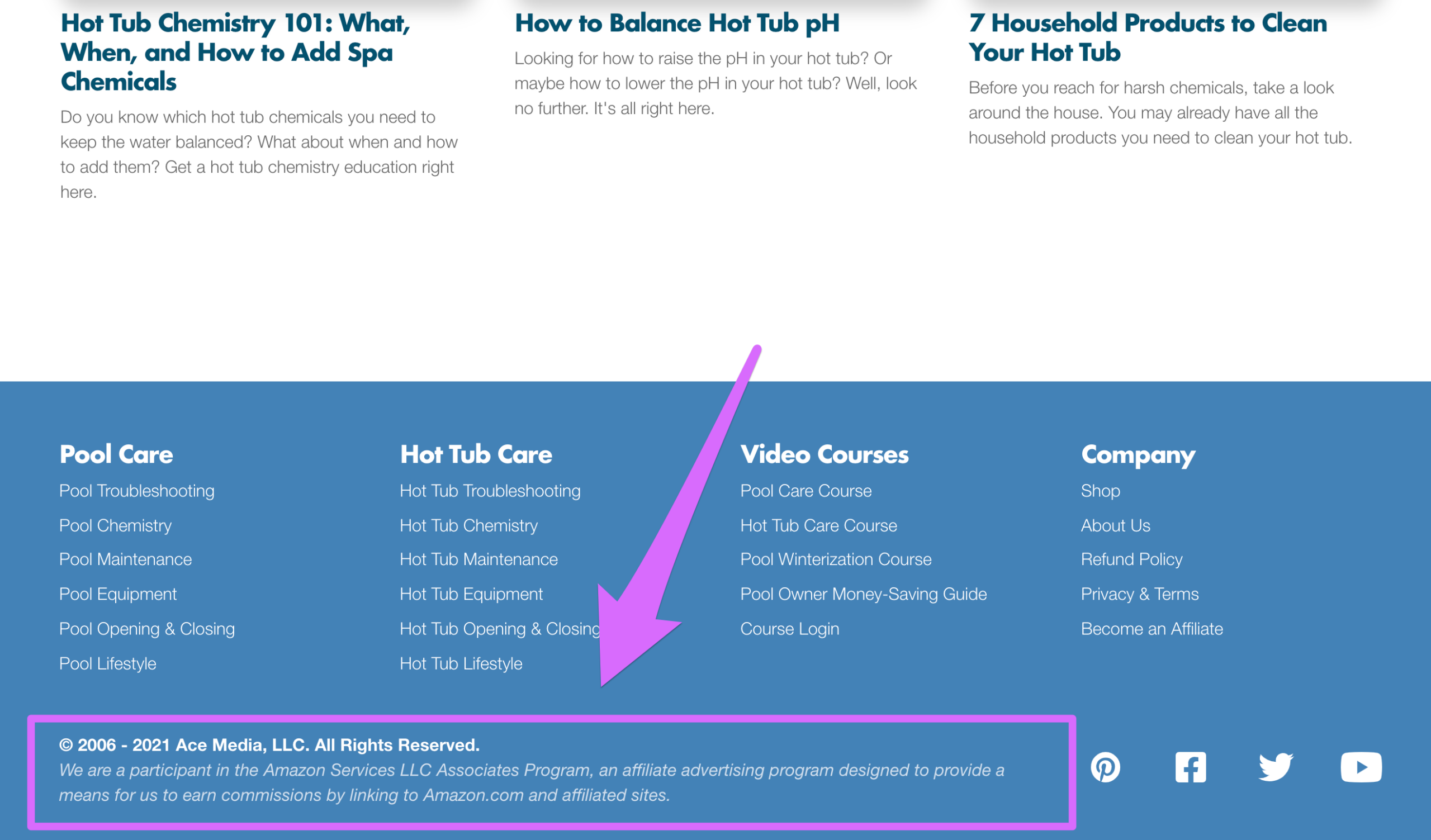 If you don't disclose you have affiliate links:
You could be fined by the Federal Trade Commission (FTC) if you don't correctly disclose your affiliate relationship.

You could be abruptly kicked off specific affiliate programs such as Amazon associates if you do not have the proper affiliate disclosure statements.

You risk your reputation.
Affiliate Disclosure Dos and Don'ts
I want to quickly include some very digestible "Dos and Don'ts" content to gain some SEO juice.
If you arrived at this section because you're a skimmer (and trust me, I know who you are because I'm one too), this should satisfy you.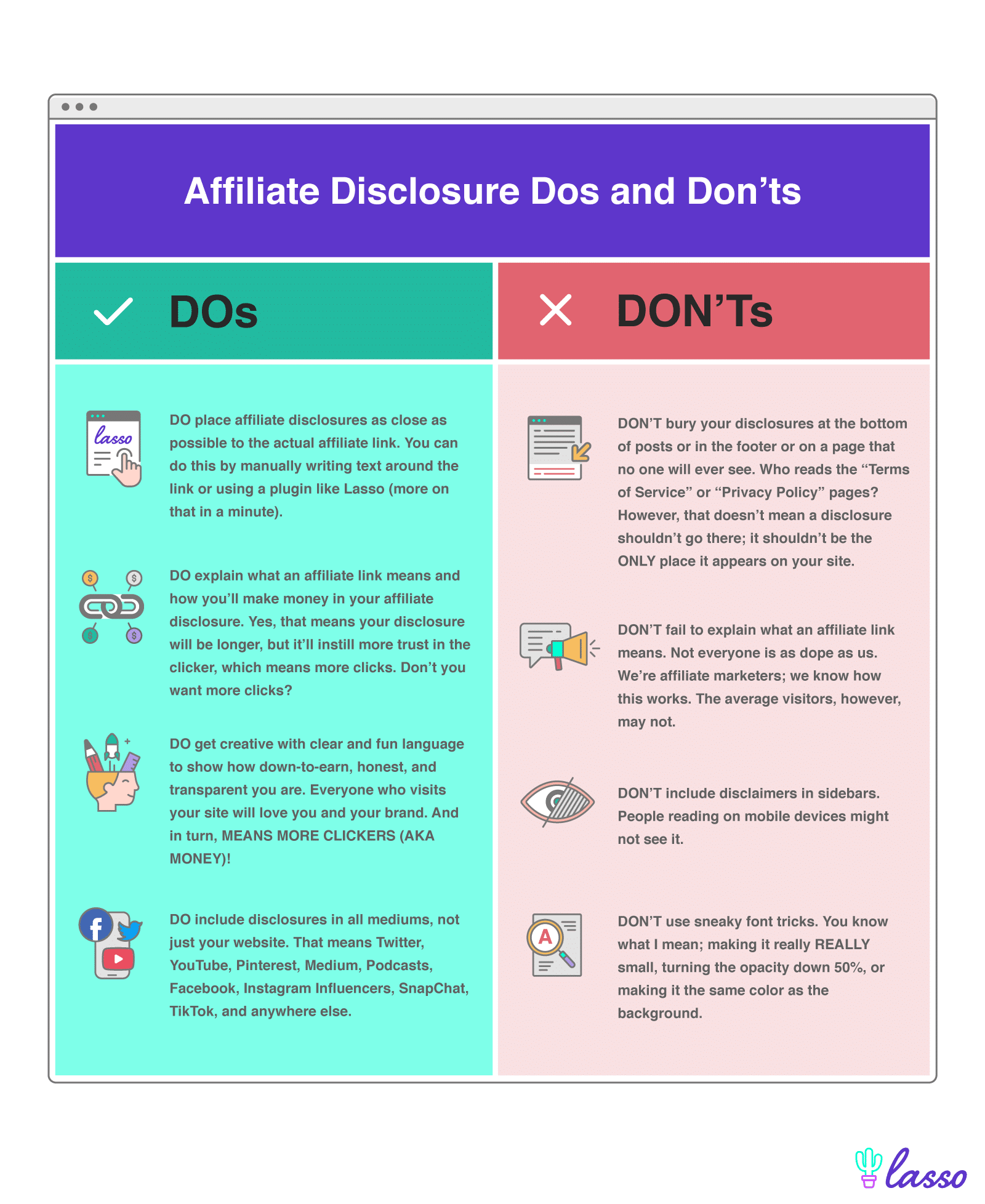 How To Write An Affiliate Disclosure That Keeps You Safe
You have three main options when writing an affiliate disclosure:
Do it yourself

Get a lawyer

Use Lasso to automatically do it for you
If you want to do it yourself, you can use the examples we highlight below in this article.
If you want to be on the safe side, you can run your affiliate disclaimer by a lawyer to confirm it complies with FTC and Amazon's terms of service.
Or, if you want to save time, Lasso can automatically add disclosures to all your affiliate links to make sure you are always complying. It'll also save you tons of time manually adding these disclosures everywhere.
How Lasso Can Help You Disclose Your Affiliate Links
Automated Affiliate Disclosures
Lasso
Lasso makes it easier than ever to automate adding affiliate disclosures to your blog posts. With Lasso displays (like this one), your affiliate disclosure will be prominently displayed, keeping your site compliant.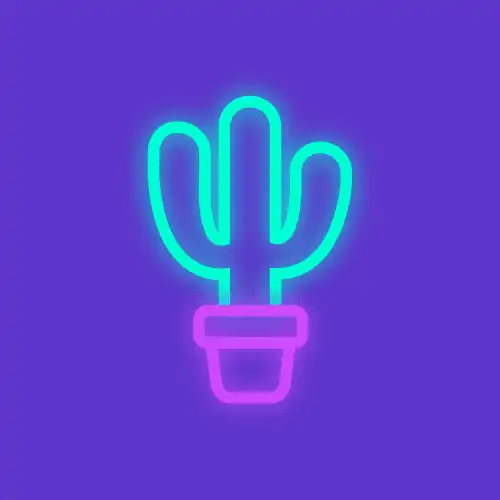 In case you didn't know, we sell an affiliate link manager for WordPress.
It'll help you add affiliate disclosures to all your links without having to do it manually.
Lasso lets you add what we call "Affiliate Link Display Boxes" to your posts with the click of a button.
A cactus icon will appear in your WordPress editor.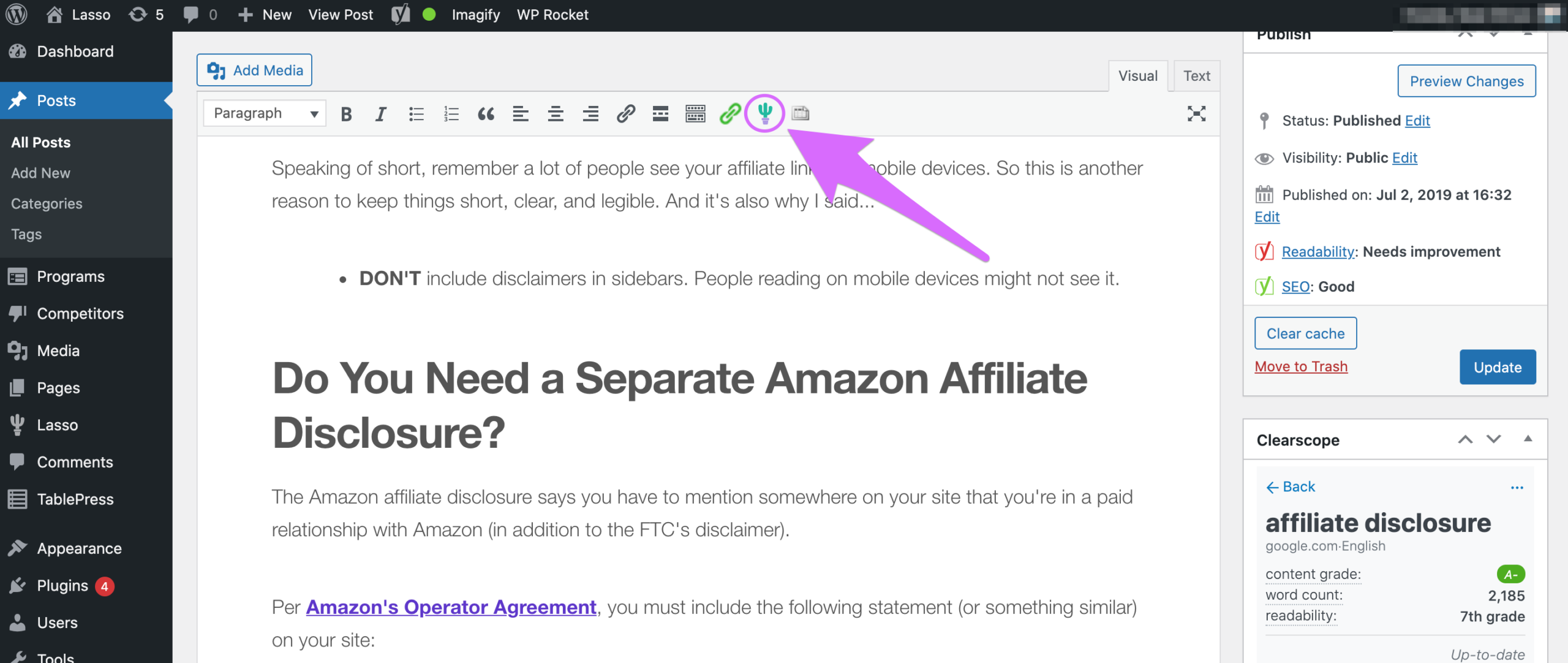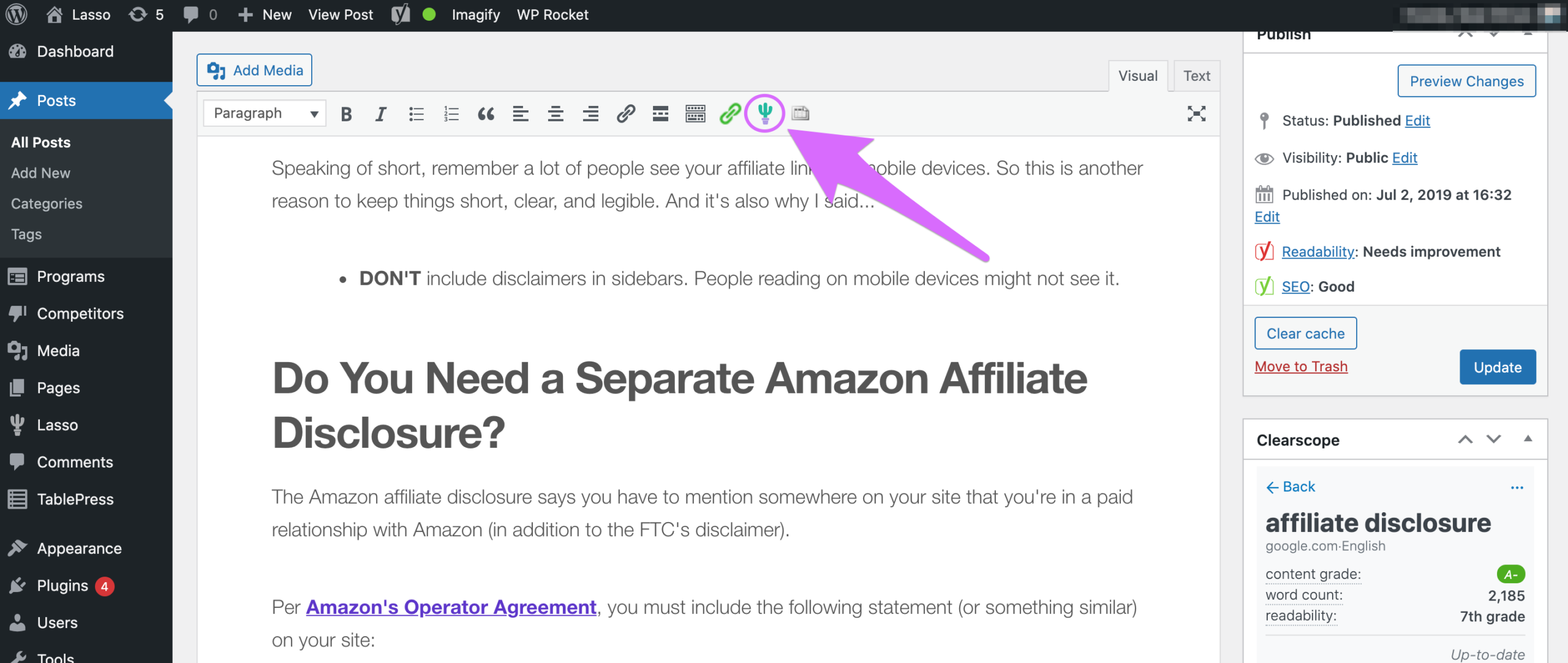 When clicked, you can choose how you'd like to display your affiliate links: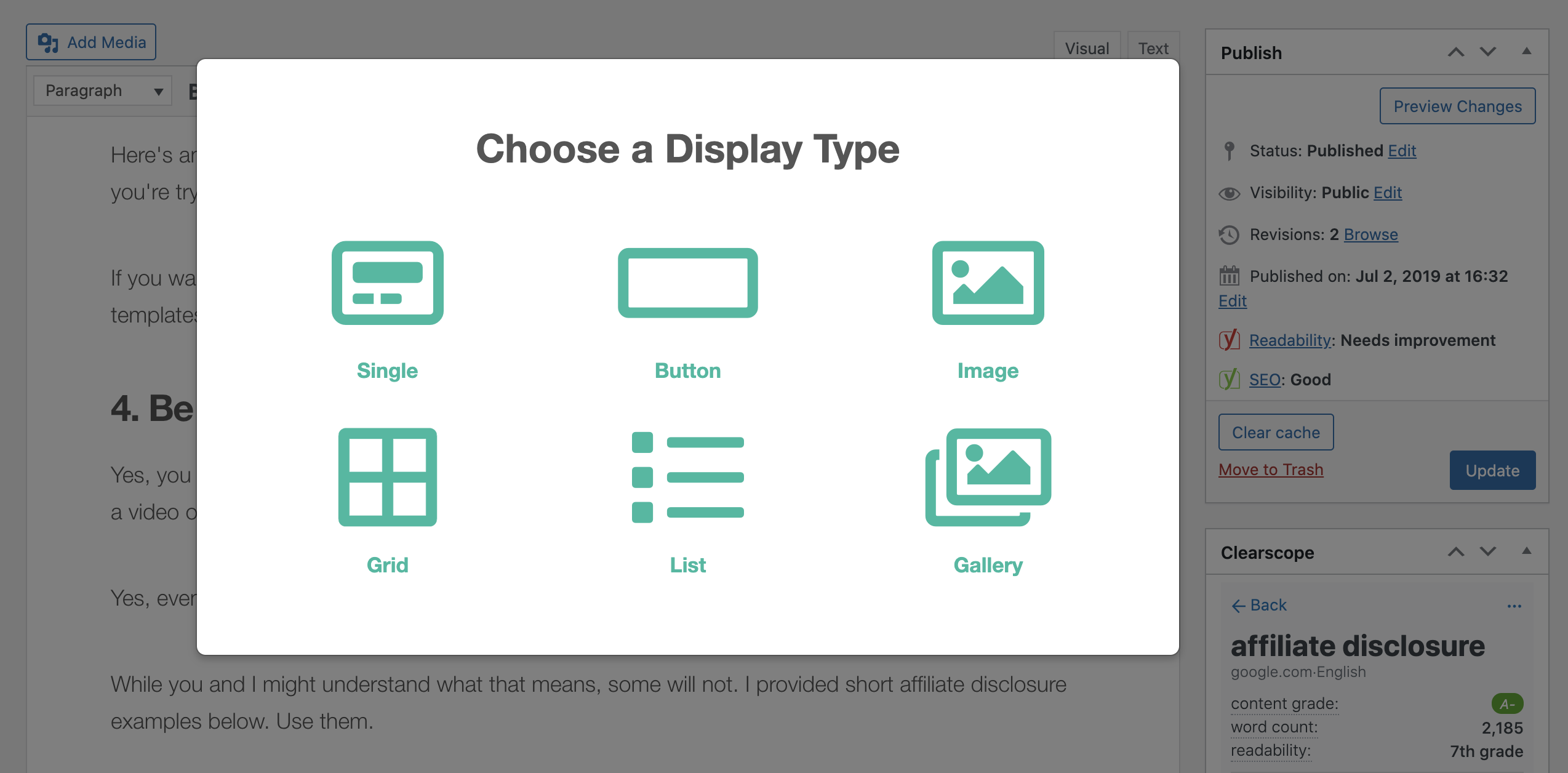 I'll click the "Single" option for this example and add my URL.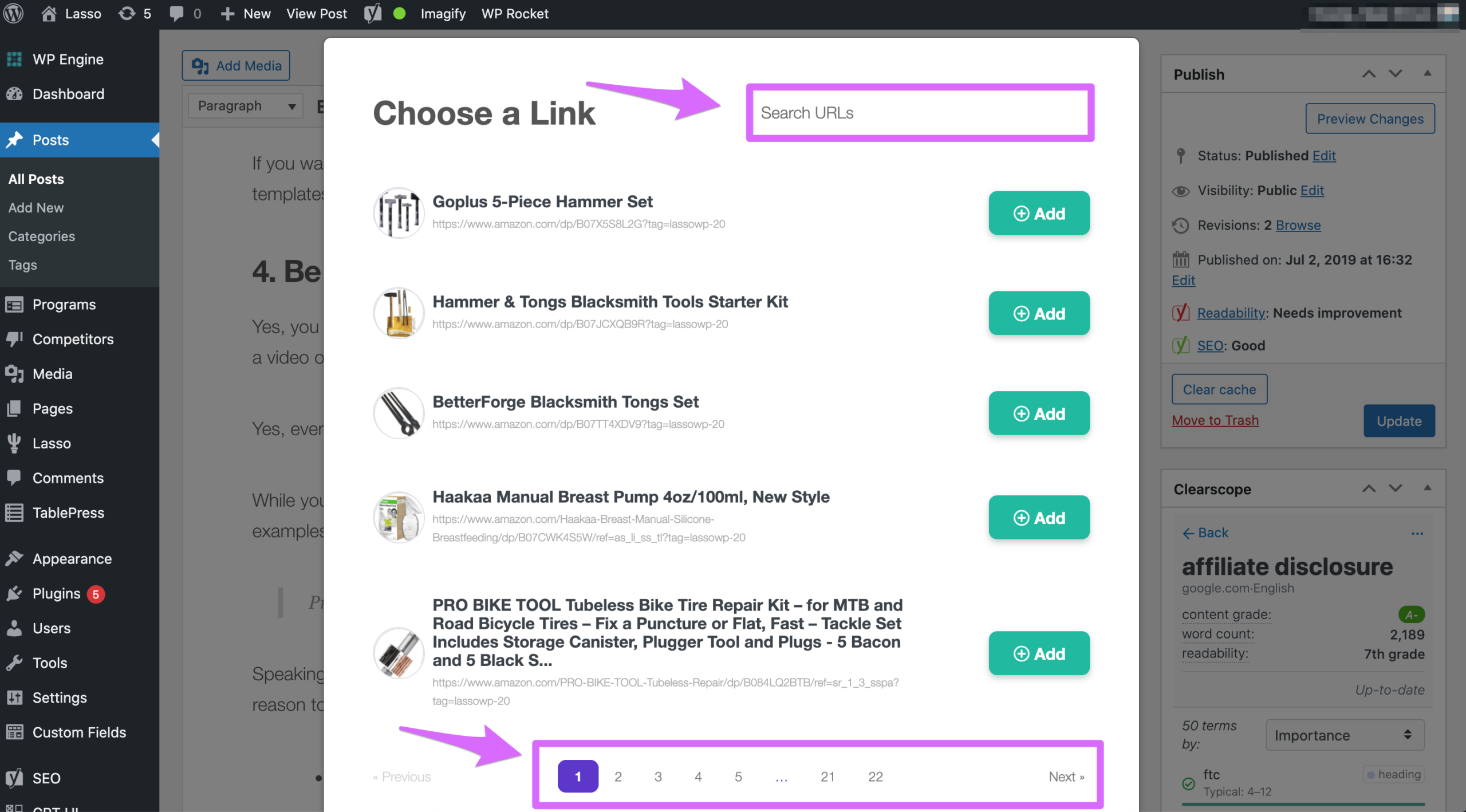 Lasso brings up a list of all your affiliate links. You can either use the search bar at the top or jump to another page at the bottom to find your link.
Just click the one you want to add, and it'll insert a shortcode in your post that'll render a display box that'll look like this. 👇
Essentialism: The Disciplined Pursuit of Less
The Way of the Essentialist isn't about getting more done in less time. It's not about getting less done. It's about getting only the right things done. It's about the pursuit of the right thing, in the right way, at the right time.
Pros:
Will make you more effective.

Quick read and highly actionable.
Cons:
You have to be open-minded.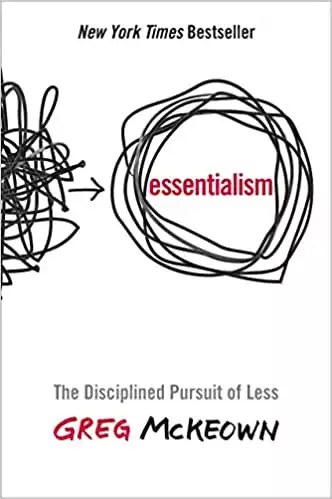 We earn a commission if you make a purchase, at no additional cost to you.
If you look beneath the green call-to-action "Buy from Amazon button, you'll see a built-in disclosure. If you don't like our default disclosure, you can customize it (or use a global default. You can also customize it sitewide).
To customize yours, head to any of your product's pages and adjust the text to say anything you want.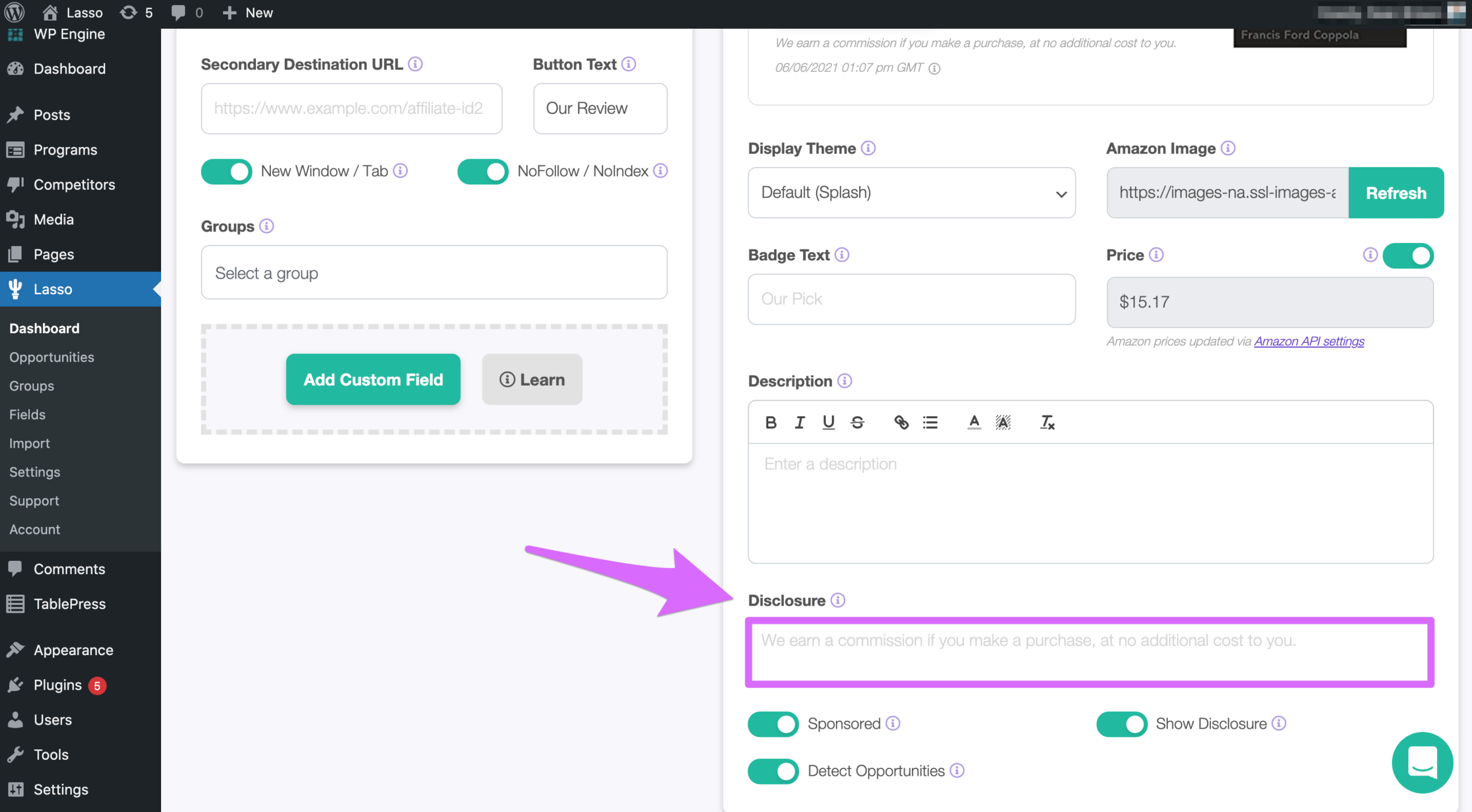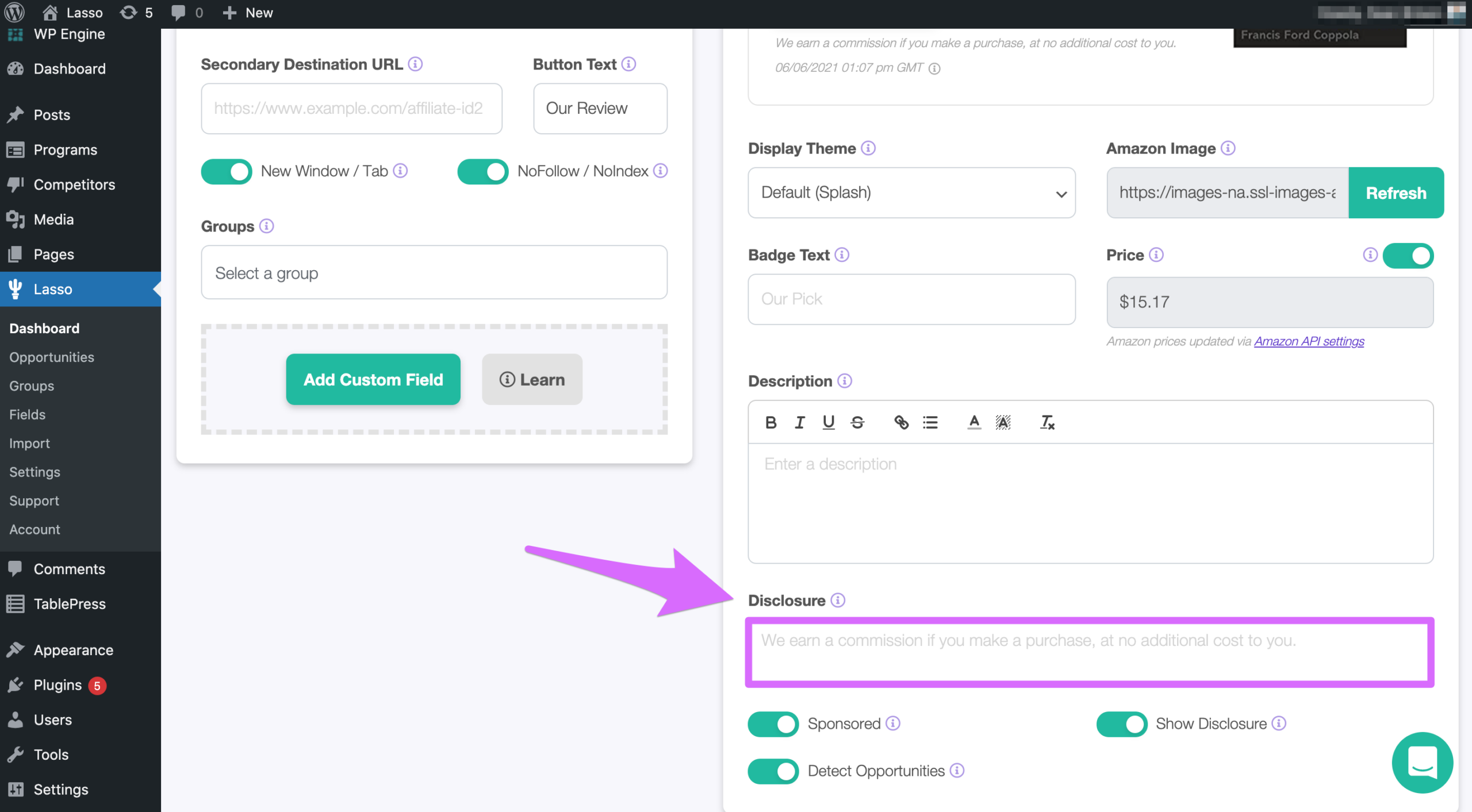 Lasso lets you add disclosures to every "Single" URL display box.
Further Reading:
8 Affiliate Disclosure Examples You Can Copy
Amazon Link Disclosure Examples
Here are some of the best I've found from bloggers and brands.
1. Amazon affiliate link template
The most recent Amazon recommendation to use when disclosing your affiliate links is:
"As an Amazon Associate I earn from qualifying purchases."
This is a safe example to use.
The older version is here:
"[Website name] is a participant in the Amazon Services LLC Associates Program, an affiliate advertising program designed to provide a means for sites to earn advertising fees by advertising and linking to Amazon.com."
2. From Amy Lynn Andrews's Disclaimer page: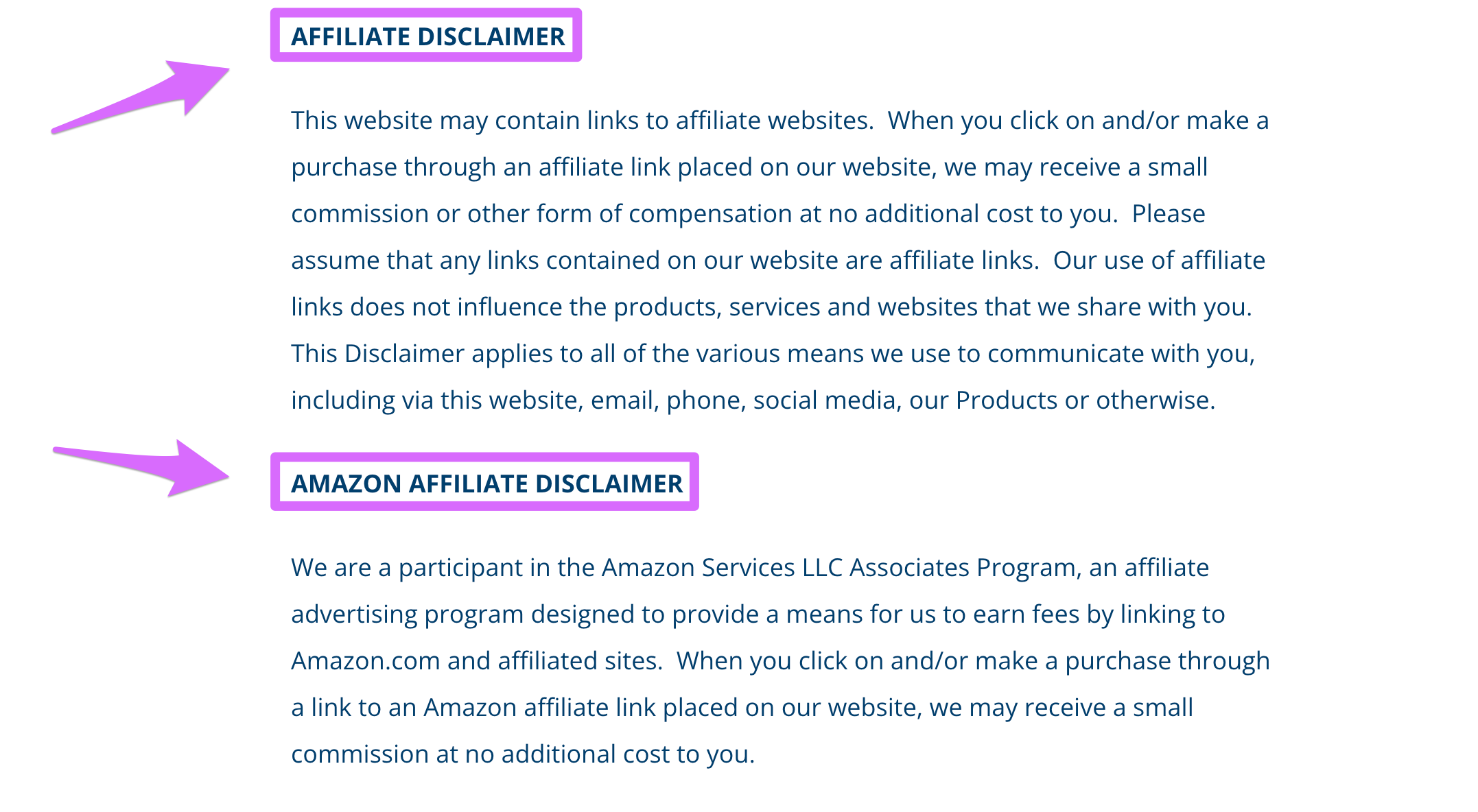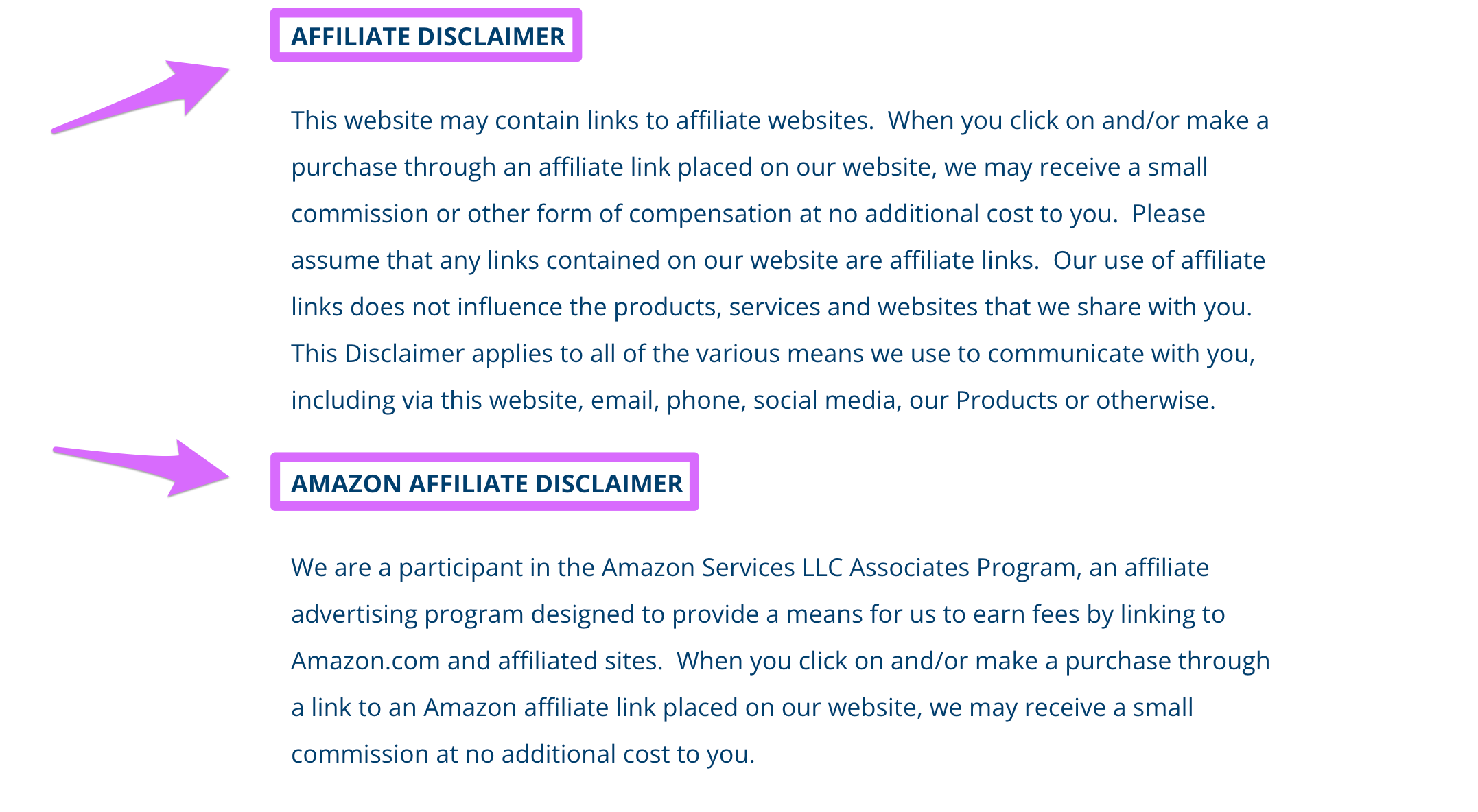 3 An example from Smart Passive Income's Toolbox page: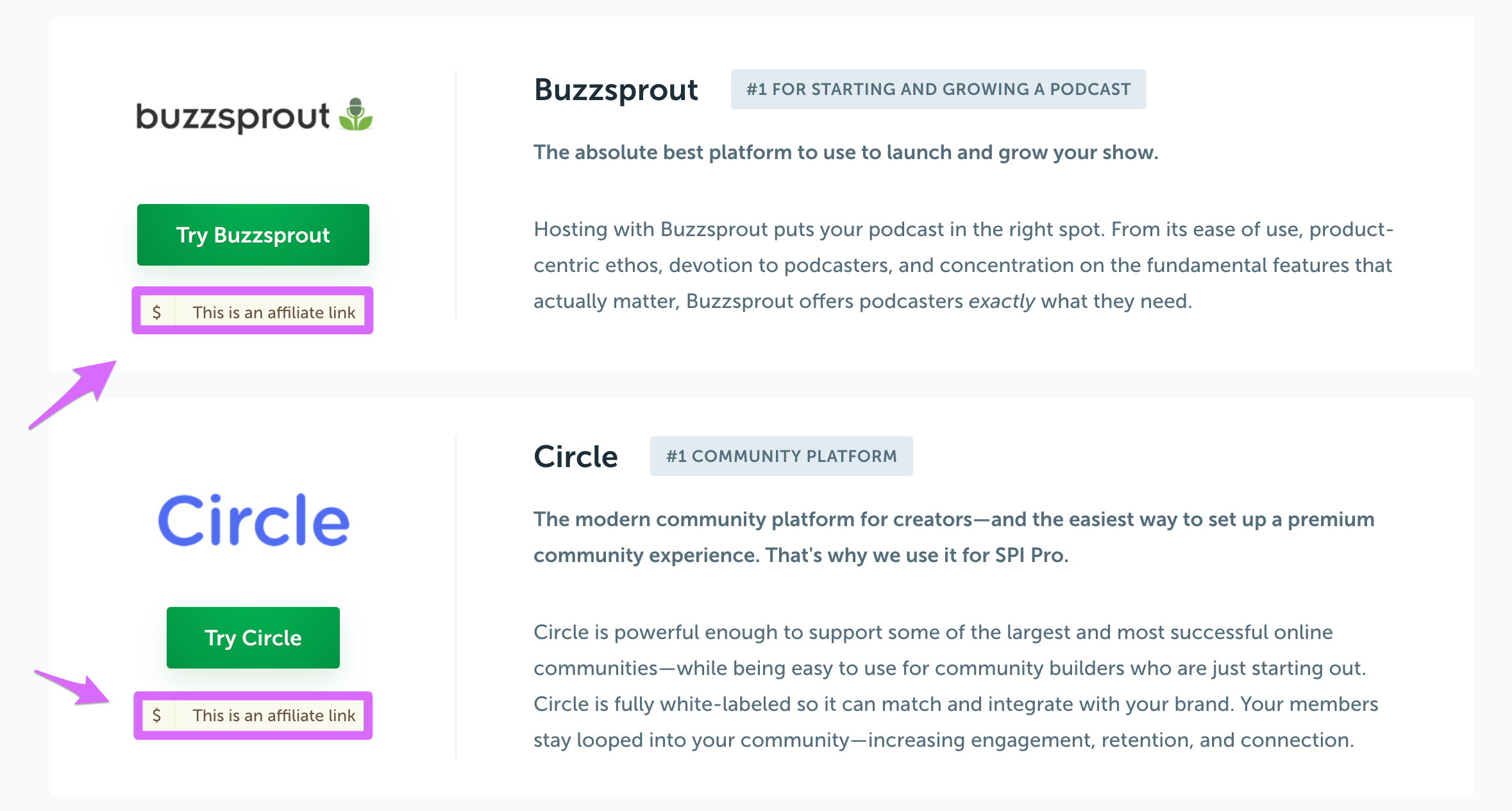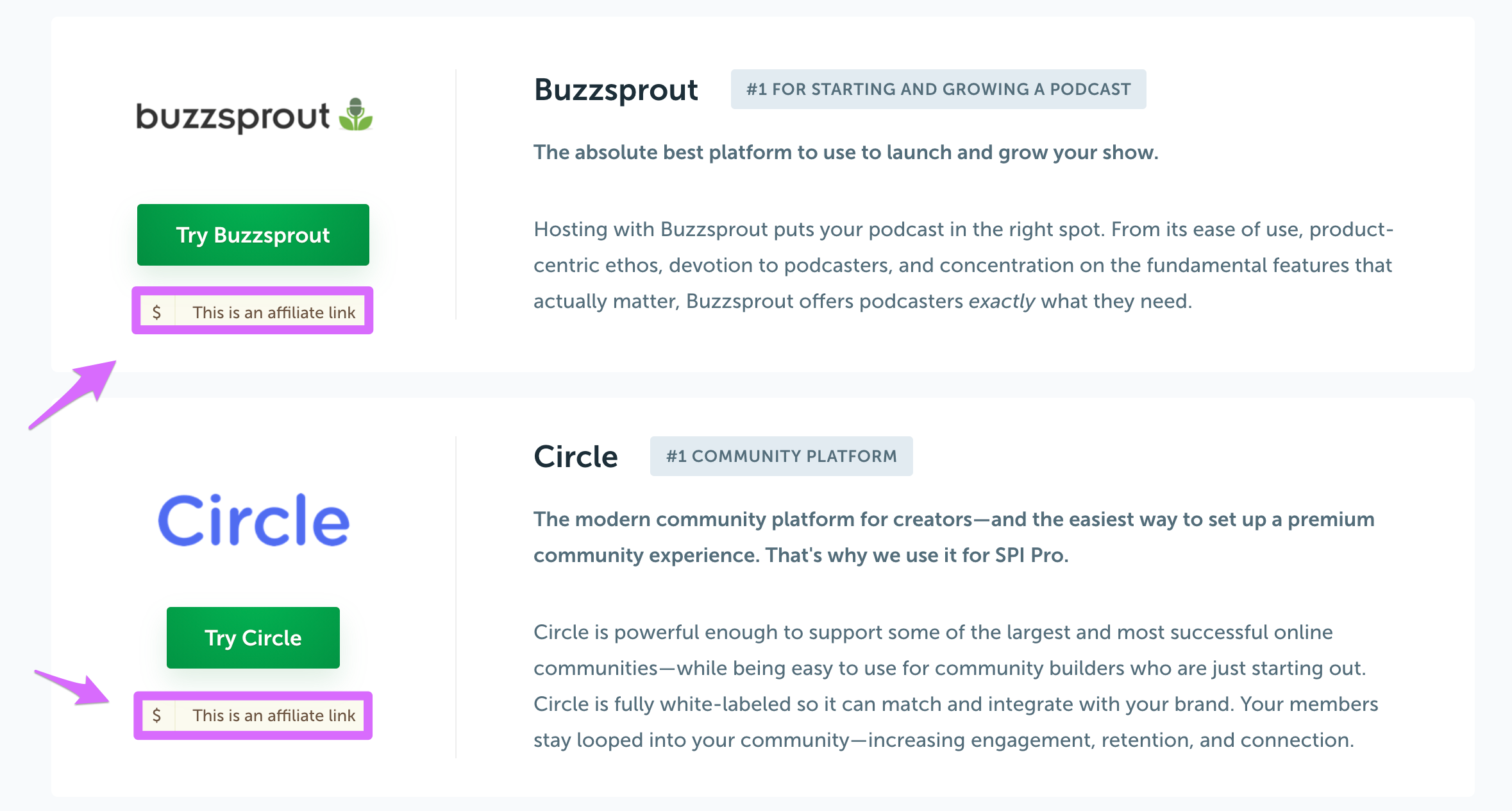 And this one from his Disclaimer page: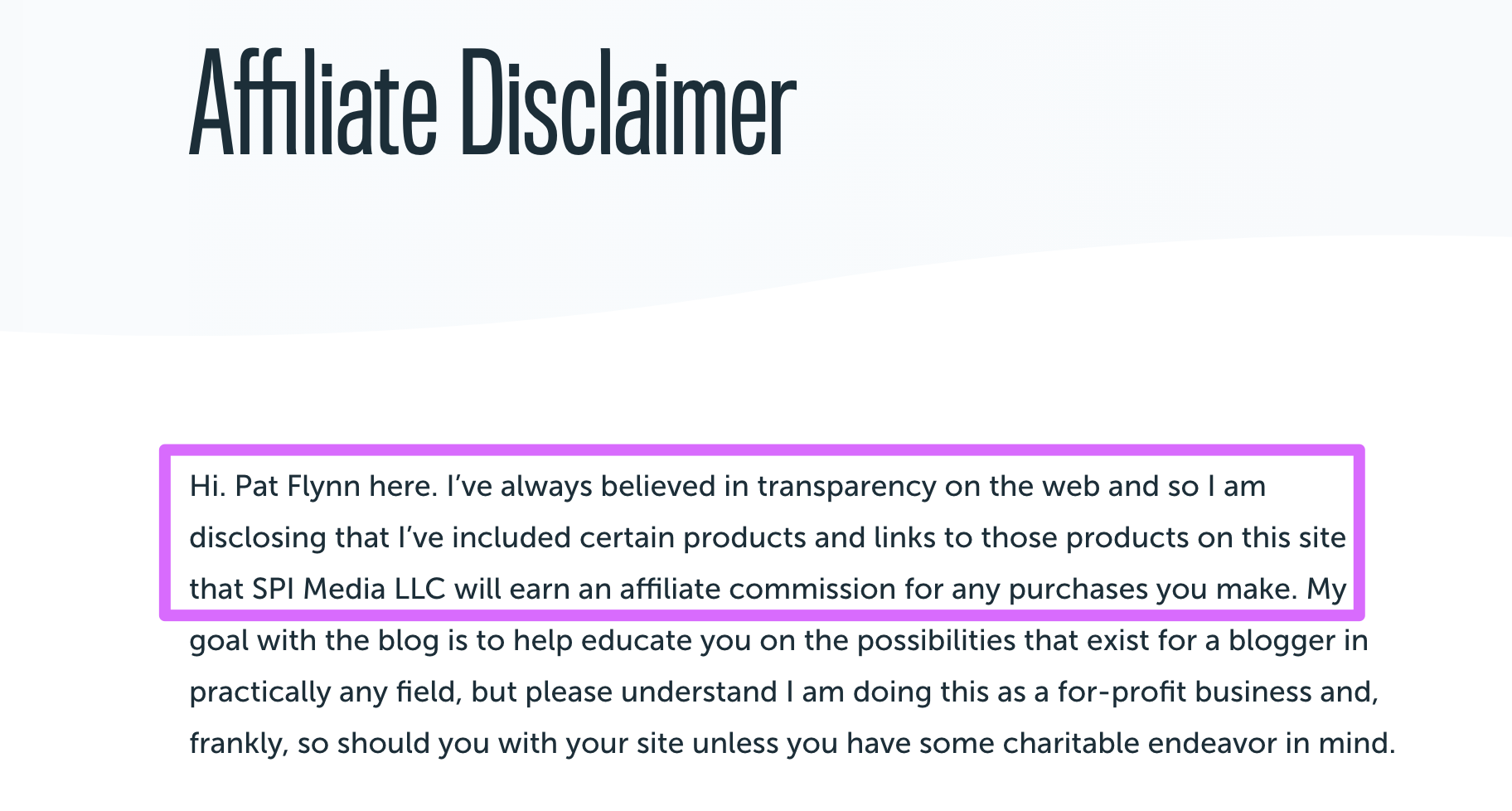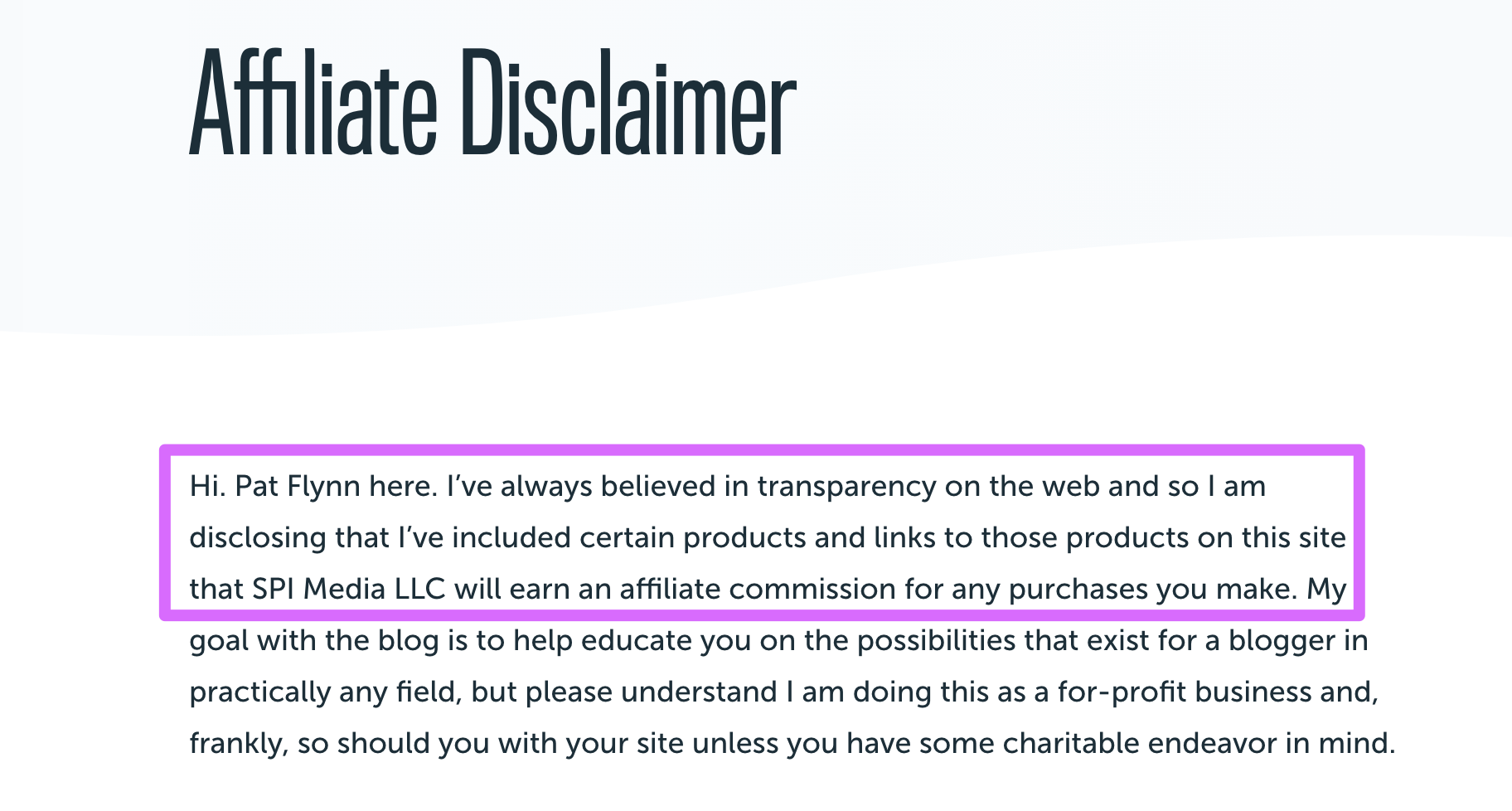 4. From Pinch of Yum: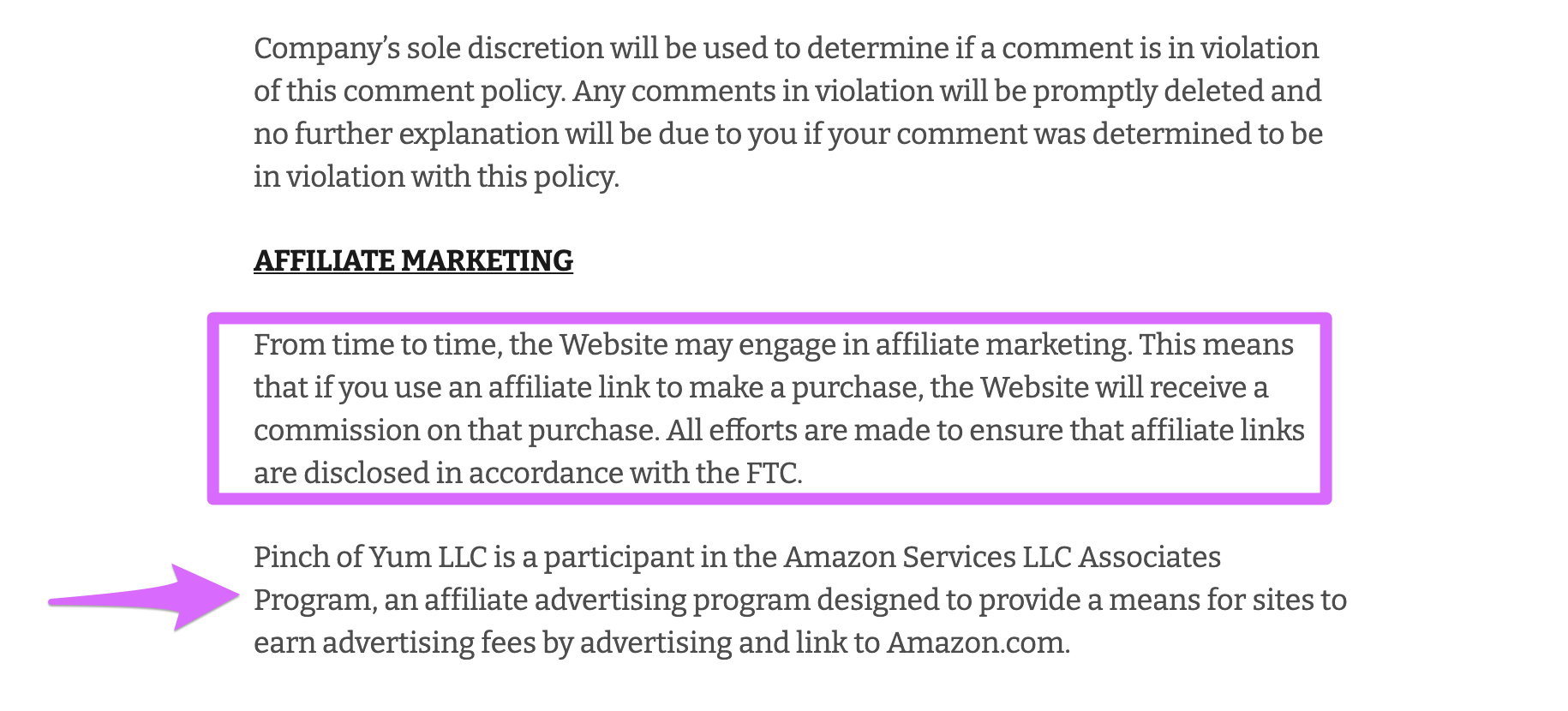 5. Cocktail Codex
We earn a commission if you click this link and make a purchase at no additional cost to you. (Lasso's default appears beneath displays):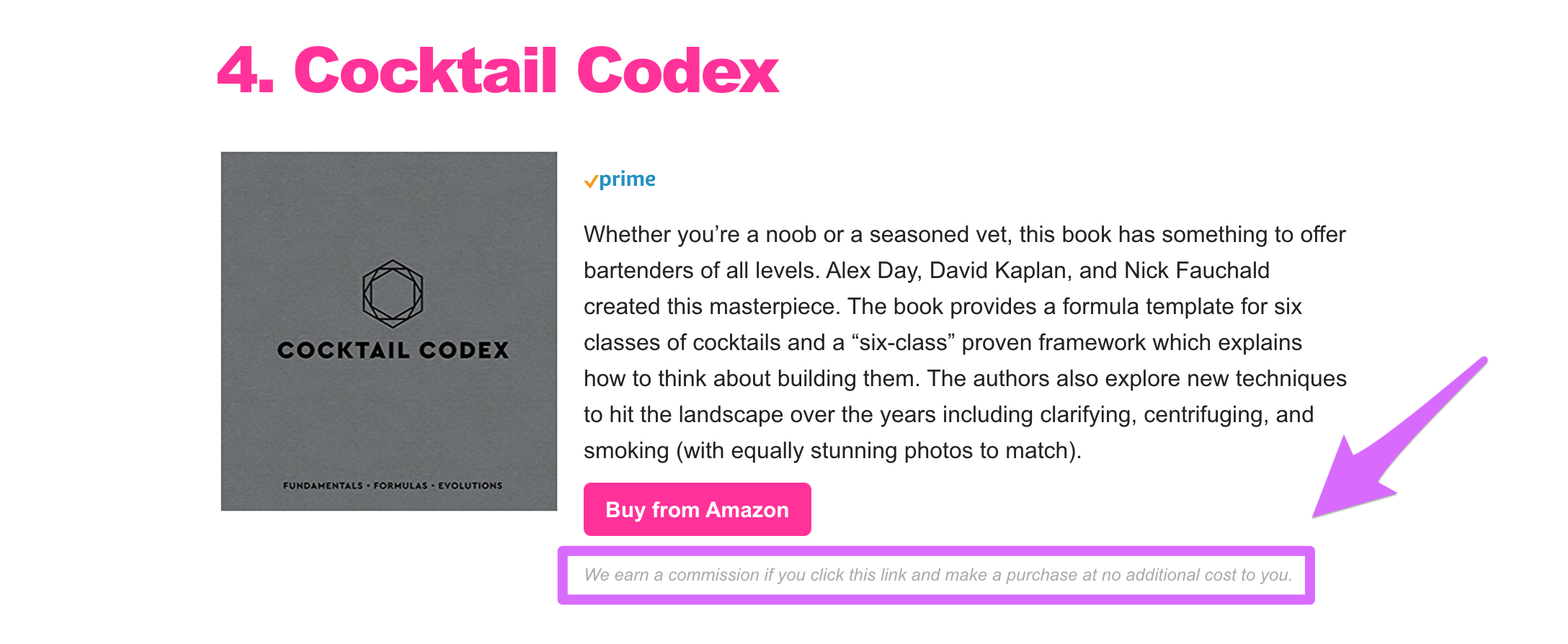 6. The Wirecutter's affiliate disclosure
This version appears in the Header (the "Learn More" is a hyperlink leading to the disclaimer page):

7. Nerdwallet's affiliate disclosure
Here's how the personal finance site, NerdWallet, displays its disclosure:

8. Grow a Good Life – A 2-Sentence Affiliate Disclosure Satisfying Both Amazon and the FTC
The blog, Grow a Good Life is an excellent example of how you can combine both Amazon and the FTC into a single disclosure at the top of your posts:

FTC and General Affiliate Link Disclosures
To comply with FTC regulations, you can use this disclaimer:
"I get commissions for purchases made through links in this post."
Best Practices For Disclosing Affiliate Links
These things are crucial. You should follow and implement every one of these tips on your website right now if you haven't already. Let's go!
1. Clearly display your affiliate disclosures
Here are some places on your site you could add the disclosure:
Footer

– This will allow your disclosure policy to appear on every website page. But it's at the bottom, so it's not the clearest, but it's the easiest, so we'll start there.

Disclaimer/Terms/Privacy Pages

– I mentioned your disclosure text should go here, but it shouldn't be the only place. However, on these pages, you can be lengthy. Again, consult with a lawyer if you're unsure of what to write.

About Page

– Why not here too? The more, the merrier. And the more the FTC and others will stay off your back.

Before The Post With Affiliate Links

– A great place for an affiliate link disclosure. It lets people know it contains affiliate links even before they read. If you're not going to add a disclosure near each affiliate link in your post, you should do this.

In-text Near Affiliate Links

– This is the best place for an affiliate link disclosure. The FTC also especially highlight that affiliate disclosures should be in the next near your affiliate links. This makes it very clear to your readers.
2. Always disclose affiliate links
If you find yourself asking, "should I add a disclosure here?" The answer is always yes. 
Disclose when you get paid.

This means including sponsored posts, product reviews, advertising fees, and links to products you don't own but recommend for an affiliate commission—the same deal for social media influencers (it's not only bloggers who must disclose).

Disclose on EVERY page an affiliate link appears.

Even if you've disclosed it already, do it again. Do it until you've satisfied Mr. FTC.

If you're unsure, add a disclosure.

It can't hurt even if you're getting paid in the form of free products.
3. Use clear language
Here's an easy way to do that: be hilariously honest. When you try to joke out of how clear you're trying to be, you end up being crystal clear. Try it!
4. Understand the requirements for each medium
Yes, you have to disclose the use of affiliate links anywhere you add an affiliate link. Yes, this includes verbally in a video or podcast. Yes, even in emails, on Twitter, on Instagram – or anywhere else.
Protect yourself and be clear with your disclosure wording.
Speaking of short, remember many people see your affiliate links on mobile devices. So this is another reason to keep things short, clear, and legible. For this reason, DON'T include disclaimers in sidebars. People reading on mobile devices might not see it.
Affiliate Disclosure Generators
Disclosure generators are special tools that help you display the correct legal jargon on your website. In addition to affiliate disclaimers, they can help with writing your:
Terms and conditions
Cookie policies
End-User-License-Agreement
Return and refund policies
You can also find help for things other than your blog, including mobile apps, Facebook apps, and Google Adsense. A couple worth checking out is Termly.io and PrivacyPolicies.com.
A couple of other things to remember include:
Follow laws in EU and US e.g. by having a valid privacy policy.

And if you have Europe-based visitors, you need to comply with EU Cookie Law.
FAQs
Why is an Amazon Associates Affiliate Disclosure Important?
It's important to disclose you're a member of Amazon Associates with any affiliate links as this is a requirement in Amazon's terms of service. If you don't disclose an affiliate relationship with Amazon, you can be kicked off the program. By clearing showing that an Amazon link is an affiliate link, you also build trust with your audience from your honesty.
Do you need a separate Amazon Affiliate Disclosure?
Yes. You need one affiliate disclosure statement that passes the requirements of the FTC, and another separate disclosure that informs readers that you are an Amazon affiliate to pass their terms of service.
Affiliate Disclosure Requirements Recap 
Ok, you've made it through an article about a dull subject. I hope it wasn't too painful.
Or perhaps you skimmed your way down here to get the Cliff's Notes. Either way, welcome. Let's bullet out the best of the best from this post.
You must add FTC disclosures if you're adding affiliate links to your site. You risk being fined or kicked off specific affiliate marketing programs if you don't. In other words, you'll lose money. And that's not why we're in this business.
Add affiliate disclosures to your privacy page, about page, footer, before posts, near affiliate links, and outside your website. Again, you can use Lasso to make this easier for you.
Use clear messaging when writing your disclosures. Make sure to let people know how the affiliate link works. Be honest about how you're making money with these links.
When in doubt, add a disclosure. And if you need a quick one, use this: Disclosure: We earn a small commission if you click this link and make a purchase at no additional cost to you.
I hope this post was helpful. There's a lot of material to cover, but following the FTC guidelines we laid out above will keep you and your website compliant.
Curious to know more about how Lasso can help grow your online business? Give us a try here.
Our creations in your inbox, weekly.
We've built multiple six-figure online businesses that our moms are proud of.
We'd like to help you do the same.